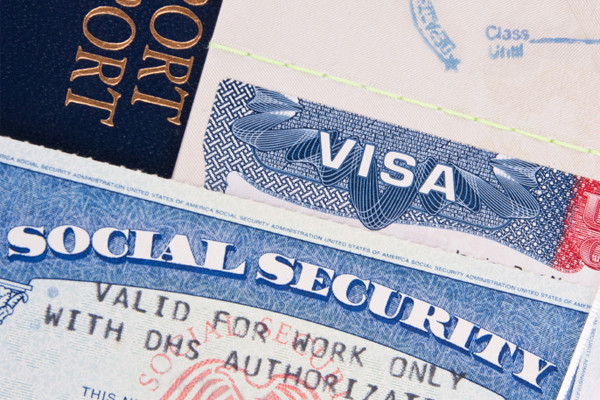 "FAMILY." If you ask our kababayans what drives them to uproot themselves from the Philippines and endure the loneliness, homesickness, and the security and happiness of being in your homeland, one answer stands out: To give my family a better life and opportunities they cannot give them staying in the Philippines.
Most of us take this route, especially those who do not depend on any family member sponsoring us for a family-based visa petition. We apply for a job, with many starting with a temporary working visa, hoping to be sponsored by our employer for permanent residency status (a green card). Through this, we get to petition our family to join us, build a new life in America, and be productive residents and citizens of our adoptive country.
However, since the start of the presidency of Donald Trump, his immigration policy moved to curtail not only illegal immigration, but even limit legal immigration as well, including issuing work permits to foreign nationals and family-based petitions.
The latest measure signed by Trump was his second proclamation, "Suspending Entry of Immigrants Who Present Risk to the U.S. Labor Market During the Economic Recovery Following the COVID-19 Outbreak."
This proclamation was signed on June 22, 2020, and became effective on June 24, 2020, expiring on December 31, 2020.
I receive a lot of questions when I posted the news on social media and many of the concerns of our kababayans revolve around how this new proclamation of Trump may kill their American dream for themselves and their family.
I asked my dear friend Atty. Lou Tancinco, Filipino American community leader, immigrant advocate, Pinoy Panawagan legal counsel for The Filipino Channel's "Balitang America", host/producer of GMA's "Pusong Pinoy sa America, and immigration lawyer based here in California, about her insights and analysis about Trump's new proclamation and how it will affect us Filipinos.
1. What is the effect of the June 2020 Proclamation on legal immigrants?
The June 22, 2020 Proclamation (June Proclamation) extends the April 2020 Proclamation1 which suspended the entry of certain immigrants into the United States until December 31, 2020. It expanded also the ban on certain visa applicants mostly employment-based nonimmigrant visas
The Proclamation suspends the issuance of visas for those seeking entry pursuant to a(n):
• H-1B visa and any foreign national accompanying or following to join them;
• H-2B visa and any foreign national accompanying or following to join them;
• J visa, to the extent the foreign national is participating in an intern, trainee, teacher, camp counselor, au pair, or summer work travel program, and any foreign national accompanying or following to join them; and
• L visa, and any foreign national accompanying or following to join them
A significant number of Filipino visa applicants and businesses under the above mentioned categories — H1B, J and L — will be adversely impacted by this suspension. For the H2B visa category, Philippine nationals have already been barred from receiving this visa in the last two fiscal years.
Those severely affected are those outside the United States.
2. Who are NOT affected by the suspension of immigration?
Among others, these are the categories of individuals who are not affected by the Proclamation:
1. Those adjusting status in the United States.
2. Green card holders or immigrant visa holders at the time of the proclamation. If an individual is already in possession of an immigrant visa or green card before the Proclamation, they can still travel back to the United States.
3. Those with temporary travel documents can still enter the U.S. Examples are individuals in possession of transportation letters issued by the U.S. Embassy, re-entry permits and advance parole issued by the U.S. Citizenship and Immigration Services (USCIS)
3. Can you explain what the "National Interest Exemption" is about?
The proclamation on the suspension of visas will not apply and consular officers will still grant issuance of visas if the visa applicant can prove that his/her case falls under the national interest exemption.
For purposes of determining who is covered under the "national interest" exemption, the Proclamation directs the Secretaries of State, Labor, and Homeland Security to determine standards for those to whom such an exemption would be available, including any individuals who:
• are critical to the defense, law enforcement, diplomacy, or national security of the United States;
• are involved with the provision of medical care to individuals who have contracted COVID-19 and are currently hospitalized;
• are involved with the provision of medical research at U.S. facilities to help the United States combat COVID-19;
• are necessary to facilitate the immediate and continued economic recovery of the United States; or
• are children who would age out of eligibility for a visa because of this proclamation or Proclamation 10014.
4. What about other non-immigrant visas such as fiancé, student and visitors visa holders are they still allowed to travel to the United States?
The June proclamation explicitly mentions the type of temporary visas that are suspended. These include mostly employment-based visas: H1b, H2b (working visas); L1 (intra-company executives transferees); and J1 visas (seasonal workers in the hospitality industry, students on work-study summer programs and au pairs who arrive under other auspices).
The proclamation does not ban other visas such as those for visitors, fiancés, students and investors, among others. So as soon as the U.S. Embassy opens to provide their regular consular services, applicants for the other types of visas that are not included in the proclamation may still pursue their application. Also, those who are in possession of non-immigrant visas not enumerated in the proclamation may still use their validly issued visas to travel.
5. A beneficiary of an approved visa petition was issued a printed immigrant visa on his passport after an interview with the consular officer at the U.S. Embassy. He was not able to enter travel to the U.S. yet and now wants to plan on going to the U.S. He is afraid that the Trump Proclamations will apply to him and would result in his inability to travel to the U.S. Will this individual be prevented from entering the United States because of the Proclamation?
No. The Proclamation does not affect those who are in possession of immigrant visas. Although he has not received his actual green card, he is considered to have gone through a completed process for him to be considered as an immigrant visa holder, hence, he can travel to the United States.
6. If the individual who was issued a non-immigrant employment-based visa (H1B, L or J) or immigrant visa by the U.S. Embassy is not ready to travel to the United States during this COVID-19 pandemic, will he risk losing his immigrant visa by revocation?
No. Valid non-immigrant visas issued before the June proclamation and that were not used for travel will not be revoked under this Proclamation
7. An adjustment of status applicant left the United States for a temporary visit abroad, will this adjustment applicant be able to return with his advance parole document?
Yes. Advance parole is considered as a travel document not covered by the Proclamation, hence this individual may travel back to the U.S. using his advance parole document.
8. A lawful permanent resident plans to file a visa petition for his minor children, will he be permitted to file a visa petition with the USCIS?
Yes, lawful permanent residents may still file for visa petitions on behalf of their minor children. What the Proclamation prohibits is the issuance of visas for these individuals. The proclamation exempts only minor children and spouses of U.S. citizens.
9. A visa petition was approved for a parent of a U.S. citizen. The parent was already interviewed before the Proclamation effectivity date of April 23, 2020 but no visa has been issued yet. Can this parent follow up on the issuance of his visa and travel to the United States?
No. Clearly, under the April Proclamation, which effectivity was extended until December 31, 2020, parents of U.S. citizens who have not been issued visas or are not in possession of visas may not be allowed to immigrate temporarily. They are covered by the Proclamations and are not exempt from the ban.
10. A child beneficiary of a preference immigrant visa petition is turning 21 years old and will age out during the period of suspension, what steps can s/he take before losing the opportunity to immigrate as a minor derivative child?
One of the categories of visa applicants that is part of the national interest exemptions refers to children who are aging out or turning 21 years old. This category will be exempt from the ban. So it is important to take steps and seek to qualify the aging out child as an exempt visa applicant quoting the provision under the national interest exemptions.
* * *
Gel Santos Relos has been in news, talk, public service and educational broadcasting since 1989 with ABS-CBN and is now serving the Filipino audience using different platforms, including digital broadcasting, and print, and is working on a new public service program for the community. You may contact her through email at [email protected], or send her a message via Facebook at Facebook.com/Gel.Santos.Relos.