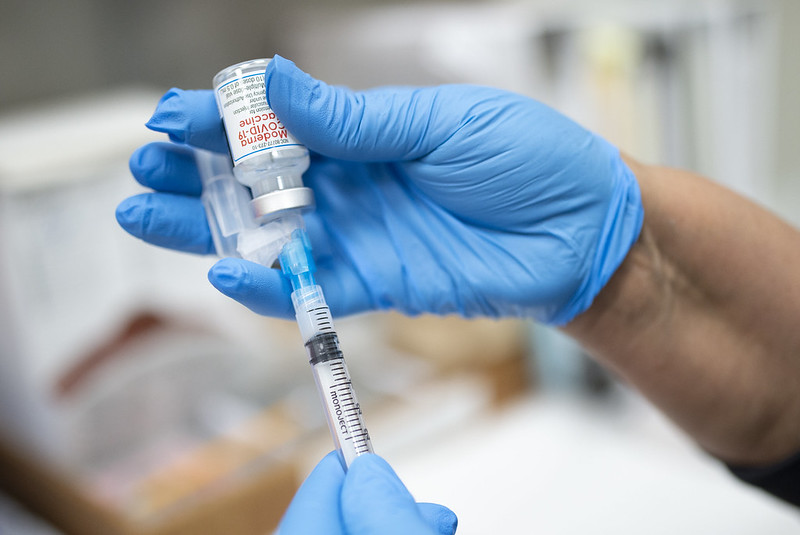 NEVER MIND if some of these "influencers" in the Republican Party and Conservative media are attempting to rewrite history like FOX News' Sean Hannity, for example, who said on January 20, Wednesday, on his own show: "Just like we've been saying, please take COVID seriously. Enough people have died. We don't need any more deaths. Research like crazy. Talk to your doctor. It absolutely makes sense for many Americans to get vaccinated."
What is important is they are now aligning their message with the Democrats who have been pushing for people to believe in science, and follow the advice of health experts and officials and get vaccinated to attain herd immunity and save more lives.
In fact, this should have never been a political issue as this is a health emergency that should have just relied on the facts and science to dictate health policies and decisions.
Unfortunately, in the age of Donald Trump, science deniers have been rewarded by no less than the former president, motivated by political interests to hold on to their conservative base, many of whom unfortunately would rather trust conspiracy theories without checking on the facts.
This was why it took so long for the United States to really fight head on against the invisible enemy, until President Joe Biden was sworn into office. It was only then that the scientific and medical community found an ally in government, and they now sing one tune: COVID-19 is real and not a hoax, and we must all act together as one country in implementing public safety measures, including and especially to have Americans vaccinated.
While there are still many peddlers of lies and misinformation like Donald Trump, FOX News' Tucker Carlson, and Marjorie Taylor Greene, a far-right conspiracy theorist and strong supporter of Trump, who was elected by the Republican base to serve as Georgia's 14th congressional district, what is remarkable is how other members of the Republican Party, Conservative groups and media are now urging the American people to get vaccinated as soon as possible.
This is especially urgent with the spike in coronavirus cases due to the Delta variant. Unfortunately, 97 percent of the cases, hospitalization and death are those who are unvaccinated — the very same people who have believed the lies spread by Trump and his cohorts in the Republican Party and conservative circles. The spike in cases are highest in the south, in states and counties mostly lead by Republican officials.
Meanwhile, those states and counties with high vaccination rates now record a lower number of cases, hospitalization and death, a testament to the effectiveness of the vaccines in protecting the people from being infected, and in breakthrough cases of those who were already vaccinated — helping people to be asymptomatic or with less life-threatening symptoms.
The Atlantic reported on more people who have changed the tune to support vaccination:
Steve Doocy, one of the anchors of the network's popular morning show Fox & Friends [Trump's favorite morning show], has now been advocating for vaccines, saying "If you have the chance, get the shot, It will save your life." The Washington Post reported that he even "echoed comments made by Rochelle Walensky, director of the Centers for Disease Control and Prevention, and told viewers on Monday that "99 percent of the people who have died have not been vaccinated. And so, what they're trying to do is … make sure that all the people who have not been vaccinated get vaccinated."
Newsmax CEO Christopher Ruddy, a confidant of Donald Trump, published a column praising the Democrat who defeated Trump saying: "Six months into his administration, President Joe Biden should be applauded for making a huge dent in the COVID pandemic."
Senate Minority Leader Mitch McConnell has been as fiery about COVID-19 precautions as he is about anything. He warned again today, "These shots need to get in everybody's arm as rapidly as possible or we are going to be back in a situation in the fall, that we don't yearn for, that we were in last year."
A group of Republican members of Congress who are medical doctors produced a pro-jab [pro-vaccine] PSA [public service announcement] this spring.
MORE should come out from the Republican Party and Conservative circles to correct any misinformation and lies peddled by some of their colleagues that have been a big part of the reason why more than 610,000 Americans have been killed by COVID-19 and its variants. With the Delta variant, the unvaccinated have been dying, including children and adolescents because of the decisions of the older ones in the family who chose conspiracy theories over science during this gravest health emergency of the century.
Should we just depend on "honor system" for unvaccinated people to still wear mask to protect themselves? Should we just mandate only those working in health care to be vaccinated? What should we do to remove that roadblock that has been getting in the way of compelling Americans to be vaccinated, now stalled at about 60 percent? We need to go beyond 70 percent!
Maybe President Joe Biden should mandate wearings masks on a national level. Maybe he should do what Macron and other Europeans are now doing. As the New York Times reported:
"Major European economies including France and Italy are moving closer to making vaccines mandatory for everyone."
"Barreling through 1,200 proposed amendments, defying accusations of authoritarianism and chaos from the hard right and left, the lower house voted by 117 to 86 to back President Macron's attempt to strong-arm the French to get vaccinated by making their lives miserable if they do not."
"In France, as of Aug. 1, anyone without a "health pass" showing they have been vaccinated or recently tested negative will not be admitted to restaurants, cafes or movie theaters, and they will not be able to travel long distances by train, Mr. Macron said."
"Many tests will cease being free in the fall "to encourage vaccination" before then. As for health workers, if they are not vaccinated bySept. 15, they face suspension of pay, even dismissal."
"Mr. Macron's measures, announced July 12 as the only means to avoid yet another French lockdown, have spurred both protests and an extraordinary surge in vaccinations, with 3.7 million booked in the first week after the president spoke, and a record of nearly 900,000 vaccinations in a single day on July 19. In this sense, his bold move has been a success."
What about us here in the United States? We should always remember that in fighting this war against COVID-19 and its variants, we ALL have to act together and get more people vaccinated or it will take even longer for us to go back to our normal lives. More importantly, let us not wait for any of our loved ones to die or find ourselves in the hospital bed with COVID-19, begging for the shots when it is already too late.
AMERICA, let's do this for the greater good. GET VACCINATED!
* * *
The opinions, beliefs and viewpoints expressed by the author do not necessarily reflect the opinions, beliefs and viewpoints of the Asian Journal, its management, editorial board and staff.
* * *
Gel Santos Relos has been in news, talk, public service and educational broadcasting since 1989 with ABS-CBN and is now serving the Filipino audience using different platforms, including digital broadcasting, and print, and is working on a new public service program for the community. You may contact her through email at [email protected], or send her a message via Facebook at Facebook.com/Gel.Santos.Relos.