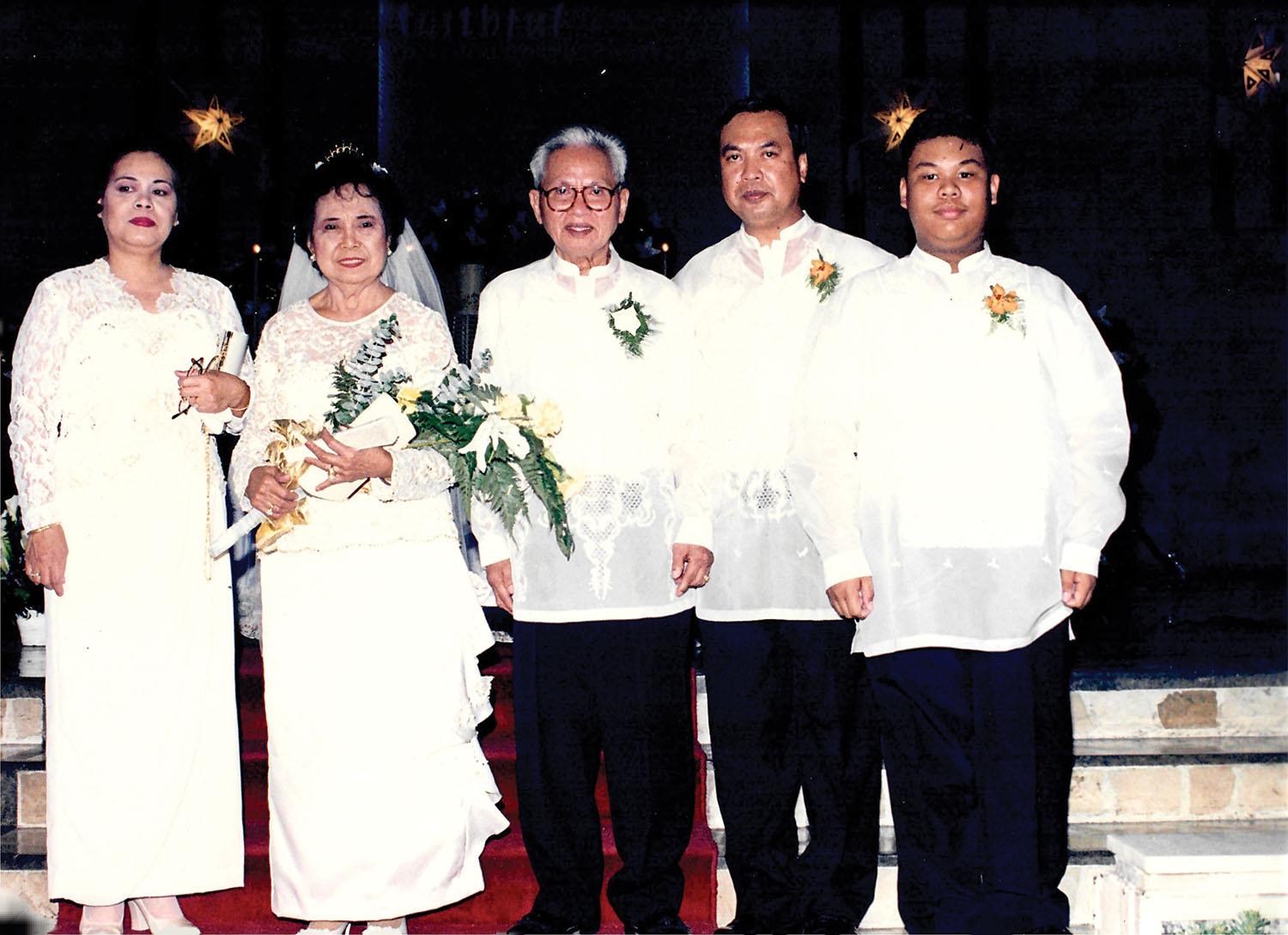 Although Mother's Day is more hyped in terms of celebration because of our mothers' heroic role in raising their children, fathers' roles should not be taken for granted for their pivotal role in our lives. They're more often than not the breadwinner of the family.  Parents should equally be honored. Remember, when two are united in holy matrimony they become one flesh. This pronouncements were substantiated in the bible's old and new testaments.
In this piece, I'd also like to honor my dad, Bonifacio Dizon Nino. My dad who was born on July 5, 1920.  was a self-made man who rose from humble beginnings due to his persistence to improve himself. He became a lawyer, college instructor in Taxation. He saw the light of day in Alaminos, Pangasinan where his mother Eugenia Raborar Dizon comes from. My grandpa, Don Tomas Fran Nino, a scion of a landed gentry in his native town of Agno moved to Mabini in the same province where he became councilor. He then moved his residence to Alaminos. Then the family finally settled in Bani where my grandpa was also a councilor. In those days, once you become an alderman, you are addressed as  a "Don." So too with my dad who also became a councilor in my mom's native town of Mangatarem. It was a title for a nobleman or gentleman in those days.
Before my dad's father went to Hawaii before the war to work at  a water authority, he instructed his 10 children to pursue higher education and he will finance them while making a living abroad. However, it was only my dad, the fifth child and his youngest sister who became a teacher, graduated from college.
While practicing as a trial lawyer, my dad ran and won as councilor of his adopted town. After four years, he ran for vice mayor but lost. There were two Liberal Party candidates and he ran as independent Liberal. The issue against him then was, he was not a true son of Mangatarem. I remember him campaigning and he was requested to sing but his voice was de-sentonado or off key. During his Miting de Avance in our barangay, his voice was emotionally choking and I also cried with him. I believe, I got my natural singing gift from my mom who was a church choir member during her heydays. Lol…
He used to tell me that he named me Dan, a short name because according to him, in case I wanted to run someday for an elected office, the voters would easily remember my name. However, my mom affixed a second name, Virgil, because when she gave birth to me, the Virgin Mary image of Manaoag passed by in our town that late afternoon.
I was prepping myself to run after my graduation from Centro Escolar University but martial law was declared in 1972. My plan was scuttled. There were no elections for many years. I went back to school and took post graduate studies in Comparative Literature and Political Science at Ateneo de Manila University in Loyola Heights, Quezon City.
It was obvious that my dad was grooming me to be a politician someday. He tagged me along when to meet political giants from our town and province. He even brought me to attend the inauguration of then newly-elected President Diosdado Macapagal in Luneta and in Malacanang Palace in 1962 when I was 11 years old to greet and shake the hand of the new president and First Lady Eva Macaraeg Macapagal during their reception. My dad and First Lady briefly spoke in our Pangasinan dialect.
As a former Boy Scout Master from his native Bani, my dad also encouraged me and my younger siblings in scouting. Our elementary Boy Scout troop, always won the town's contest in producing "fire by friction." I also joined provincial scouting  jamborees. Because of scouting, I also joined Alpha Phi Omega International Fraternity which is based in scouting.
On the side, my dad was also a gentleman farmer. He became the president of Pangasinan Farmers Club. He was granted study tours on rural reconstruction in Egypt,  the Holy Land, Japan and Taiwan. He regaled his cohorts about his travel experiences which I listened with admiration. I think, I also inherited his love of traveling and it also transcended to my only son, Denver who travels twice a year. As I wrote this piece, my son was in Kalinga, Mountain Province to have a tattoo with Whang-od, a 106-year-old legendary woman.
In fact, when my dad won his first case as defense lawyer, he was paid a six-hectare land in Surip, Bani fronting the West Philippine Sea which he converted into a farm. Every summer we joined him to plant coconuts, mangoes, bananas and other fruit trees. Because we could not consume all the mangoes that we harvested, he asked me to sell them wholesale in Cubao, Quezon City. In 30 minutes the 15 kaings of mangoes were sold out. I believe that I inherited my dad's love for farming and soil. In my Cerritos, California home, I raised myriad fruit tress and vegetables in my backyard. Not  to be outdone, I inherited my mom's love for flowering plants.
I also inherited my dad's love affair with writing. A lawyer relative who was employed with the Solicitor General's office commented, "I read the pleadings and briefs of your dad when it came to my desk, "I was impressed, He was thorough and his treatise was well-discerned."
As a lawyer, he loved to defend the poor and the powerless not expecting to be renumerated by huge lawyer's professional fees. There were times when he was paid in kind like produce.
When he was the chief of the Prosecution Division of the Bureau of Internal Revenue, one of his siblings challenged him: "If I were in your  exalted position, I would have accumulated lots of money." My dad replied, "Because of that mentality, that's why you didn't become a lawyer."
When we were growing up, our dad had ingrained in our minds that we should not abuse or take advantage of other people or flaunt the status of our parents. He said, "If you commit unlawful crime, I'll not defend you. I'll let you rot in jail."
I also inherited my dad's natural gift for public speaking and as motivational speaker.  In fact, when my elementary school chose me to participate in a declamation contest, my dad penned my piece and practiced my speech in front of him. However, as a young kid, it was obvious that I was nervous not used to public speaking.  I did not win any prize. I was disappointed, of course. From  then on, I made it a point to hone my public speaking by being a member of the Ateneo Forensic Society in college and Toastmasters Club in Cerritos – to achieve that confidence.
While I was practicing how to drive our first family vehicle – out of nervousness – I hit our neighbor's gate in GSIS Village, Quezon City when I  saw an incoming DM Bus. The front bumper of our jeep was damaged. When I got home, I was trembling with fear. Out of the blue and knowing my dad's wrath, I reported to him  that I committed a grave mistake. I said, "here's the bolo, you can kill me for my transgression." For some reason, he didn't lift a finger. Perhaps, my reverse  psychology theatrics did wonders and saved me.
While we were alone reflecting on what the future holds for me as the eldest of seven siblings, he emphasized that I should be a role model and not take advantage of the younger ones. He shared me his wisdom:  "Life is like the fate of the bird you are holding now. When you pressed so hard that bird's body, it might choke and die. If you release it, the bird will fly and seek its freedom and fortune in many ways.  He added, "the life and death of that bird depends on you my son. In like manner, your life and future depends on you."
On his last visit to California while we were alone – with a remorseful voice,  he said, "As an eldest, I was hard on you while you were growing up. "I'm sorry," he lamented.  After that emotional moment, we both burst into tears. A few months later, he passed away after a lingering illness of Parkinson's Disease.  Happy Father's Day dad in heaven.
* * *
The opinions, beliefs and viewpoints expressed by the author do not necessarily reflect the opinions, beliefs and viewpoints of the Asian Journal, its management, editorial board and staff.
* * *