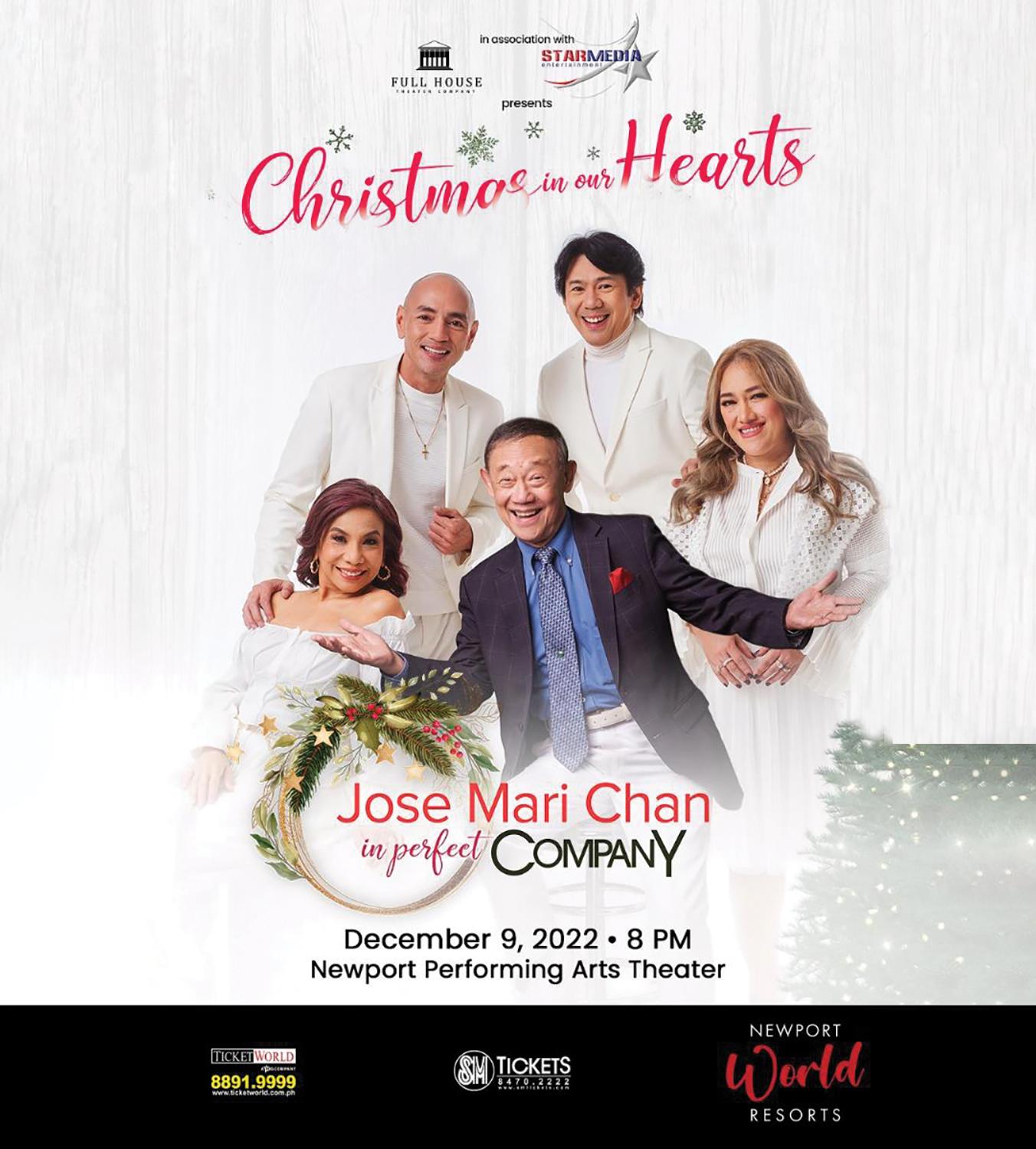 VALENTINE'S Day has come and gone…but love is here to stay.
Lovers all across Southern California now have the opportunity to see world-renowned Filipino singer and entertainer Jose Mari Chan perform with Filipino singing group The CompanY.
On Saturday, Feb. 25, the Starmedia Entertainment-produced show spectacular  "Love…in Other Words" will be hosted at The Scientology Auditorium in North Hollywood, California, and it's sure to be an evening of love, laughs, and levity.
Most Filipinos know Jose Mari Chan as the award-winning icon of Original Pilipino Music (OPM), a style of music that originated in the 1980s that favored pop ballads — a sonic movement that shaped generations of Philippine music.
Born to a Chinese father and Filipino mother in Iloilo City and raised in Bacolod City, Chan was musical from a young age. Inspired by singer-songwriters Neil Sedaka and Paul Anka, Jose Mari wrote his first song at 13 years old and release his first single, "Afterglow," at 22 years old, in 1967.
Since then, Chan has released more than a dozen albums and performed all around the world with some of the most talented musical acts, like Lea Salonga and Pentatonix. He even had time to participate in the family sugar cane business; since 2018, he has been the CEO and Chairman of Binalbagan-Isabela Company Inc. and A. Chan Sugar Corporation, which he inherited from his father.
Jose Mari's musical collaborations are among his career's long list of highlights, the upcoming show with The CompanY is sure to impress Tagalog and English speakers alike.
Named after the Stephen Sondheim musical "Company," The CompanY's history dates back to the early 1980s when the original members toured with the Manila-based Ateneo College Glee Club.
Through the years the popular vocal group has had many iterations of member lineups, but currently the group features Moy Ortiz, Annie Quintos, Diohanna "Sweet"  Collado-Plantado, and OJ Mariano.
Jose Mari Chan and The CompanY will perform their collaborative show "Love… in Other Words" on Saturday, Feb. 25 at the Scientology Auditorium located at 11455 Burbank Blvd. in North Hollywood.

Both acts will be joined by guest performers LA Jukebox Queens, Fil-Trio, and Richard Del Rosario.
The show begins at 7:30 pm and for tickets and information, please call: (818) 913-8998, (818) 913-5818, (213) 216-9668, (213) 250-9797, (818) 455-2132, (206) 403-7377, (206) 403-7378.
(Advertising Supplement)