THE trailer of the movie "Hello, Love, Goodbye" says it all. Or so I thought.
I've seen countless local and foreign films "dressed" as a love story but they are actually "travel movies" sans the documentary — the kind where the plot focuses on the location whilst putting a bit of the cliché love story to avoid being stereotyped as "just another movie with a great location."
On the other hand, there are filmmakers in likes of Cathy Garcia-Molina who know how to combine a great location and great story without overshadowing one or the other by injecting a concept so familiar and captivating especially to Filipinos: the untold story of Overseas Filipino Worker (OFW). And after watching the film, I am happy to say that the movie "Hello, Love, Goodbye" is indeed an "OFW movie," and so much more.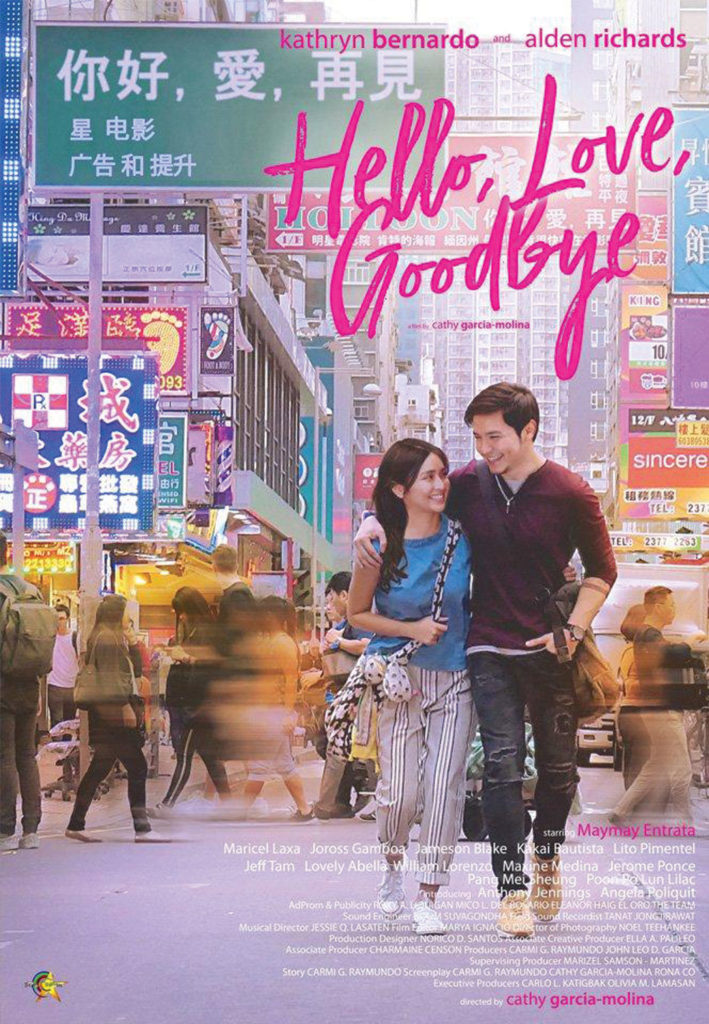 The story revolves around Joy (played by Kathryn Bernardo), who is the quintessential OFW, working hard in Hong Kong to provide for her family in the Philippines, with aspirations of migrating to Canada. Ethan, played by Alden Richards, is the less driven bartender who, while waiting for his residency to push through, meets Joy. They develop a friendship – thanks to the persistent and slightly stalky moves of Ethan. They then slowly find themselves falling in love.
I came to the theaters expecting heavy drama-filled scenes centering on the personal sufferings of a domestic helper; followed by the typical opening up of stories by "kababayans" who (also) perceive Hong Kong as a "pass-thru" place wherein you stay awhile and expect to leave when you have to. The film opens up with that exact sentiment as Joy's voiceover talks of transience and how Hong Kong is a place that is not meant for long-term dedication as it is just a stop-over. The scenes were of bustling life on the streets of Hong Kong, in their workplaces and family homes; where Joy and her friends commiserate about their trials, but also gossiping and laughing.
My expectation was met in that the movie truly brought out complex social structures and personal sufferings that describe the life of an overseas domestic helper. But it had more depth than I gave it credit for. The movie offers a compelling, detailed, compassionate look at the little-known lives, and hopes, of domestic workers.
As expected, Director Garcia-Molina knows exactly how to depict such testimony while honestly exposing the inequity that domestic helpers experience. She seamlessly peppered the film with scenes and exchanges that tug at your heartstrings. So be warned. Make sure you bring more tissues. And just let your tears well up coz they will.
The lead actors—Kathryn Bernardo and Alden Richards— were exceptional in delivering their characters that you'd forget that this is their first time to team up and step away from their respective loveteams. I still miss "Kathniel" but I have to admit, "Kathden" shows undeniable chemistry, all things considered. Both were able to communicate conflicting emotions without saying anything.
As Inquirer writer Armando Chavez review's says, "Applause as well to the musical editor for the musical thread through each of the non-speaking sequences between Alden and Kathryn. The close-ups are pure art as executed by the actors and captured by the director."
Ricky Lo in his Philippine Star column also wrote: "…I can give 10 more reasons why I like the movie: The chemistry between Kathryn and Alden who are so convincing as young lovers on distant shores, with eyes speaking volumes even after they exchange kilometric dialogue — you know, to paraphrase a line from the popular song, they say it best when they say nothing at all… [also] The soundtrack that helps dramatize the characters' dilemma, with the songs that heighten the immediacy of the lovers' 'stolen' times together the oft-tackled plight of OFWs in the former Crown Colony related with unblinking clarity in the 2000 Rory Quintos movie Anak in which Vilma Santos plays an OFW in Hong Kong, enduring loneliness and homesickness for the sake of her family back home who depends on her for their survival (Joy and Ethan in the same situation)."
Yet despite their charm, the typical cliché romance-in-a-travel-movie still seeps thru. Their backstories seem predictable as most lead characters in an OFW movie are. Nothing is surprisingly different in how their love story was told and I honestly think that the trailer already gave it away. But that is what makes the movie a must-see. You see the trailer and expect it to be a certain way then Boom! It turns out a lot better than you expect.
So much better is the news that the movie has reportedly earned 500 million in the Philippines, and sold out in theaters abroad. That is quite a feat considering both Alden and Kathryn came from two of the most sensational loveteams that have the most loyal and devoted fans of their generation. I guess there's no stopping a wonderfully executed story even if it means stepping out of their comfort zones.
To the cast and crew of "Hello, Love, Goodbye," congratulations and I hope you turn more OFW movies into brilliant masterpieces such as this.
***
Monet Lu is a Marikina-born, award-winning celebrity beauty stylist with his own chain of Monet Salon salons across Southern California and Las Vegas, Nevada. Ultimately, Monet is known as an all-around artiste who produces sold-out fashion and awards shows as well as unforgettable marketing campaigns. Monet is also the founder of the revolutionary all-natural beauty products such as Enlighten, your solution to discoloration. To contact Monet, please visit www.monetsalon.com or email him at [email protected].