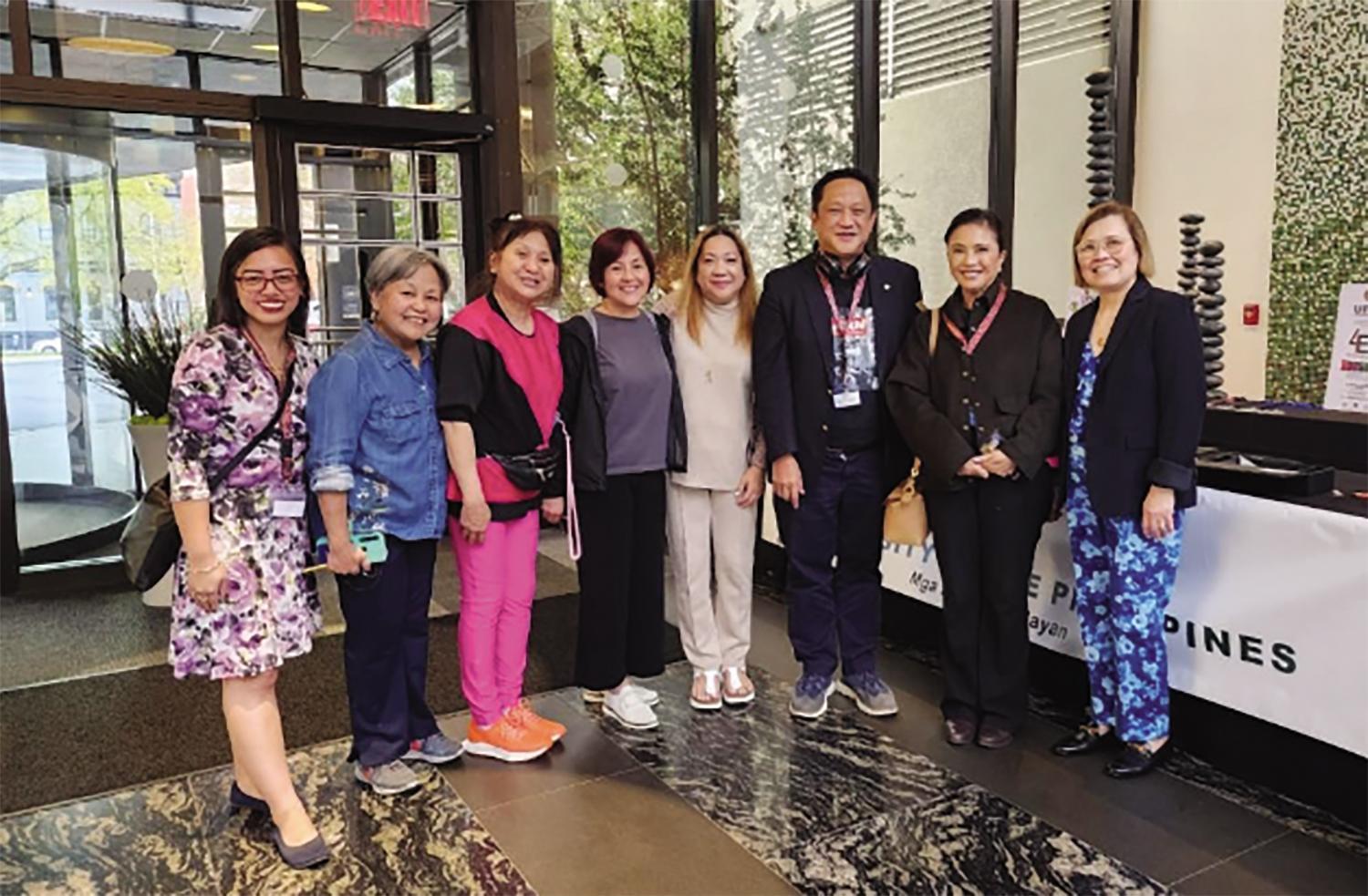 IN an inspiring gathering of distinguished alumni, the 22nd Grand Reunion and Convention of the University of the Philippines Alumni Association in America (UPAAA) took center stage in New Brunswick, New Jersey from October 19 to 22, 2023. The biennial event served as a platform for UP President Angelo A. Jimenez to share his vision of a globally influential university, emphasizing graduate programs and community engagement. 
"I am not here to ask you for money. I am here to ask you what can the university do for you in your lives here in the United States," Jimenez said in his speech. "If you have to do something, please make it big, make it difficult. Our job as UP alumni is to think through the most difficult conundrums of our lives and find a way to finally fulfill that promise of UP to the Filipino people – the promise of a prosperous and equitable society."
His emphasis was on creating enduring impact and fulfillment for U.P. alumni. He urged them to engage with profound challenges, striving towards the promise of a prosperous and equitable society.
Jimenez candidly shared that the university secured a $21 billion budget from the national government, short of the requested $40 billion. He sought support not for new ventures, but to ensure the completion of existing infrastructure projects worth $9 billion.
"I just want to finish what we have started because if we don't finish them, they will become waste, they could deteriorate, and that is criminal negligence," Jimenez said.
Jimenez also disclosed an ambitious agenda for his term, with plans to produce an additional 1,500 PhDs and 30,000 engineers. This aligned with the Innovation Council of the Philippines' endeavor to cultivate 1,000 scientists per million of the population. He underscored the crucial role alumni networks would play in realizing these formidable objectives.
Established in 1981, the UPAAA originated from the shared vision of UP alumni in New Jersey to unite associations across America. Over three decades, UPAAA has organized 21 General Assemblies/Conventions, reinforcing UP's standing as a beacon of academic excellence and service.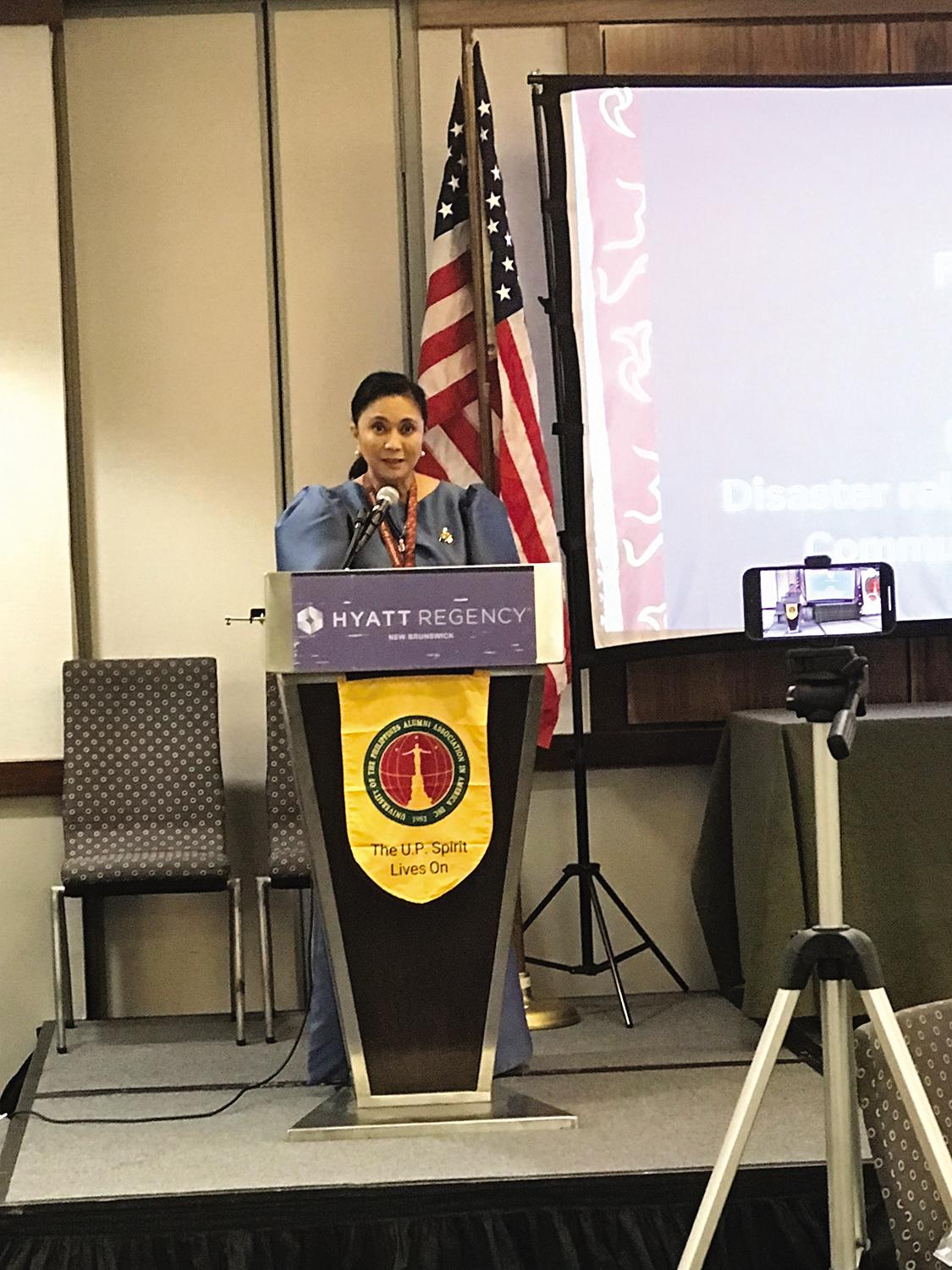 Atty. Maria Leonor "Leni" Robredo, former Vice President of the Philippines graced the convention as the keynote speaker. She offered her reflections on the current state of the country, acknowledging the challenges while expressing hope in the resilience and generosity of Filipinos.
In her keynote speech, Robredo recalled her life as a college student at UP, one of the few from Naga City who passed the admissions test. She shared that she was a full-time dormer in the four years she stayed on campus. Robredo graduated from the University of the Philippines in Diliman with a degree of Bachelor of Arts in Economics in 1986.
Following her experiences as a politician, including her bid for the presidency in 2022, the former Vice President turned her focus towards addressing critical issues in the Philippines.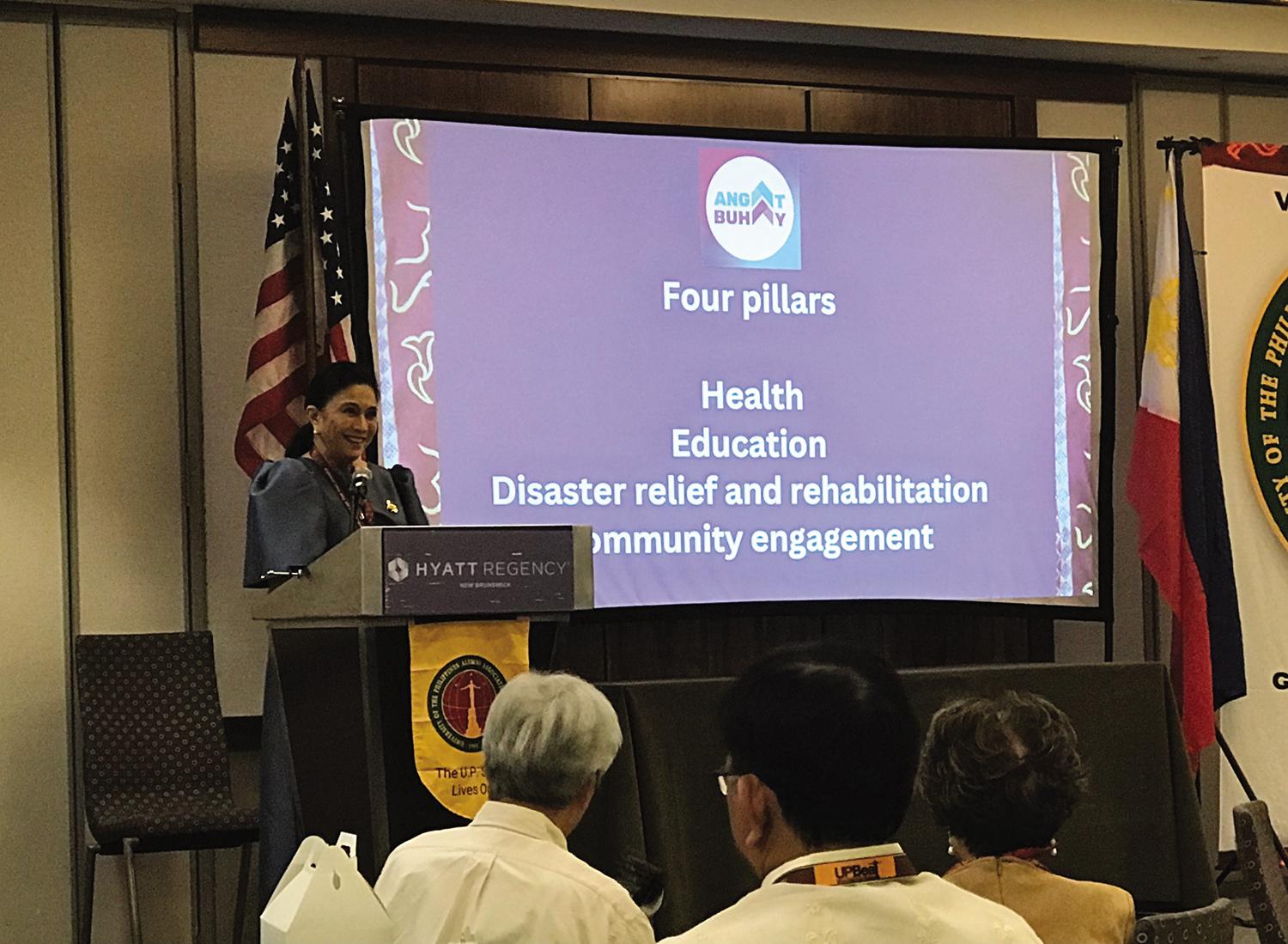 Despite her electoral loss, she channeled her dedication into founding the Angat Buhay Foundation, a non-profit organization committed to carrying forward the anti-poverty and pandemic response initiatives initiated during her vice-presidential term. With a strategic emphasis on health, education, food security, and disaster risk management, the foundation represents a beacon of hope for a brighter future in the face of adversity.
"It's not a very good time for the country but I want to say that I am very hopeful because I have seen so many generous, kind-hearted Filipinos who really love the country," Robredo said.
The former Vice President expressed hope for the Philippines despite the challenges it faces as she reflected on the evolution of Angat Buhay from its roots in the Office of the Vice President to its current state.
"The dream for Angat Buhay is that it is going to be the biggest volunteer network in the country and I am very proud to say that we are well on our way," Robredo proudly shared, adding that Angat Buhay is an example of the Filipino spirit of service and determination.
UPAAA Oblation Awards
In recognizing excellence, the convention honored 11 individuals with the Distinguished UP Alumni Award. The awardees represent varied areas of expertise and advocacy, from academia, health and wellness to business, community service, and culture.
The recipient of the Distinguished Service Award for a UP Alumni Group is UPAA in Texas, Houston Chapter (Houston UPAA), a non-profit 501(c) organization established in 1983.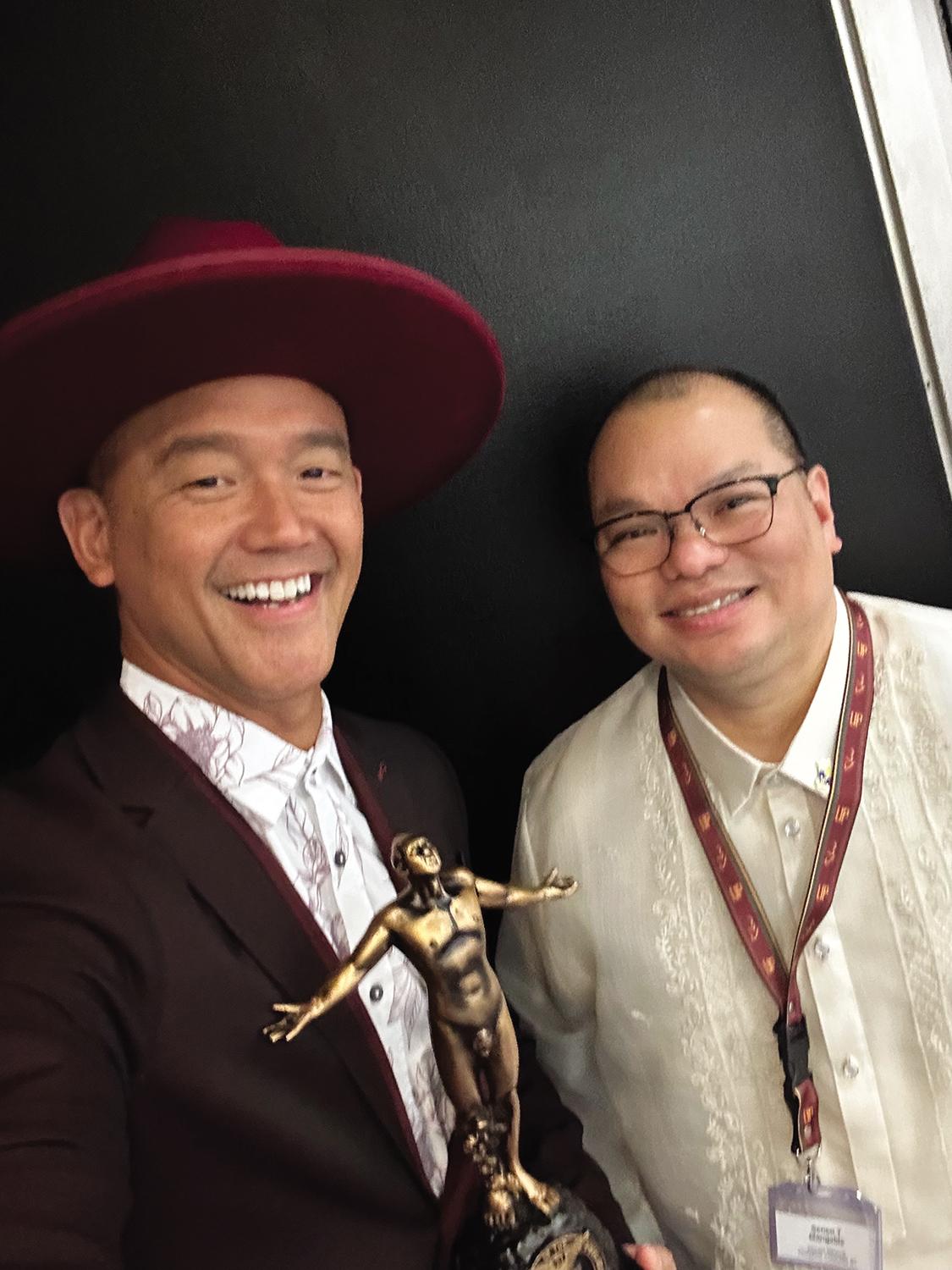 Among the awardees were: Marlene Cataylo-Chance (Nursing Practice and Advocacy), Sonia Delen (Corporate Governance and Community Service), Benildo delos Reyes, Ph.D. (Genetics and Food Security), Susan delos Santos (Media and Community Engagement), Dina Barros-Ellorin (Advocacy of Philippine Music and Dance), Macario Fojas (Technology and Entrepreneurship), Joel Gamo, MD (Medical Education and Community Service), Elmer Rico Mojica, PhD (Agricultural Chemistry and Education), Annie Nepomuceno (Music and Cultural Arts Adviocacy), Erwin Benedict Valencia (Physical Therapy and Sports Medicine), and Francisco Sy, MD (Lifetime Achievement Award).
The Distinguished Service Award celebrated the UPAA in Texas, Houston Chapter, for its commendable contributions since its establishment in 1983. The organization's sustained commitment to education and service stands as a testament to the enduring value of UP's legacy.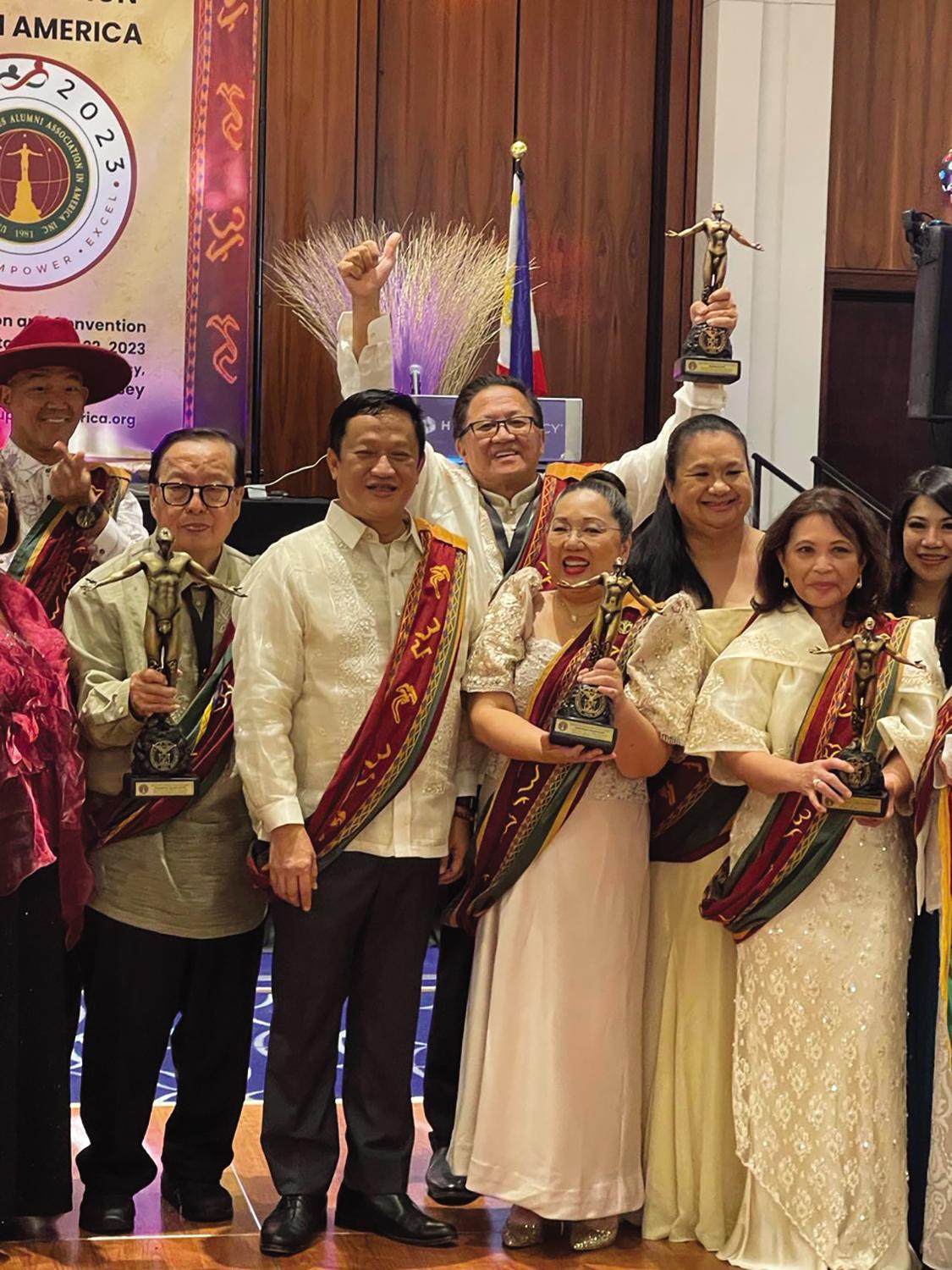 Los Angeles-based performing artist Annie Nepomuceno graduated in 1991 with a Bachelor of Music in Musicology from the UP College of Music.
"The award is a testament to the value of education as passed down from father to daughter," Nepomuceno told the Asian Journal. "I wish he was still alive to see this awarding. But I think he knows that it is his hard work and integrity that inspired my principles in work and life."
Nepomuceno's father valued his UP education and he sought scholarships just to be able to attend school. He graduated and became a Physics professor at UP, the Undersecretary of Natural Resources, and founder of the Haribon Society.
"Though I went into the arts and not the sciences like he did, he gave his unwavering support because I still went to UP," she added. "My education gave me the privilege of studying and working closely with not one, but two National Artists for Music. Ryan Cayabyab was my composition teacher who gave me a lot of my first gigs in the music industry, and Prof. Andrea Veneracion was both my voice teacher and conductor when I was in the UP Madrigal Singers."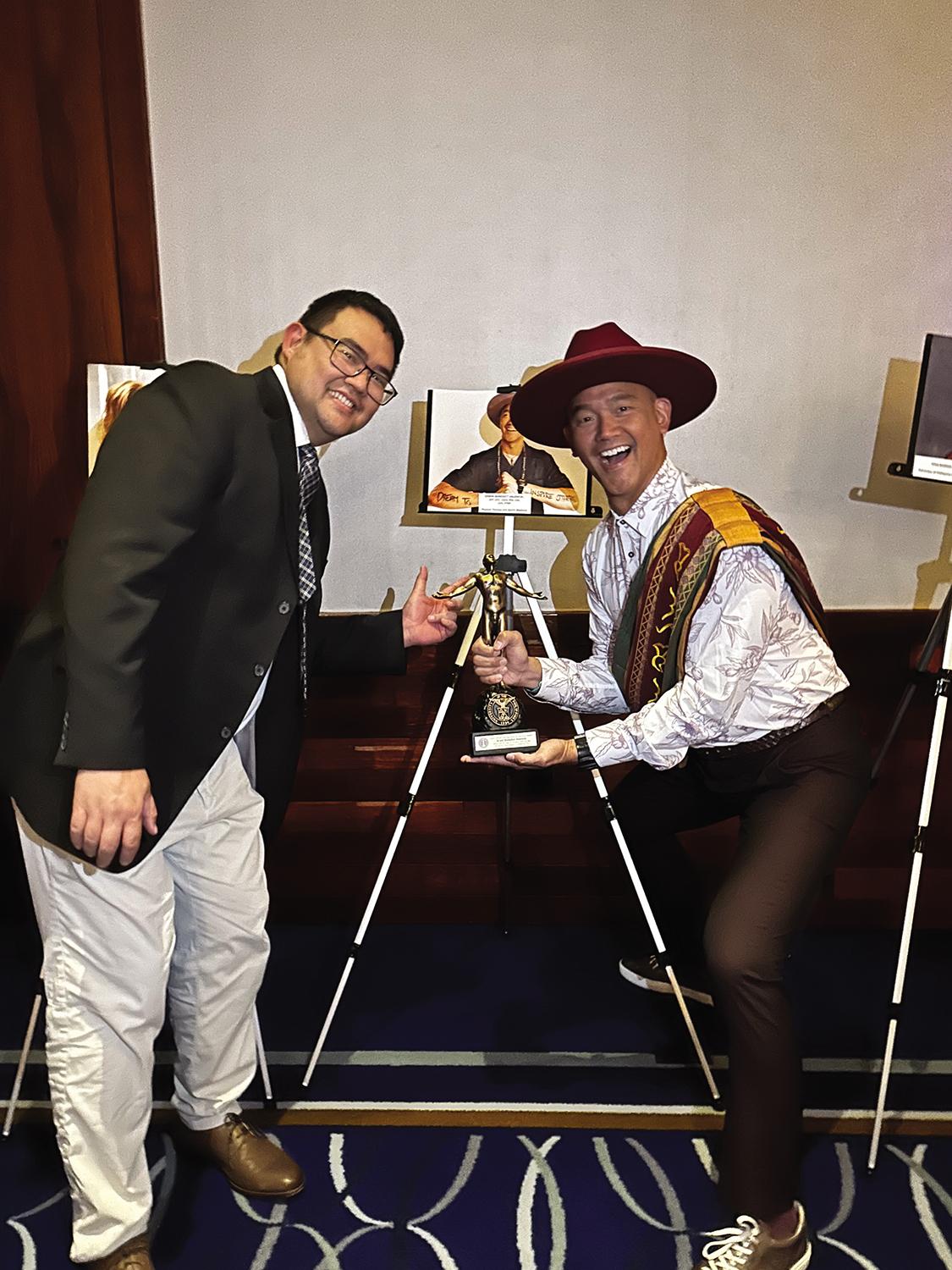 For Erwin Valencia, former lead physical therapist and wellness lead of the New York Knicks, the award gave him more courage to continue to focus on the next part of his life to truly serve others.
"I believe those that go to UP are chosen by fate, leaders that are called upon at a young age to manifest success. And in the challenges each UP student experiences come moments that have proven this theory over and over again," Valencia said. "Sometimes I feel that by simply choosing to go to UP, we are already destined for greatness."
Valencia, who graduated in 1999 with a Physical Therapy degree from the College of Allied Medical Professions, became the first Filipino to be on the medical staff of both Major League Baseball (MLB) and the NBA.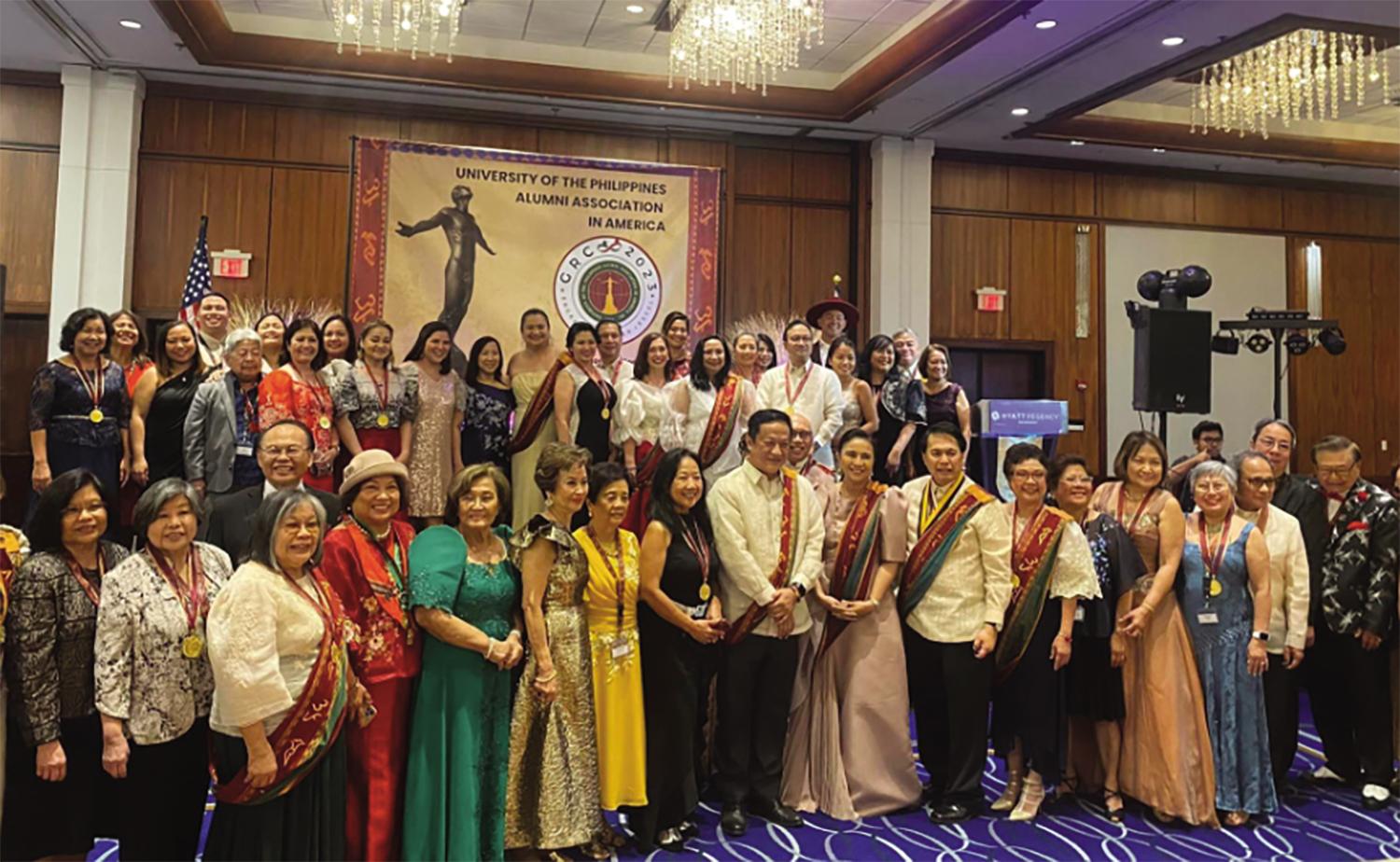 The convention also recognized jubilarians, among them Dr. Connie Uy, a diamond jubilarian.
"I'm humbled and honored to be recognized and awarded by UP President Jimenez and former VP Robredo," Dr. Uy shared. "UP education gave me a solid foundation to be resourceful, intellectually curious, and passionately motivated to work not only for personal reasons but to serve the community."
A past president of UPAAA and UPMASA (UP Medical Alumni Society in America), Dr. Uy believes that the biennial reunion is important so that co-alumni can network and meet with UP dignitaries from the Philippines. "The GRC gives me the opportunity to learn what our outstanding alumni are doing, how to strengthen the ties among colleges, and to learn new developments in the UP system," she shared.

The convention's honorees, distinguished alumni, and the tireless efforts of the UPAAA exemplify the enduring spirit of honor and excellence instilled by the University of the Philippines. Their collective achievements inspire a new generation of leaders and reinforce the profound impact of UP's legacy worldwide.
As a concluding note, Robredo rallied the attendees: "If you ask me, paano ba tayo moving forward, let's just continue doing what we're doing, doing the best that we could, finding spaces for us to be involved even if we are very far away from home." n