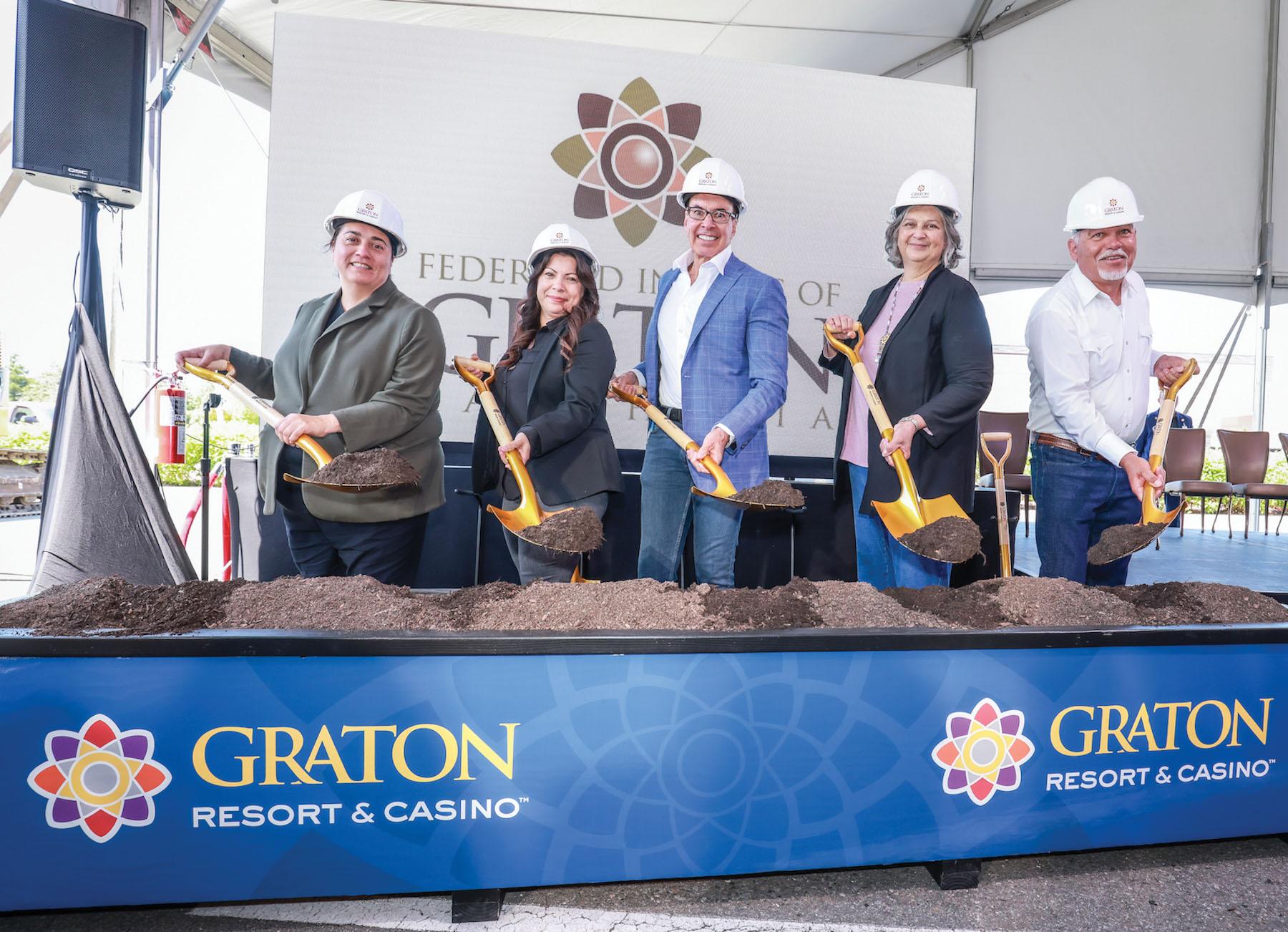 New construction begins on parking structure and will eventually include additional casino and resort buildings
ROHNERT PARK – Graton Resort & Casino,  the Bay Area's premier gaming destination, hosted a groundbreaking ceremony on Thursday, June 15 to celebrate the expansion of the Rohnert Park resort. A new parking structure with solar panels was slated to begin construction on Thursday, June 16. Projects including an additional hotel wing and expanded casino floor are slated for future development.
The expansion of the property will employ 2,000 in temporary construction jobs, and 600 new Graton Resort & Casino team members. Graton Resort & Casino is already one of Sonoma County's largest private employers.
The casino floor expansion will add approximately 144,000 square feet, adding 2,000 new slot machines, a new poker room, and a new high-limit area.
The $1 billion expansion project will also include:
A new five-story, hotel wing with over 200 rooms
A 28,000 square foot rooftop restaurant with indoor and outdoor seating for 480 guests
A five-level parking structure with solar panels and EV charging stations
A 3,500-seat theater.
"This is an exciting day, and we're thrilled to begin construction. The expansion reflects our consistent mission to provide the highest quality guest experience at Graton Resort & Casino," said Federated Indians of Graton Rancheria Tribal Chairman Sarris. "We've been working on these plans for several years, and we're excited to create new job opportunities here in Sonoma County."
The project's architect is Bergman Walls & Associates. The project developer is ECL Development LLC and the general contractor is SMC Contracting Inc.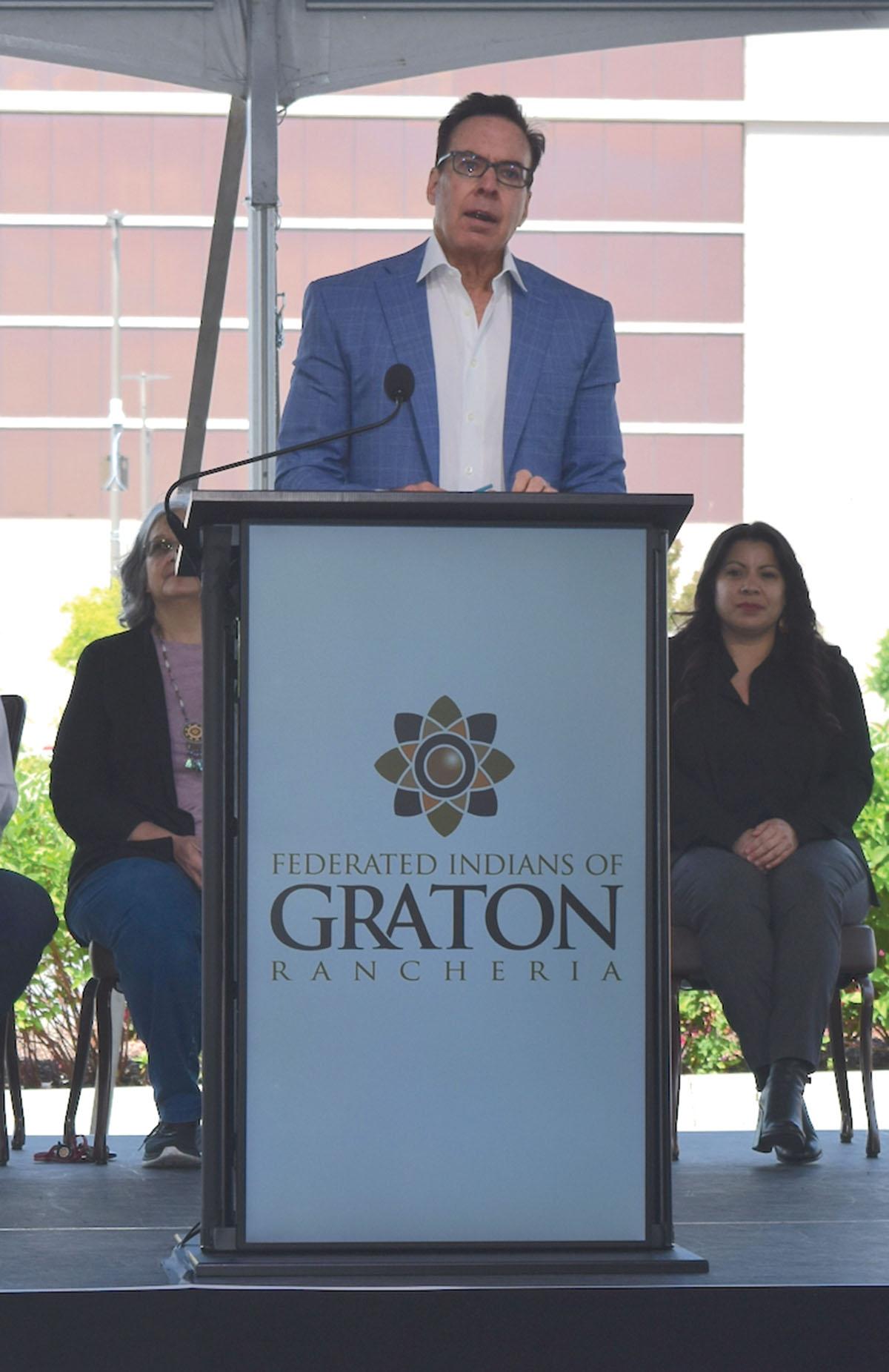 In a brief interview with Filipino American media, Greg Sarris, Graton Rancheria Tribal Chairman, talked about the success of Graton Resort & Casino since it opened which has paved the way for new developments within its area.
"We've been extremely successful here, with the support of the Filipino, many Asian communities and other communities because we have such a comfortable home for so many people to come to and be happy," Sarris said. "Because we've done well and we've seen there's a greater demand for both gaming and entertainment, and food, we decided, 'Let's go ahead and expand.' And we're able to expand and do very well. So, were excited – there will be more room, more entertainment, more food, more spa and pool for more people."
Sarris, who is part-Filipino (his grandfather is Emiliano Hilario), counts many Fil-Am family members from South San Francisco, and is proud of his heritage, wants Graton to have a legacy of helping all peoples… a legacy of generosity and kindness that they give back to the community from their gaming business so the community can be healthy. "We are all in this together," he emphasized.
Graton's commitment to social responsibility and the model it has created, Sarris believes, has been a part of their success, and a good reason why many local and state officials have supported their growth. "I've always wanted this to be a model business – a model of good jobs, generosity, something that benefits the [Native American] Indian and non-[Native American] Indian people. And we've proven we can do this," Sarris told Fil-Am media.
Earlier, his program remarks, Sarris revealed the many significant developments that the Graton Rancheria's gaming business and commitment to social responsibility/environmental stewardship/giving back to the community has given to the tribe and to the surrounding area:
In the Graton Rancheria Tribe, the past ten years has seen an 80% dropout rate to a 100% high school graduation rate
The Tribe has added to federal and state education grants through its gaming revenue so that it can support the educational structure for Native American Indian children in the United States
It has given $2.5M in perpertuity to the UC school system so that all California Native American Indians have the opportunity to attend UC schools tuition-free
Graton Resort & Casino currently employs more than 2,000 people, and those who work 25 or more hours get full coverage medical benefits that is not deducted from their paychecks
Graton offers literacy and citizenship programs, where they have assisted workers who are green card holders with their citizenship applications and paid the fees
Graton has provided more than $200M to the Sonoma County and to the City of Rohnert Park for mitigation funds
Graton has given nearly $90M in charity for social justice and environmental stewardship causes.
Sarris added that at Graton Resort & Casino, there are 20 languages spoken, and there is a culture of love passed on to the guests that makes their business a happy and healthy place. "The only thing we don't tolerate is intolerance," he said.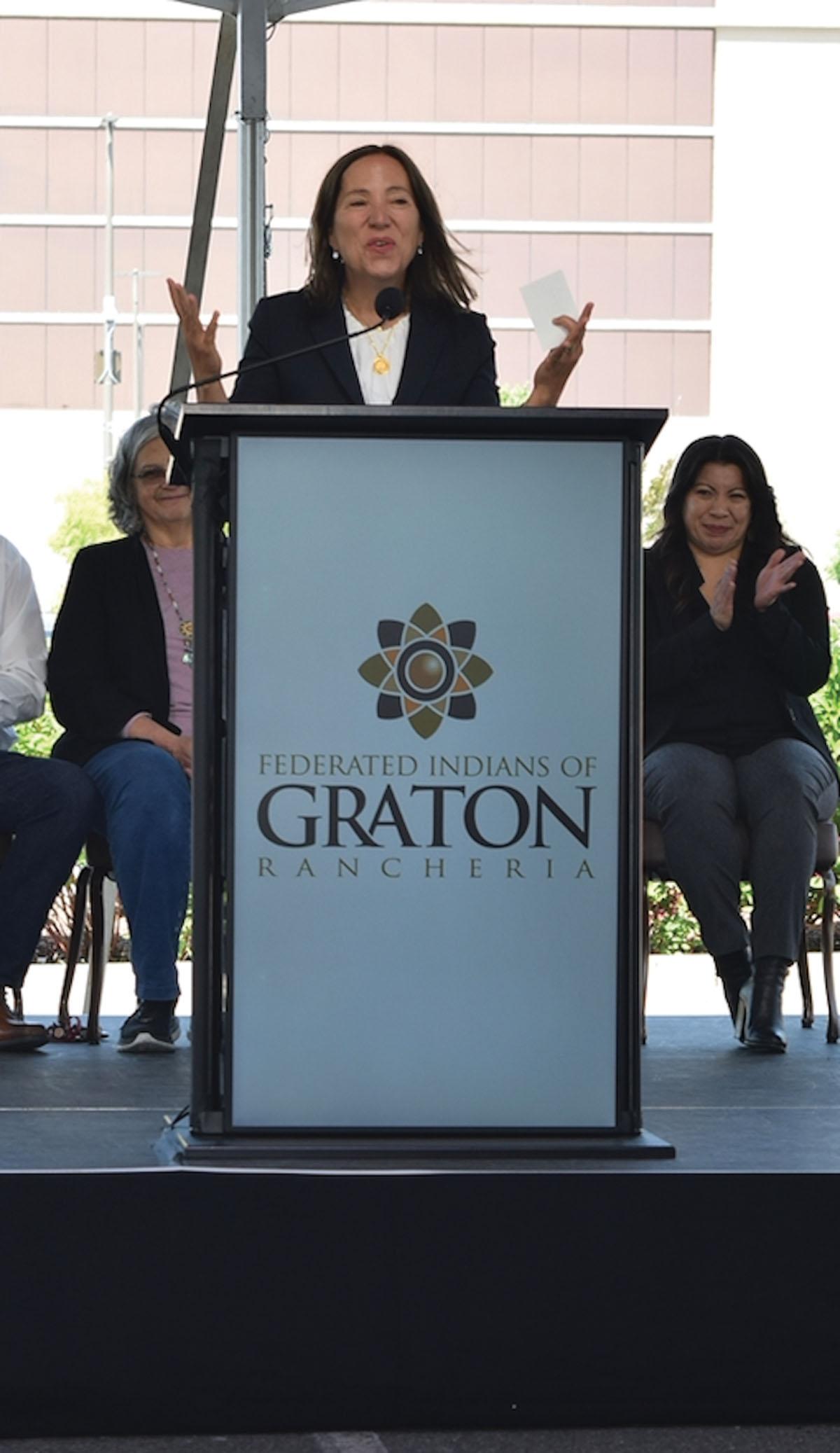 Special guest Eleni Kounalakis, Lt. Gov. of California, spoke briefly and lauded the Graton Rancheria Tribe for putting community first and actively giving back to the city, to the Bay Area to the state, and to the U.S. She also thanked Graton Rancheria for its extraordinary support to Proposition 1, which enshrines a woman's right to contraception, empowerment and decision-making over her own health and her own body in the California Constitution which was approved by nearly 67% of voters in the November 2022 elections.
Aside from mentioning the grant to the UC system that provides tuition, books and housing to Native American Indians not just from the Graton Rancheria Tribe but to children of other Tribes, Lt. Gov. Kounalakis, who herself is a UC Regent, touched on Graton's support for filmmakers who are tribal members from across the state and who are entering their films to Sundance.
Lt. Gov. Kounalakis underscored the great diplomacy that Graton Rancheria and the other California tribes have shown in partnering with local, city and state officials in creating and developing compacts that shows how well the tribes have managed gaming and entertainment in the state.
"It is something that all Californians should respect and admire, and continue to support," she said. "And, I for one, plan to make sure that Californians see and understand this remarkable relationship that has led, to not just to the success of California tribes in gaming and entertainment, but in their giving back in so many profound ways, philanthropy and economic development. It's so important, and I think ultimately that is what we are celebrating here today."
Located in Sonoma County, Graton Resort & Casino has a commanding presence among the rolling hills of Northern California's wine country. Owned and operated by the Federated Indians of Graton Rancheria, Graton Resort & Casino features table games, the latest slot machines, upscale and casual dining, plus entertainment options for visitors and locals alike. For more information, please visit www.gratonresortcasino.com.
Graton Rancheria is a federally recognized Indian tribe comprised of Coast Miwok and Southern Pomo Indians. Legislation restoring federal recognition to the Federated Indians of Graton Rancheria was signed into law in December 2000. Tribal lands are located in Rohnert Park, Sonoma County, CA. For more information about FIGR, visit www.gratonrancheria.com.
(Advertising Supplement)