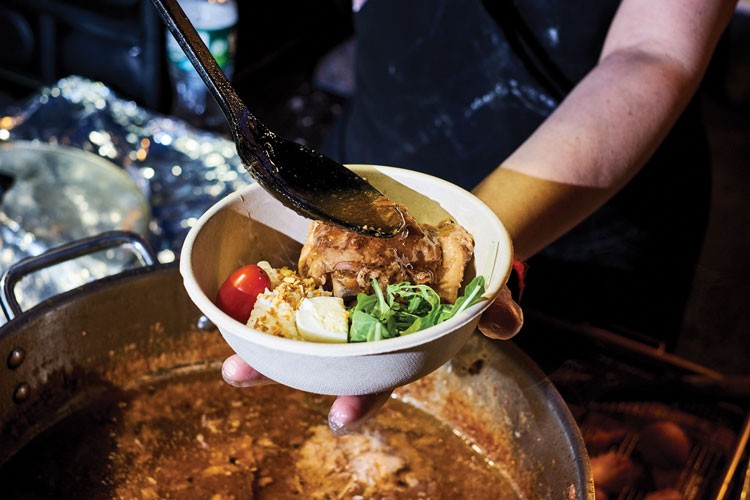 Recipe from Alfredo and Marienits Pedrajas of Lapu-Lapu Foods Philippines
(Makes 5 to 6 Servings)
Filipinos love their garlic and vinegar, and both are supporting stars in this dish. Chicken adobo is an iconic and familiar household dish in the Philippines, but it's also sold in many fast-food establishments. It's traditionally cooked in a wok. Serve this with white rice, a boiled egg, and a side of tomato and arugula salad.
Ingredients
• 2 pounds (900 g) chicken thighs (bone-in, with skin)
• 1⁄2 cup (120 ml) cider vinegar or coconut vinegar
• 1⁄4 cup (60 ml) Filipino soy sauce, such as Silver Swan Soy Sauce
• 1 tablespoon plus
• 1 teaspoon patis (Filipino fish sauce)
• 1 teaspoon onion powder
• 1⁄2 teaspoon ground black pepper
• 1⁄4 cup (60 ml) canola oil
• 20 garlic cloves, minced
• 1 tablespoon black peppercorns
• 1 bay leaf
• 3 hard-boiled eggs, halved
Directions
1. Combine the chicken, vinegar, soy sauce, fish sauce, onion powder, and pepper in a bowl or container and marinate in the refrigerator for at least 1 hour, but overnight is preferable.
2. Heat the oil in a wok or medium pot over medium heat. Add the chicken (reserving the marinade) and pan-fry until golden brown, about 3 minutes on each side. Remove and set aside.
3. Add the garlic to the wok and saute until fragrant and just browning, about 3 minutes. Return the chicken to the wok and add the reserved marinade. Add the peppercorns and bay leaf along with 1 cup (240 ml) water. Cover and bring to a boil. Simmer until most of the water has evaporated and the sauce turns dark brown and oily, about 45 minutes.
4. Uncover and continue to simmer until the sauce has reduced to the desired consistency, usually about 10 minutes. Remove from the heat, discard the bay leaf, and serve each dish with half an egg.
Recipe from Alfredo and Marienits Pedrajas, Lapu-Lapu Foods. Excerpted from "The World Eats Here: Amazing Food and the Inspiring People Who Make It at New York's Queens Night Market," © 2020 by John Wang and Storm Garner. Photographs © by John Taggart.