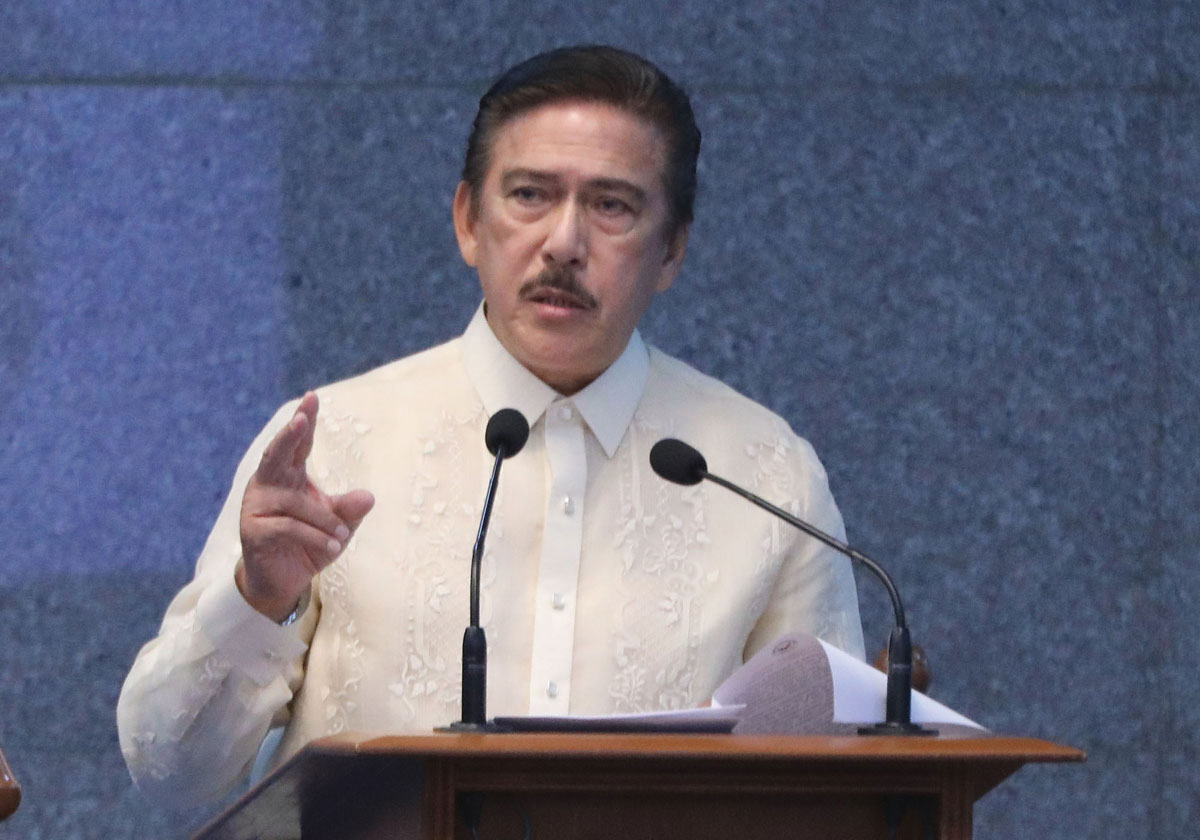 THE Philippine House of Representatives on Wednesday, June 3, approved the Anti-Terrorism Act of 2020, on its third and final reading.
A total of 173 lawmakers voted to pass House Bill 6875, while 31 voted against its passage; 29 others, on the other hand, abstained.
"No need for bicameral conference committee since there are no disagreeing provisions. When approved on 3rd reading, it will be an enrolled bill for the action of the President. He may sign, veto any or all provisions, or not act on the measure for it to lapse into law," said Puwersa ng Bayaning Atleta Representative Jericho Nograles, who co-authored the bill.
What does this mean for Filipinos?
Once signed into Law, HB No. 6875 grants any law enforcer to arrest and detain without warrant "a person suspected of committing any of the acts" punishable under the measure for 14 calendar days, extendable by 10 days. The suspected "terrorist" can also be placed under surveillance for 60 days, extendable by up to 30 more days, by the police or the military.
Acts punishable under HB No. 6875 include:
• Engaging in acts intended to cause death or serious bodily injury to any person, or endangers a person's life;
• Engaging in acts intended to cause extensive damage or destruction to a government or public facility, public place, or private property;
• Engaging in acts intended to cause extensive interference with, damage, or destruction to critical infrastructure;
• Developing, manufacturing, possessing, acquiring, transporting, supplying or using weapons; and
• Releasing of dangerous substances, or causing fire, floods or explosions.
Any person who will propose, incite, conspire, participate in the planning, training, preparation, and facilitation of a terrorist act; as well as those who will provide material support to terrorists, and recruit members in a terrorist organization will also be penalized by life imprisonment without the benefit of parole.
Meanwhile, anyone who will threaten to commit terrorism, and those who will propose any terroristic acts or incite others to commit terrorism will suffer imprisonment of 12 years.
This goes the same for anyone who will voluntarily and knowingly join any organization, association or group of persons knowing that such is a terrorist organization.
House Minority Leader and Manila 6th District Rep. Benny Abante, who voted against the bill, said: "Under this bill, anyone suspected of being a terrorist can be detained without warrant for up to 24 days."
"Hindi po 'yan ang aking ipinapangarap para sa aking mga anak at apo (This isn't what I was wishing for my children and grandchildren). The questionable and unconstitutional provisions of this bill defeats the very purpose why we are enacting this bill in the first place," he added.
Quezon City 6th District Rep. Jose Christopher "Kit" Belmonte also voted no, saying the bill is "intended to widen the net on who can be considered as terrorists."
He added: "With this bill, in the guise of protecting our country, we are in fact undermining it. We are repressing our freedoms. We are, in fact, destroying our democracy."
Gabriela Rep. Arlene Brosas also pointed out that the ordinary people who are angry at the government are the first ones who will be arrested if the bill is signed into law.
"Kung di ka raw terorista, wala ka raw dapat ikatakot sa panukalang ito. Pero klaro sa mga probisyon ng anti-terror bill na kahit ordinaryong mamamayan ay puwedeng maakusahan na terorista by mere association of a terrorist act (They said if you are not a terrorist, there's nothing to be afraid of. But it's clear with the anti-terror bill's provisions that ordinary men can also be accused of being a terrorist by mere association of a terrorist act)," she said.
Meanwhile, Surigao del Norte 2nd District Rep. Robert Ace Barbers defended his vote to pass the measure, saying "For terrorists, this bill is laudable. Putting them in custody for long periods to extract valuable information from them is ideal."