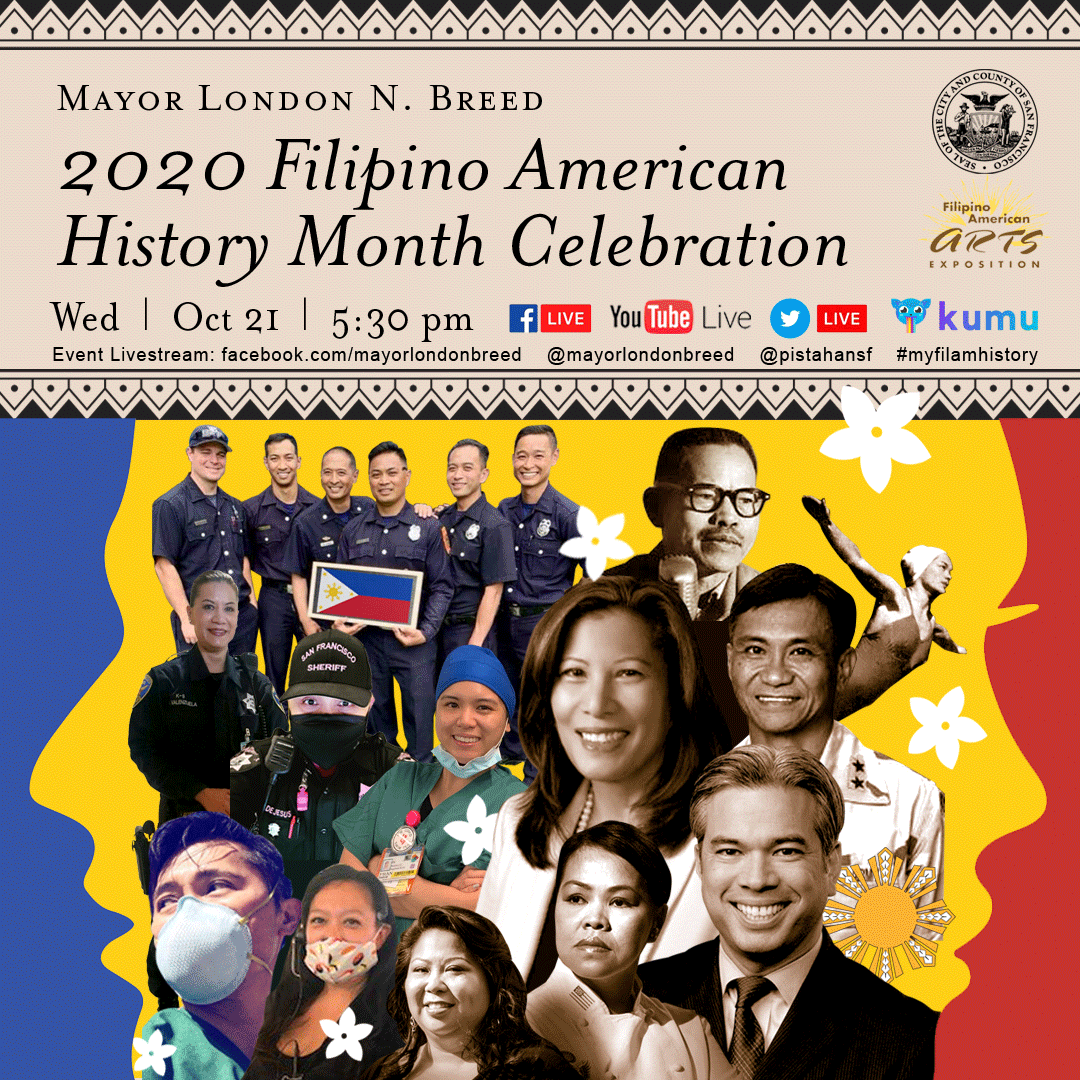 Filipino American Arts Exposition (FAAE), San Francisco Mayor London N. Breed, and the City and County of San Francisco announced the 2020 Filipino American History Month virtual celebration: "Lived History in the Making: Celebrating our Past, Present and Future."
In its 16th year, San Francisco's celebration of Filipino heritage and culture in the City will be a special virtual program taking place on Wednesday, October 21 at 5:30 p.m. PT.
"Every October, we come together to celebrate the achievements and accomplishments of our Filipino American community," said Mayor Breed. "This year, with the challenges of COVID, it is more important than ever that we come together and recognize the contributions of our Filipino American residents. Whether serving on the front lines as essential workers, adapting their businesses to support vulnerable residents, or inspiring and empowering others to contribute to their community, Filipino Americans have stepped up to meet this moment. We look forward to continuing this amazing tradition with amazing performances and tributes to our local leaders, and hope you will join us for this virtual celebration."
"Philippine national hero Jose Rizal once said, 'He who does not know how to look back at where he came from will never get to his destination,'" said Al Perez, President of Filipino American Arts Exposition and Commissioner on the San Francisco Entertainment Commission. "His words continue to inspire us and resonate with this year's theme. We need to let the struggles and triumphs from our lived history inform and empower us, as Filipino Americans now make new history during this challenging time, and forge new paths towards equity, equality and progress for our community."
Hosted by Golden State Warriors "Hype Man" Franco Finn, the virtual celebration will feature performances from artists including Jocelyn Enriquez, One Vo1ce, Fatima Yusuf David, and a special musical collaboration between Florante Aguilar and Jackie Chavez. Program highlights include:
Proclamation by San Francisco Mayor London N. Breed
Remarks by Henry Bensurto Jr., Philippine Consul General to San Francisco
Tribute to Filipino American healthcare and essential workers, and first responders
Celebration of the resilience of Filipino American entrepreneurs and small business owners
Tribute to the late U.S. Supreme Court Justice Ruth Bader Ginsburg by California Chief Justice Tani Cantil-Sakauye, the first Asian-Filipina American to serve as the state's Chief Justice
Commemoration of the late Alice Bulos, known as the godmother of  Filipino American politics and empowerment
Celebration of the 40th anniversary of the Filipino Bar Association of Northern California, an organization of attorneys, judges, and law students dedicated to serving the Filipino community
San Francisco's annual Filipino American History Month celebration honors the Filipino American community's deep history in the City and the Bay Area and key milestones each year. The celebration is held during the month of October in commemoration of the arrival of the first Filipinos who landed in what is now Morro Bay, California on October 18, 1587. October is also the birth month of pioneering Filipino American labor leader Larry Itliong, and is Philippine Indigenous Peoples' Month in the Philippines.
The 2020 Filipino American History Month celebration will be livestreamed on: