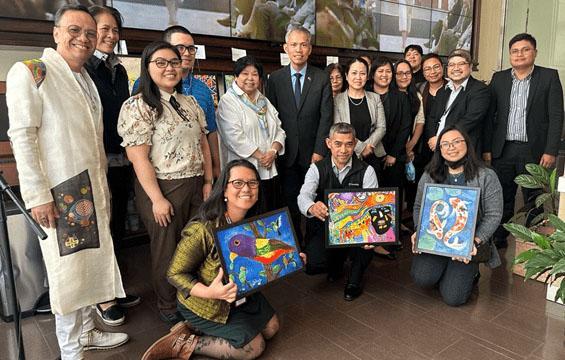 SAN FRANCISCO – In commemoration of World Autism Awareness Day in April, an exhibit featuring the artworks of children and adults on the autism spectrum opened at the main lobby of the Philippine Center in San Francisco on April 11, 2023.
The art exhibit was organized by Autism Hearts Foundation, a non-profit organization that advocates for persons on the autism spectrum and their families in the United States and the Philippines.
Consul General Neil Ferrer led the officials and personnel of the Philippine Consulate General in San Francisco in the opening of the art exhibit.
In his remarks, Consul General Ferrer cited the efforts of the Philippine government to create a nurturing environment for persons on the autism spectrum — including laws such as Republic Act No. 7277 or the Magna Carta for Persons with Disabilities, and Republic Act No. 11650 or the "Policy of Inclusion and Services for Learners with Disabilities in Support of Inclusive Education Act of 2022."
The Philippine Consul General also mentioned that the Philippines is a state party to the United Nations Convention on the Rights of Persons with Disabilities.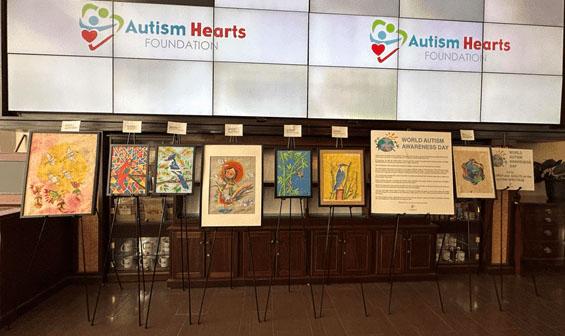 "I wish to thank the Autism Hearts Foundation for mounting this art exhibit, and for showcasing the unique talent and creativity of children and adults on the autism spectrum," Consul General Ferrer said.
In her remarks, Autism Hearts Foundation founder and president Erlinda Borromeo thanked the Consulate for its support to autism awareness advocacy over the years.
The art exhibit was featured at the Philippine Center main lobby April 21. (PCGSF Release)