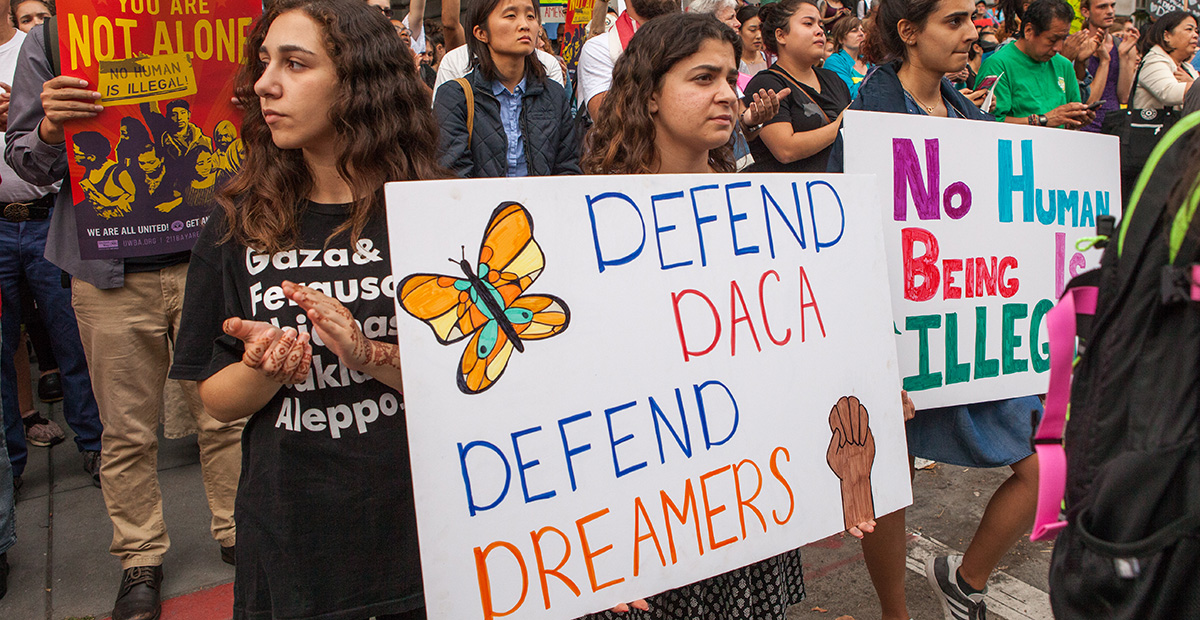 A U.S. Supreme Court ruling on Thursday, June 18 stopped President Donald Trump's administration from rescinding a program that protected more than 800,000 young unauthorized immigrants, or "Dreamers," who came to the U.S. as children from deportation.
In a 5-4 vote, the court held that the Department of Homeland Security's (DHS) effort to end the Deferred Action for Childhood Arrivals (DACA) program was "arbitrary and capricious" in that it violated the Administrative Procedure Act.
While the ruling does not provide permanent protections, the decision has been a sigh of relief for the hundreds of thousands who have grown up in the U.S. — many from a very young age — despite not having legal status.
The Trump administration may try again by presenting stronger justifications, but it is unlikely that it would do so before the upcoming presidential elections in November.
Chief Justice John Roberts joined the high court's four liberal Justices Ruth Bader Ginsburg, Stephen Breyer, Elena Kagan, and Sonia Sotomayor.
In his opinion, he wrote, "The appropriate recourse is therefore to remand to DHS so that it may reconsider the problem anew."
"We do not decide whether DACA or its rescission are sound policies. We address only whether the agency complied with the procedural requirement that it provide a reasoned explanation for its action," he added.
Justice Sotomayor was the only justice to take an added stance shared by many DACA advocates in arguing that the move to rescind protections may have been motivated by discrimination against immigrants.
In a separate opinion, Sotomayor gave examples of remarks made by Trump that described Mexican immigrants as being people who have "lots of problems," are the "bad ones," and are "criminals, drug dealers, [and] rapists."
The dissent, which included Trump appointees Neil Gorsuch and Brett Kavanaugh, dismissed the ruling as being politically charged.
"Today's decision must be recognized for what it is: an effort to avoid a politically controversial but legally correct decision. The court could have made clear that the solution respondents must seek came from the legislative branch," Justice Clarence Thomas wrote in his dissent.
On Twitter, President Donald Trump said, "These horrible & politically charged decisions coming out of the Supreme Court are shotgun blasts into the face of people that are proud to call themselves Republican or Conservatives. We need more Justices or we will lose our 2nd. Amendment & everything else. Vote Trump 2020!"
In a following tweet, he asked, "Do you get the impression that the Supreme Court doesn't like me?"
Trump also said he'd soon released a "new list of Conservative Supreme Court Justice nominees" by September.
The program was created in 2012 under then-President Barack Obama and provided renewable deportation protections of two years, though no pathway to citizenship. Aside from being able to stay in the U.S., recipients were able to work legally which allowed many to pursue higher education and pursue other career goals.
However, in September 2017, Trump announced plans of rescinding the program on claims that its adoption was unlawful and that courts did not have the power to review its decision. Lower courts blocked the rescission and the Supreme Court took the case last fall.
Of the current 650,000 DACA recipients in the U.S., roughly 200,000 recipients are in California with about 85,000 in Los Angeles. The majority were born in Mexico and other Central or South American countries, but many were also brought from Asia.
At least 16,000 DACA recipients are of Asian American or Pacific Islander (AAPI) descent, according to Asian Americans Advancing Justice (Advancing Justice), an affiliation of five independent civil rights organizations.
Between 2012 and 2017, at least 3,880 Filipinos were granted DACA protection, according to the U.S. Citizenship and Immigration Services (USCIS).
"We applaud the Supreme Court for stating that the Department of Homeland Security's decision to end DACA is 'arbitrary and capricious' and its decision to allow the Deferred Action for Childhood Arrivals (DACA) program to continue for the time being," Advancing Justice wrote in a statement.
It added, "DACA has positively changed the lives of more than 800,000 young people in this country, allowing them to live temporarily without fear, and pursue their academic and career goals."