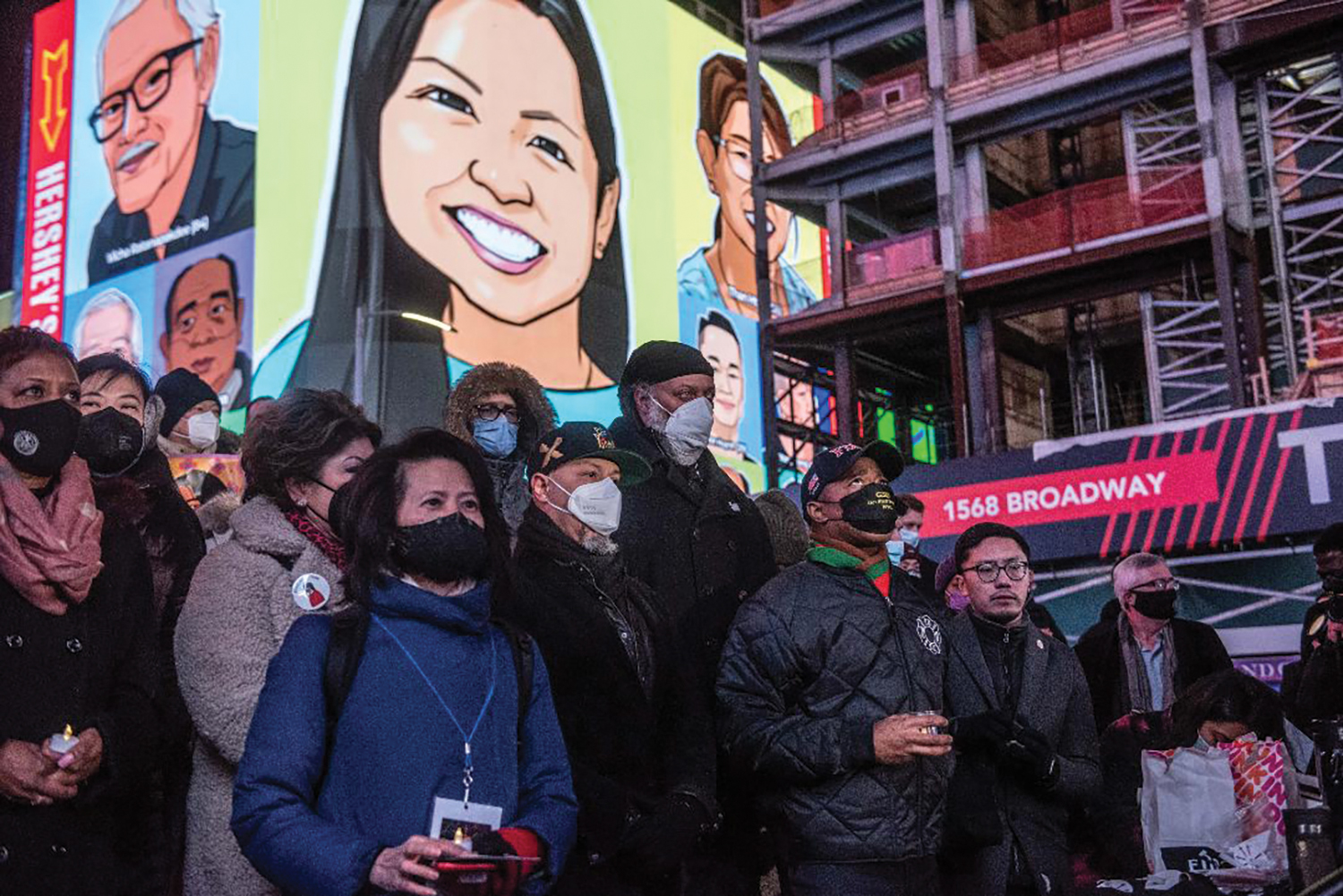 Asian American leaders call for concrete, proactive solutions
HUNDREDS of New Yorkers gathered in Times Square on Tuesday, Jan. 18 for a candlelight vigil to honor Michelle Alyssa Go, a 40-year-old New York City resident who was killed after being pushed onto the subway tracks over the weekend.
Leaders in the Asian-American community are denouncing this senseless act of violence and called on the city to come up with concrete solutions.
In a tweet, Rep. Grace Meng said she was horrified and heartbroken when she heard about the attack.
"We need to implement better policies to protect New Yorkers riding mass transit and to get people the proper help that they need – mental and social services," she said.
"It is imperative that New York City implements proactive, community-based solutions that prevent these crimes from ever happening in the first place," said Jo-Ann Yoo, executive director of the Asian American Federation.
In the statement, Yoo said that the horrific incident "is a reminder that the fear of anti-Asian violence in our community is well-funded," citing an NYPD report last month that hate crimes targeting Asian Americans have risen by 361 percent.
"This latest attack causing the death of an Asian American woman in the Times Square subway station is particularly horrifying for our community," said Margaret Fung, executive director of the Asian American Legal Defense and Education Fund. "These attacks have left Asian Americans across the city and across the country feeling vulnerable and they must stop."
The attack happened at about 9:30 a.m. on Saturday, Jan. 15 at the 42nd Street Times Square station, according to New York City Police Department Commissioner Keechant Sewell in a news conference.
A man had pushed Go onto the southbound Q train tracks, Sewell said. Police later identified the man accused of shoving Go as 61-year-old Simon Martial. According to investigators, Go was standing on the train platform and was suddenly pushed onto the oncoming train.
New York City Mayor Eric Adams joined the hundreds of people who attended the vigil, which was organized by Asians Fighting Injustice.
"Right here in Times Square, I served as a police officer, and spent many days in the early '80s wearing a blue uniform as a police officer – a transit police officer, watching where we were," Adams said. "I'm re-committed to make sure this will not happen in our city. We have to do this together."
Portraits of Asian American victims of hate and violence became the backdrop of the vigil as their likenesses were shown on some of the giant screens in Times Square.
Go's family released a statement on Twitter asking that people remember Michelle for the way she lived, not the way she died, and that the press respect their privacy as they deal with their shock and loss.
"We are in a state of shock and grieving the loss of our daughter, sister, and friend. We hope Michelle will be remembered for how she lived, and not just how she died. She was a beautiful, brilliant, kind, and intelligent woman who loved her family and friends, loved to travel the world, and to help others. Her life was taken too soon in a senseless act of violence, and we pray that she gets the justice she deserves. Thank you for your condolences. We ask the media to please respect our privacy during this very difficult time," the statement read in full.
The Philippine Consulate General in New York joined the rest of the Asian-American Community in mourning the senseless death of Go, recalling a kababayan, Maria Luningning Ambrocio who lost her life as a result of the same senseless violence inflicted by a homeless individual with mental health concerns.
Consul General Elmer Cato also implored city officials to focus more on the issues of homelessness and mental health.
"We are counting on New York City Mayor Eric Adams in making the streets safe again by not only increasing police visibility, especially in subway stations but also by addressing the housing and behavioral health needs of the hundreds of homeless individuals in the city," the consulate statement read.
Consul General Elmer Cato also reiterated his call for Filipinos to be vigilant.
"We also would like to remind our kababayan to be vigilant of their surroundings and to always stay behind the yellow line on the platform, when taking the subway," he said.