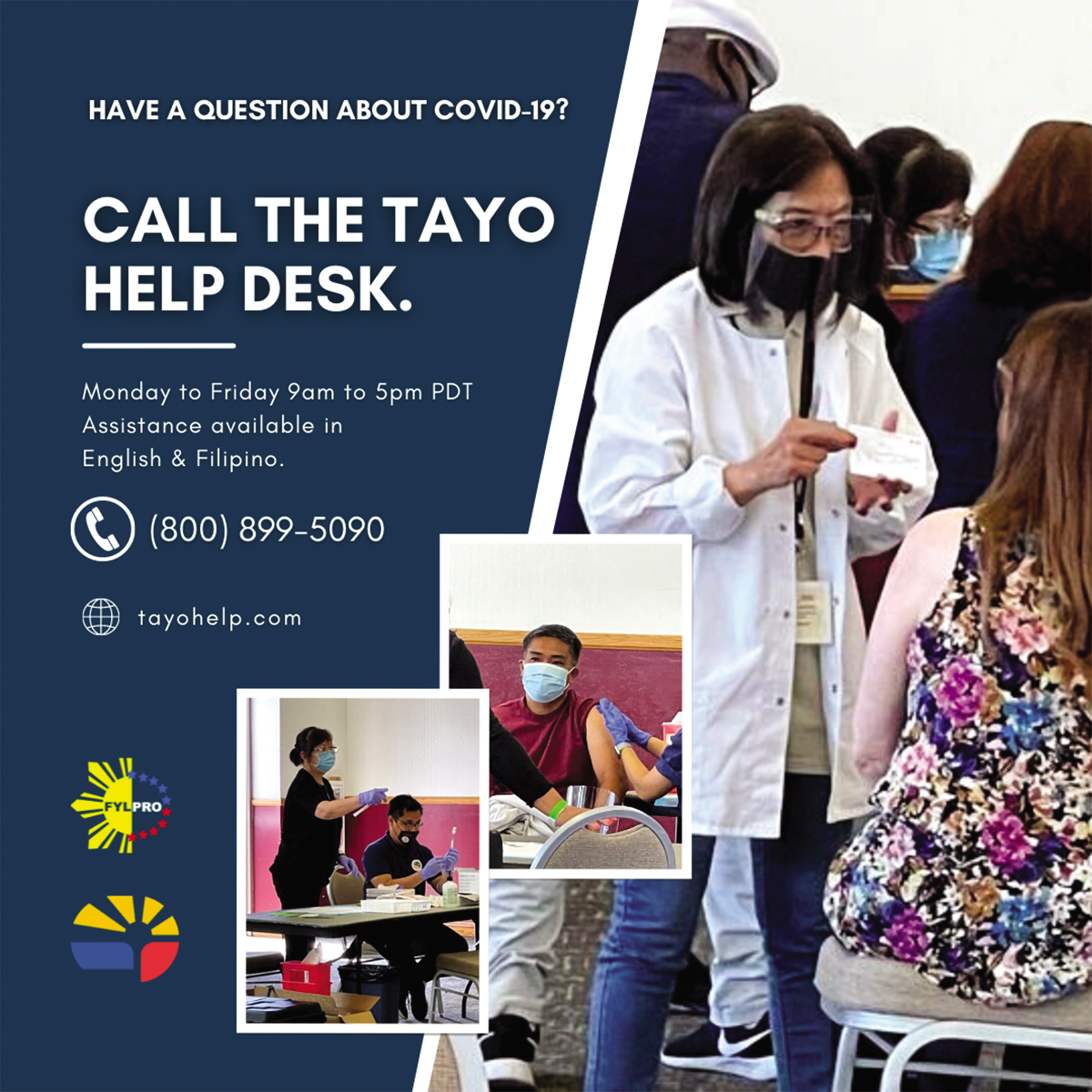 Los Angeles — In an expansion of its COVID-19 resources, the Filipino Young Leaders Program (FYLPRO), through its Tayo project, announces the launch of a call center to assist community members with their pressing pandemic-related questions.
Beginning as a virtual help desk in the fall of 2020, Tayo has since continuously diversified its culturally tailored offerings to connect Filipinos with vital information and services, battle misinformation, and improve the collection of data through initiatives like educational webinars, surveys, public service announcement campaigns, and health clinics.
On May 4, 2022, Tayo will bolster its help desk capabilities by piloting a dedicated hotline to address the needs of Filipinos in the diaspora who may not have adequate access to trustworthy and reliable COVID-related information online.
"Creating this call center is a natural extension of the work and mission of Tayo – to empower our community by meeting them where they are at and providing them with essential information," said Leezel Tanglao, Tayo project director and president of FYLPRO. "It's truly going full circle as we leverage our network and resources both here in the United States and in the Philippines to bridge the gap."
More than ever a resource like this is needed to ensure accurate and culturally tailored information is available to all members of the Filipino community as the pandemic continues to evolve while official guidance can run counter or is often confusing.
FYLPRO was inspired to develop the call center after evaluating insights gleaned from users of Tayo's web-based platform and determining that seniors in particular felt more comfortable talking to someone on the phone rather than searching through a website for information.
The call center operates from Monday to Friday from 9 a.m. to 5 p.m. Pacific Daylight Time and is available in English and Tagalog.
Callers can call 1 (800) 899-5090 to reach a representative who can address questions on where to get a booster shot or to find a COVID-19 test.
The call center pilot is made possible by a grant from the Booz Allen Foundation, which also funded the initial launch of the virtual help desk (tayohelp.com).
"We're proud to have played a part in supporting FYLPRO's work to use innovation and technology to make such a positive difference for the Filipino community," said Christine Hoisington, Executive Director of the Booz Allen Foundation. "We're impressed with their efforts and impact."
The call center pilot will run for 3 months.
The call center launch team includes a diverse multidisciplinary team from across the United States: Tayo project director Leezel Tanglao, project manager Brian Tajo, product counsel Mark Calaguas, medical advisor Dr. Melissa Palma, technologist and special project manager Jobel Vecino, fellowship director Krystle Canare, and risk mitigator/creative consultant TJ Simba-Medel.
Operations manager Joselito Alampayan and call representative Dhian Perez are based in the Philippines.
"The insights and learnings from this pilot will help inform how we better serve our community and as we continue to navigate life with COVID-19," said Tanglao. "This is to ensure no one is left behind just because they don't have access to technology."
Tayo, a project of the Filipino Young Leaders Program (FYLPRO), is an innovative data hub that empowers Filipinx/a/o communities by collecting data, fostering partnerships, publishing culturally relevant insights, and developing leaders to create an equitable and sustainable future. n