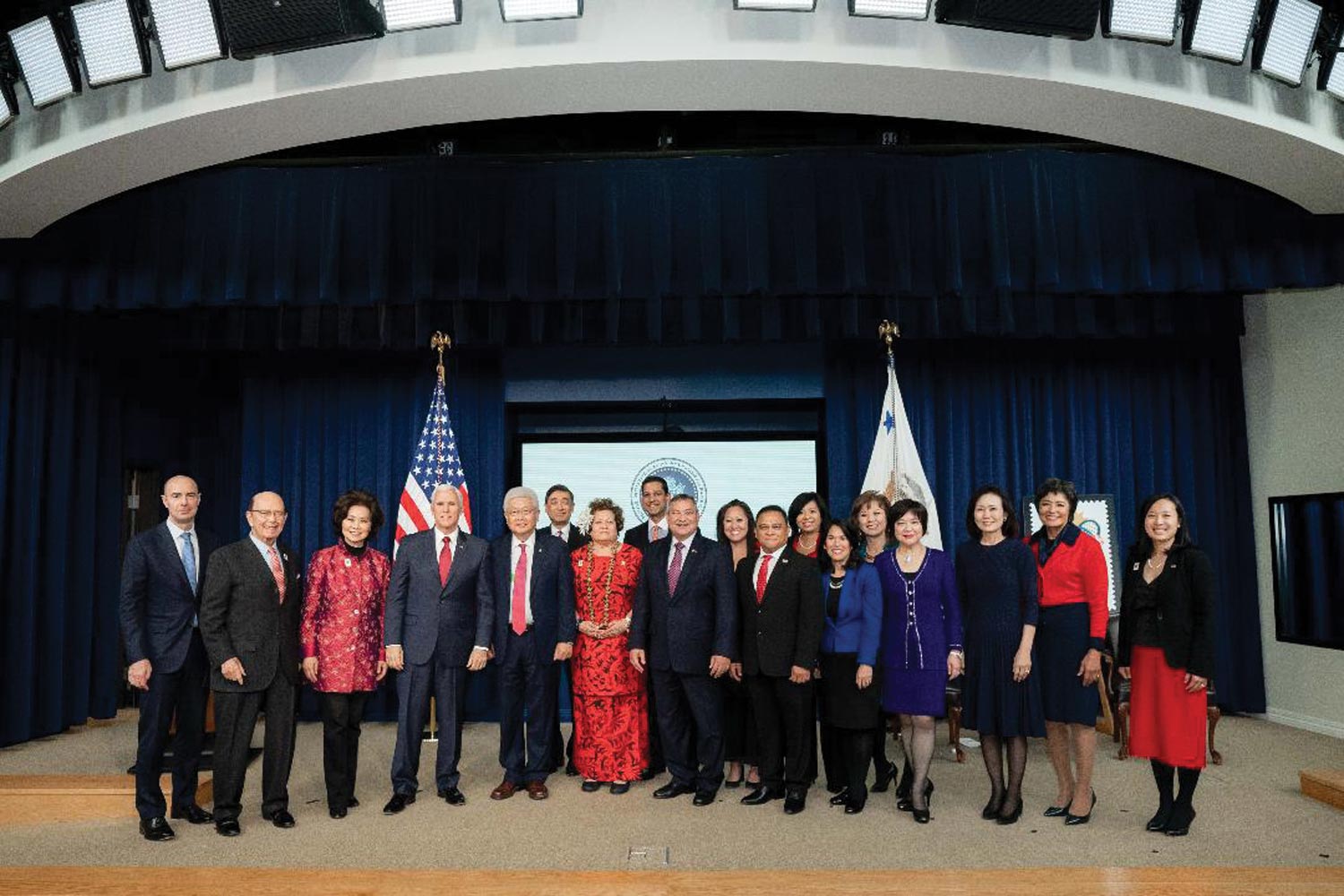 A Filipino American pastor was among the 13 members sworn into President Donald Trump's Advisory Commission on Asian Americans and Pacific Islanders (AAPIs) by Vice President Mike Pence on Monday, January 27. 
Herman Martir, a pastor based in Fort Worth, Texas, was present as Pence administered the oath during a Lunar New Year celebration at the White House. 
Martir told the Asian Journal in an email that it is "an honor" to "serve our nation and the Asian Pacific American community."
"As a member of President Trump's AAPI Commission, I will do my best to represent the issues affecting Filipino Americans and every Asian Pacific American," Martir added. "I will continue to work hard to help improve the quality of life of our communities."
Also sworn in were Dr. Paul S. Hsu of Florida; Congresswoman Amata C. Radewagen of American Samoa; Governor Eddie Calvo of Guam; Doris Flores Brooks of Guam; Grace Y. Lee of Michigan; Prem Parameswaran of New York; Michelle P. Steel of California; Chiling Tong of Maryland; Jennifer Carnahan of Minnesota; George Leing of Colorado; Jan-Ie Low of Nevada; and Keiko Orrall of Massachusetts. 
In his remarks, the vice president said there is "a lot to celebrate" this year.
"The American economy is soaring, and Asian Americans are driving capital investment and growth and job creation in cities and towns, large and small, all across the land," Pence said, citing data that it's been under 3% since 2019.  
By serving on the commission, Pence said the members will work to ensure that more AAPIs are "able to prosper and enjoy the American Dream." 
Transportation Secretary Elaine L. Chao and Commerce Secretary Wilbur Ross — co-chairs of the White House Initiative on AAPIs — along with Labor Secretary Eugene Scalia, also gave remarks at the event. 
Additionally, the special new postage stamp commemorating the Year of the Golden Rat was unveiled by Chairman of the U.S. Postal Service Board of Governors Robert M. "Mike" Duncan at a special stamp dedication ceremony. 
"U.S. postage stamps help our nation celebrate its diverse cultural heritage, and we are grateful for the opportunity to mark this important holiday and its traditions," Duncan said.
Trump signed an executive order last May to advance the "economic empowerment" of AAPIs, which re-establishes the president's Advisory Commission on AAPIs and the White House Initiative on AAPIs. The president appointed several AAPI leaders from across the country to the commission last January.
According to the order, both groups work to "broaden access by AAPI employers and communities to economic resources and opportunities" and collect data for AAPI populations through all agencies of the federal government.
The first White House Initiative on AAPIs was established through an executive order by former President Bill Clinton in 1999 and subsequently renewed by former Presidents George W. Bush and Barack Obama. 
Considered the fastest-growing racial group in the U.S., AAPIs account for more than 6% of the country's population. (AJPress)