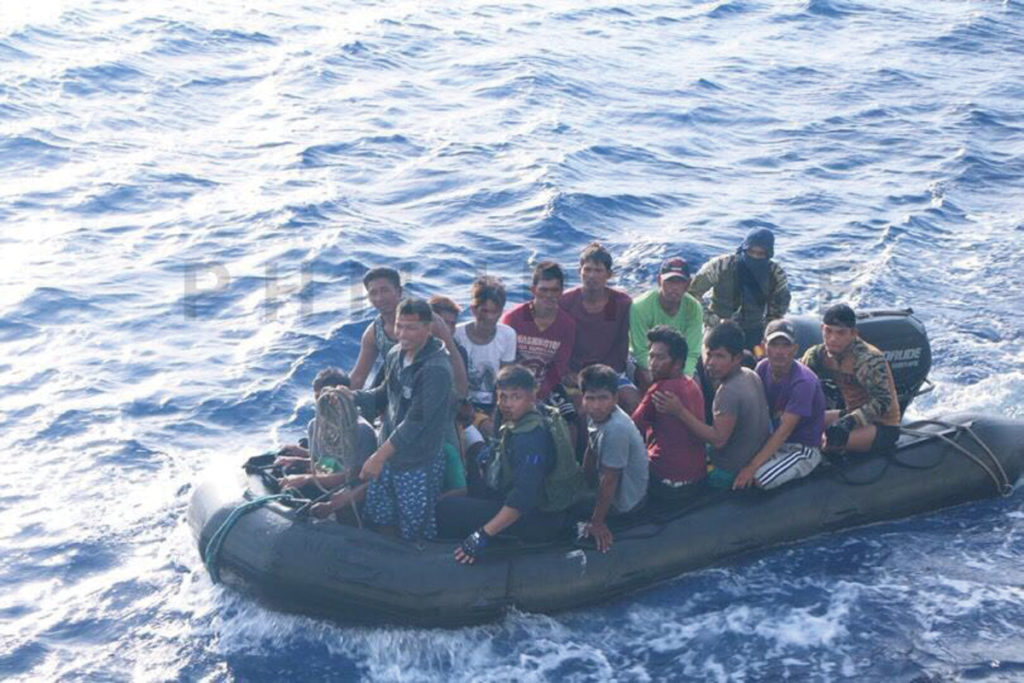 Lawmakers seek stronger action against Chinese fishermen
THE Philippines might cut off its diplomatic ties with China if the sinking of the Filipino-ridden fishing boat at the Recto Bank in the West Philippine Sea will be found to be done intentionally, Malacañang said on Thursday, June 13.
"We want to find out first. If it was intentional, that's a different story. If it is intentional, it is an act of aggression," Presidential spokesperson Salvador Panelo said.
The Philippine fishing boat Gim-Ver 1 was hit by a Chinese vessel while anchored at Recto Bank on Sunday night, June 9. Its 22 Filipino fishermen were abandonedas their boat sank in the West Philippine Sea.
Foreign Secretary Teodoro Locsin Jr., for his part, has already filed a diplomatic protest following the incident.
"I fired off a diplomatic protest yesterday (Wednesday, June12)," Locsin said via Twitter responding to Sen. Antonio Trillanes IV's suggestion that the Philippines refer the incident to the International Maritime Organization (IMO), which counts both the Philippines and China as members.
Locsin was in agreement that the matter was a case for the IMO but insisted that he wanted to proceed on its merits and what it called for.
"My people in Manila, [I] think we should tread a bit more carefully over something maybe between private parties although clearly one at fault twice over. But in the context of swarming over several years, we can take it a little farther," Locsin added.
Defense Secretary Delfin Lorenzana, meanwhile, insisted on filing a strongly worded diplomatic protest.
He denounced the "cowardly act" of the crew of the Chinese vessel and thanked the Vietnamese fishermen who rescued and brought the Filipino fishermen to safety.
Serious investigation
According to Panelo, Chinese Ambassador Zhao Jianhua had sent him a text message assuring him that China was "seriously investigating" the incident.
In his message, Zhao said the fishing boat issue is "being thoroughly and seriously investigated," and that they "share your concerns about fishermen."
"If it were true that it was [a] Chinese fishing boat which did it, they would be duly educated and punished for their irresponsible behavior," Zhao added.
Vice Adm. Robert Empedrad, chief of the Philippine Navy, on Wednesday pointed out that the Chinese vessel was liable for abandoning Filipinos after their boat sank.
"Whoever is at fault, you have to help the people who are in the sinking ship and are in danger of drowning. It is everyone's responsibility, regardless of race or country," Empedrad said.
Hold China accountable
Former Foreign Secretary Albert del Rosario said Manila should take a stronger stand against China after the latest incident.
"What is obvious is that Goliath, the neighborhood bully, will continue to rear [his] ugly head to intimidate our poor fishermen. We need to find a way to hold China's leadership accountable," Del Rosario said.
For her part, Sen. Risa Hontiveros urged President Rodrigo Duterte to recall Philippine diplomats in China—similar to what he did in the garbage row with Canada—to show Manila's seriousness in defending the lives of Filipino fishermen.
However, Panelo dismissed their comments, assuring that the administration "knows what to do."
Law of the sea
Senate Minority Leader Franklin Drilon urged the government to "call out China for not honoring its obligations to rescue any person in distress at sea or in danger of being lost at sea in accordance with international laws and treaties."
Sen. Aquilino Pimentel III echoed his sentiment, saying "No matter who was at fault, the crew of a sinking ship must never be abandoned by an able ship."
Neri Colmenares, chair of party list group Bayan Muna, cited Article 98 of the United Nations Convention on the Law of the Sea, under which requires the able ship to"render assistance to the other ship, its crew and its passengers" after a collision.
Meanwhile, Sen. Grace Poe urged China to file charges against the crew of the Chinese vessel who abandoned the Filipino fishermen.
"To prove that our friendship is true, maybe their country should file charges against those who committed that. They should mete [out] the proper punishment. They left our fishermen to die, and Vietnam had to rescue them," Poe said.