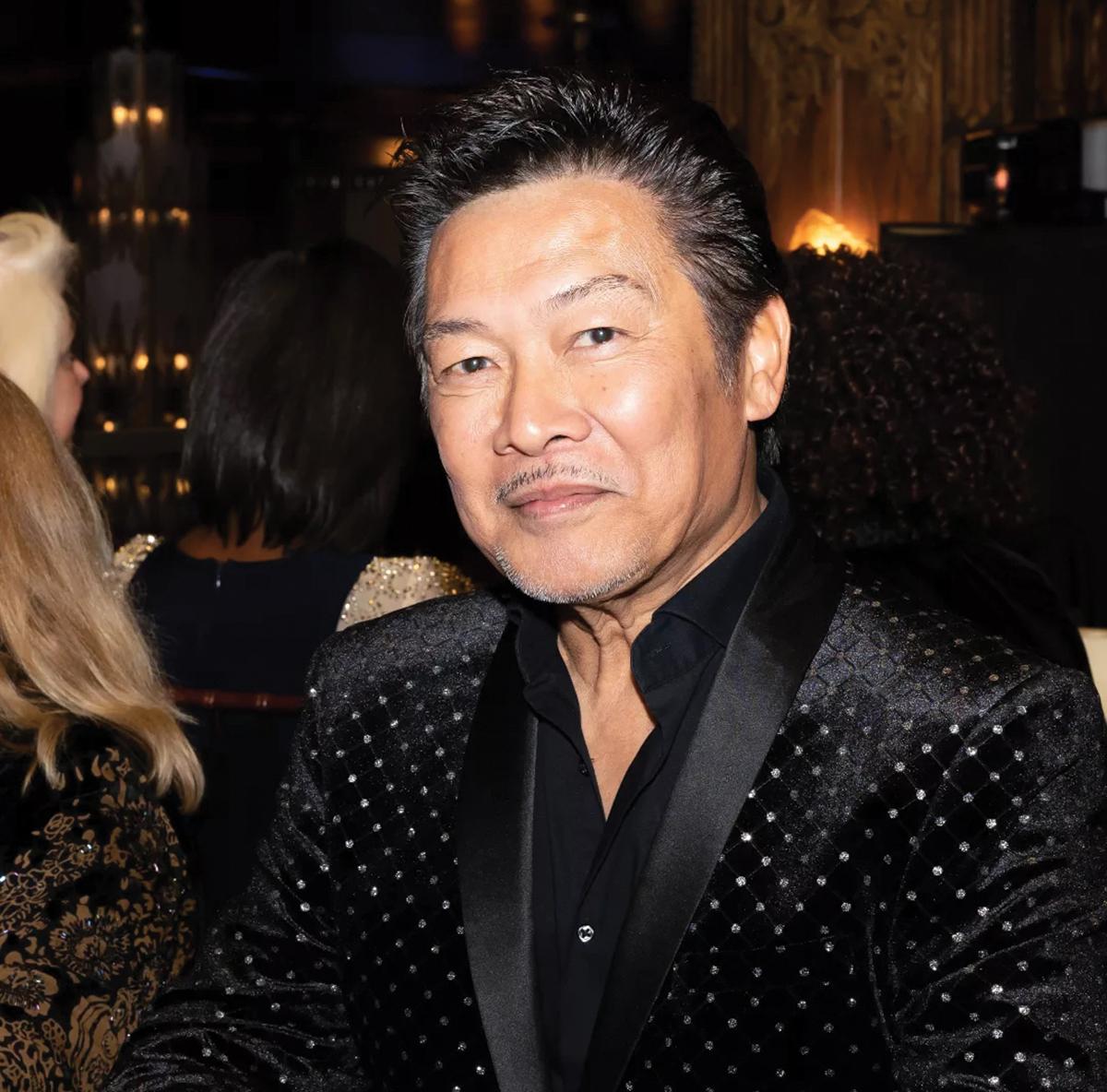 Jazz critic Roger Crane writes: "Like Mark Murphy whose singing he at times resembles, [Mon] David can swing you into bad health and then, turn around and break your heart with a ballad."
"Mon David is no ordinary singer. He is an artist with the command of music theory, as well as an understanding of the larger socio-cultural/historical milieu that shape the songs he sings. And he's humble and down to earth." – Nonoy Alsaybar, Ph.D., retired teacher of music and a former violinist for the Manila Symphony Orchestra
These quotes describe the interior alignment of Mon David, synchronized within, to give his best to the decades-long craft of composing, making music, and singing jazz, a fusion of music theory and practice. But not without personal cost to his family time.
"When our four kids were toddlers, Mon was busy earning a living, doing shows with Apo Hiking Society, as their vocal coach, drummer and music arranger. They did shows around the Philippines and travelled around the world for a decade. He wasn't able to devote as much time to the kids as he does now to our grandchildren. Mon is such a loving, caring and a very patient grandpa. 'Every child should feel the love and warmth of a grandparent,'" Mon's wife Ann wrote to me.
David's genius nurtured by parental harmony and by a caring ecosystem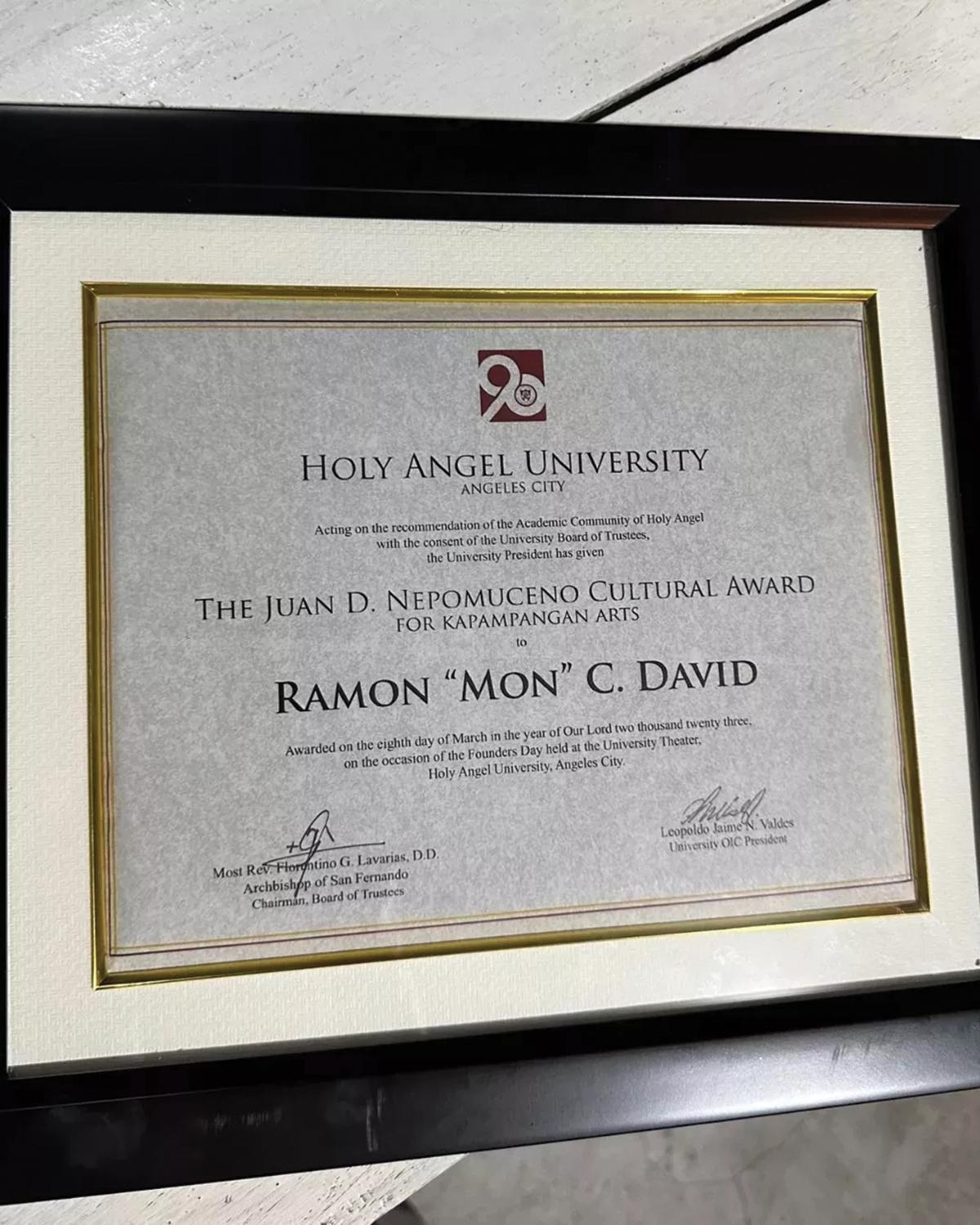 There is no dissonance in what Mon does, as the Holy Angel University's vetting process, which included the university's trustees, concluded how in early decades, Kapampangan songs were casually sung prior in school programs, in church hymns, liturgies, novena festivals, karaoke parties, and played in radios and streets and in pirated CDs.
Enter Mon David, "The Kapampangan equivalent of Elvis Presley," who elevated the Kapampangan music to national and international stages of Japan, London and the United States, with high quality and sustained excellence. He was granted the Juan D. Nepomuceno Award for Cultural Award for Kapampangan Arts on March 8, 2023, the day after International Women's Day, celebrated for and to elevate women's rights around the world with Andy Alviz receiving the award on Mon's behalf.
The award was named after Juan D. Nepomuceno, the Old Man Nepomuceno who literally built Pampanga, its electric plant, its subdivisions and even served as one of the presidents of Holy Angel University.
To be recognized in the same light as the award was named for, should guide one's awareness that Mon David's excellence is considered a strong pillar of cultural development in Pampanga, but also in the U.S. and around the world.
Today, Holy Angel University serves as a training incubator of academic excellence in Asean-based universities and has used technology and appropriate infrastructural building changes to provide current realities and simulations in different industries like hospitality, animation, digital arts, communications and more to prepare their thousands of students to be highly competitive in the real world.
Every human talent is influenced by both genes and experiences, writes Angela Duckworth, Ph.D., in "Grit: The Power of Passion and Perseverance." much like Mon David. He grew up listening to his parents sing together.
"I did not see them fight," Mon said. "Iinstead, I heard them sing a lot, I remember as early as five years old."
Beyond ancestral genes and a caring ecosystem, Grit's author describes 67 traits of geniuses, but synthesized grit as the combination of persistence of motive: working actively towards a definite goal, without seeking change, nor the tendency to abandon tasks from changeability, instead a degree of will and perseverance to stay the course and the passion to not abandon the task, in the face of obstacles and of course, the power of experiences, where grit is learned from overcoming struggles of climbing the mountain and after ascent of the summit after struggling, a confidence is gained to try something harder, something new.
Who other than his caring and loving spouse, Ann, would witness this evolution of grit through several decades in Pampanga, Manila, London and several countries in the world?
Ann described to me in a message at early dawn: "Mon recorded 'Himno Ning Capampangan' which is considered the Kapampangan national anthem sung in schools and government institutions after the Philippine National Anthem, 'Lupang Hinirang.' He also recorded the now iconic 'Kapampangan Ku!' with the musical theater group 'ArtiStaRita' founded and directed by kabalen and friend Andy Alviz who wrote it and was one of the past recipients of this excellence award. Mon has also recorded several anthems like 'Himno Ning Sto. Tomas' (his hometown at Himno Ning Candaba. Three Kapampangan albums were made by Mon. This is while immersing himself in different genres (classics and jazz pop), all while nurturing his love for the Kapampangan language, songs, poetry which explains his latest CD, 'Tagimpan', poems that he transformed into songs."
Mon's jazz CD, "DNA (David Nelson Agreement)," released August 7, 2020, at the height of the pandemic, was a beautiful collaboration with Josh Nelson. The synchrony within Mon comes alive with Josh Nelson, and together they become a singular unit, not overtaking or swallowing one another, tackling life's ascents and descents with their craft of creative musical expressions, making Roger Crane's observations quoted above, so alive and so relevant, as Nonoy Alsaybar's.
How many of us felt broken down by the pandemic that we seemed frozen, enumerating the deaths around us?
I was one of those, after nearly a 28-year career in the public health arena, where we believed one death was one too many and where urgency was our work response. Yet, I slowed down from submitting 52 articles in the last 12 years to 10 articles in the pandemic years as an Asian Journal columnist.
But, there's no slowing down with Mon David!
Not this 2006 London International Vocal Jazz Competition winner, vesting this recognition, amongst a hundred singers who competed around the world.
Nor this 2017 Los Angeles City Council's Recognized LA Living Jazz Giant.
Nor this March 2023's Holy Angeles University's Juan D. Nepomuceno Awardee for Excellence in Kapampangan Arts.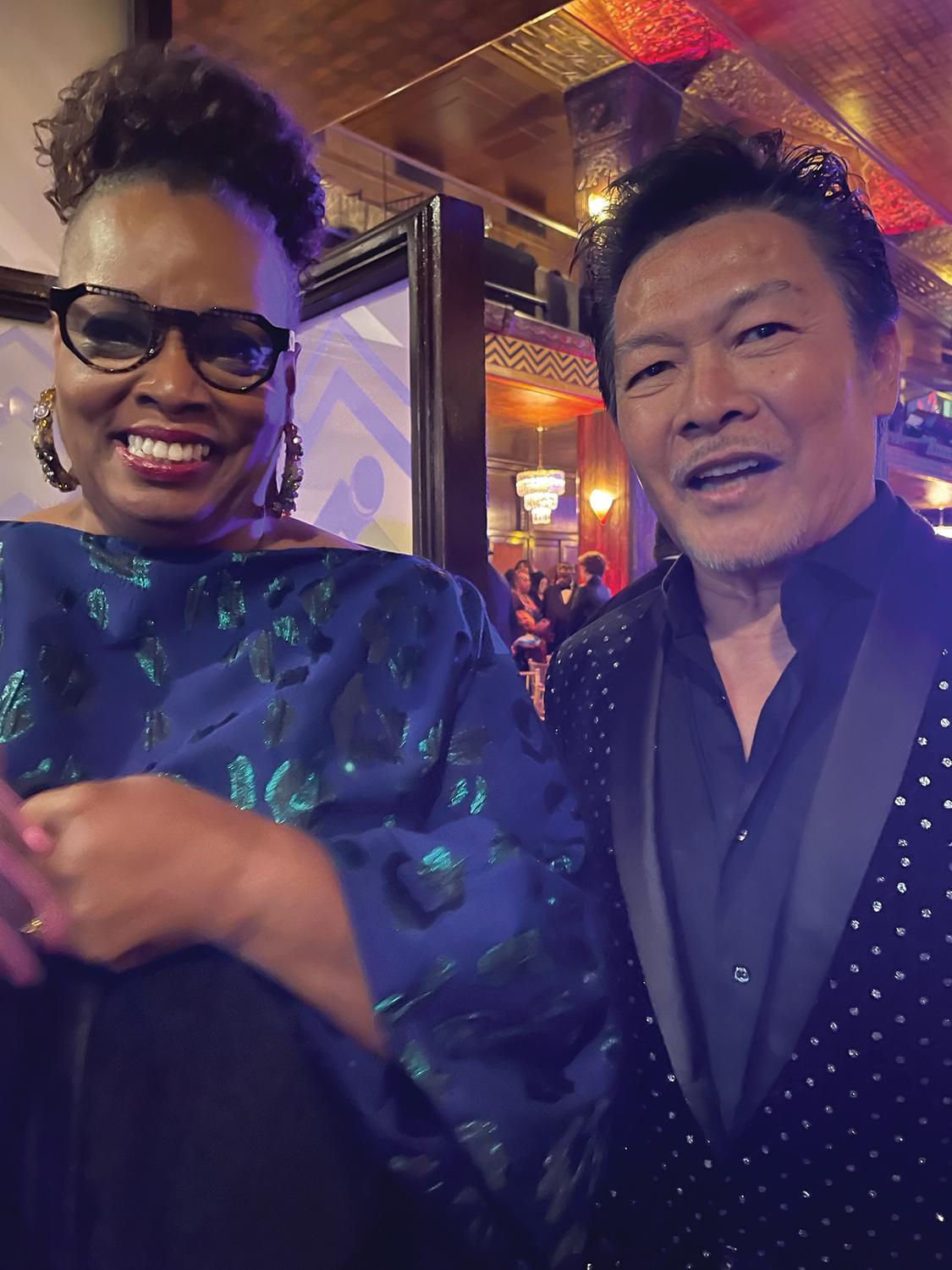 Seeking motivation to inspire and to keep his creative juices going, he sang Let Go, at JEXA Excellence Awards night on March 5, 2023, a stage he shared with five-time Grammy winners: Dianne Reeves who sang "I am all Smiles" and "Skylark" and received the JEXA Jazz Vocal Artist award, while Dionne Warwick handed 5 Young Artist Awardees: Kahlil Childs – alto sax; Alexander Flores – piano and tenor sax; Daniela Lopez – jazz vocalist; Taichi Okumura – alto sax; Kaman Richardson – percussionist and emerging artist award to Kenneth Brown.
At my dinner table was Daniela Lopez, a jazz vocalist winner, Antonia Bennett, daughter of the legendary Tony Bennett who inspired Mon David in his early musical career years, and my retired violinist friend, Nonoy Alsaybar, who performed as a backup orchestra to this icon singer in the 1970s, as a violinist for the Manila Symphony Orchestra.
When Mon got on stage, with Kevin van den Elzen and a 17-member VDE Big Band, with confidence and vigorous enthusiasm, he sang 'Let Go', music and lyrics he composed:
Let go of all your hang-ups
Let go of all your fears
Let go, now's the time
Let go!
Let go of all ill feelings
Embrace all that is good
Let go, start your life anew
Well it's about time you
stopped holding back
There's no need to worry
'bout what you may lack
Let go of all "I should 
have…I could have done that"
It's never too late my friend
Live your life, move on
Let go!
Uncommonly good man: Loyal to faith and family
In the music world, we hear addictions to drugs, alcohol, and womanizing.
Yet, in the jazz community that Mon lives in, there are no addictions nor sensationalized controversies.
Cathy Segal-Garcia in 2019, said, "Mon David is, as I've always said, royalty. This human being is so huge and generous; he's overwhelmingly deep and dear to me. And it comes through his music, and that is why people are so moved by him. He's a consummate musician, dedicated and committed to art, quality and communication. His family and friends are the obvious result of him. He touches my heart, and I will always consider him one of my truest friends."
The David family embodies love and friends' support. Roy, a 72-year-old fan, lovingly calls himself Mon's jazz wife, sometimes with Roy's wife in attendance, watching Mon's concerts, while some fans fly in from the Bay Area and sometimes, from Japan to watch him perform.
My classmates — Lolita (San Francisco), Elsa (Oceanside) and Natimarie (Chicago/Temecula) — recently traveled to watch Mon perform alongside his children, Nicole and Carlo.
Mon sang a trio with his children, at Gardenia in Hollywood, where their rendition of Joey Ayala's "Walang Hanggang Paalam (Never Ending Goodbye)" symbolic of forever love, got us sobbing. They dedicated it to Linda Rozales, 71, our high school classmate at St. Rita College, who recently died.
Jazz critic Roger Crane writes: "Like Mark Murphy, whose singing he at times resembles, David can swing you into bad health and then, turn around and break your heart with a ballad."
Mon has that "heartbreaking" effect as an authentic performer fused in dedication to his God, his faith, and his beautiful family, sweet and loving wife Ann, with four children (Paolo, Nicole, Carlo and Mika), to include five grandchildren. If you include their spouses and partners, 16 are tightly woven in play, walking trails, playing puzzles, watching concerts together, and celebrating every family member's milestones, including an upcoming wedding of Mika to Dallas.
I particularly love the twins: Nico and Leo, just 5 ½ years old, both quietly paid attention to their mom, Nicole and their uncle, Carlo sing at "Siblings Revelry." When I asked Nico how he felt watching them, he said: "I loved it."
Especially endearing was catching Jake, Nicole's husband, with adoration and smiles, watching Nicole sing.
Lolita, the grandmother and matriarch (Ann is Lolita's daughter), asked to pose with me for a photo. After, she shared that she is filled with joy watching her children and grandchildren perform, supportive of one another. "I admire how they all get along."
Like a well-tuned orchestra in harmony, all the component chords of the David family are well-adjusted to the frequencies of sounds and they are all on pitch!
* * *
Prosy Abarquez-Delacruz, J.D. writes a weekly column for Asian Journal, called "Rhizomes." She has been writing for AJ Press for 12 years. She also contributes to Balikbayan Magazine. Her training and experiences are in science, food technology, law and community volunteerism for 4 decades. She holds a B.S. degree from the University of the Philippines, a law degree from Whittier College School of Law in California and a certificate on 21st Century Leadership from Harvard's Kennedy School of Government.
She has been a participant in NVM Writing Workshops taught by Prof. Peter Bacho for 4 years and Prof. Russell Leong. She has travelled to France, Holland, Belgium, Spain, Portugal, Japan, Costa Rica, Mexico and over 22 national parks in the U.S., in her pursuit of love for nature and the arts.