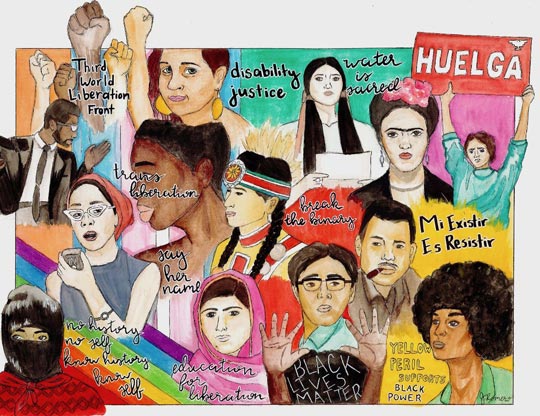 "What we do echoes through the generations…" —Former President Barack Obama in his 2020 Democratic National Convention Address
On August 17, Governor Gavin Newsom signed into law a bill, AB 1460, that requires all California State University students to take an ethnic studies class, in order to graduate.
The class must be focused on one of four ethnic groups: Native Americans, African Americans, Asian Americans or Latinas/Latinos.
This is a huge deal. It affects almost half a million undergraduates within the CSU system of campuses.
For many, like myself, adding a single ethnic studies class to the graduation requirement for a baccalaureate degree, may not sound like much. I spent my professional career in California's system of higher education at both the UC and the CSU teaching different courses and doing research on Asian Americans, particularly Filipino Americans.
But as I look back at the challenges of getting students to enroll in ethnic studies classes, AB 1460 is major and much-needed assistance for faculty who believe in the value of knowledge about California's and by implication America's diverse communities of color.
The curriculum in American colleges and universities is still largely Eurocentric and White. The inclusion of a graduation requirement to take at least one course about ethnic minority communities acknowledges the existence of these communities and affirms their place in the socio-economic fabric of America.
For many communities of color in California, this affirmation enshrined in law provides a measure of protection against a type of knowledge censorship that continues to rear its head. In 2010, Arizona passed a law banning ethnic studies in its schools. The ban was found unconstitutional in 2017 but the state of Arizona appealed and in January 2020, a U.S. Circuit Judge upheld the ban.
A legal prohibition against the teaching of certain subjects is a rather draconian measure normally associated with dictatorships, but we have it here in our midst, at a neighboring state. If only for this, let us celebrate the passage of an ethnic studies graduation requirement in California.
The passage of AB 1460 into law was not an overnight success story. The long march to get it approved began 52 years ago at a college campus in San Francisco, San Francisco State College (now SF State University). In November 1968, students from communities of color, under the coalition called the Third World Liberation Front (TWLF), went on strike to press their demands for an educational curriculum that was more relevant to them and their communities. Among their key demands were ethnic studies courses, and faculty from communities of color to teach these courses.
Shortly after the strike began faculty joined the students. They were met with violence by police in riot gear. The campus was shut down from November 1968 till March 1969, the longest student strike in American history. A succession of three campus presidents was needed to reach a negotiated settlement. Among the key features of the settlement was the establishment of a college, the College of Ethnic Studies and four departments under it: the departments of Africana Studies, American Indian Studies, Asian American Studies, and Latina/Latino Studies. The College of Ethnic Studies was the first of its kind nationally. Most likely, it still is the only college whose academic programs are focused on the study of and teaching about the four largest minority groups of color in California.
The courage of SF State students of color lit a spark that encouraged students of color at two major UC campuses to press similar demands. At UC Berkeley, this resulted in the establishment of a Department of Ethnic Studies. At UCLA, four ethnic centers were established: the African American Studies Center, the Native American Studies Center, the Asian American Studies Center, and the Chicano Studies Center.
I would be remiss if I failed to acknowledge a key role Filipino students played in the TWLF strike. A year before the strike, Filipino students at SF State led by Patrick Salaver, Ronald Quidachay, Robert Ilumin, and Alex Soria (J. Tamayo Lott, 2018) formed Philippine American Collegiate Endeavor (PACE). Their vision was to recruit, tutor, and prepare Filipino youth for college. According to Tim Salaver, Patrick's younger brother, Filipinos at SF State were a minuscule minority (about 1%) and PACE wanted to see more Filipino youth in college, rather than being drafted to fight the war in Vietnam.
Salaver, Quidachay, and Ilumin provided critical leadership for TWLF. They served in TWLF's Central Committee (ibid, J.Tamayo Lott) which provided leadership during the strike, and strategically negotiated with the university administration for the establishment of the College of Ethnic studies and for minority faculty for its various ethnic studies departments and courses. In addition to academic programs, the TWLF strike paved the way for students of color to gain access to a college education. During the fall semester of 1969, SF State admitted all students of color who applied for admission.
The immediate gains of the TWLF student strike at SF State set a very high bar for academic programs about California's communities of color. A college with academic programs and departments focused on ethnic minorities. The American college curriculum was finally giving space for communities of color to be represented. This was a radical change. Hitherto, the American college curriculum was Eurocentric and White.
In history, philosophy, art and literature, and even in the social sciences, classes were centered around white folks, mostly men. Blacks, Native Americans, Latina/Latino Americans and Asian Americans were not considered legitimate subjects of study. Their histories, their culture, and most importantly, their contributions to American society, were relegated to dim corners of the academy. Woe to the scholar who was interested in them; they had no currency in gaining jobs or promotion in the academy.
The 1968 Third World Student Strike at SF State changed all that. The change that it secured, which reverberated through UC Berkeley and UCLA, created a need for scholars interested in communities of color. And for the very first time, students from these communities could take courses about their communities, do research about their histories and culture, and receive academic credit for it. This is empowering. As one of my incredulous students put it: "You mean, I can interview my immigrant parents, write about their struggles on coming to America, and get academic credit for that?"
What PACE and TWLF students secured through the longest student strike in modern American history was path-breaking. It has echoed through generations. But even in the academy, a culture of white privilege still dominates. Challenges and pushbacks remain.
What I have found frustrating is that in Filipino and Asian American communities, immigrant parents themselves have often discouraged their children from taking ethnic studies classes. In my introductory classes in Asian American Studies, or in the Filipino American experience classes, it was routine at the beginning of the semester to devote a few minutes to address the question, "What can I do with a college degree in Asian American or Ethnic studies?" This is done, not for the benefit of students who are already enrolled in class, but for their parents, who are skeptical of the value of ethnic studies classes in tracking their children toward a degree in medicine, law, engineering, or science. They also question its ultimate value upon graduation when their children enter the job market. I thus devoted a few minutes to illustrate how a major, a minor, or even a few courses can enhance one's resume when applying for many jobs, let alone when applying to professional degree programs like law, medicine, social work, and urban planning.
Ethnic studies courses raise consciousness among students of color about their history and culture. But their broader purpose is to raise knowledge and awareness among students in general about communities of color, and their contributions to American society. Greater knowledge and awareness about ethnic minorities are among the most effective weapons for tearing down racist stereotypes. It is this knowledge-awareness raising purpose that has been particularly difficult to achieve even in ethnically diverse California, a minority-majority state, where minority communities when taken together, now constitute the majority of the population. AB 1460 is a legislative effort to address this challenge.
In a second essay, I will discuss some of the challenges in breaking down racist stereotyping, even as ethnic studies programs and classes have become commonplace among California colleges and universities, and why an ethnic studies graduation requirement, especially at California State Universities, is a welcome assist in this effort.
• • •
Enrique de la Cruz is Professor Emeritus of Asian American Studies at Cal State University, Northridge.