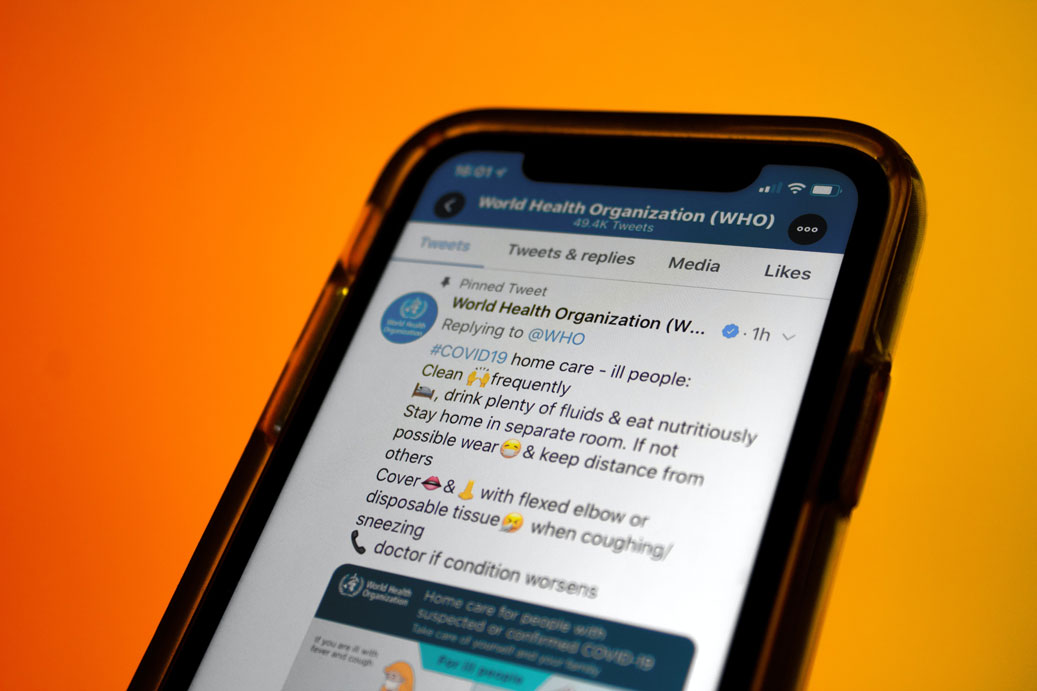 US tops 3 million COVID-19 cases
Despite having downplayed airborne transmission of COVID-19 as rare, the World Health Organization (WHO) acknowledged on Thursday, July 9 the possibility of the coronavirus lingering in the air and spreading between people in crowded indoor spaces.
The change in stance came after over 200 experts earlier this week signed an open letter to the WHO urging it to revisit its guidelines. They cited research they said showed "beyond any reasonable doubt" that "viruses are released during exhalation, talking, and coughing in micro-droplets small enough to remain aloft in the air."
Research into airborne transmission was piqued by reports of large numbers of people getting sick after indoor gatherings. Many researchers have used the example of a choir rehearsal back in March where more than half of the 61-member Skagit Valley Chorale near Seattle, Washington contracted COVID-19 despite having avoided physical contact and there being hand sanitizer at the door.
"We acknowledge that there is emerging evidence in this field," Dr. Benedetta Allegranzi, the technical lead of the WHO task force on infection control, said in a Thursday press conference.
"We have to be open to this evidence and understand its implications regarding the modes of transmission and also regarding the precautions that need to be taken," he added.
The agency had previously maintained that the coronavirus was primarily spread through respiratory droplets such as when a person sneezes or coughs.
However, it included in its latest transmission guidance that there were reports of outbreaks in crowded indoor spaces that suggest the possibility of aerosol transmission in situations like "during choir practice, in restaurants, or in fitness classes."
"There have been reported outbreaks of COVID-19 reported in some closed settings, such as restaurants, nightclubs, places of worship or places of work where people may be shouting, talking, or singing," the WHO said in its updated guidelines.
"In these outbreaks, aerosol transmission, particularly in these indoor locations where there are crowded and inadequately ventilated spaces where infected persons spend long periods of time with others, cannot be ruled out," it added.
It recommended that people avoid enclosed and crowded spaces that have poor ventilation, and to wear fabric masks when it is difficult to maintain physical distance.
The agency also updated its guidance on asymptomatic transmission, or the transmission of the virus from people who are not showing symptoms and may not know they have the virus.
"Infected people can transmit the virus both when they have symptoms and when they don't have symptoms," the agency said.
U.S. tops 3 million COVID-19 cases
The WHO did maintain that further studies on airborne transmission would be needed to confirm evidence, and that spread is still largely due to transmission via larger respiratory droplets.
But mounting evidence on airborne transmission may likely change how public health officials and other leaders respond to rising case numbers and go forward with reopening plans.
On Wednesday, the number of confirmed coronavirus cases in the U.S. surpassed three million, according to data from John Hopkins University.
It set a new one-day record on Thursday with more than 60,500 daily cases, marking also the largest one-day increase by any country since the coronavirus pandemic surfaced last year in China.
Across the country, 41 states continued to see case increases with California Governor Gavin Newsom announcing on Thursday, a record number of daily deaths in the state with 149 deaths over 24 hours.
Airborne transmission occurs when someone inhales virus-containing aerosols, or small floating particles, that can linger in the air for some amount of time.
Aerosols, experts say, are not to be confused with larger droplets which are responsible for transmission by contact — for example, when someone sneezes on someone else, or when someone touches droplets and then subsequently touches their eyes, nose, or mouth.
Diseases that have been found to spread through aerosols include measles and tuberculosis.
Airborne transmission can be problematic in restaurants and bars, for example, where people are often maskless and thus more vulnerable.
Dr. Anthony Fauci, director of the U.S. National Institute of Allergy and Infectious Diseases, said on Thursday that evidence on airborne transmission of COVID-19 still needed to be confirmed.
He added, however, "I think it's a reasonable assumption that it does occur."
Current evidence, he suggested, is "the fundamental basis for why we are now so intent on getting people — particularly people without symptoms — to wear masks. To be able to see if we can mitigate against that."