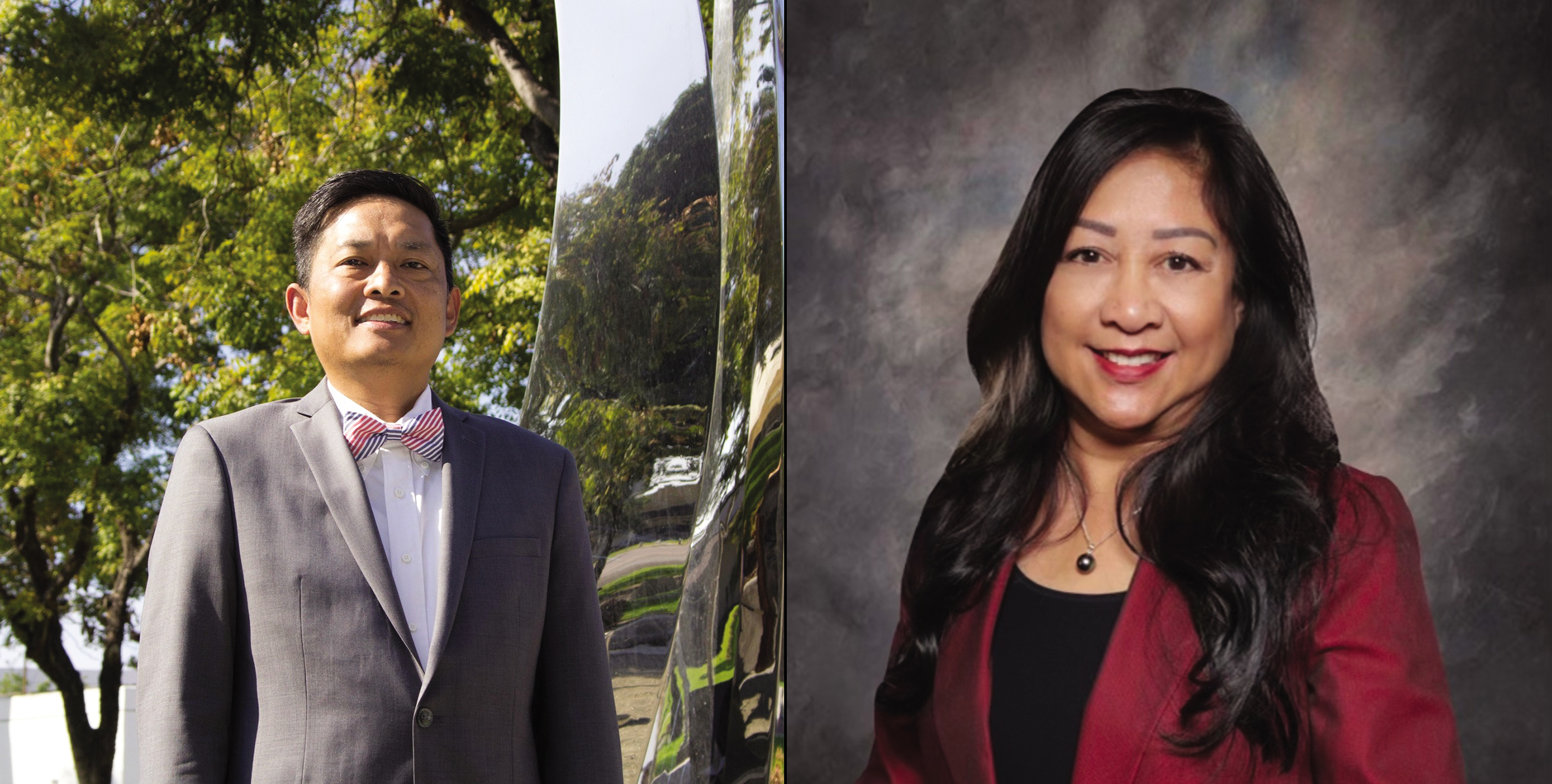 CERRITOS, Calif. – Two Filipino Americans emerged as the top vote-getters out of seven hopefuls in the race for this city's council.
Fil-Am incumbent councilmember Frank Aurelio Yokoyama, a local businessman and attorney, and Lynda Johnson, a former field deputy of L.A. County Supervisor Janice Hahn and current field deputy of L.A. County Sheriff Alex Villanueva, are poised to serve on the Cerritos City Council.
The two Fil-Am candidates led the pack during the first counting, as of this writing. This trend was sustained during the second tabulation on Monday,  April 18 at the Cerritos City Council chamber. The final and official result, according to the Cerritos City Clerk's office will be known on April 25.
Yokoyama, whose mother Chit Aurelio is a native of Subic Bay, Zambales with a Japanese American father, Tom Yokoyama, is leading with 3,677 votes as of April 19, followed closely by Johnson with 3,414 in what is considered as a low turnout. Cerritos population is nearly 50,000 as of the 2020 Census.
The turnover and swearing in ceremonies will take place on April 27, 6 p.m. at the City Council Chamber. A reception will follow at the Cerritos City Performing Arts nearby.
Coming in third is Taiwanese American, Jennifer Hong, a businesswoman and former city planning commissioner.  Hong, who ran in her second attempt, made a strong showing with 3,019 votes. She was fiercely  supported by current Cerritos Mayor Grace Ho who did not seek re-election.
Japanese American Ernie Nishii, a lawyer and a former president of the ABC School Board,  came in fourth with 2,787 votes.
Sam Desai, who is an Indian American community activist and a businessman, occupied the fifth slot with 847 votes.
Rocky Pavon, a financial educator trailed  at sixth place wIth 454 votes. He is followed by Patricia Murray, a small business owner with 304 votes. She waged a low key campaign.
Johnson would be the first woman of Filipino heritage elected to the Cerritos City Council.
Yokoyama was first elected to the city council in 2017 and became Mayor Pro Tem in 2019.
The other Filipino American who blazed the trail as an elected official of this city southeast of Los Angeles was Mark Pulido, who became mayor of Cerritos during his tenure.
In an interview, Johnson revealed her thoughts about her political journey:
Dan Niño (DN): Lynda, how do you describe this municipal Cerritos election?
Lynda Johnson (LJ): This was a very competitive race.  We had an incumbent, a current ABC Unified School Boardmember and a former Planning Commissioner — all had name recognition.  I was a former ABC Unified School Boardmember and left office in 2017.  I believe my work in the community as the Field Deputy to Supervisor Janice Hahn and also as the current Field Deputy to LA County Sheriff Alex Villanueva helped me gain the trust of the residents.  I have been doing constituent casework since 2016 and I have the experience to assist residents through the layers of bureaucracy in county government.
DN: Did the non-endorsement of L.A. County Supervisor Janice Hahn and the relentless attacks of publisher Brian Hews of Los Cerritos Community News affect your candidacy with your supporters expecting you to be the top vote getter?    
LJ: No. Cerritos elections have never had an incumbent lose or not receive the highest votes.  I am very pleased with the number votes I have received.  Each and every one of those votes came from residents who placed their trust in me.  I had the endorsement of the highest law enforcement official in LA County, Sheriff Alex Villanueva, and public safety is the number priority for Cerritos residents. As to the Los Cerritos Community News, Cerritos residents are smart enough to know when they read as fake news.
DN:  How do you feel now that you are an elected to the Cerritos City Council?
LJ: I am just so honored to be able to serve the city that I grew up in and have lived in for the last 50 years.  I am even more proud to become the first Filipina to become a Cerritos Councilmember. I am ready to work hard for our residents.  I will listen and I will be a voice to their concerns.
DN: What are your immediate agenda and crucial concerns for implementation as you pledged  during the campaign?
LJ: First, I plan to work and build consensus with my council colleagues.  You need to work as a team to get anything done.  I plan to work closely with them to trim our trees, fix our sidewalks and streets.  Also, we are entering a budget cycle and I will make sure that we make prudent decisions on how taxpayer funds are used.
DN: During the initial election counting, what was the content of your message to those who attended the Election Night?
LJ: I had a slogan, 'Lynda listens.' A candidate/councilmember needs to listen to the concerns of the people. How will we know what the issues are unless we listen. We had a strong and honest campaign. We had volunteers from both Cerritos and neighboring cities. I even had councilmembers from other cities precinct walk for me! I could not have done it without the hard work of our volunteers.  They were the heart of the operation.
As of press time, top vote-getter and re-elected councilmember Yokoyama could not be reached for comment.