LOS ANGELES — With October as Filipino-American History Month, Fil-Am communities across the United States have marked the past four weeks with various celebrations.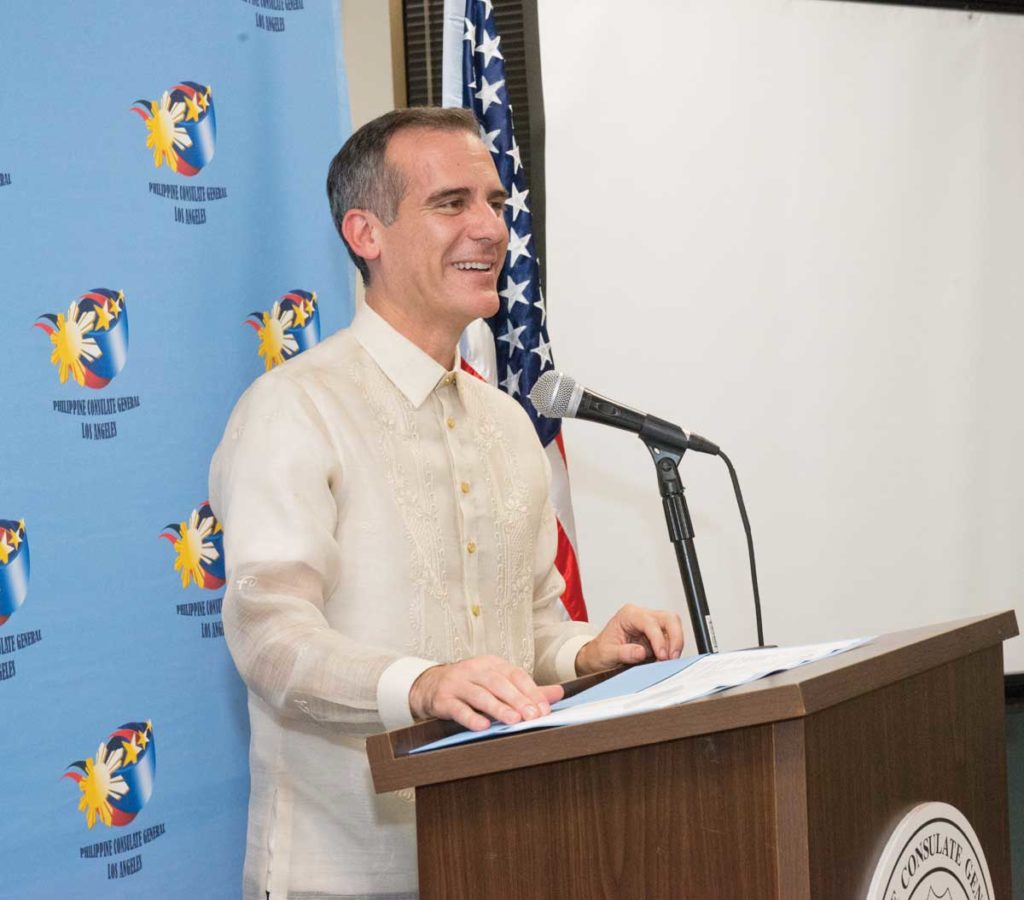 Considered the home of the largest concentration of Filipinos outside of the Philippines, the greater LA area hosted several events this month, from a festival highlighting Filipino food to a speaker panel of Fil-Am personalities inside City Hall. 
Together with the LA-Makati Sister City, the Philippine Consulate hosted a reception with Mayor Eric Garcetti on Friday, October 26, marking the first time any sitting LA mayor has stepped foot inside the Consulate.
"To be the first mayor in the Consulate, this is a moment of history and I'm so honored…to be a part of writing this history," Garcetti said.
Over 600,000 Filipinos are said to be living in the greater LA area, as of the last Census.
"I look at Los Angeles not just as a diverse city…I often say, this is a very Filipino city. To know Los Angeles, you have to know Filipino culture," Garcetti remarked.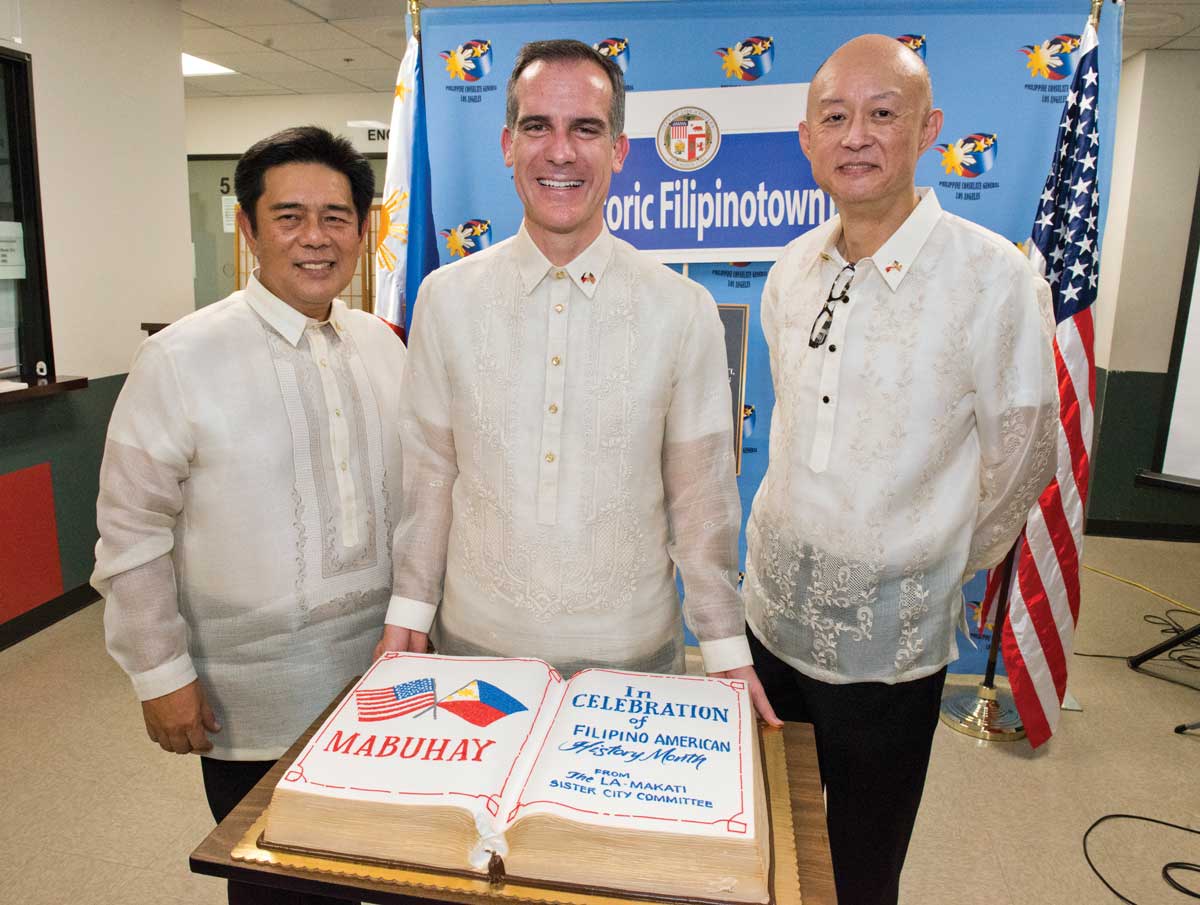 LA-Makati Sister City President Abraham Lim said that the organization hosted the event to "represent the Filipino American community in recognizing and thanking [Garcetti] for his efforts in the founding of Historic Filipinotown." 
When he was still a city councilmember in 2002, Garcetti pushed for the creation of Historic Filipinotown. In his remarks, he shared the process that it took for the neighborhood to become the first official geographic designation honoring Filipinos in the U.S. — that meant unifying the local Fil-Am community. 
"[Historic Filipinotown] is still there and will be there for centuries to come because of Mayor Garcetti," state Assemblymember Rob Bonta (D-Alameda) said. "It is important…to not be erased from history, to give our voice. We will always remember where our families took root and built a new beginning."
Other Fil-Am elected officials and leaders from various community organizations were in attendance, such as LA Deputy Mayor for Budget and Innovation Miguel Sangalang, Culver City Mayor Thomas Small, Sierra Madre Vice Mayor Rachelle Arizmendi, West Covina Councilmember James Toma, and LA Board of Public Works Commissioner Joel Jacinto.
Noting that Makati has been LA's sister city since 1992, Garcetti said he hopes to visit the Philippine city one day.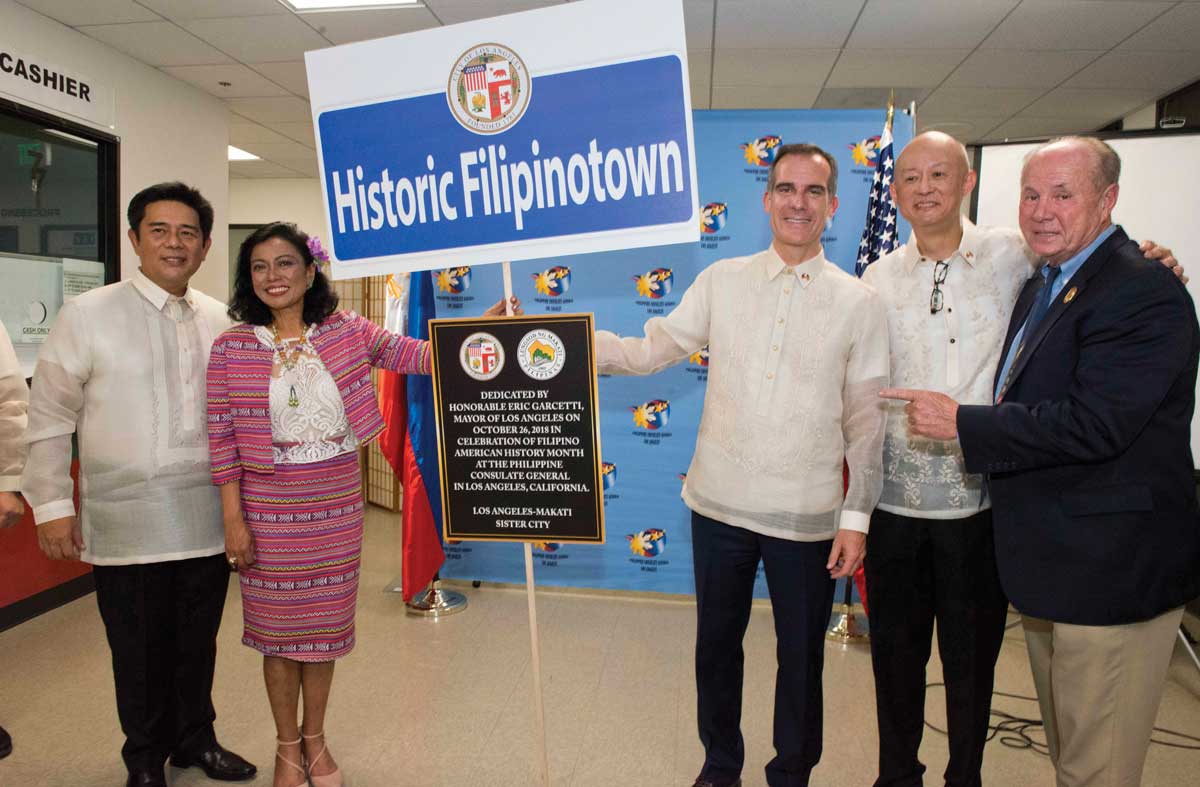 "It's time for us to see if a mayor from Los Angeles might actually come out and visit Makati City. It is on my shortlist," the mayor added. 
Fil-Ams who work in City Hall, as well as the community's contributions to the city, were also mentioned. 
"I was joking that the two most important things of any elected official's life [are] time and money and so my director of scheduling is a…Filipina American as is the deputy mayor who oversees the entire budget for the city of Los Angeles. I think both may be the first Filipino Americans to hold those positions. I feel so lucky to work alongside them…We want to make sure the Filipino-American perspective is everywhere," Garcetti said.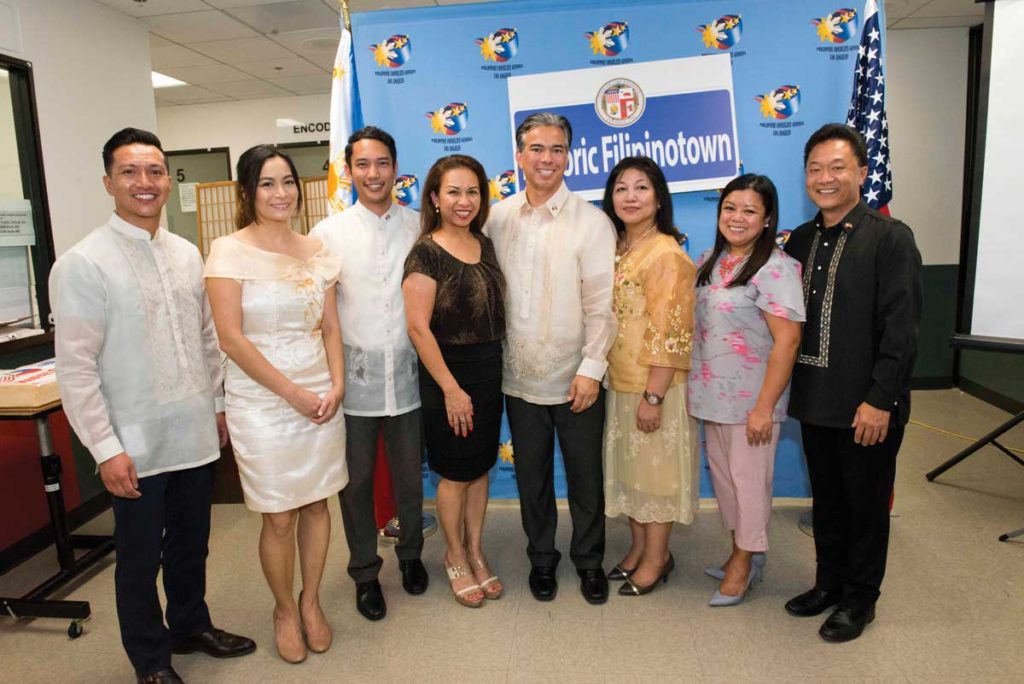 But beyond the connection to the Fil-Am community as an elected official, Garcetti shared his personal ties to the Philippines. 
His grandfather Salvador Garcetti — "a dreamer before they had that term" — fought in in the Philippines during World War II and received a pathway to American citizenship. 
After the program, the mayor greeted attendees and was given special mementos, including framed Philippine woven fabrics and Filipino pastries. 
"The reason why the Philippines is more than just the friendships…it's because I wouldn't be here without the Philippines," Garcetti said.