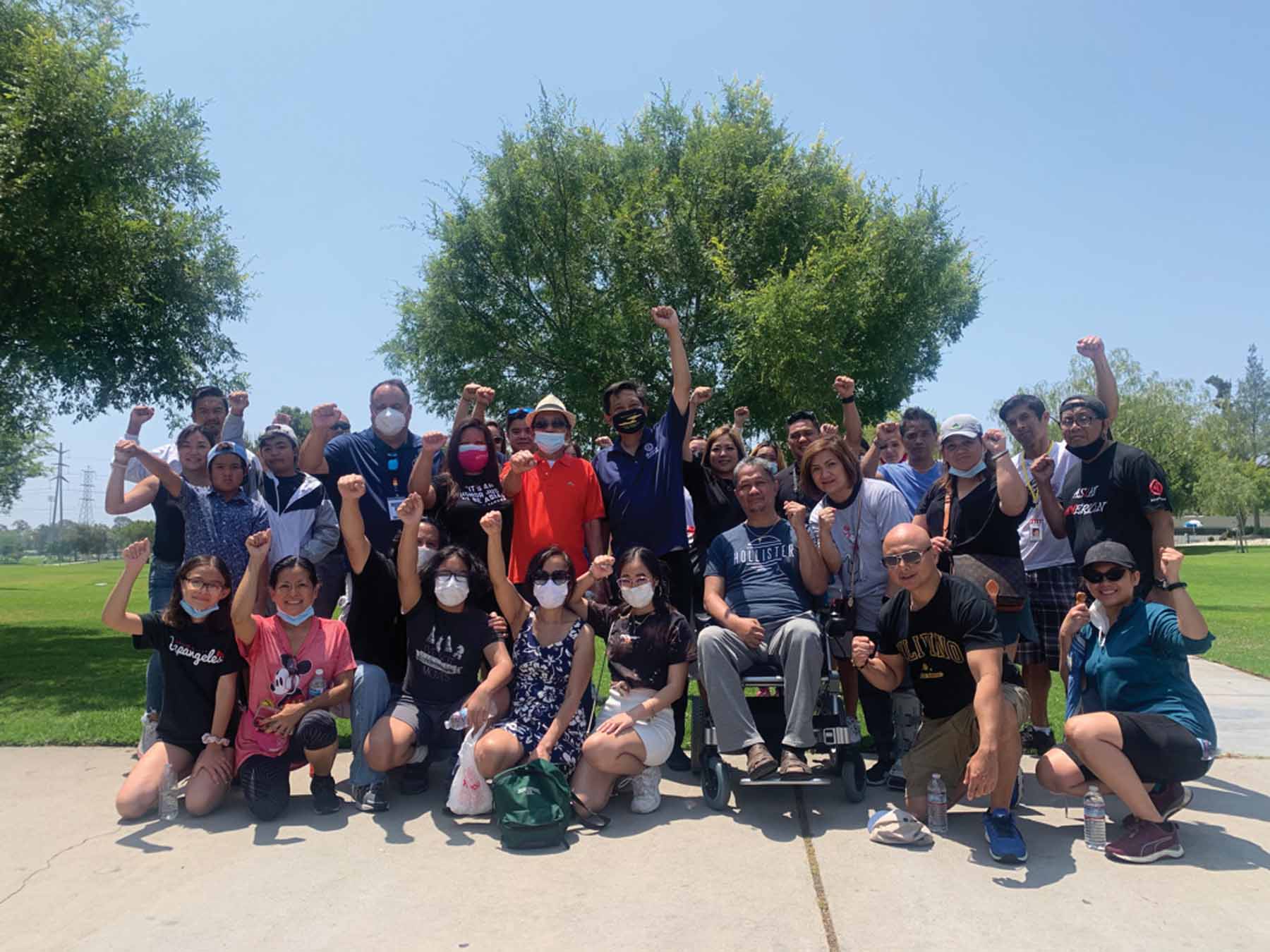 ASIAN American and Pacific Islander (AAPI) community members and local officials gathered at a park in Cerritos, California on Saturday, June 19 for a solidarity walk, two weeks after a Filipino American man was attacked there.
At the front of the congregation held at  Don Knabe Community Regional Park, doughnuts and water bottles were passed from the table by a "Stop AAPI Hate" sign to attendees, one of whom was a shirt saying "No Justice, No Peace," and another holding a sign saying "hate has no place here," preparing for a walk in the June heat.
The energy was palpable, the zeal different from what Fil-Am Cesar Echano experienced at the same park earlier this month.
"I am proud to be brave," Echano said before the walk on Saturday. "You have to fight, fight, fight!"
Echano, 70, was walking with his wife at the park he had frequented for decades on June 5, when a "tall man with a backpack" reportedly started yelling slurs at them and telling them to "go back to your country."
Uncomfortable with the situation, the couple walked away toward their car in the parking lot, only to have the man come up to Echano in the passenger seat, open the door, and punch him in the eye. With no one around to help, the Echanos went back to the park to call 911.
"For the first few days, I couldn't open my eye," Echano said in an interview with the Asian Journal. "Now, I can open it but it still hurts."
Echano said he felt "brave enough" to walk on Saturday because he was walking with allies of the AAPI community, but said he is not sure he will be returning to the park or walking around any time soon. His wife, who watched him get physically attacked, did not come to the walk because she was "still too scared" to go out.
The hate crime was first covered by ABS-CBN journalist Steve Angeles, prompting government officials and community organizations to reach out to Echano.
"I'm just doing my job," Angeles said before the walk. "But this is the part of my job I hate. I hate talking about this thing happening and it's sad to see it happening every freaking day. I'm looking at press releases, I'm getting contacts from community members just like in this case, and it's frustrating. It's frustrating to see that this is happening every day and that we have to even talk about this. Honestly, I hope the suspect is here so he could see what he started."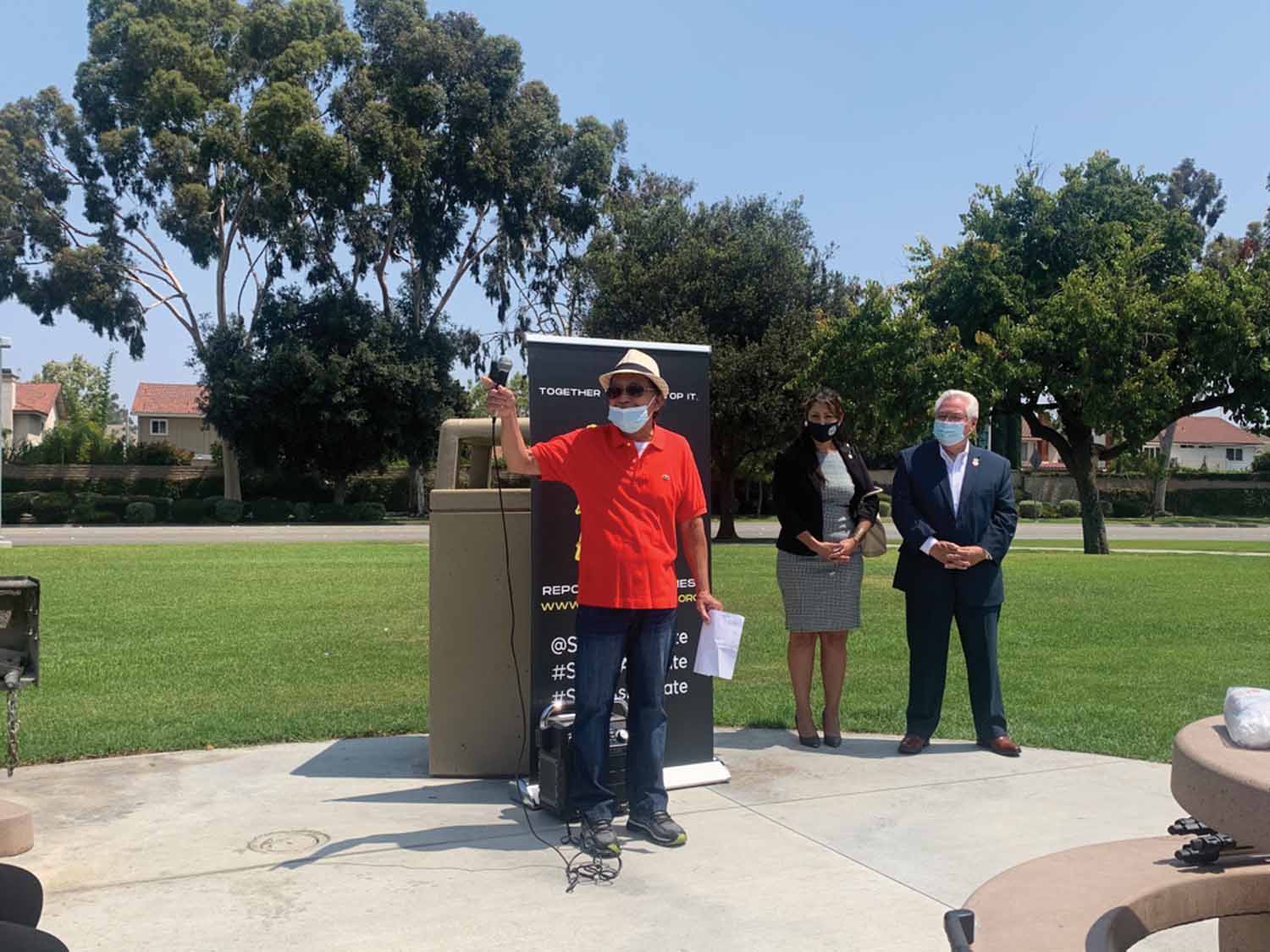 The Stop AAPI Hate solidarity walk on Saturday featured Echano along with community leaders Cerritos Councilmember Frank Yokoyama, Artesia Mayor Pro Tem Melissa Ramoso, National Association of Social Workers – California Chapter President-elect Victor Manalo, Buena Park Mayor Pro Tem Sunny Park, former Cerritos Mayor Mark  Pulido, Artesia Mayor Rene Trevino, California Senator Bob Archuleta, Hawaiian Gardens City Councilmember Myra Maravilla, and Artesia Councilmember Monica Manalo.
"I am angry," Ramoso said. "And deeply hurt that the attack on you, Manong Cesar, happened in our backyard. An attack on you is an attack on us."
The walk also sparked a conversation about the different forms of activism and allyship the AAPI community can take.
"Some of you are not inclined, like so many of my elected colleagues, to step forward into the public arena, and represent our community proud and strong," Pulido said. "But you have your ways, and I see it. I see how you feel. Because I see it on your shirts. I see it in the gear that you're wearing. I see it on your caps."
Officials from Hawaiian Gardens, a city about a six-minute drive away, have also offered their support for Echano.
"I'm just here today to let you know that you have an ally in Hawaiian Gardens," Maravilla said. "And that Hawaiian Gardens stands with the city of Cerritos and nationwide to stop AAPI hate."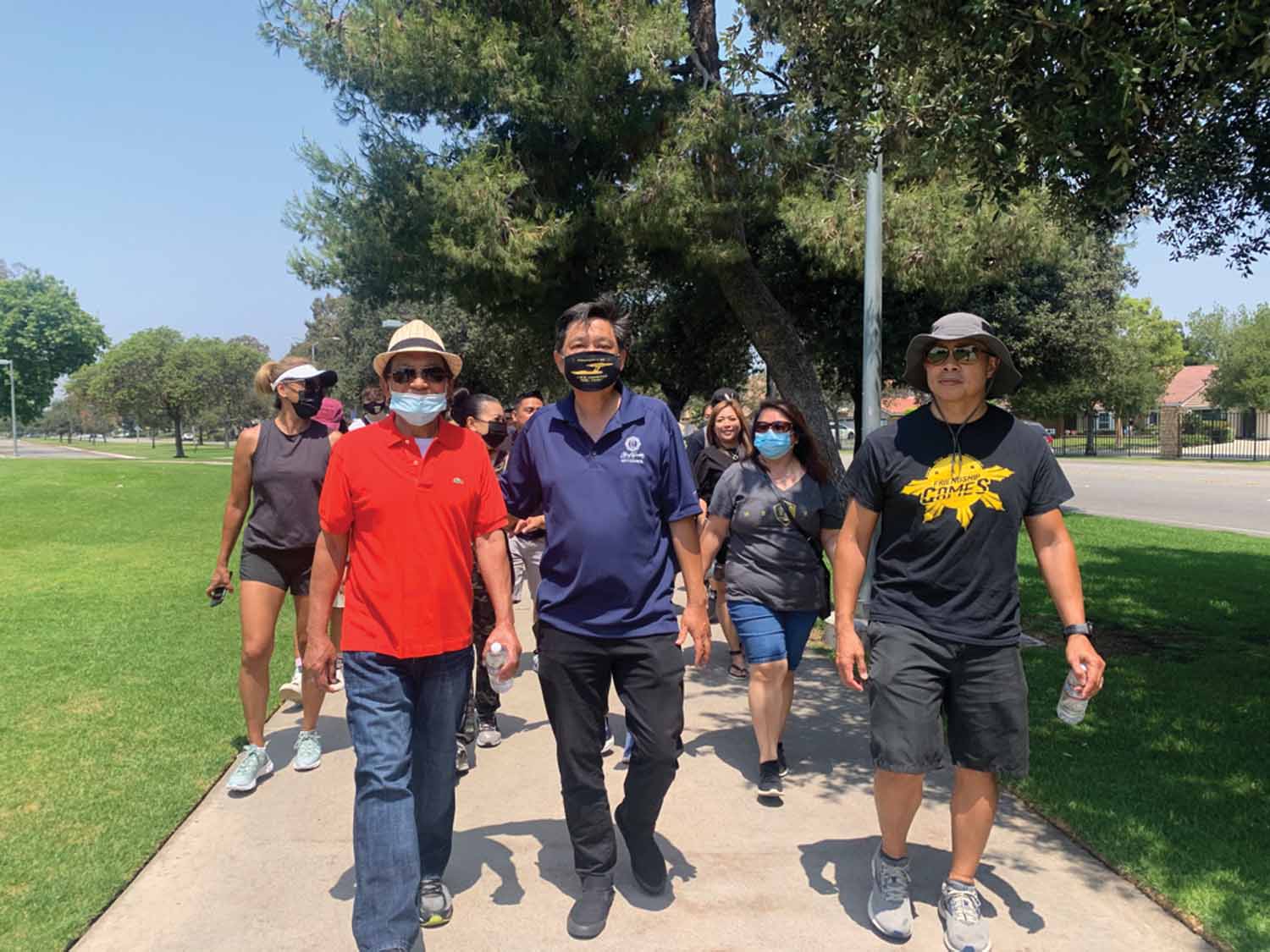 Some attendees of the walk have shown solidarity for the cause, offering to help vulnerable members of the AAPI community. Megan Ono, a member of the Social Hour Run Club, a running community that rotates their meetings around Orange County, meets at the Don Knabe Regional Park and was surprised a place her community considered safe was a place of hate crime.
"We're here three times a week, day and night," Ono said. "And we will protect and serve and do all that we can to make sure people feel safe, welcome, and loved."
Fil-Am attorneys like Adrian and Sandy Roxas, who specialize in the Victim's Bill of Rights Act, have offered pro bono services to AAPI victims of hate crimes. The attorneys provide legal advice for crime victims so they can preserve their rights regarding safety, privacy, and due process.
"If you have any questions at all about court procedures or following up with law enforcement, we are a resource and we do not charge for our services at all," Adrian Roxas said.
Officials have previously worked to provide pro bono legal services to AAPI victims of hate incidents and hate crimes, which was endorsed by Park.
"We understand that these victims are very afraid to speak out," Park said to Echano. "So in that regard, I am proud of you to come out, to speak up and speak against this crime."
The underreporting of hate crimes and incidents against the AAPI community has been called a hindrance in addressing AAPI hate, and community organizations have encouraged more reports in order to understand the scale of the issue.
"We are one step closer because of Mr. Echano's courage," Trevino said at the gathering. "And I hope we don't have to gather again."
In order to catch the perpetrator of the crime, the Los Angeles County Sheriff's Department has offered anonymous reporting for those who may have leads on the suspect. Tips about the incident or perpetrator can be directed to the Sheriff's research station at 562-860-0044 or at lasd.org.
"Rest assured the Sheriff's Department has devoted all its resources to do what we can to bring justice to our victim, and we'll continue to do so," Sheriff Minh Dinh said before the walk. n