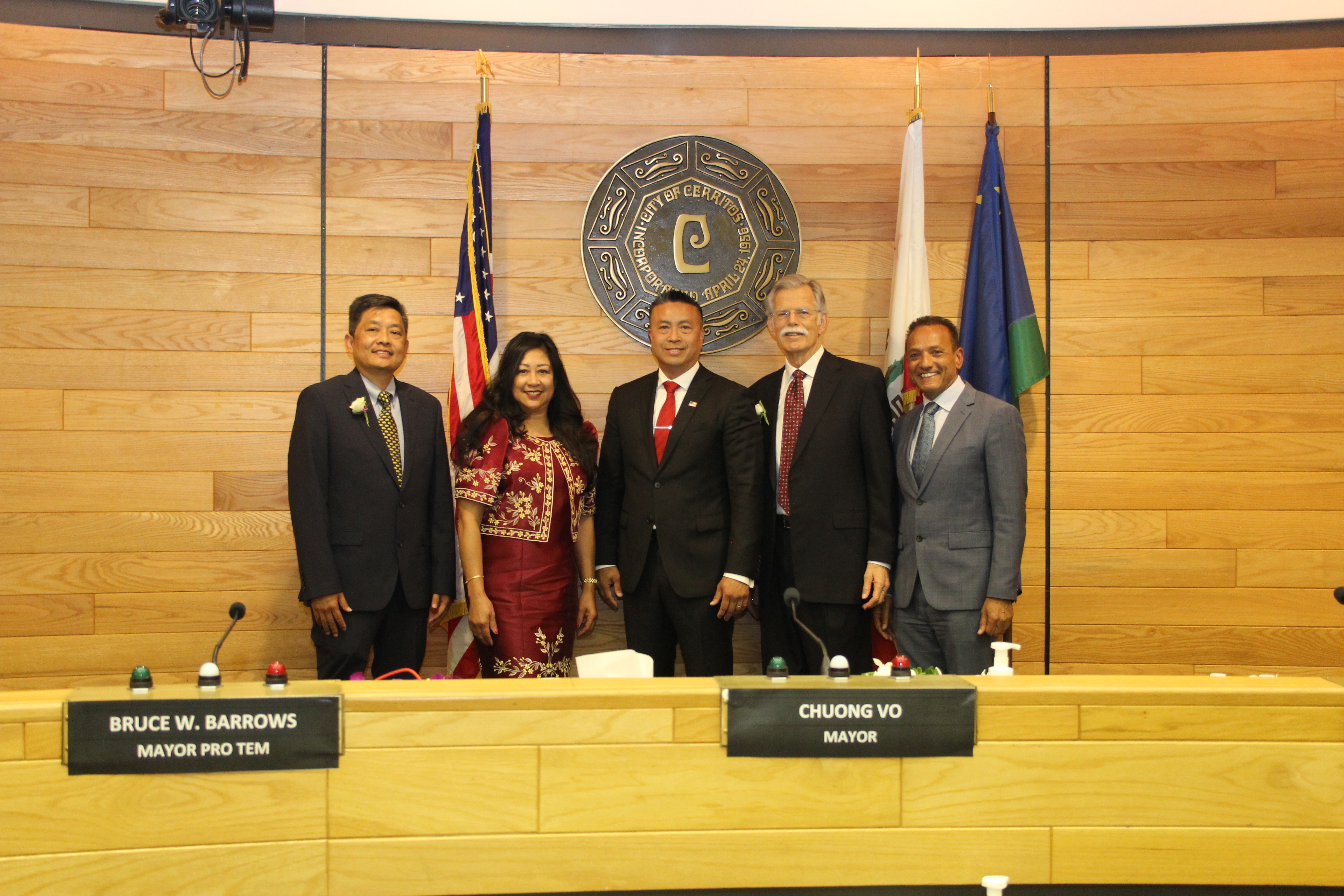 CERRITOS, Calif. — Two Filipino American public officials were officially sworn in as councilmembers on Wednesday, April 27 at the City of Cerritos Council Chamber.
Top vote-getter Frank Aurelio Yokoyama was re-elected to his second term as councilmember while Lynda Johnson was elected in her first council run.
"My dream of becoming a City of Cerritos Council member has come through," Johnson said.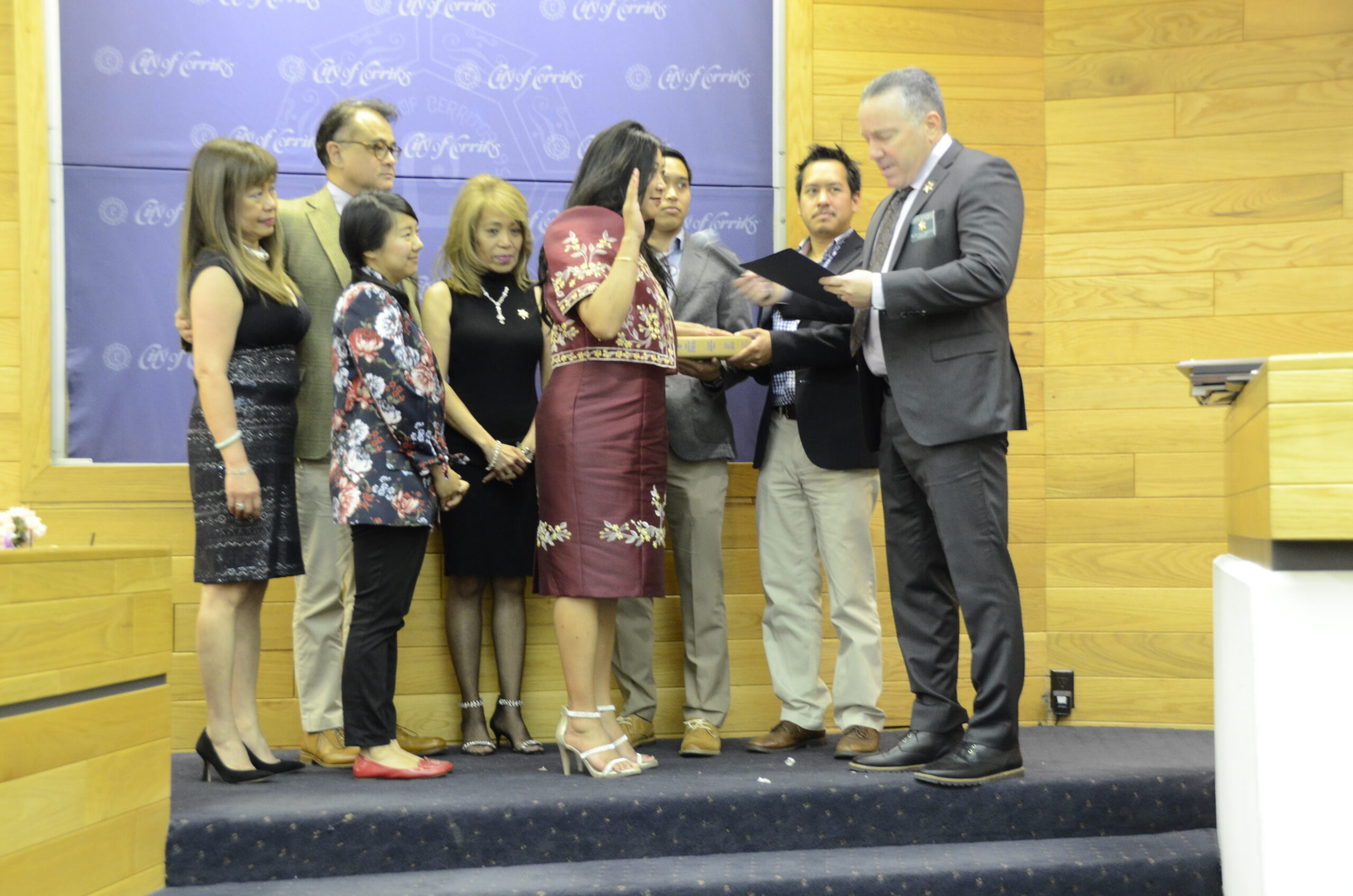 Johnson enthused that she was blessed for having a "Campaign Dream Team" and made special mention of her boss, Los Angeles County Sheriff Alex Villanueva, for his full support. "I look forward to serving the city that I love. I will work as a team with my colleagues, to build consensus and make Cerritos the city we can be proud of."
Yokoyama is the eldest son of a Japanese American veteran, Tom Yokoyama. His mother, the former Chit Aurelio, is a native of Subic Bay, Zambales. Both parents are realtors.
Johnson's roots are from Manila and Iloilo. Her father, Sam Johnson, is a retired U.S. navy now based in San Jose, CA.
Both U.S.-born, Yokoyama and Johnson grew up in this city and claimed that they are proud products of the ABC Unified School District.
Johnson is the first Filipina American on the council.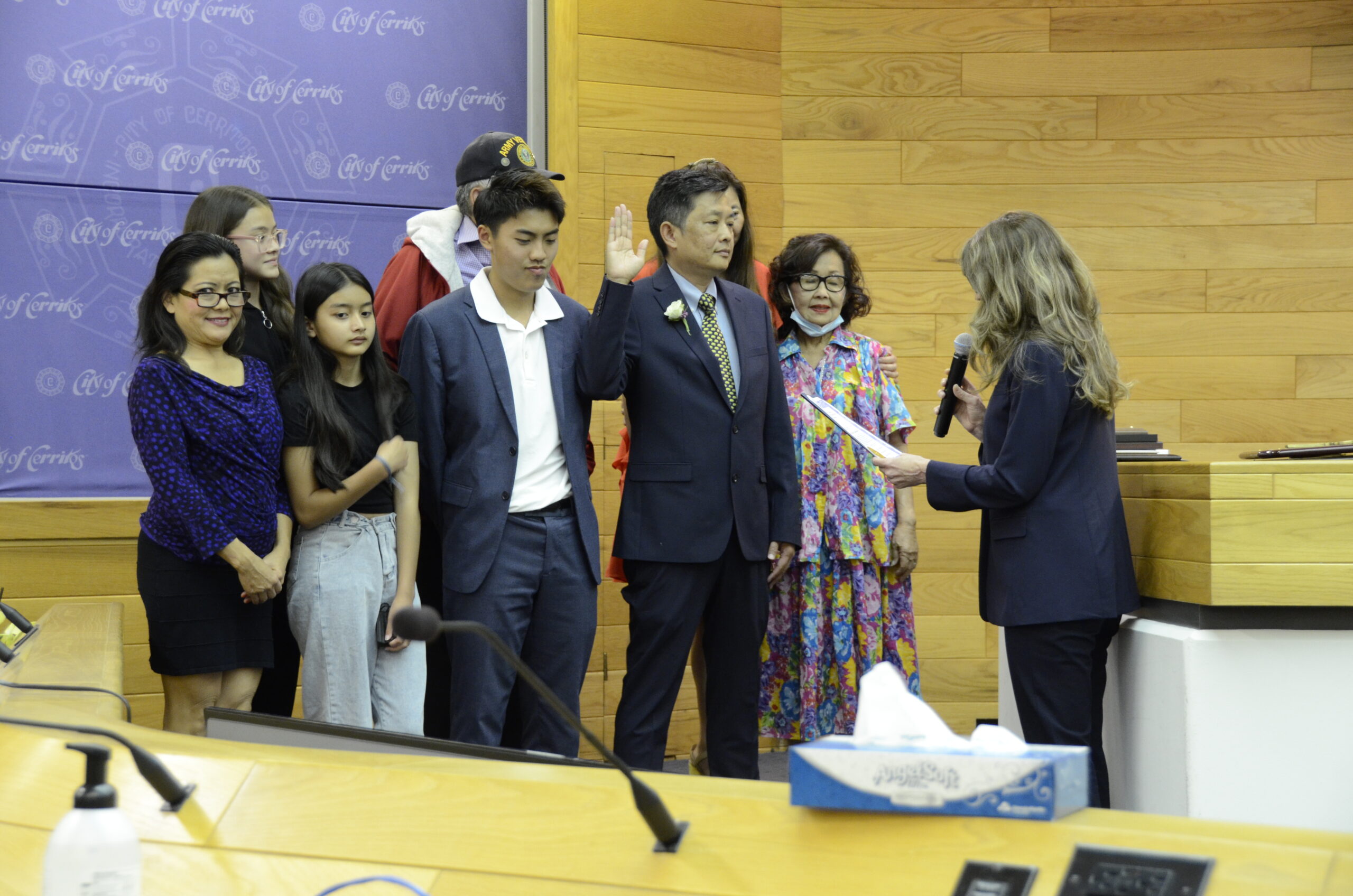 "It's pretty cool that I'm still the top vote-getter," exclaimed Yokoyama. "I've worked hard for the Cerritos residents. I'm proud to represent Cerritos and the region with the Southern California Association of City governments."
The City of Cerritos is a member of the City League of California Cities. He thanked outgoing Cerritos Mayor Grace Hu for mentoring him.
In the official results, Yokoyama, a local businessman and attorney, garnered 3,737 votes while Johnson, an LA Sheriff field deputy, received 3,475 from 8,932 who cast their ballots with a voter turnout of only 24.76%.
The city of Cerritos — with a total area of 8.9 square miles, 20 miles southeast of Los Angeles — has 36,079 registered voters out of a population of 50,143.
Mayor Pro-tempore Chung Vo presented outgoing Mayor Grace Hu scrapbooks, memorabilia of her last five years as Council member and a symbolic key to the City Hall. Hu received several proclamations and commendations from various government entities and organizations.
"You can still visit the City Hall," Vo reminded Hu.
After Hu vacated her post, a reorganization immediately took place among the newly-seated five city council members. Deputy Mayor Chung Vo, a Vietnamese-American was voted as city mayor, 4 to 1. Only Yokoyama voted no.
Former Mayor and current councikmember Bruce Barrows was elected as mayor pro-tempore. Yokoyama again voted no in what political pundits described as the "lone wolf" of the City chamber.
The newly-elected mayor noted that all members of the City Council come from all cultural levels, including four members who are Asian American. He waxed poetic when Vo recalled his hard-fought battles and struggles when he arrived in the U.S. as a young refugee and his family had nothing. He thanked former Mayor Carol Chen for mentoring him.
"Being mayor sounds cool," Vo revealed. "I'm not here for the title. You can still call me Chung, not a mayor. I'm a public servant to serve the people. We are one family and one city."
"As your new mayor, I'm not overshadowed with high expectations, not for personal gains or ego and to fill a pocketbook. This is all about you and not about me," Vo concluded.