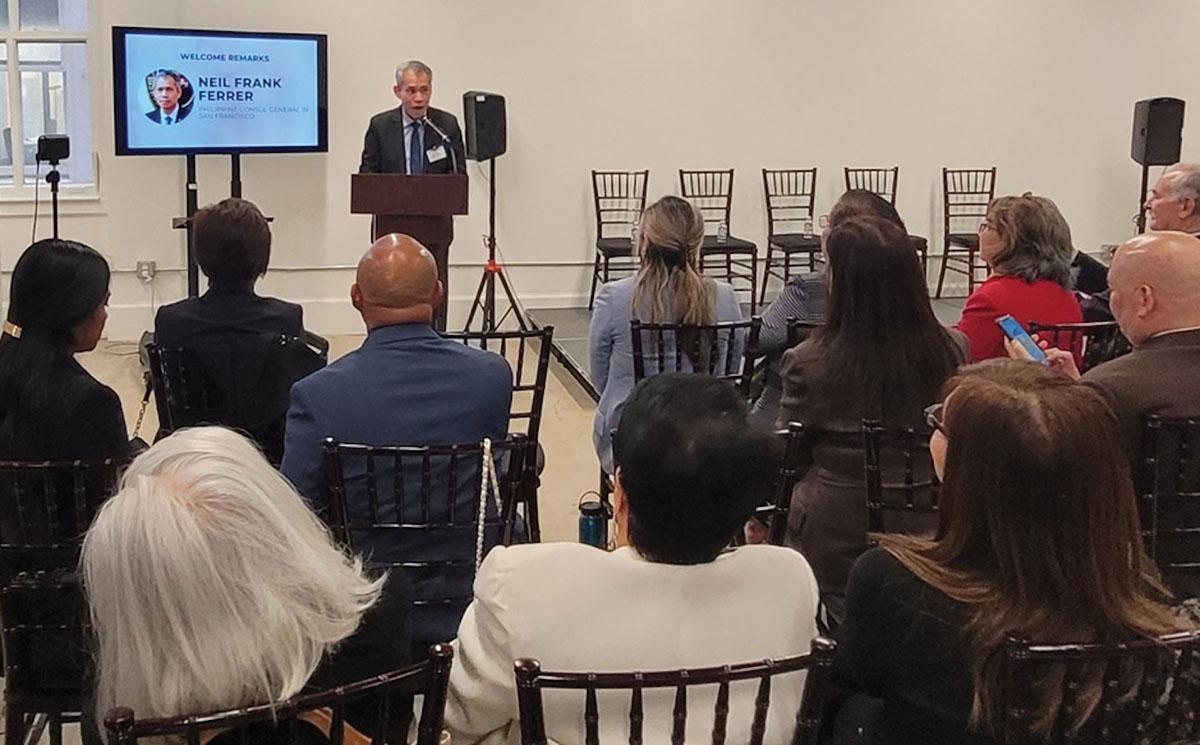 SAN FRANCISCO – The Philippine Consulate General in San Francisco assembled a powerhouse panel of Filipino American women government leaders in the San Francisco Bay Area, for a hybrid forum in celebration of National Women's Month in the Philippines and Women's History Month in America.
The Consulate hosted "Women in Government: A Forum with Filipina American Leaders in the Bay Area" — held in partnership with the San Francisco Filipino American Chamber of Commerce, and the Friends of the Filipino American Community — on Wednesday, March 22 at Dynamico Space, Philippine Center in San Francisco.
Moderated by Consul Rowena Pangilinan-Daquipil, the forum shone a spotlight on Filipino American women who have taken up the reins of government of one of the most dynamic and progressive metropolitan areas in the United States. The event follows the sector-based events that the Consulate has organized for National Women's Month, namely the "Women in Tech" virtual forum in 2021 and the "Women in Health" online forum in 2022.
Philippine Consul General in San Francisco Neil Ferrer opened the online event by paying tribute to trailblazing Filipino American women government leaders in California and the United States.
"Here in Northern California, former Davis Mayor Ruth Uy Asmundson holds the distinction of being the first Filipino American woman to become leader of a NorCal city, while returning Colma Mayor Joanne del Rosario is the first Filipina American to become Chief Executive of a Bay Area city or town," said Consul General Ferrer.
"Statewide, former California Supreme Court Chief Justice Tani Cantil Sakauye is the first American of Filipino descent to lead the state's highest court. Let us not forget that beyond California's borders, the first-ever Filipino American legislator in the United States was a woman, Thelma Garcia Buchholdt, who was elected to Alaska's House of Representatives in 1974," Consul General Ferrer further said.
In the "Women in Government" forum, the invited Filipino American women leaders shared their stories and experiences in running their communities, their views on local and national issues, and their thoughts about the influence of their Filipino ancestry and heritage in their role as government officials and public servants.
Daly City Vice Mayor Juslyn Manalo, who has previously served as mayor of the Bay Area's "Pinoy Capital" in 2017 and 2020, shared that she is thankful that she began her journey in public service at a young age.
"When I was in college, the issue that really touched my heart was the Filipino World War II veterans. Through my advocacy for them, I had my first experience doing legislative visits. Learning about their plight, which was really long for these elders to endure, that was what stemmed my service to the community," Vice Mayor Manalo said.
Berryessa Union School District Board Trustee Jaria Jaug, the only Generation Z member in the panel, also shared her motivation in running for public office at a young age.
"When I was researching, I learned that there has not actually been a Filipino American woman congressmember. I thought to myself: How could that be? How is it that we give so much to our communities and to our country, and yet we are not represented at the table? That's what really struck me that [the government] is an area where I can bring my voice to the table," Board Trustee Jaug said.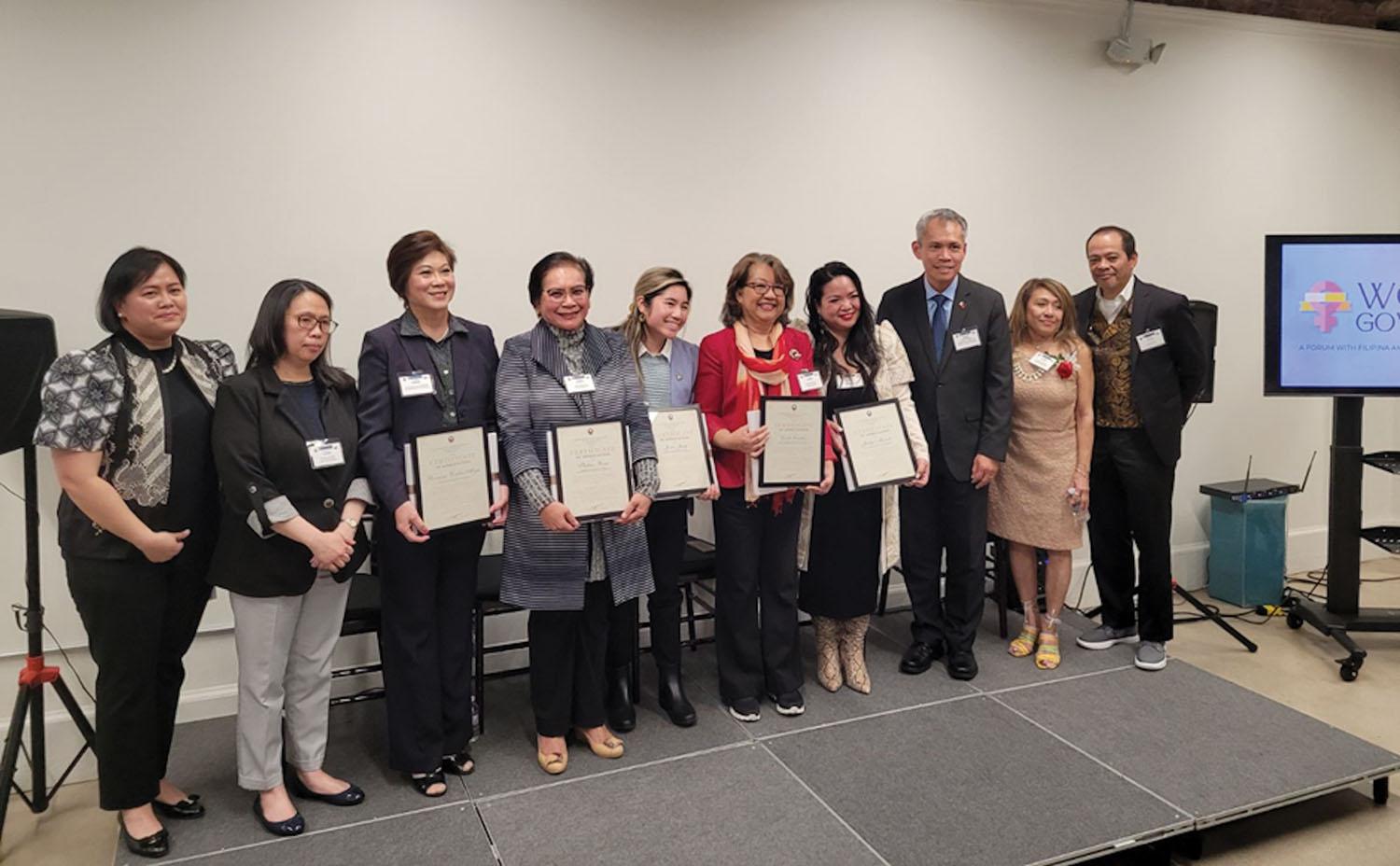 Former New Haven Unified School District Board Trustee Linda Canlas said that one of her priorities during her time in the Alameda County-based school board is pushing for more inclusion in the education curriculum.
"Some people who would see themselves in the textbooks, their pictures and their colors, get interested more when they see themselves in the books… Everybody who came [in America] played a role in being a part of this history. Once students understand that they are part of history, student achievement increases… Safety increases when the students in our classrooms are happy and are focused on whatever they are doing," former Board Trustee Canlas explained.
Berryessa Union School District Board Trustee Thelma Boac is confident that women and women of color can break glass and bamboo ceilings, and can overcome the challenges that come their way.
"I never listened to people telling me what I can and what I cannot do… If you want to go higher, you have to be comfortable in your own skin. My mother taught me: 'Never be ashamed because you didn't steal anything, you've never been to jail. Why in the world should you be ashamed?'" Board Trustee Boac said.
Vallejo Vice Mayor Rozzana Verder-Aliga, the first elected Filipina American leader in Solano County, shared how her Filipino ancestry and heritage influenced her decisions and actions as a government official and public servant.
"It is the values that I learned from my parents: love for God, family and community. If you subscribe to these three tenets, you got it. You got to do what you need to do to help others, and make our community and this world a better place," Vice Mayor Verder-Aliga said.
Deputy Consul General Raquel Solano, the Consulate's highest ranking woman official, closed the "Women in Government" forum by underscoring that there is still more work to be done in the fight for gender empowerment and equality, citing United Nations data between women and men in terms of education, access to resources, and decision-making roles in government.
"An important aspect of this fight is changing mindsets, of both women and men, to enable us to see and believe with conviction that women are equal to men, in terms of their capacity to contribute towards economic growth and development and in making a positive change in society. Only then shall we be able to take a concerted effort to mainstream women in policy and law, in programs and services, in access to education and resources, and in leadership and governance," Deputy Consul General Solano said.
The "Women in Government" forum may be viewed in its entirety on the video tab of the Consulate's official Facebook page: http://www.facebook.com/PHinSF/videos/.
(PCGSF Release)