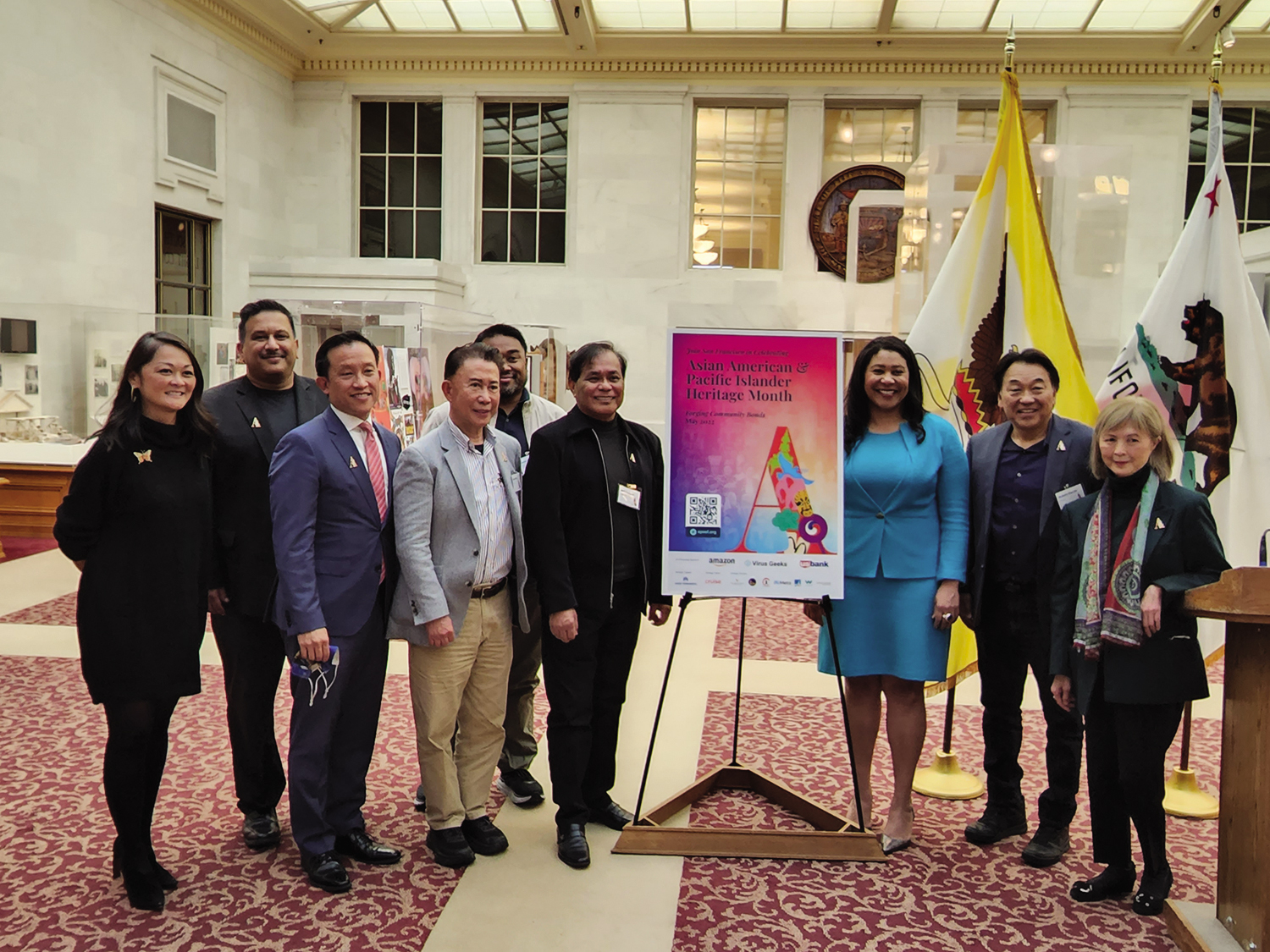 Soriano, Yan among APAHF awardees at annual event's reception
THE annual Asian Pacific American Heritage Month (or Asian American & Pacific Islander Heritage Month) celebration is slated to take place in May with month-long celebrations focusing on its theme, "Forging Community Bonds."
In a brief kick-off press conference on Tuesday, April 26 at the South Light Court in City Hall, San Francisco Mayor London Breed and the Asian Pacific American Heritage Foundation organizers explained this year's theme, introduced this year's awardees and encouraged San Franciscans and community members to register and attend the slew of events curated by organizers. [For activities, the 2022 Celebration Guide and to register for any of the events, go to www.apasf.org.]
Claudine Cheng of APAHF said the theme is particularly relevant at this time as the community is grappling with anti-Asian hate, as well as a range of issues, including equality. She stressed that the theme is also a call to action for the broader community, and revealed that when the National Day of Solidarity takes place on May 14, 22 cities are also adopting the same theme that they are espousing.
"Are we excited or what…" Mayor Breed declared to a round of applause as she took the podium after an introduction by Cheng. "…of the return of in-person events for APA Heritage Month… The truth is this is exciting, but we know that there have been real challenges during this pandemic that has forced us, I think, to take a hard look at some of the challenges of our history. And to have honest discussions about a lot of the discrimination that took place not just during the pandemic against our API community, but when you think about it, a hundred and forty years ago."
Briefly mentioning the Chinese Exclusion Act and Japanese internment anniversaries, Breed added, "Just thinking about this history makes me want to do more in order to bridge those gaps, in order to change some of those challenges that we unfortunately have seen many people in our API community experience over the course of this pandemic."
Citing the example of the Bruce Lee exhibit collaborated on by the Chinese Cultural Center and the African American Art and Culture Complex, Breed said the month-long celebrations is not just about telling API stories, but creating relationships with each other.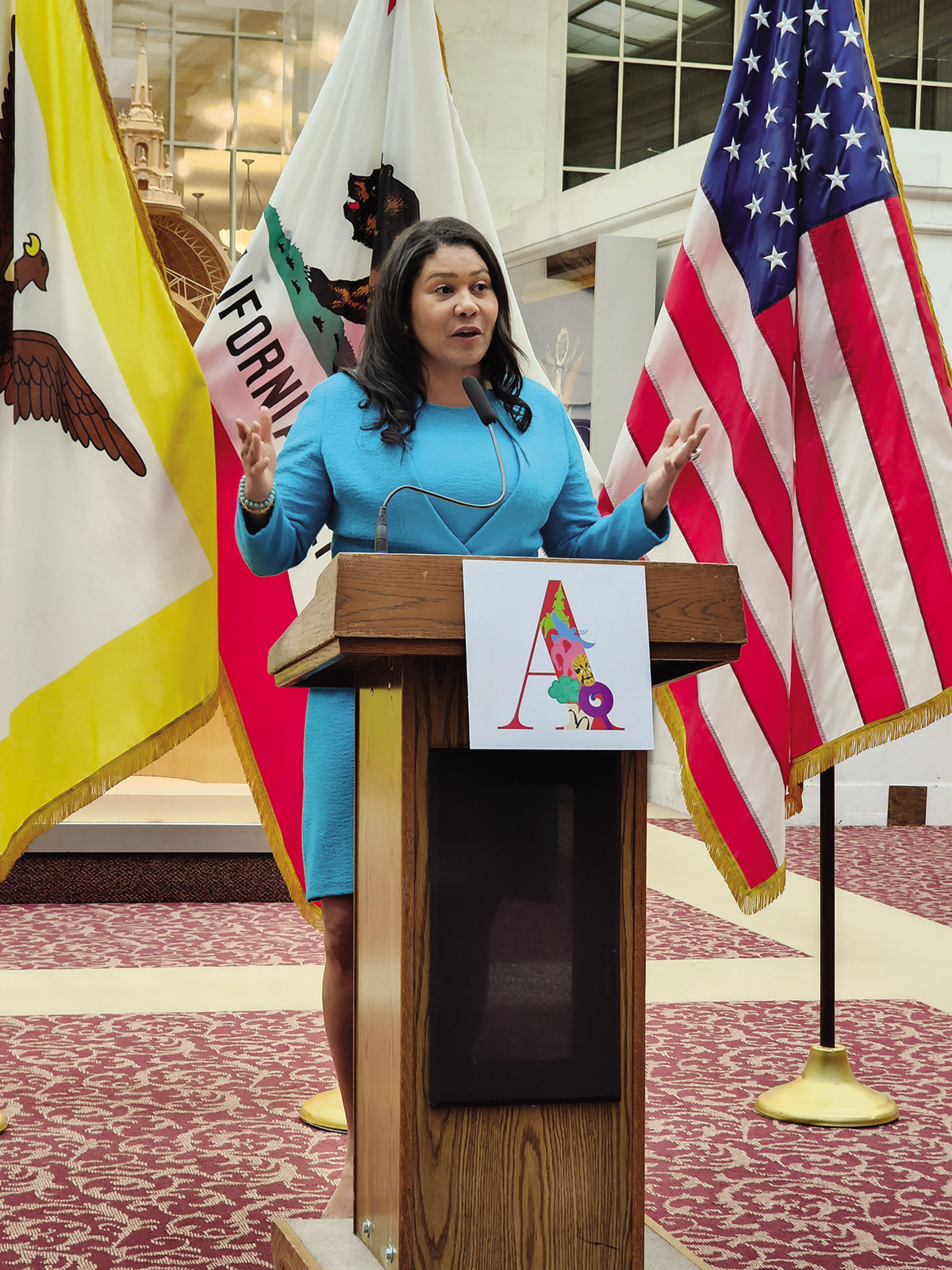 |
"It is fitting that this exhibit came about at this time as we start to reopen, as we start to have these conversations and these celebrations," Breed said. "This APA Heritage Month, [the organizers] try to make sure that the programming and everything that is done is not just an opportunity to share the stories of our Asian community, but to also build bridges, to build relationships, to continue to come together, to tell and share our stories and our life experiences, and to learn about one another."
City Administrator Carmen Chu introduced this year's awardees: the Asian Pacific Islander Cultural Center and Kearny Street Workshop for the Community Milestones Awards; and award-winning reporter Robert Handa, LIKHA-Pilipino Folk Ensemble founder Rudi Soriano and master chef Martin Yan for the Inspirational Achievement Awards.
Chu, prior to announcing this year's awards recipients, said that events like the AAPI Heritage Month will allow people, including her young daughter, "to see the city's amazing history that is part of her history, all the people who have our San Francisco Asian American community and the Bay Area, and the history that we've contributed to this country and how we've helped to build this wonderful country that we all live in."
For his part City Attorney David Chiu spoke about how he loves the month of May "as it allows us to celebrate our diversity and celebrate our history and celebrate where we have come… Our community has come a long way. We're in a city hall where Asian Americans were not accepted 100-plus years ago, and we are all in places today where that is not the case, again because of the leadership of so many."
In quick interviews with the Asian Journal, both Soriano and Yan expressed happiness over being recognized by the APAHF.
"I was surprised and honored to be recognized by the APAHF," Soriano said, while adding that it's been a blessing to be a part of the community and how grateful he is to see the friendships that exist within the different Asian communities.
As founder of LIKHA-Pilipino Folk Ensemble, Soriano revealed that his group participates in many events to promote Philippine dance and culture to a wide audience.
"We always have an annual performance in San Francisco, and we have shows in the Bay Area and other states. We also participate in the San Francisco Ethnic Dance Festival. Through dance, I believe, we can communicate with the community, with the non-Asians and show them who we are as Filipino Americans, and as Asian Americans," he said.
The performer/teacher /choreographer said that aside from showing the Tinikling and Singkil and other more recognizable Philippine cultural dances, he has been actively researching other lowland and highland dances of different indigenous peoples and showing them in theater form.
"So they are basically much aware right now than before… there's several organizations or Filipino dance companies who are promoting our culture through dance and music," Soriano said.
Soriano, who teaches dance to young kids and adults in their 50s to 60s, said it would be "it would be nice to teach Filipino culture to kids born here in the U.S. while they're still young so that it will be embedded to them until they grow old."
Yan, meanwhile, said that the award, while being a testament to their work, is an encouragement for him and other community leaders to do more.
While acknowledging that his programs introduced Asian heritage, history, culture and food to other parts of the globe, including the western mainstream American, he said, "The more people understand each other, the more we accept and are receptive with each other. It's a melting pot and let's put all the wonderful things together and understand each other, and enjoy each other's company through food and culture."
The culinary educator and prolific author also gave his thoughts on Filipino food, which is becoming more recognizable in the U.S.
"I think Filipino food has a lot of intrinsic qualities that everybody should enjoy. Everybody knows that the suckling pig is amazing. And then the lumpia is very famous. And then adobo is my favorite. So to me, we should work harder to promote and introduce Filipino culture, heritage and food. Let's work together and do it. We're part of the Asian community so we should work together and help each other," said Yan, who added that he was amazed at how Filipinos embraced life when he did a show called "Taste of the Philippines" that explored Filipino culture, history and food.
Asked what advice he would give to would-be chefs in the Filipino American community, the James Beard Foundation Lifetime Achievement Award recipient offered: "If you love what you do, enjoy it, follow your instinct, follow your nose, and never give up… If food is what you love and what you're passionate about, keep at it, don't give up, and move forward with courage, enthusiasm and optimism."