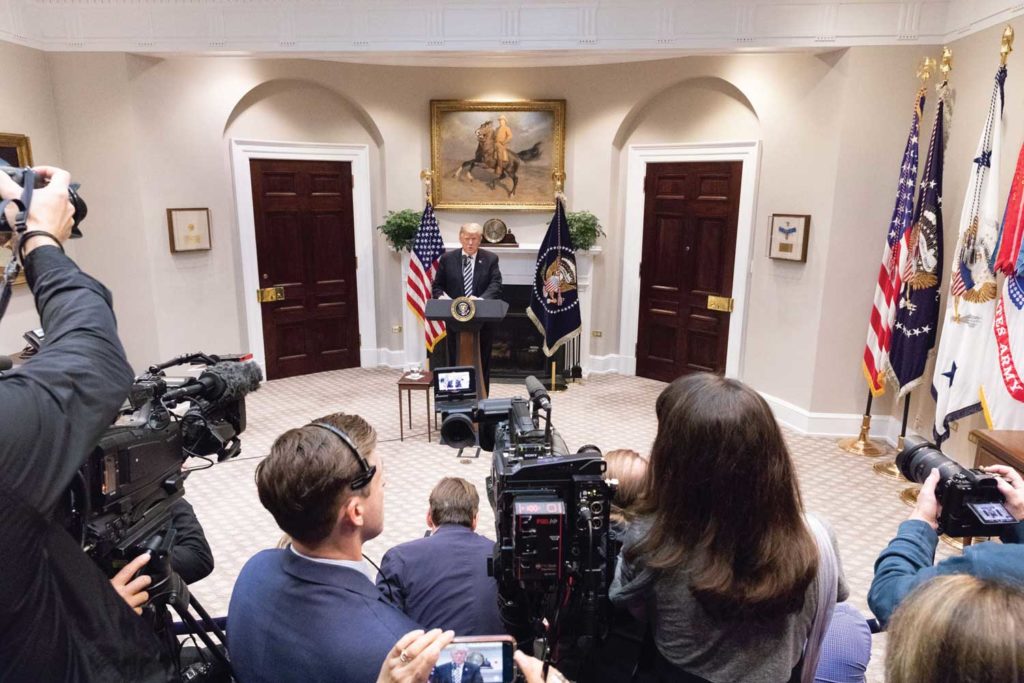 On Thursday, Nov. 1, President Donald Trump doubled down on his iron fist immigration proposals by announcing plans to call for new limits on asylum requests at the U.S.-Mexico border.
In the same week that he announced his plans to eviscerate birthright citizenship, the president gave a speech from the White House announcing that he would sign an executive order "next week" designed to restrict asylum rules amid the yearly trek of Central American migrants heading to the border to flee violence and abuse in their native countries. 
In Thursday's address from the White House, the president meandered on about the perceived national security risks that come with welcoming the thousands of asylum-seekers at the border, mirroring much of the immigration rhetoric he's touted since his presidential campaign.
Generally, the U.S. recognizes the right of asylum pursuant to international and federal law which grants asylum to people who justifiably fears persecution in their home country on the grounds of race, religion, nationality, political opinion (i.e. opposition to a political party) or particular social group. Applicants for asylum must also reason that the government is either involved in said persecution or unable to control the persecution of a private entity.
Every year a caravan of Central American migrants —  most of whom are women and children are from Honduras, Guatemala and El Salvador —  travel through Mexico en route to the U.S. border, traveling in thousands for protection; migrants are often kidnapped by drug and human traffickers on their journeys to the U.S. 
As of press time, the migrant caravan continues to press on toward the border and have crossed through the southern Mexican state of Chiapas. 
It's unclear how the administration plans to carry out the forthcoming executive order on, but it has already dispatched U.S. troops to the border to buttress border patrol.
On Friday, Nov. 2, the president backtracked from a suggestion that the more than 5,000 troops would be allowed to fire freely on migrants who throw rocks at them but said that rock-throwers would be arrested.
"They won't have to fire. What I don't want is I don't want these people throwing rocks," the president told reporters outside the White House. "If they do that with us, they're going to be arrested for a long time."
On Thursday, Trump suggested that he would authorize the use of military force on caravaners if they throw rocks at them as some did at the Mexican military and police force when they reached Mexico.
Trump said that he hopes that the administration won't resort to military action, but said if migrants attack that "we're not going to put up with that. If they want to throw rocks at our military, our military fights back."
His reasoning behind the possible use of firearms on caravaners by the military is "because there's not much difference when you get hit in the face with a rock," later adding, "When they throw rocks like they did at the Mexico military and police, I say [to the military], consider it a rifle."
Per the regulations of the Defense Department, "deadly force is justified only when there is a reasonable belief that the subject of such force poses an imminent threat of death or serious bodily harm to a person."
Pentagon spokesman Lt. Col. Jamie Davis said after Trump's remarks that the military "will not discuss hypothetical situations or specific measures" and emphasized that the military forces "are in support of" the Department of Homeland Security and Customs and Border Protection.
Thursday's address comes at the heels of his controversial announcement of ending birthright citizenship by way of, once again, executive order, a proposal panned by Democrats and Republicans alike.
As previously reported by the Asian Journal, House Speaker Paul Ryan refuted the president's claim that he can end birthright citizenship (wherein a U.S.-born child of undocumented parents is automatically a U.S. citizen) by saying Trump "obviously" doesn't have the power to end a law supported by the Constitution. 
Both announcements — which, unlike most of the president's statements, sparked outrage — occurred days before the historic midterm election where the Republican-majority Congress could flip blue, which has been a thesis for Democrats since the 2016 election. 
Many interpreted these announcements as a last-ditch effort to pander to GOP voters who respond well to fearmongering and consider immigration to be an important issue. (Polling data from RealClearPolitics, which aggregated multiple results from prominent pollsters, said that Democrat candidates running for all offices are averaging a 7.5-point lead against Republican candidates.)
This week, the president tweeted a campaign ad that featured an undocumented Mexican immigrant who murdered two California sheriff's deputies in 2014 and laughed about it in court, to which the ad states, "Democrats let him into our country."
Democrats and Republicans alike lambasted the ad for demonizing immigrants by exploiting the stereotype that all undocumented immigrants of color are violent.
"It's all about revving up the base, using fear to stimulate people to come out at the polls," Sen. Bob Corker (R-Tennessee), who has voted with Trump on a number of issues, told The Tennessean on Thursday after Trump's White House address.