TO help put an end to the proliferation of anti-Asian hate and harassment, the Asian Americans Advancing Justice-Los Angeles (Advancing Justice-Los Angeles), in partnership with Hollaback!, is holding a series of virtual trainings entitled "Bystander Intervention To Stop Anti-Asian/American and Xenophobic Harassment."
Starting with the first training last March 23 which was carried out using the native Filipino language, Jeanette Sayno, Advancing Justice-Los Angeles community legal advocate, said these workshops are aimed at empowering everyone to build a world that is free of harassment and filled with humanity.
"Our work focuses on turning the care we have for each other into simple, creative and effective action," Sayno said, noting that the training participants will be able to learn to intervene effectively as a bystander without compromising their safety.
Earlier reports showed that in 2020, hate crimes against Asians jumped 107%  in California. Some 89 hate crimes were reported against Asian/Americans compared to 43 in 2019. The total number of hate crimes in the state in 2020 reached 1,330, the highest  in more than a decade.
During the first training session of Advancing Justice-Los Angeles, the concept of 5Ds (Distract, Delegate, Document, Delay, Direct) was introduced as an effectively tool to implement bystander intervention.
"I hope more people will sign up to the program so we could explain to them how the 5Ds concept work," Sayno said.
The workshops are free for the public but donations are also welcomed to reach out to as many Asian/Americans as possible and to further expand these capacity building and awareness efforts. To donate, go to https://bit.ly/donatetoadvancingjusticela.
Sayno said they also encouraged the participants to tell at least 10 of their friends and/or families about the training program. More free training sessions will be posted at https://advancingjustice-la.org/bystander-intervention-trainings.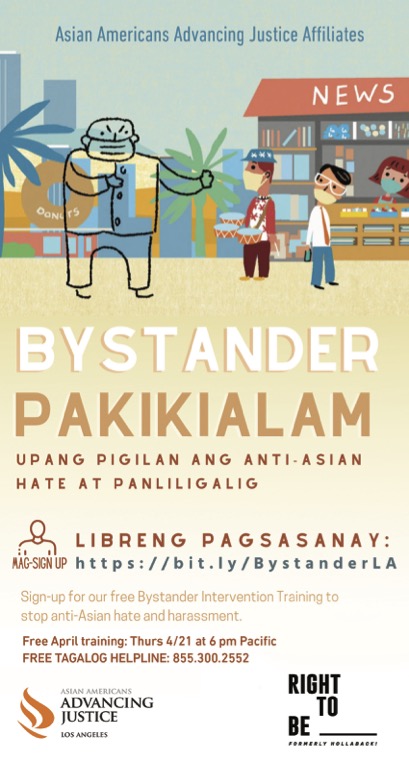 Advancing Justice-Los Angeles volunteer coordinator Mai Mao Yang, on the other hand, said these discussions would help increase awareness on the role of "bystanders" amidst the rising cases of harassment against Asian/American across the U.S. and the world, especially during the advent of the COVID-19 pandemic.
With the aim of training up to 40,000 people, Advancing Justice-Los Angeles is planning to hold these comprehensive and detailed workshops via Zoom on a monthly basis. The next Tagalog training is scheduled on April 21 at 6pm, Pacific time. To sign up, go to https://www.ihollaback.org/stand-street-harassment/
"Essentially, we want to reach out to everyone. We see that during the pandemic, this really solidifies the need for these trainings. The more, the better. Hopefully, next month we will have more people joining the training," Yang said.
Aside from Tagalog/Filipino, the training program will also be offered in other languages such as Mandarin/Cantonese, Vietnamese, Korean and English.
The Advancing Justice-Los Angeles-sponsored trainings initiative is consistent with President Joe Biden's pronouncement in May 2021 at the signing of the COVID-19 Hate Crimes Act which called for the creation of specialized hate crime units that will help states create hotlines for hate crimes at state and local levels that will be accessible for people with limited English proficiency.
President Biden also noted that the Act  provides resources for training for state and local law enforcement to identify, investigate, and report these heinous crimes.
Advancing Justice-Los Angeles is one of California's largest legal and civil rights organization for Asian Americans, Native Hawaiians, and Pacific Islanders (AANHPI).
Founded in 1983 as the Asian Pacific Legal Center, Advancing Justice-LA serves more than 15,000 individuals and organizations every year. Through direct services, impact litigation, policy advocacy, leadership development, and capacity building, Advancing Justice-Los Angeles focuses on the most vulnerable members of Asian American and AANHPI communities while also building a strong voice for civil rights and social justice.
At present, Advancing Justice-Los Angeles is based on downtown Los Angeles, with satellite offices in Orange County and Sacramento.
Hollaback!, meanwhile, is a non-profit global organization formed to raise awareness about and combat to harassment, both online and in-person, through intervention trainings and grassroots initiatives.