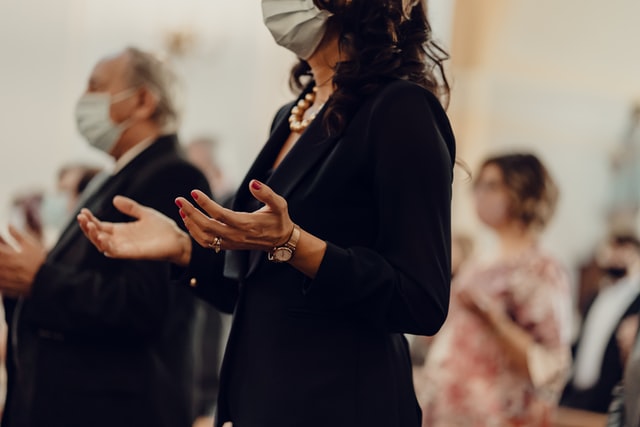 AS more Americans receive COVID vaccinations, debatable philosophies surrounding mask-wearing continue to generate confusion over whether vaccinated people should continue to wear face coverings in public.
Public recommendations on mask mandates have varied throughout the pandemic, and in California alone, the rules vary among schools and public spaces at a time when multiple viral variants continue to complicate the fight against COVID.
"Masks definitely work and the science is settled around masks, so the issue is whether vaccinated people should still wear masks, which gets into vaccine efficacy, which changes with different [virus] variants," Dr. Eric Feigl Ding, a public health scientist and senior fellow at the Federation of American Scientists, said at an ethnic press briefing on Friday, July 9.
The nearly year-long mask recommendation from the Centers for Disease Control and Prevention (CDC) shifted significantly in May when they said that fully vaccinated people no longer needed to wear masks indoors or outdoors with the exception of public transit and health care facilities.
Last month, California followed suit with that recommendation, but a concerning spike in new COVID cases reported nationwide has complicated public life, further complicating the CDC's unclear guidelines.
"I think the CDC is giving credibility to those who say we don't need rules," Dr. Ding added. "Local public health leaders need to understand that until vaccinations get high enough, we have to focus on other things like masking, ventilation, disinfection, contact tracing, and mass testing wherever there are hotspots."
On Monday, July 12, Los Angeles County reported its fourth straight day of more than 1,000 new positive COVID cases. A vast majority of these cases involved unvaccinated people and younger Angelenos, a worrisome new development that experts believe will be difficult to contain following weeks of increased public re-openings.
"Over 99% of the Covid cases, hospitalizations and deaths we are seeing are among unvaccinated individuals. Of these cases reported today, nearly 87% were under 50 years old," Barbara Ferrer, LA County Public Health Director, said in a news release on Monday.
Children, in particular, are now more susceptible to COVID than previously thought, quashing the accepted notion that children need not be as careful as adults regarding the so-called "long COVID," the name given to ongoing fatigue, shortness of breath, memory loss or problems with concentration, insomnia, chest pain or dizziness.
"One in 12 children get long COVID. That is not an acceptable statistic. If I said your child's car seat has a failure rate of one in 12, nobody would buy these car seats, so no one would accept those kinds of risks," Ding said.
Following these reports on the increasing severity of COVID among younger people, the California Department of Public Health announced that all school facilities must require masks to be worn indoors by all.
The Delta variant: how serious is it?
According to Ding, the Delta variant of COVID, which is now the most dominant strain in the United States, is "faster, more severe, very vaccine evasive" and twice as transmissible than previous strains of the virus. Among those who are vaccinated, the fight against COVID still isn't over, according to recent reports in Israel that the Pfizer vaccine has decreased in efficacy among both asymptomatic and symptomatic patients regardless of vaccination.
"Vaccinated people are still at a high risk of developing this delta variant, so even vaccinated people should be wearing masks, especially when they want to be in large groups," Dr. Jose Perez, chief medical officer at South Central Family Health Center, said at Friday's press conference.
Dr. Ben Neuman, chief virologist at the Global Health Research Complex at Texas A&M University, added to Perez's statements, saying that the scientific community is still trying to understand the delta variant but there is enough evidence to prove that it's a much more advanced strain of COVID.
"There are many changes to this virus, but only a few where we have any idea of what the actual effects are," Neuman explained. "There are almost certainly other changes that are giving the virus some kind of competitive advantage against your lungs, immune system and other viruses. Delta is a very aggressive strain in terms of how it spreads."
But regardless of the newfound knowledge of these new variants and the surge in positive COVID cases and deaths, many pockets of the country continue to ignore the severity of the pandemic, reflecting "a political divide" in pandemic behavior and ideology, Ding said.
Anti-maskers and anti-vaxxers, whom Ding said are less willing to follow the public health recommendations regarding COVID, continue to deny the scientifically proven effects of the virus, a dangerous precedent that could lead to more severe mutations.
"What worries me is that people don't react until crap hits the fan. Until they see hospital numbers going up, they don't believe it's real," he explained. "We saw that last year when New York saw overwhelming cases but Texas was not, so [Texans] thought it wasn't real."
He added, "The more we let [the virus] mass infect and don't take mitigations against it, you will find one unlucky person — such as an immunocompromised person or someone suffering from cancer — and the virus may hyper-mutate. The only way to stop it is the retention-free approach: optimized ventilation and masks in addition to vaccines. We can't just rely on vaccination alone, which is the ultimate mistake, that many people think that we can just vaccinate our way out of it without anything else."