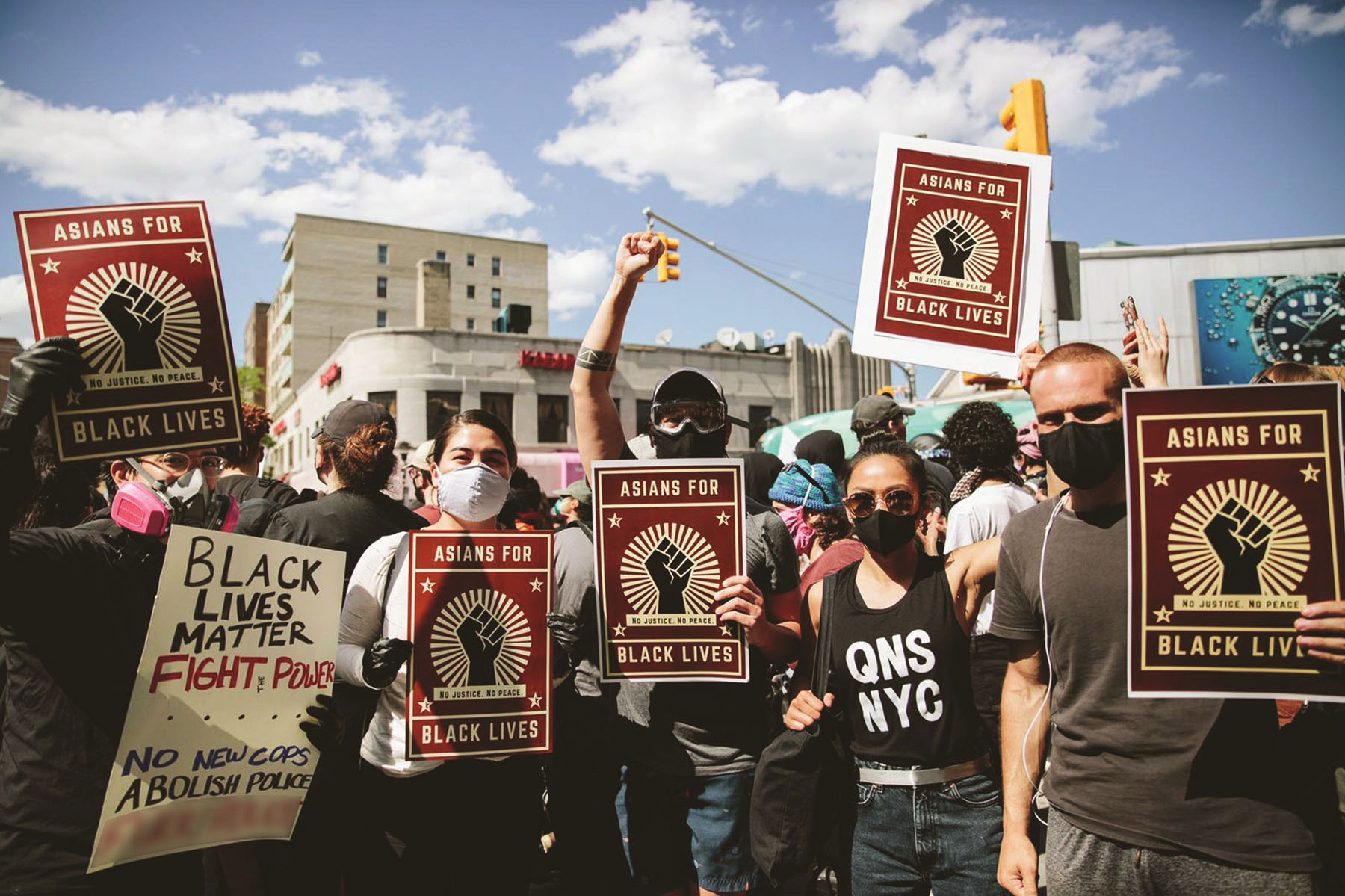 Since footage emerged of a white police officer killing George Floyd, a 46-year-old unarmed black man from Minneapolis, protests have grown not only throughout the U.S., but throughout the world, demanding justice for the hundreds of black people who have died as a result from police brutality and discrimination.
As marches continue, so have discussions on how non-blacks — including many Filipino Americans — can stand with the black community and move away from a deep history of systemic racism through anti-racism and allyship.
"Fighting back is in our DNA," Fil-Am activist Kalaya'an Mendoza told the Asian Journal.
Mendoza is a co-founder of Across Frontlines, an organization that works and trains with front line communities to protect themselves against state violence.
"We should care about black people, because it's about people's humanity," said Mendoza. "We need to recognize their pain and the pain that they have experienced, since they have been forcefully brought here to the U.S. And there are many black people in our community who are fully connected and black. We need to support and love them in this time of pain."
Sharing the knowledge both on and offline
Czarina Jimenez, a Fil-Am elementary music teacher, podcast host, and education advocate, has been using her voice on social media to forward people to resources, information, and black creatives and businesses.
Jimenez and Pinay-owned skincare brand Kaya Essentials hosted a giveaway contest, encouraging their Instagram followers to share on steps they were taking to be anti-racist offline.
Comments, mostly from Asian American and Pacific Islander (AAPI) women, poured out with suggestions with actions like having conversations with family members, watching documentaries on black stories, listening to informative podcasts, and discussing books on black narratives in book clubs.
"I believe that we Filipinos are some of the most generous and caring people in the world. It breaks my heart that many refuse to extend that same kindness to our Black siblings," Jimenez told the Asian Journal. "I firmly believe that our liberation is bound together."
As an educator, Jimenez said that it's important to acknowledge that much of the history learned in schools is either incomplete or inaccurate. Many times, history lessons fail to teach students, especially those of color, of the activists and organizers that represent them. For Fil-Ams, leaders would include the Delano Manongs and Grace Lee Boggs.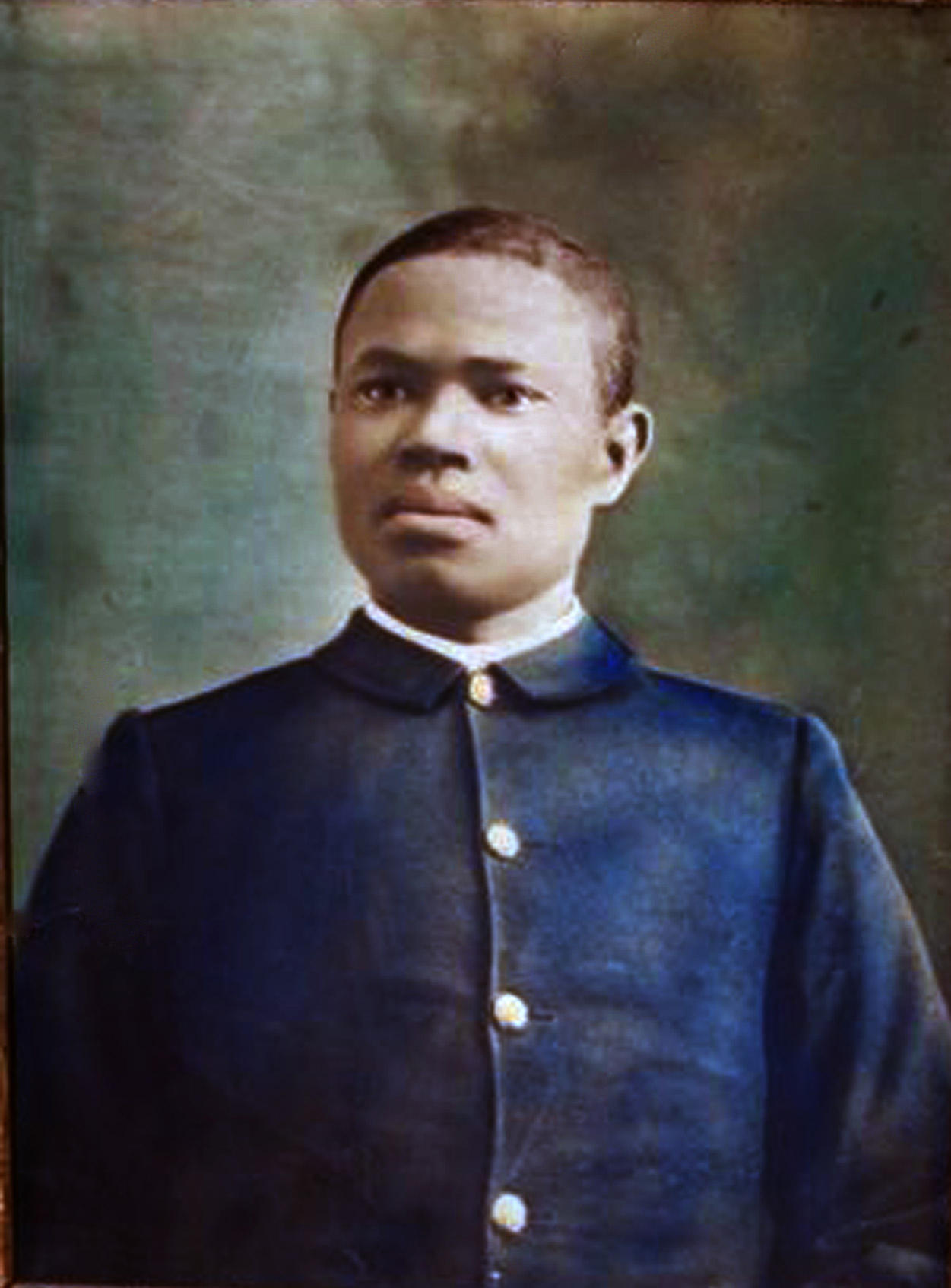 "We need to show our youth how they organized across racial lines. We need to teach our young people how to ask the hard questions and lean into self-reflection. We need to provide opportunities to strengthen agency, cultural humility and curiosity, and a deeper understanding of our own complex identities. We need to decolonize our idea of what it means to be Filipino," said Jimenez.
Allyship between blacks and Filipinos goes deep into Filipino history, for example, with the first black soldier for the U.S. military, Captain David Fagen, defecting during the Philippine American War and joining Filipinos who were fighting U.S. imperialism.
"Black people have shown solidarity and support for our people," explained Mendoza. "Without black organizers and activists, the 1965 Immigration and Nationality Act would never have passed and so many of our families would have [never] been able to come with us."
Discussing racism at home
Talking about racism at home can be uncomfortable for many non-blacks, including Filipinos. However, part of striving to be anti-racist is being able to address instances of anti-blackness and racism among close friends and relatives.
For example, skin color has been a common issue in many Filipino families that may have for generations, admired whiter skin.
"I am a darker-brown skinned Filipina with curly hair and I was always teased by titas. I was called burnt toast and directed to stay out of the sun," said Jimenez.
Mendoza too recalled relatives always telling him to avoid going outside to prevent his skin from getting dark.
"There [are] little ways we can address that," said Mendoza. "There are ways we can shift our culture, away from anti-blackness, embracing our brownness, embracing our Filipino-ness, and supporting black lives."
Kailyne Sarmiento, a 22-year-old student ethnic studies major at City College of San Francisco, said her family has been having conversations centered around racism, colorism, and justice, especially in light of current events.
She shared that studying ethnic studies has been about centering the history of indigenous, African American, Filipino, and other communities of color and the important ways in which they have shaped America.
"We are constantly trying to unlearn a lot of history and norms in order to liberate our minds from the many things we have been taught by colonization," said Sarmiento. "These conversations are even more relevant especially with older members of our families because Filipinos tend to think racism in America is obsolete."
Her mom Christine Bustos Sarmiento, a musician in San Francisco, has also been getting involved in discussions on race. A post she shared on Facebook showed numerous photos from history when Filipinos were experiencing racism under America — one being a U.S. Navy Dispensary Blood Test site labeled for blacks and Filipinos.
Since posted, it has been shared over 21,000 times, mostly by Filipinos unaware of the history behind the photos.
"I had to figure out a way to remind our family and friends that Filipinos are no strangers when it comes to racism and that because of this, we have an obligation to help," said Bustos Sarmiento. "The struggles that Filipinos had to endure in America are nowhere near in comparison to what black people have had to face in the past and continue to face today."
Mendoza did emphasize the importance of first addressing individuals' biases against black people.
"When you've been able to identify and interrogate that, then think about ways that you can show up for black folks in the community," said Mendoza.
Allyship in business
On Tuesday, June 2 many companies joined major music companies in participating in "Blackout Tuesday," a day that was meant for companies to put a pause on regular business and "reconnect" with their communities. While there was some confusion as to how to participate, the momentum of the Black Lives Matter movement did encourage businesses and owners to reflect on how their practices could be more inclusive and active in anti-racism.
In addition to encouraging anti-racist discussions and sharing a list of organizations providing service for the black community, Kaya Essentials decided to donate 20% of its sales to leading organizations for the month of June, as well as match donations up to $5,000.
"This past week, our hearts have been heavy," the company wrote on Instagram. "We're committed to what the pandemic has also highlighted — the injustice and systemic racism that has continued for too long."
Carlo Lamagna, owner of Filipino restaurant Magna Kusina in Portland, Oregon, also decided to donate a portion of his restaurant's proceeds to organizations advocating for the black community such as Campaign Zero, Action Bail Fund, and Black Visions Collective.
His restaurant has been donating meals to community shelters, underserved communities, and front line workers amid the COVID-19 pandemic.
"We the people are taking the power back into our own hands," Lamagna, who had just finished a march with his community, told the Asian Journal.
"There are some hard truths that Filipinos need to realize. Far too long have we stood quietly on the sideline, letting these things pass," said Lamagna. "How many of the generations before us adopted the idea that we need to assimilate and stay as hidden as possible? How many times have we been insulted and berated, only to suck it up and allow it to happen, complaining quietly in the corner with our fellow community?"
"Let's also address the racism that we too have adopted, against the African American community," added Lamagna. "Mistrust, disdain, fear — all these things have been prevalent in our community for far too long."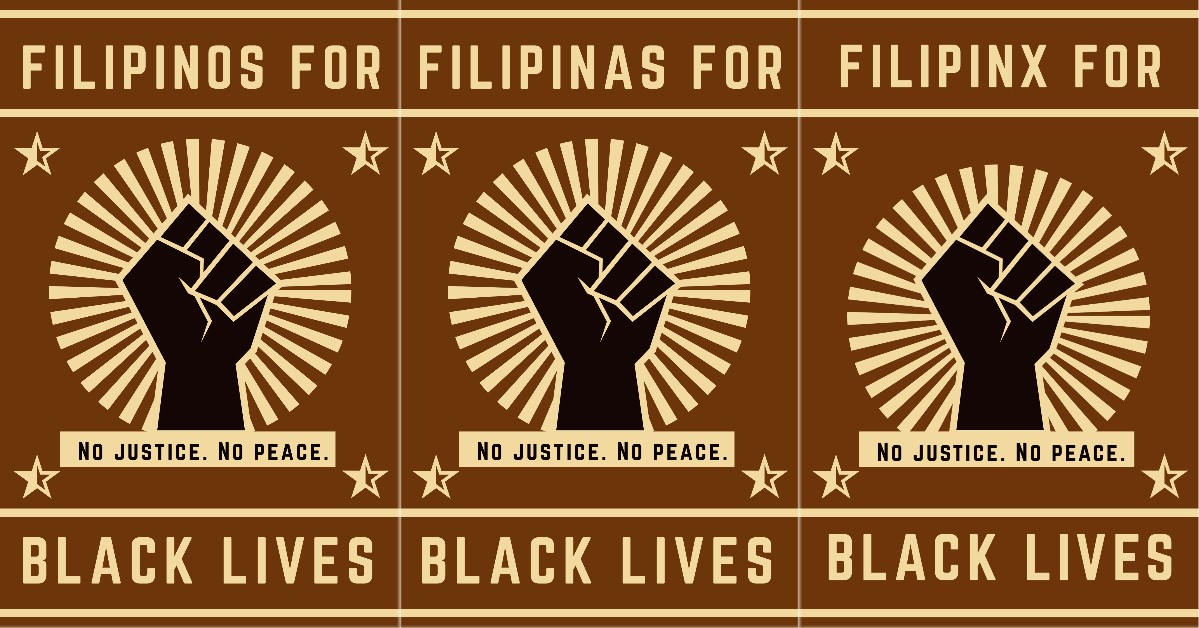 Solidarity through art
Art has long been a medium capable of sending messages of solidarity. In the days following Floyd's death, many have used their talents in creating tributes to the movement and those who died as a result of discrimination.
Mendoza's illustration — which featured a black fist against a brown background with words reading "Filipino/a/x for Black Lives" — was widely shared on social media and brought out to protests, with many requesting the sign be made with other ethnic groups, such as Hmong, Thai, and Indian.
"This was essentially a solidarity offering to the black community. It represents following black leadership, and I wanted it to be a mirror and really a reflection of how we can show up for black lives right now," said Mendoza, adding that it's also an invitation to non-blacks, especially those of color, to stand in solidarity. "It's also an invitation to non-black people of color throughout the United States and all over the world to show up for black lives right now."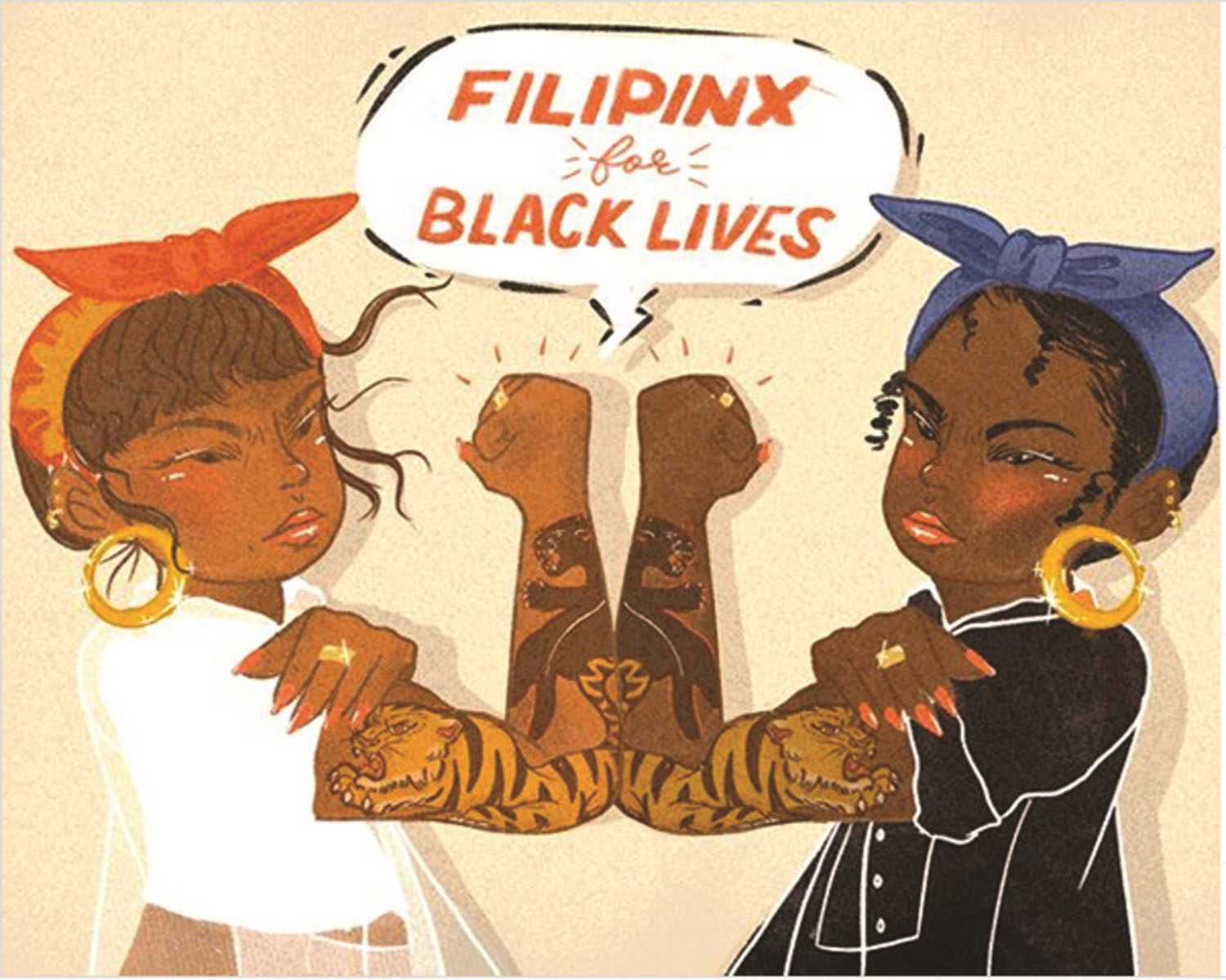 One Fil-Am artist from San Francisco used her art to raise donations to organizations supporting the Black Lives Matter movement.
Shared on Instagram stories and feeds was an illustration featuring two bandana-wearing ladies — one Filipina and one black — posing like Rosie the Riveter under a text box that read, "Filipinx for Black Lives."
"I made the piece because I wanted to take action, something more than just sharing on social media," said Stephanie Acedillo, the artist behind the widely shared illustration.
For every donation of at least $20 made by followers who sent her a donation receipt, she sketched a person or character of the donor's choice. Acedillo was quickly able to raise $3,500 in donations through her illustrations.
"I think Fil-Ams could be allies through our own self-reflection, within our own families and communities. Put the ego aside and truly see America for what it is, then act on it in what ways we can," said Acedillo, humbly adding that she was not a speaker, but an artist.
Filipino artist Sean Eidder paid tribute to the movement, despite being based in Manila, Philippines.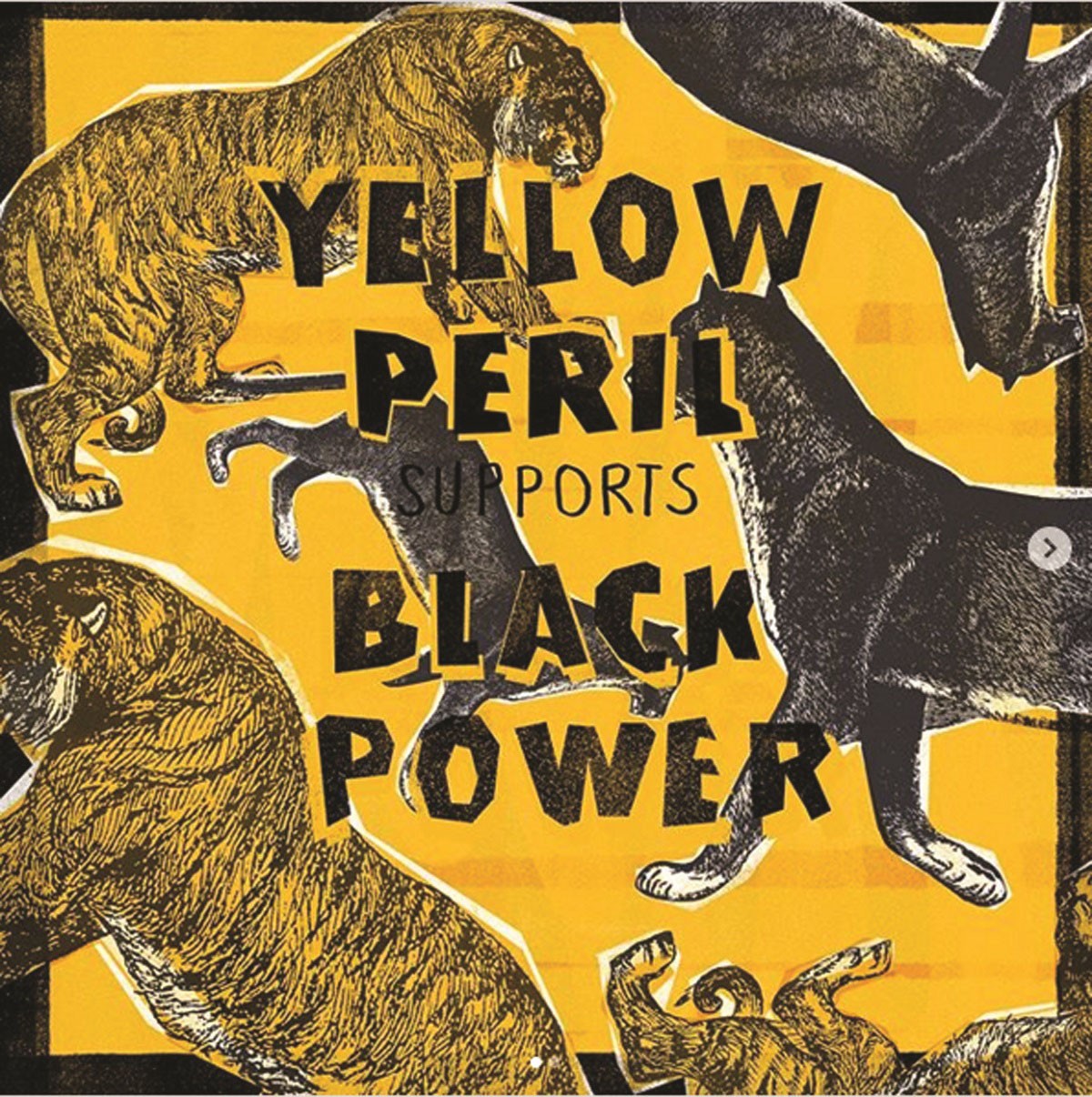 His piece featured yellow tigers and black panthers, which he said was a visual interpretation of a quote by Maya Angelou that communicated his sentiments towards George Floyd and the black community. Posterized on the piece was the phrase, "Yellow Peril Supports Black power" — a phrase brand consultant Jan Vincent Gonzalez of the Filipino catering New York-based brand consultation company Mercado Vicente asked him to add.
Eidder admitted that he didn't understand the phrase at first, but used it as an opportunity to read about it in depth.
"Asians, Filipinos in particular, would understand the plight of the Black community more than anyone else," said Eidder, explaining that both histories of blacks and Filipinos have involved being "modernized" by colonial rule through a lens that saw them as "uncultured savages" or "primitives."
"Years of cultural shift under multiple Western influences played a huge role [in] the Filipinos' acquiring the colonizers' ideas of white supremacy that then resulted in the success of a variety of whitening industries and a milieu where we religiously obsess over cultures of the West," said Eidder. "The Filipinos and the black community should find solidarity in our parallel crusade to abolish the racist beliefs that reign supreme."
Going forward
Despite the momentum of the Black Lives Matter movement showing no signs of slowing down, advocates have emphasized the importance of making sure we continue to learn and strive for anti-racism in our everyday lives even as marches eventually end.
Many have been sharing resources on books, podcasts, and films reintroducing the history of blacks in America.
Widely shared, for example, has been African American author Ibram X. Kendi's book "Stamped from the Beginning," which explores the history of racist ideas in America and is available for free streaming on Spotify.
Mendoza, who has also been sharing resources on his Instagram @kalamendoza, said a quick Google search would bring people to great organizations and resources.
"This is your home, and therefore you have a stake in it. Learn how to use it to advocate for yourself and for others," said Jimenez. "Your dreams and aspirations are important. Do not let the 'model minority myth' dictate who you will be. Learn your own history and craft your own future."
"We have an opportunity to change, to fight, and to become better. We are here now, uniting next to our brothers and sisters in the African American community for the injustices that have been happening to them for hundreds of years," said Lamagna. "Continue teaching our youth and the generations to come to stand up for themselves and others, to love one another, and to fight those that seek to oppress the weak."