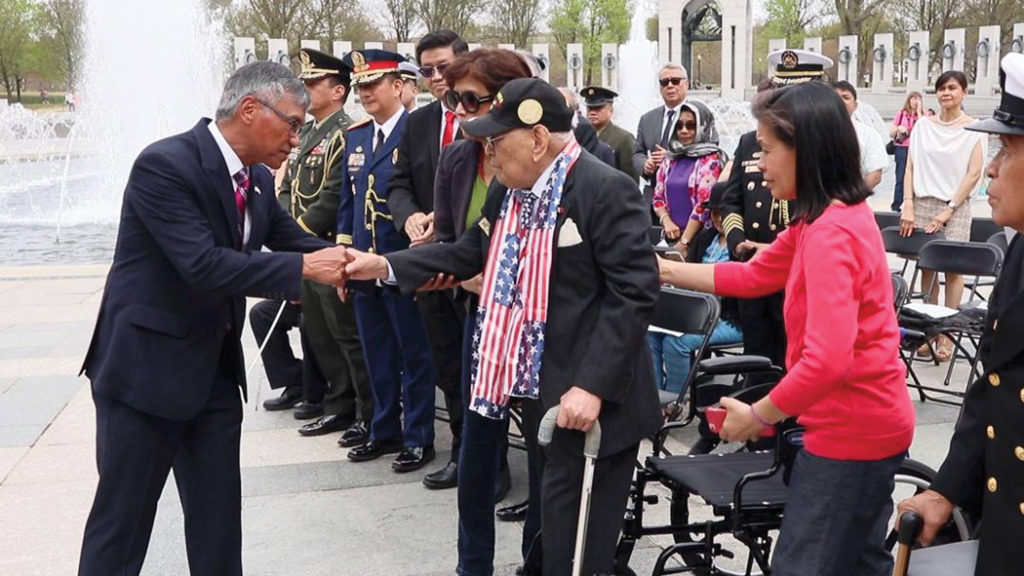 Washington, D.C. — "I can think of no other place I would rather be today than at this ceremony, remembering with you the courage and sacrifice, the resilience and the strength of the Defenders of Corregidor and Bataan."
U.S. Army Lt. Gen. David H. Huntoon (Ret) said those words on Tuesday, April 9, at the National World War II Memorial where community leaders, diplomats, veterans, families, and veteran advocates gathered to mark the 77th anniversary of the Fall of Bataan and Corregidor. On April 9 and May 6, 1942, over 72,000 Filipino and American soldiers surrendered to Japanese Imperial Forces and were forced to march for over 65 miles to prison camps. In the infamous Bataan Death March, approximately 10,000 Filipino and 700 American soldiers died.
"Here at this national shrine of service, we pause to reflect on their service, to remember their courage, and their resilience in the face of death," Huntoon added. "Learning about and teaching others the stories of these heroic soldiers from the U.S. and from the Philippines matters. In doing so, we are reminded of our common values, of our purposeful lives, and of our mutual respect and compassion for each other that transcends and, in time, can surmount the pain and suffering of war."
A 40-year veteran with the U.S. Army, Huntoon served as Superintendent of the U.S. Military Academy at West Point. He has a deep personal connection with the war in the Pacific as his father worked in the staff of General Douglas MacArthur during the New Guinea campaign. His father-in-law was assigned at Clark Air Force Base for a number of years.
 In his remarks, Philippine Ambassador Jose Manuel G. Romualdez noted that this year's theme of the "Day of Valor" or "Araw ng Kagitingan" is "Sakripisyo ng Beterano ay Gunitain, Gawing Tanglaw ng Kabataan Tungo sa Kaunlaran." This theme "underscores the sacrifices of our war veterans and urges our youth to draw inspiration from this selfless act of giving oneself so that they too can contribute to the ad-vancement of this nation," Romualdez said. "Knowledge of history is an essential guide to the future. We have to know where we have been and what brought us to the present, in order to be able to chart a course toward a better tomorrow."
Brig. Gen. Marlo M. Guloy, Defense and Armed Forces Attaché of the Philippine Embassy, expanded on the ambassador's point by citing Proclamation No. 466, S. 1989, designating April 5 to 11 of every year as Philippine Veterans Week, in order to "promote, preserve and memorialize the principles, ideals, and deeds of the Filipino war veteran as a means to enhance patriotism and love of country, especially among the youth of the land."
The great task remaining
Attending the commemoration, which included a wreath-laying ceremony, were two Filipino World War II Veterans: 101-year-old Celestino Almeda of Gaithersburg, MD. and 91-year-old Rey Cabacar of Ft. Washington, MD. They are two of only four living veterans residing in the Washington, D.C. area. "Ten years ago, there were more than a dozen of us who were still around," Cabacar recalls. "I miss my friends especially on occasions like this." Cabacar keeps himself busy by volunteering with the Veterans of Foreign Wars and other community service projects.
Despite his age, Almeda is still able to attend public events and, with a strong and forceful voice, always has something to say. This time, at the end of the ceremony, he spoke about his passionate love of country and democracy. Quoting lines from Lincoln's Gettysburg address, he wondered if the nation he fought for had "a new birth of freedom, and that government of the people by the people for the people, will perish from the earth?" He reminded the audience: "We did our best to fight for democracy in the Philippines. But today, it's going nowhere. Are we going to allow it to perish from the earth? Please rise to maintain democracy in the Philippines."
That is the great task remaining before the Filipino people, Almeda implied, so that those who died shall not have died in vain.
In his closing remarks, Commodore Elson Aguilar, the Philippine Embassy's Director of Philippine Veterans Affairs, said the best way to "repay the sacrifices of our veterans" is to get involved in veteran-related activities, such as participating in the annual Bataan Memorial Death March in White Sands, New Mexico and the Freedom Trail Death March in the Philippines, which is organized by the Department of National Defense and the Philippine Veterans Bank. He also urged support for FilVetREP's Congressional Gold Medal project, which is now in its education phase.
Also participating in the hour-long ceremony were the U.S. Armed Forces Color Guard and Filipino American stage actor Justine de Guzman Moral, who sang the Philippine and U.S. National Anthems.
War and memory
 At a reception held at the Philippine Embassy Chancery following the wreath-laying ceremony, the Filipino Veterans Recognition and Education Project (FilVetREP) presented a slide show on the recently-concluded Bataan Memorial Death March 2019. FilVetREP executive committee member Sonny Busa opened the presentation by citing a quote by Vietnamese American scholar and novelist Viet Thanh Nguyen: "All wars are fought twice, the first time on the battlefield, the second time in memory."
"Our participation in the Bataan Memorial Death March in the last six years has raised greater awareness about the role of Filipino soldiers, 10,000 of whom died in that 65-mile march from Bataan to prison camps," Busa said. "Not very many people even knew that Bataan is in the Philippines. Today, the Philippines has a prominent presence in this annual event. But it is more than just a marathon. It is a meaningful way of remembering the courage of death march survivors who endured a horrendous experience. Those who could no longer keep pace with the march due to starvation, lack of water, shelter and medicine were beaten, bayoneted, shot while others were beheaded by the Japanese Imperial Army soldiers."
Busa encouraged more participation from the community next year, which will be held on March 15 at the White Sands Missile Range in New Mexico. This year, 30 FilVetREP members and their families joined as marchers and volunteers.
Next mission: Education
FilVetREP National Chairman Retired Maj. Gen. Antonio Taguba is now leading a nationwide effort to build a digital national education platform to complement the Congressional Gold Medal, which will be displayed at a major national museum, possibly at the Smithsonian's American History museum.  "The medal is not just a piece of metal," he says. "It symbolizes the service and sacrifice of Filipino and American soldiers who fought under the American flag and made the ultimate sacrifice. Their stories are deeply moving and compelling. They need to be enshrined in American history and preserved for posterity so the next generation of Americans will learn what happened not only during the war, but after the war."
 The first phase of FilVetREP's mission is almost completed, with more than 1,500 medals awarded at 56 ceremonies in the U.S. and three in the Philippines. FilVetREP's task now is to collect memorabilia, souvenirs, letters, oral histories and other documents related to the war in the Philippines.
The plan is to launch a digital interactive program with an educational curriculum that's accessible in classrooms, libraries and other public spaces. "We wish to educate the American public on the extraordinary acts of valor and selfless sacrifice of Filipino American soldiers in defense of the United States of America," Taguba said. "Their exemplary story of patriotism, citizenship and courage embodied the American values of freedom and democracy."