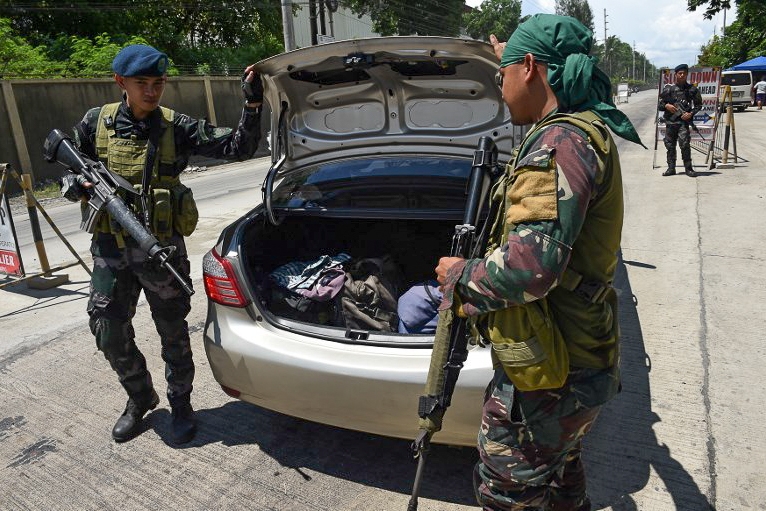 Recent conflict alert report released on Tuesday, October 2, showed that Philippine President Rodrigo Duterte's declaration of martial law helped lessen violence in the Autonomous Region in Muslim Mindanao (ARMM) by discouraging armed groups from bringing out their weapons.
Senior Peace and Conflict Adviser in Asia for International Alert Philippines Francisco Lara Jr. shared the 2018 conflict alert report to the media as reported by Rappler.   
"It disabled the ability of armed groups to take out their weapon. The biggest effect we saw of martial law is control of the weapons," Lara said.
He also shared insights from ARMM stakeholders they interviewed. He noted that there was a decrease in weapon and firearm usage simply because they had to go through checkpoints.  He also said that such rule led to "less violence."
"Ang sagot nila simple lang, hindi makalabas ng baril kasi nahuhuli sa checkpoint (Their answer was simple, they can't bring out their guns because they will get caught in checkpoints)," he said.
The implementation of martial law brought stricter rules and regulations that "prevented the open and easy access to, and use of, illicit weapons across the region."
"Whatever the case was, the Marawi conflict was used to justify the imposition of martial law which in turn snuffed out other potential flashpoints from erupting at the same time," the report stated.
Martial law in Mindanao also imposed daily curfews. Checkpoints that led to the capture of weapons "ensured that various urban centers would not be infiltrated by armed groups intending to do a repeat of Marawi," the report added.
'Address root causes of conflict in the region'
Despite the perceived "positive effect" of the imposed military rule, Lara urged the government to address the root causes of conflict in the region alongside its heavy security response.  
"Our problem now is the government is operating with a strong security response so those other things are left behind. Government talks of a whole of government approach. I don't see it," he said.
The conflict adviser said that programs intended to improve access to education among the ARMM youth would help them avoid resorting into extremist thinking.
"You need to fix the madrasah, you need educational inputs. There need to be more efforts to get the youth to work on productive projects, not only livelihood, projects that will get them together," Lara added.
The conflict alert report also called for a "multi-faceted" approach wherein government leaders, especially the future Bangsamoro Transition Council (BTC), would consult the many clans and cultural groups on the development of the region. BTC leaders need to form alliances with clans and be inclusive among groups in order to promote lasting peace in the region.
"The multi-causal violence that precedes and follows extremist violence requires focusing not only on the breakdown in social cohesion and resilience within Muslim communities, but also on the extremist, exclusionary, and discriminatory attitudes within Christian communities," the report stated.