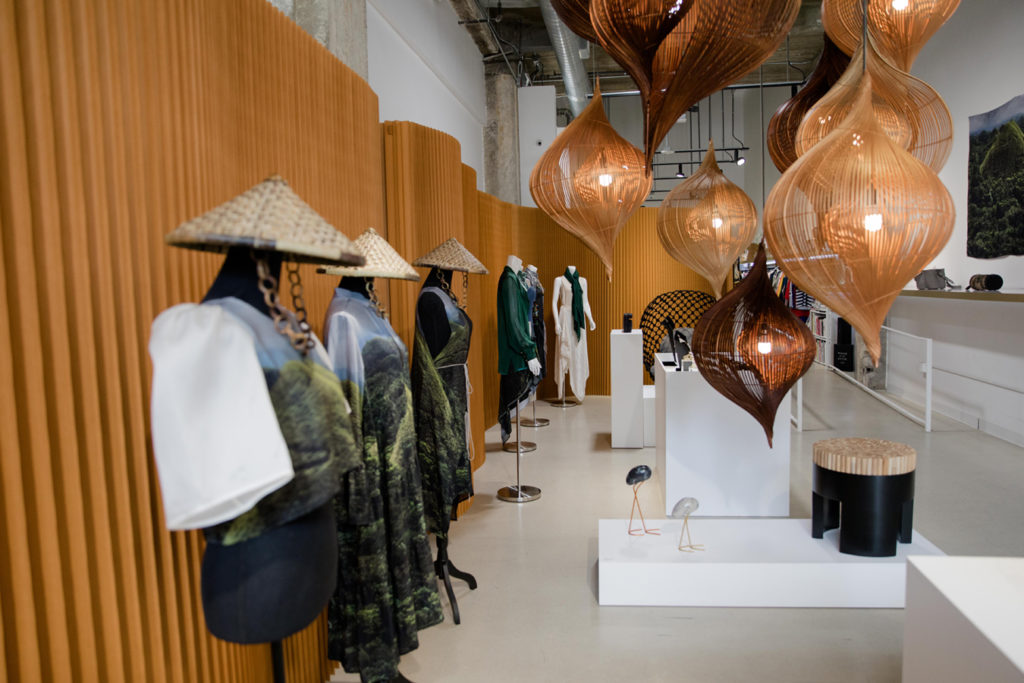 FILIPINO cuisine isn't the only aspect of the culture grabbing attention in Los Angeles. This time, art, design and fashion from Filipino artisans, including industrial designer Kenneth Cobonpue and contemporary artist Leeroy New who have been recognized by Hollywood celebrities, have drawn crowds to spaces in downtown. 
Filipino exhibition series Pulo Project — a "passion project" by Filipina American curator and designer Michelle Aquino — has popped up at the flagship of luxury retail store Please Do Not Enter, as well as The Lab, its gallery inside the NoMad hotel, until August. 
The project is a culmination of over a year of Aquino's planning and a trip she took earlier in January to Manila, Bohol and Cebu along with Please Do Not Enter's French owners, Nicolas Libert and Emmanuel Renoird.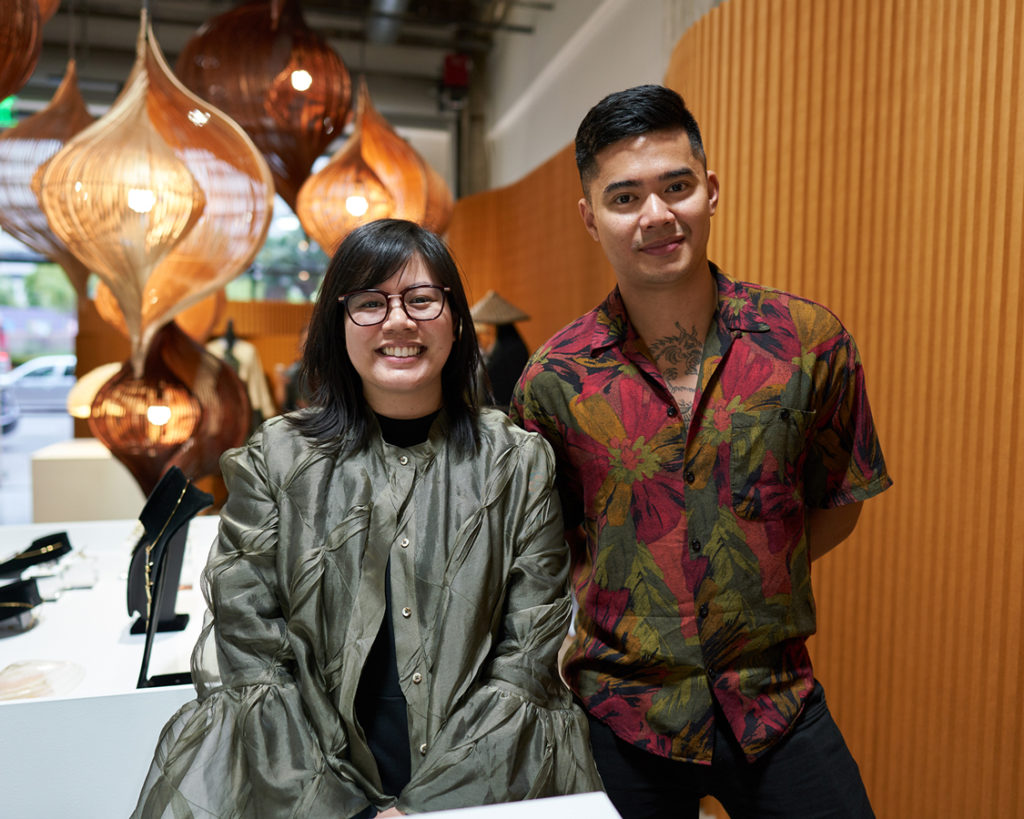 "The idea you have about the Philippines is mostly old-school craftsmanship so you expect fabric and jewelry, but not in a contemporary way," Libert shared with the Asian Journal in a recent interview that his exposure to the country's current art scene was eye-opening. "When Michelle did this small study of who the best artists could be, we were really surprised how contemporary it was and it could really compete with other countries."
The trio met with Cobonpue and New and came across more individuals like accessories designer Ken Samudio, street artist Garapata, and designers Neil Felipp and Susanne Verallo and brainstormed how their work could be showcased in Los Angeles. 
"Growing up here in the United States, I lacked a lot of the culture of the Philippines…I always wanted to do something to help the Filipino community, especially for Filipino Americans," Aquino, who has been Please Do Not Enter's store director for the past three years, said. "The point of Pulo Project was [so] that Filipino Americans can see what they can do in a different setting…to be able to be in a gallery and concept store like Please Do Not Enter so people can come and see a different way for Filipino designers to enter the U.S. market instead of the traditional route." 
The process was educational for Aquino too as she learned more about the culture and history of Filipino art and design. 
Despite its name, Please Do Not Enter — which has occupied the bottom floor of a historic building along Olive Street for the last five years — is an inviting space that houses items, from clothing to furniture, carefully selected from international designers. 
"We were traveling as tourists and fell in love with downtown but everybody was telling us to go west and not stay in downtown because it was supposed to be a ghost city, dangerous and nothing to do," Libert said. "We love downtown and the potential and that's why we decided to settle here. That's also why we called it, 'Please Do Not Enter Downtown Los Angeles,' which was the first advice we got." 
The first round of Pulo Project was unveiled earlier this May with "natural elements, turned contemporary," Aquino said, at the flagship store. 
Pulo ("island" in Tagalog) lands in Los Angeles during a thrilling time for its art scene, with a major fair like Frieze earlier this year to international buyers and collectors coming to the city for pieces. 
"People feel the LA scene is ready for a new era, for a new moment. There is a real momentum. This is just the beginning. In LA, we learn a lot about Filipinos through the food and for many, that was the first contact people have with the culture and tradition of the Philippines. We built something as a second layer with these artists and designers," Libert said.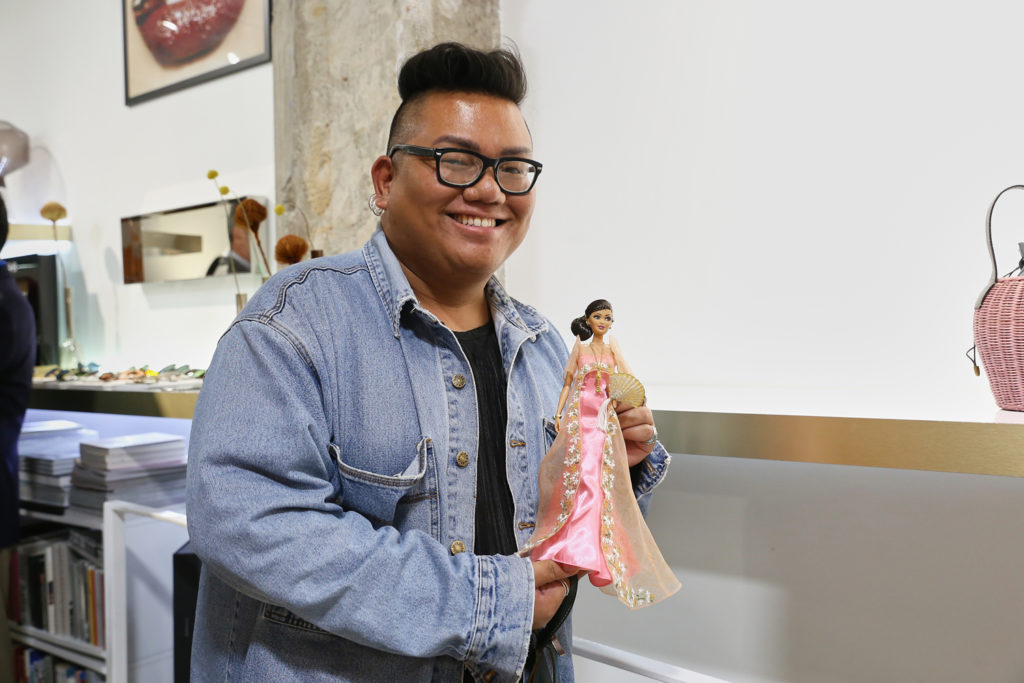 Inside Please Do Not Enter, you'll find hand-woven bags by Zacarias 1925, jewelry and textiles by Manila Collectible and Susanne Verallo, Luisa Robinson's dragon's tail lamp, and Carlyle Nuera's Mutya Barbie. 
The store has several pieces by Cobonpue — who has a client list ranging from former President Barack Obama to Queen Rania of Jordan to Brad Pitt and Angelina Jolie — on display, such as his famed dragnet chair, influenced by fishermen's nets, in black; the Chiquita stool, which has rattan poles and high-density foam; the Yoda Easy Chair; and the playful Kala vases that take the shape of a bird. 
"We loved the pieces so much and felt [they] matched the aesthetic of the store and the gallery that we decided to bring them here," Aquino said.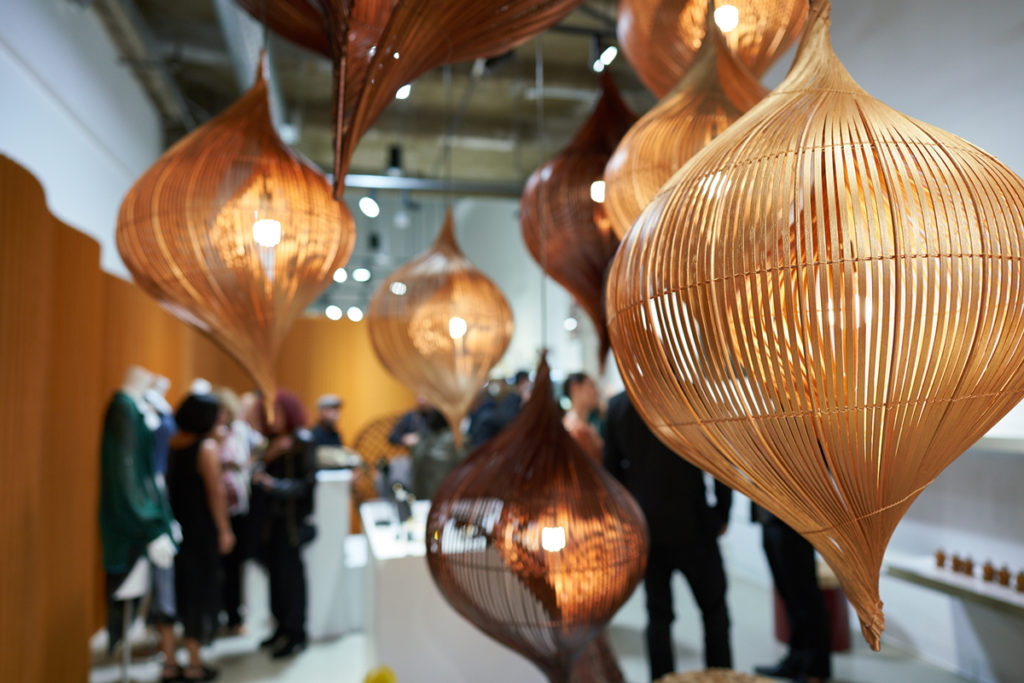 In the middle of the store hangs a conch light installation Robinson made in collaboration with Cobonpue. 
"The installation can fit into a contemporary, concrete, minimal house…" noted Libert. "But it's also a perfect match if you want to put that chandelier in a mid-century house. It makes that piece really strong and timeless at the same time."
Aquino, who learned how to sew from her grandmother at an early age, also displays her talent as a designer with outfits inspired by Bohol's Chocolate Hills, which was a bucket list destination that she finally crossed off during her January trip. 
One wall has a 54×54-inch Crêpe De Chine scarf with a photo of the iconic hills, while mannequins have various iterations of the print or details reminiscent of the province, from an apron dress that can be worn three different ways to a jacket in French terry fabric that shifts from green to brown hues depending on the reflection of the light — just like the color of the hills depending on the time of the year. 
"The concept of the collection is what you can pack in one suitcase if you're going to the Philippines and how you can wear it in different ways," Aquino explained. Currently, the pieces on the mannequins are the only ones available, but can be custom made. 
Head a few blocks down, Please Do Not Enter's The Lab at the NoMad is not your ordinary hotel gift shop. The space is a juxtaposition of the flagship with vivid, post-modern contents meant to be more performance pieces.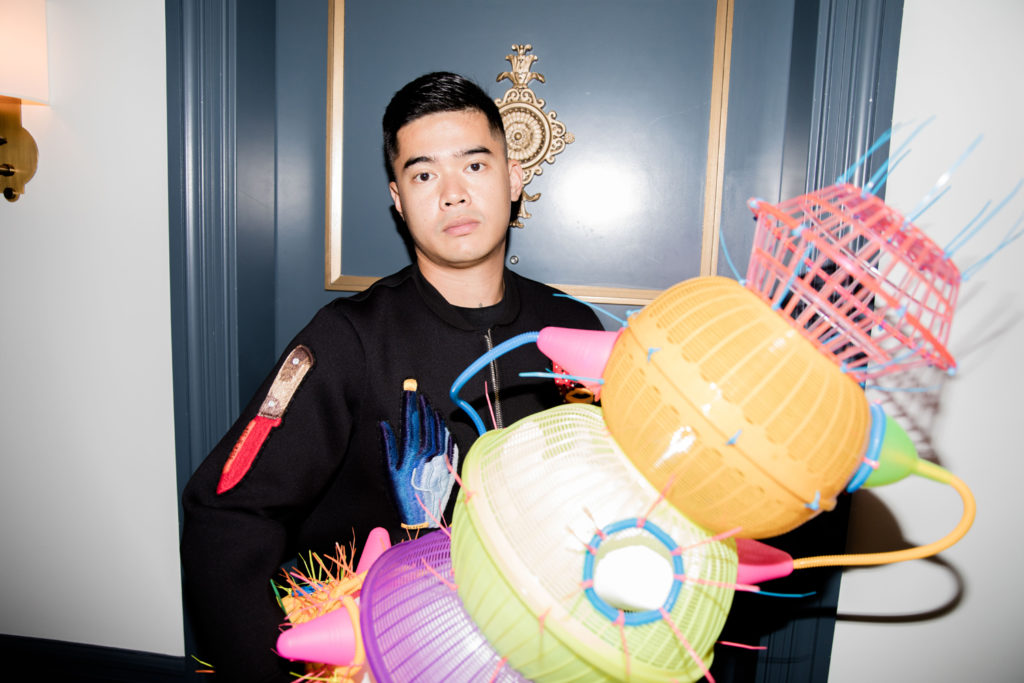 New, a contemporary artist-designer who hails from General Santos City in the Philippines, constructed fresh pieces for his traveling 'Aliens of Manila' series, an installation of avant-garde, wearable sculptures constructed with repurposed items from dollar stores and street markets (e.g. fly swatters and salad bowls) to mimic extraterrestrial figures. 
The 33-year-old is best known for designing the muscle dress alongside fellow Filipino designer Kermit Tesoro for Lady Gaga's "Marry the Night" music video. He recently exhibited 'Aliens of Manila' at Pintô International in New York, as previously reported by the Asian Journal.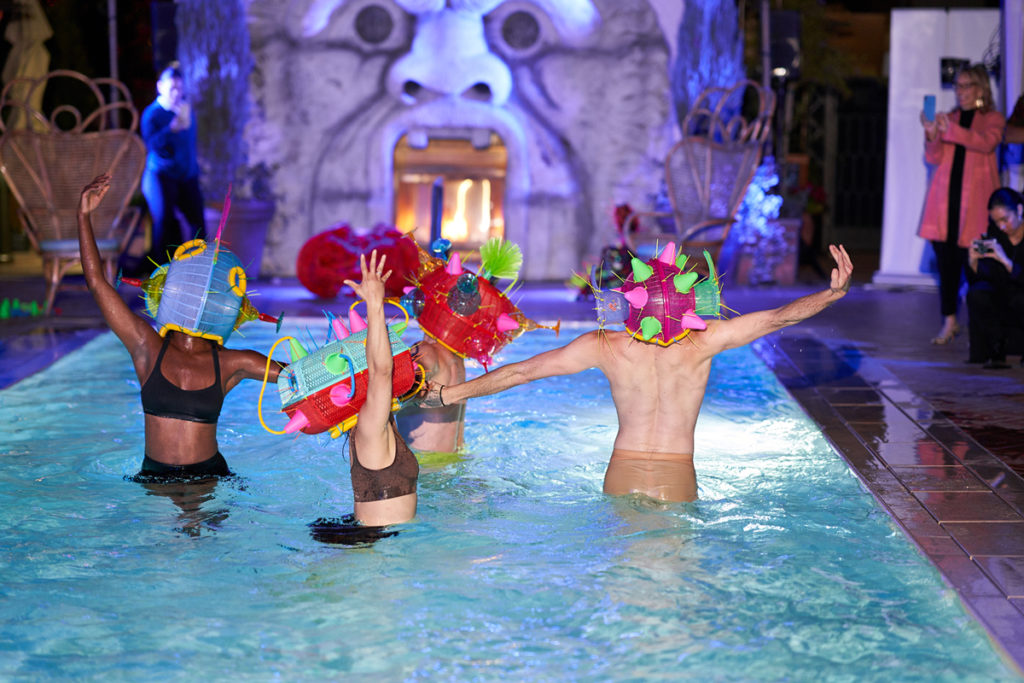 "Leeroy's masks are an invitation to try them on. When people come into the gallery, they see them as sculptures but you can tell them to try them on because they're wearable pieces. It becomes playful because people want to take selfies," Aquino said.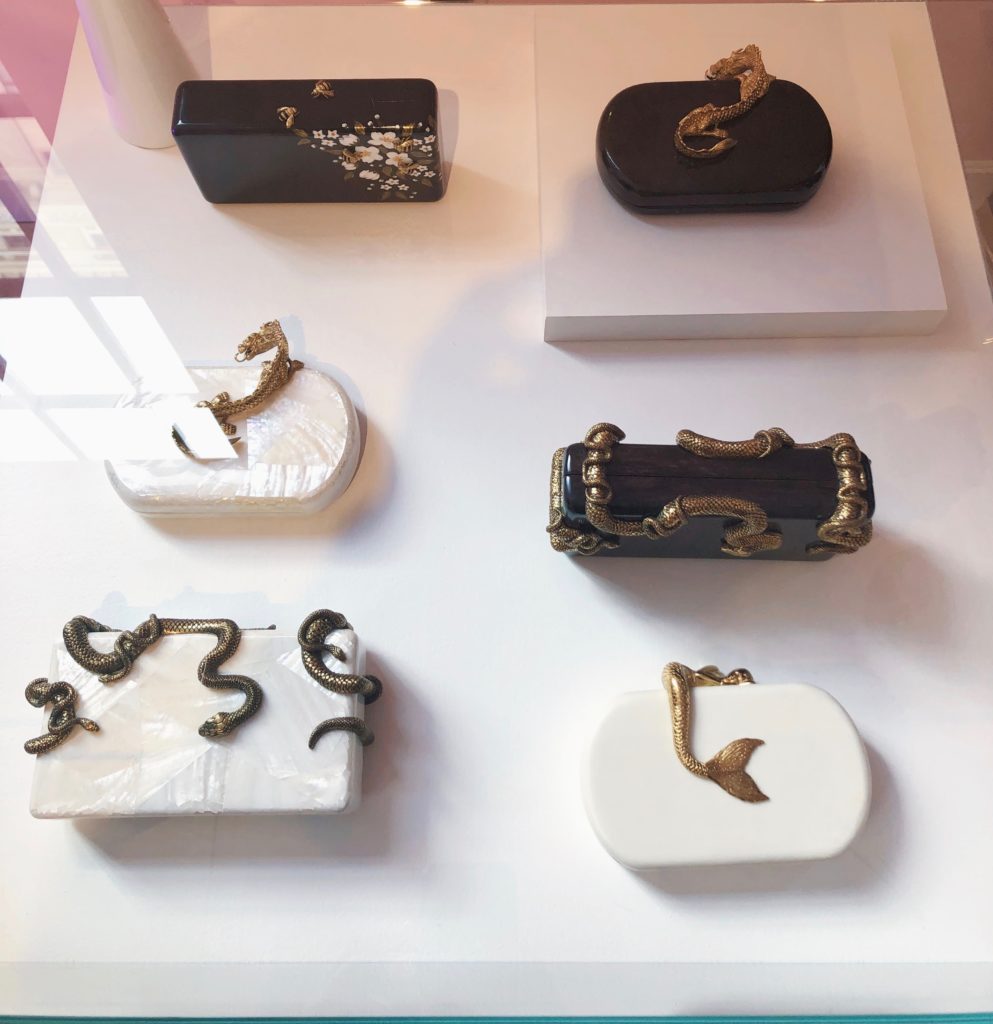 On May 7, the opening night of the Pulo Project, 'Aliens of Manila' held a one-night-only performance at the hotel's rooftop pool choreographed by Heidi Duckler Dance with music by Gaberial King. 
The back shelf of The Lab holds New's small saint-like figures, while glass cases exhibit Samudio's jewelry pieces inspired by his career as a marine biologist, and Cebuano Neil Felipp's clutches, including the Siren Minaudiere (brass mermaid clasp plated in 24K gold on shell) that was worn by Astrid in the wedding scene of the "Crazy Rich Asians" movie.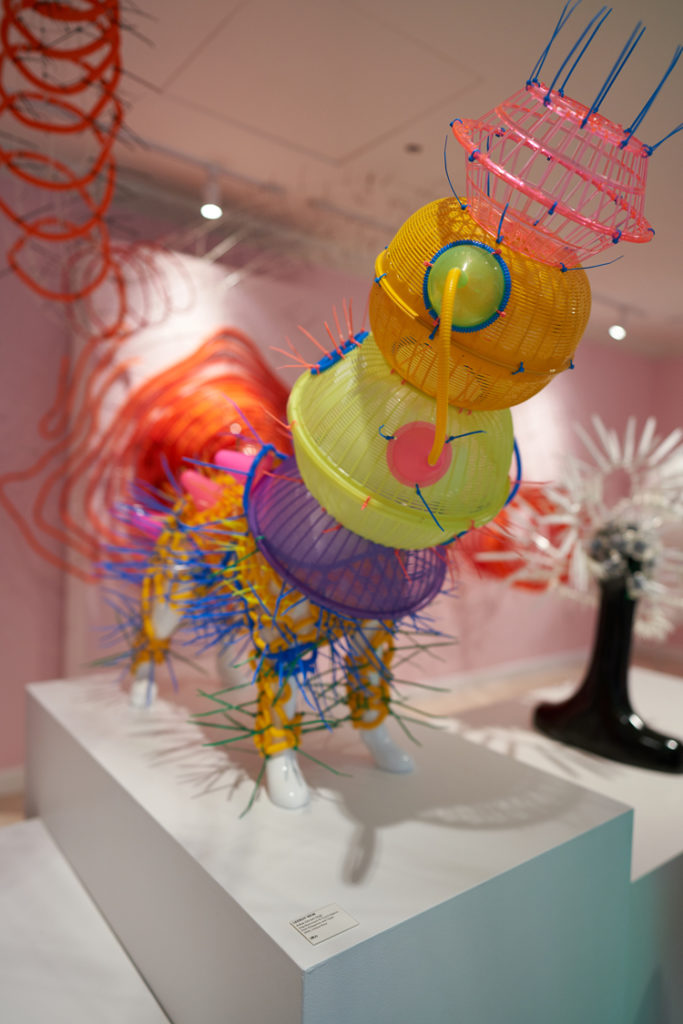 "For young guys like Ken Samudio or Leeroy New, I think they are pioneers of avant-garde because…there's an idea of sustainability and a proposal behind the aesthetic, which is really strong about the future, not only for the Philippines, but the future of the world," Libert said. "These young guys are really involved in that change or that potential change that needs to happen." 
On July 9, The Lab features a collaboration between street artist Garapata and handbag designer Zacarias 1925, called 'ZACARPATA.' The flagship store will have pieces from LA-based Fil-Am jewelry and accessories brand Maaari and Carlyle Nuera's first collection of ternos, based on the "different skin tones of Filipinos," Aquino hinted.  Handcrafted candle company Barratt Riley & Co will have four scent stations inspired by the Philippines. The entire exhibit runs until August 4. 
"Pulo Project opens a door for Filipinos who want to do more in the art, design and fashion scene. It was the first time for many to see it in a different light where we're not just pushing the Filipino community but we're reaching a broader audience to see it. It is the start of something and we'll build on that and work on how else we can grow this," Aquino said. " It's an outlet for Filipino Americans to see what they can do and get inspired." 
The reception so far for Pulo Project has been encouraging with major publications writing about it to the Filipino artists and designers' pieces being sold. Aquino said she hopes that future phases of Pulo Project can incorporate collaborations with Filipino American creatives also.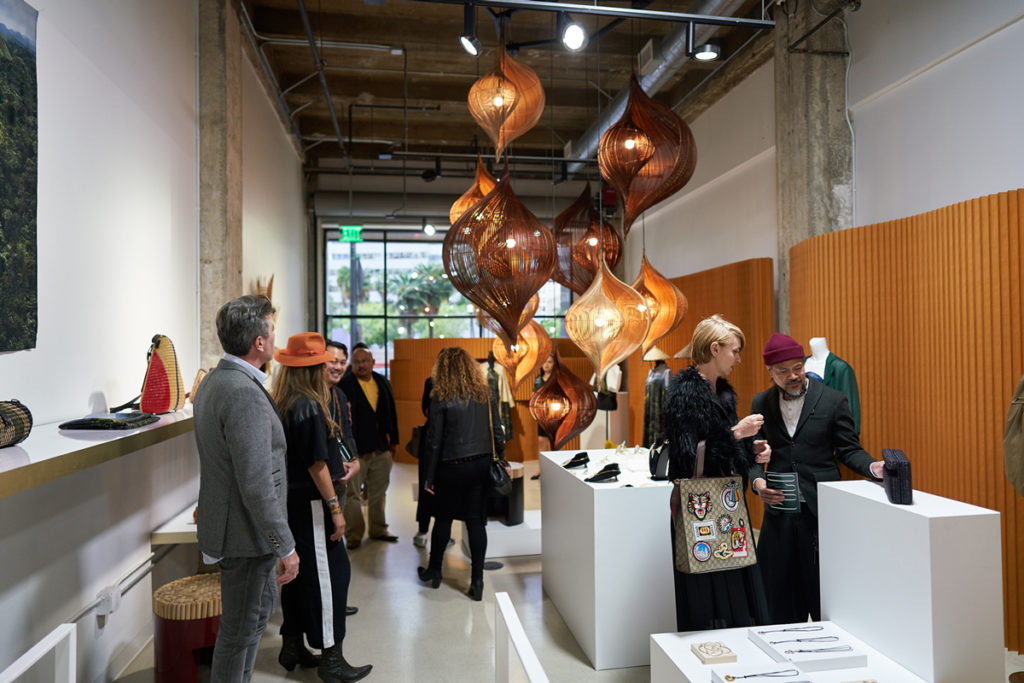 "This show was also a challenge to the American audience, meaning what do you know about the Philippines? Are you ready to go and learn about it? People are really impressed," Libert said. "It's also a challenge to the Filipino designers because we asked some of them to work on the show as a tribute to the Filipino aesthetic and the craftsmanship and to give us their own vision and what they could bring to the table. That's something that connects the Philippines to America." 
Pulo Project can be found at the Please Do Not Enter Flagship from Monday to Saturday 11 a.m. to 7 p.m. at 549 S. Olive Street, Los Angeles, CA 90013 and the Please Do Not Enter / The Lab / inside NoMad Los Angeles from Monday to Saturday 10 a.m. to 8 p.m. and Sunday 9 a.m. to 3 p.m. at 649 S. Olive Street, Los Angeles, CA 90014. More information about the upcoming installations can be found at https://puloproject.com/.