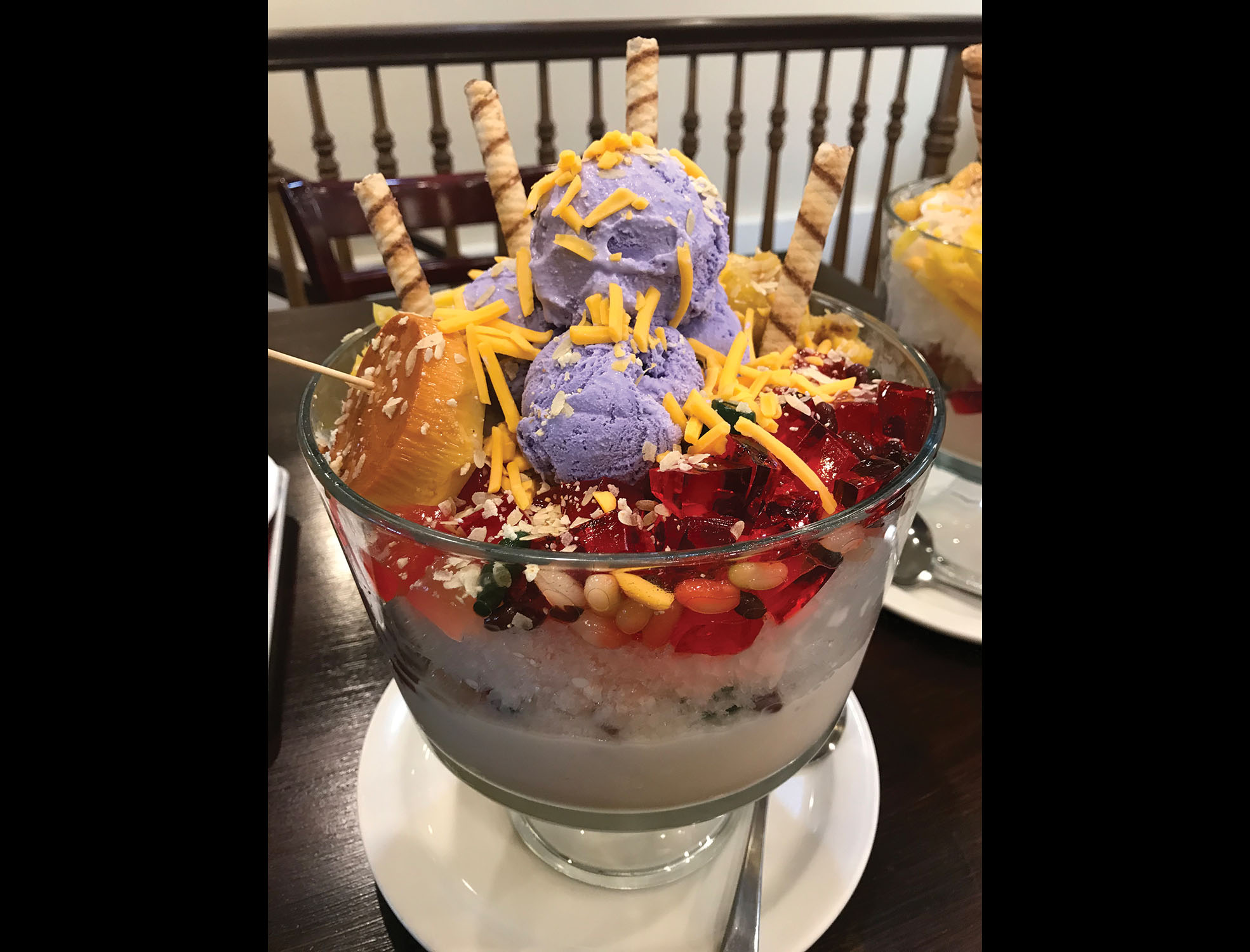 WHILE Filipinos in the diaspora have their distinct ube memory – from the fish-shaped halaya with flecks of Star margarine or the jars of ube jam pasalubong from Baguio City, or ube in pastillas or otap – it was only about a decade ago when food lovers around the world began taking notice.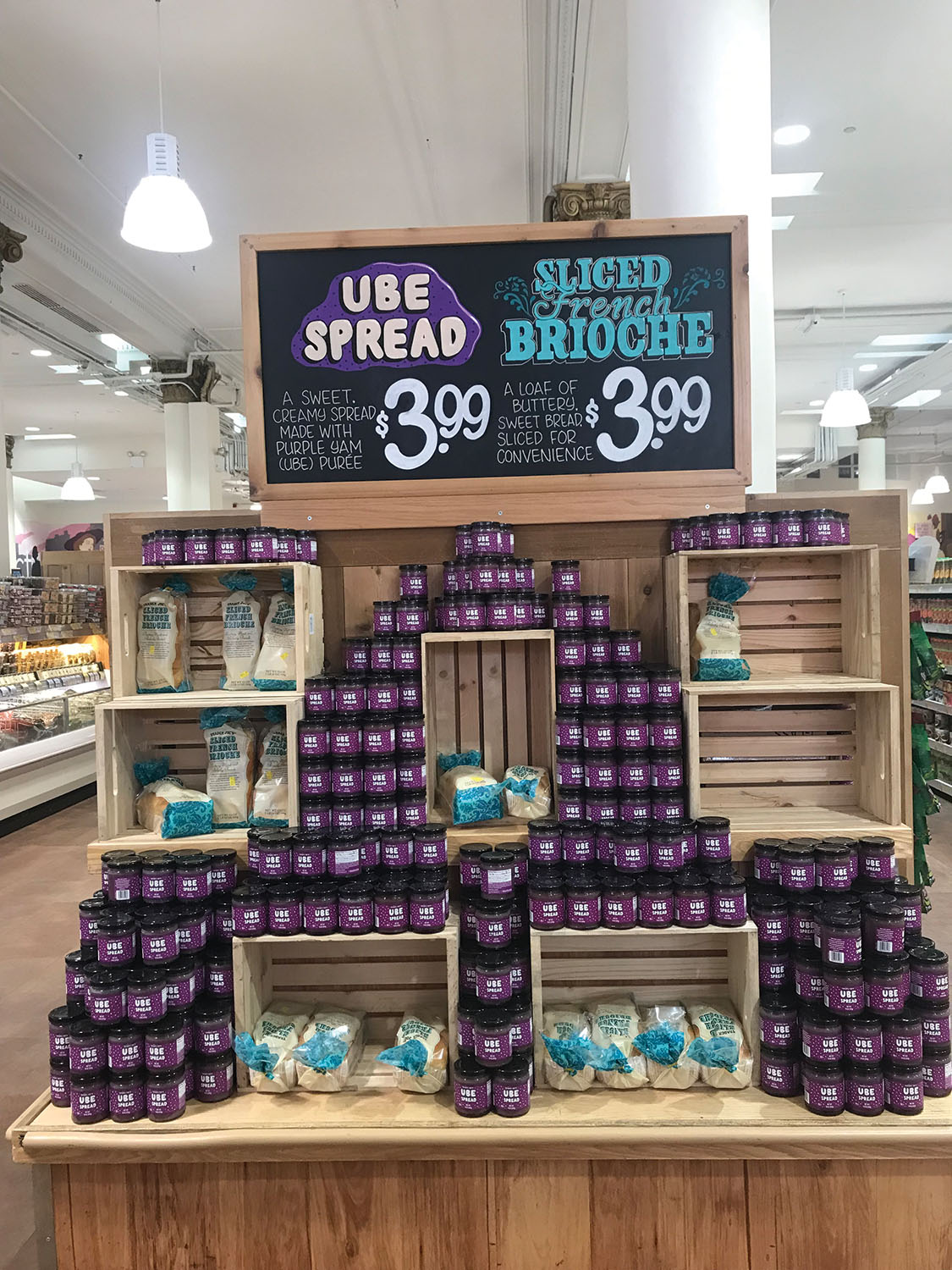 Ube, a tuber indigenous to the Philippines has been touted as the next big thing in the culinary industry. It may be because of its subtle nutty and vanilla taste and its strikingly vivid violet hue which have made it into a social media superstar, garnering millions of posts, views, and likes. It is also healthy, sustainable, and a feast for the sight and taste.
A quick and cursory search on the internet for "ube desserts" (Instagram and TikTok, preferably) would net a plethora of recipes and dishes showcasing this purple tuber's greatest qualities: flavor, color, and texture.
The fascination began several years ago when these mouth-watering lilac-colored pastries and desserts like cakes and ice cream became trending on social media.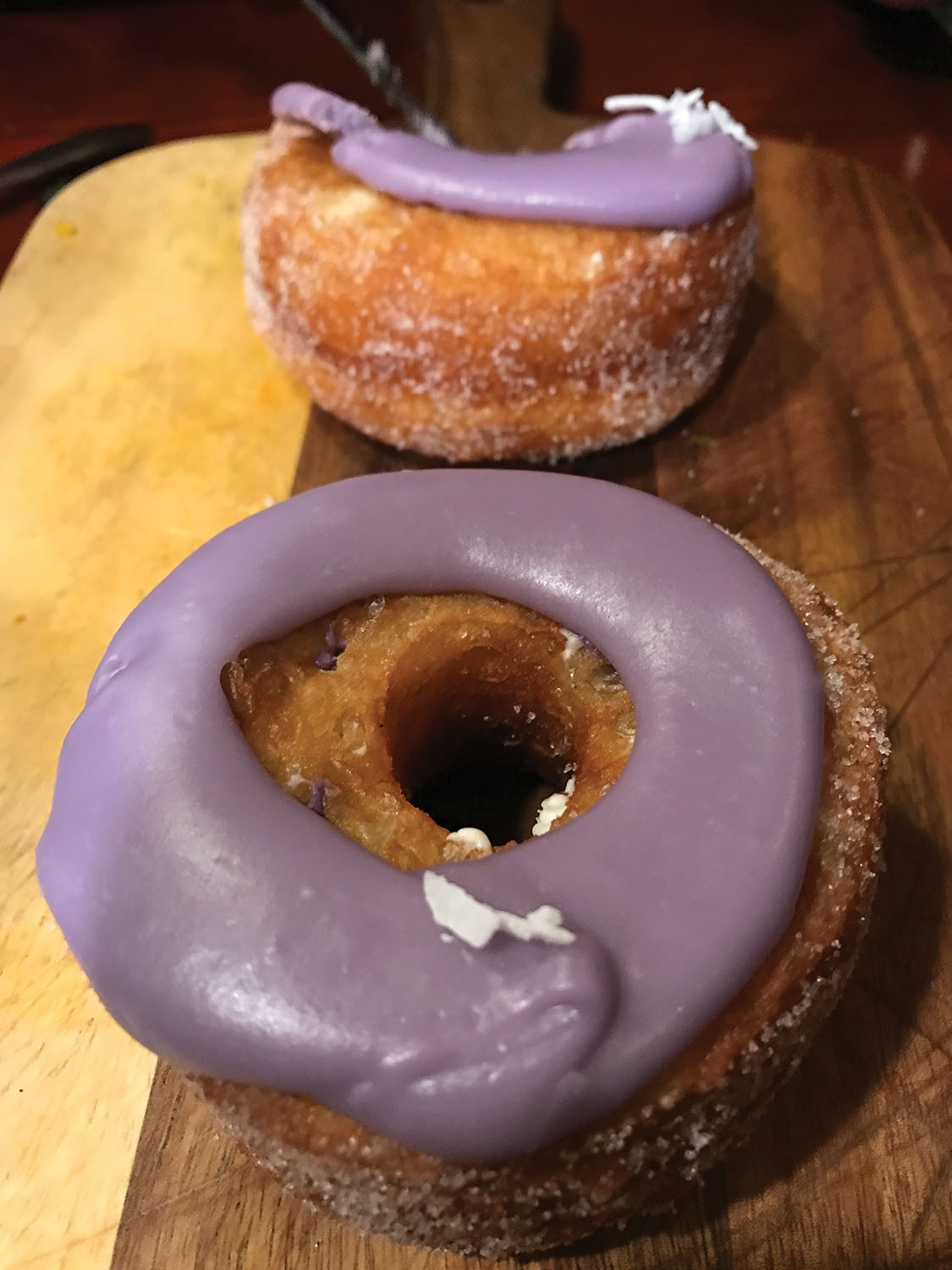 This year, even mainstream publications such as Wall Street Journal and New York Times have featured ube. Last month, Food and Wine Magazine took it a notch higher and put tocino burger with ube buns by DC-based PogiBoys on their cover.
BBC also did a feature entitled "Ube: The Filipino tuber taking over the world". In this ode to ube, the writer explained "This lovely lilac-fleshed tuber has long been one of the country's most beloved foods, and though chefs around the world have recently begun adopting it for use in all manner of desserts, ube is much more than an ingredient in the Philippines; it reflects the nation's complex history."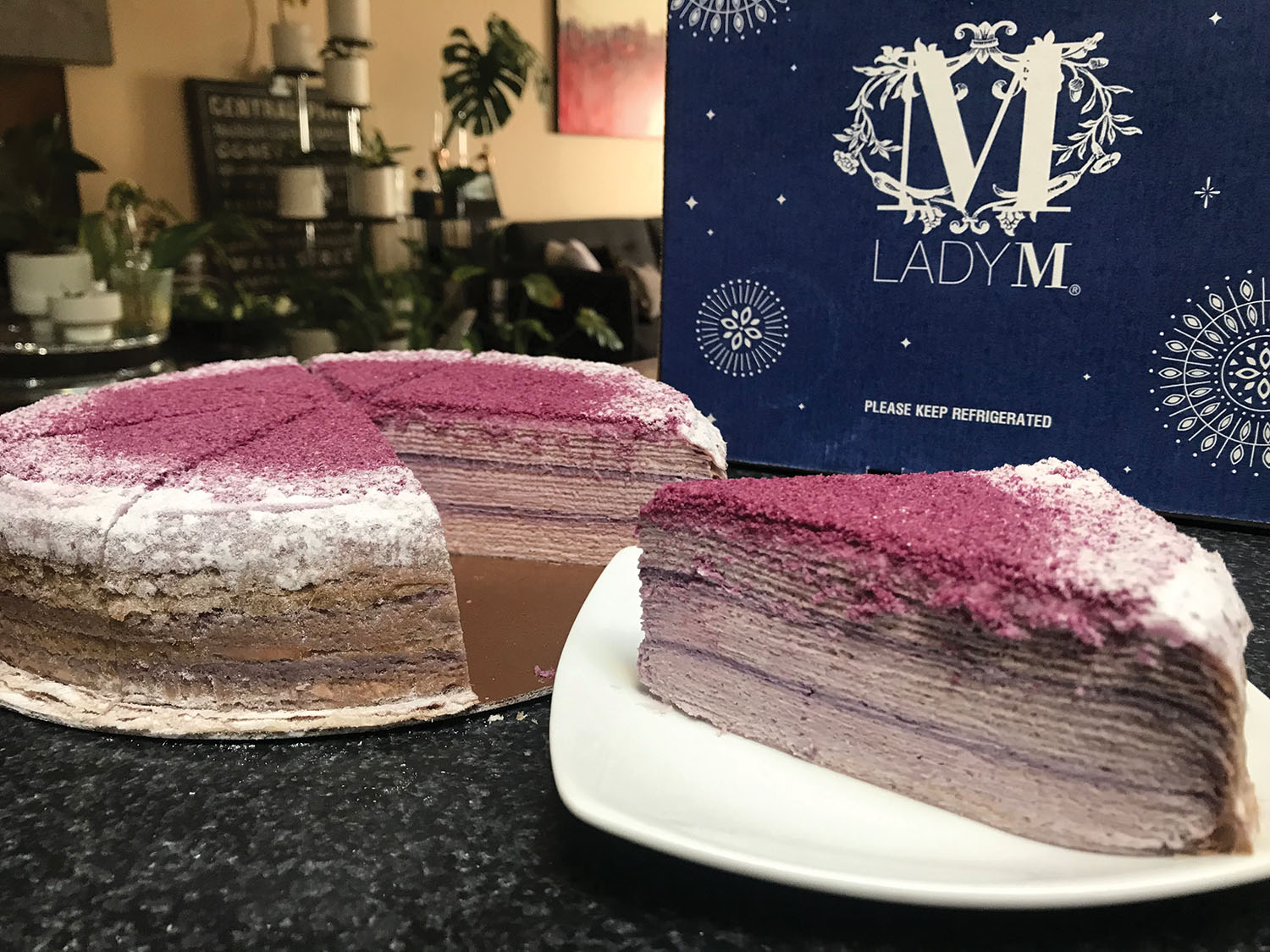 We've seen the products on the shelves of every Trader Joe's: ube mochi pancake & waffle mix, ube shortbread cookies, ice cream, and jam. NYC ice cream purveyors Oddfellows and Van Leeuwen have offered ube before and Chinatown's Original Ice Cream Factory, Flip Sigi, and Soft Swerve continue to do so today. There's an ube soft cheesecake at Keki; Purple Dough in Queens offers a variety of ube desserts and Kabisera has its version of ube biko.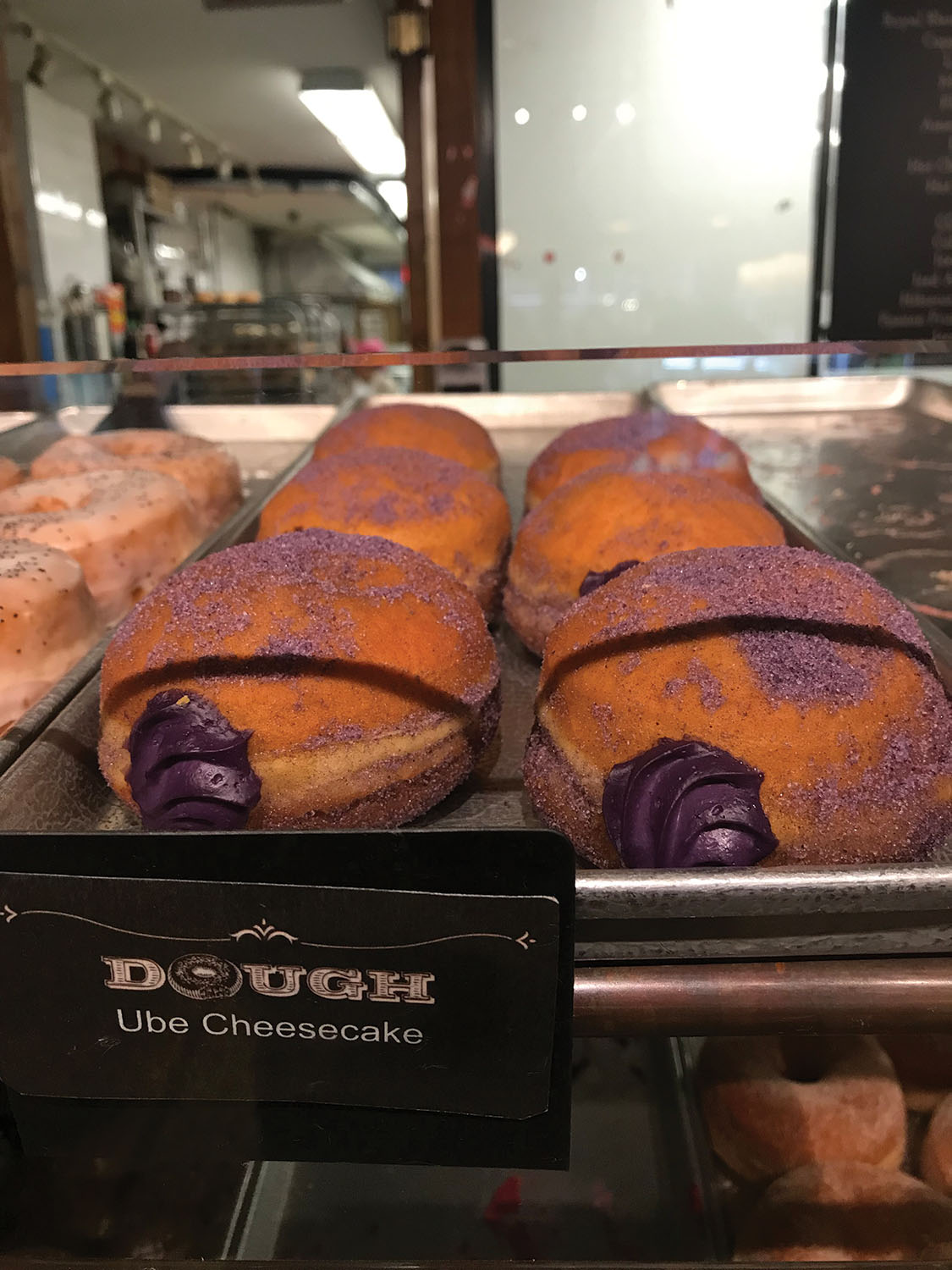 At the now-shuttered Mountain Province, a cafe in Brooklyn that served traditional Filipino pastries like ube ensaymada, ube latte was among the bestsellers. Today, some mainstream coffee and dessert shops like Grace Street, Caffe Bene, and Brooklyn Kolache offer ube latte to match their other ube offerings.
Nearby in Williamsburg, Manila Social Club's Chef Björn Dela Cruz in 2015 introduced the Golden Cristal Ube Donut, NYC's most extravagant donut (coated with 24-karat gold, Cristal Champagne icing, and with a filling of ube mousse) that sold for $100 per piece. Maharlika had its ube waffles (served with fried chicken) and Seattle's Hood Famous Bakeshop got famous for its ubecheesecake, which was introduced in 2013. Chefs Romy Dorotan and Amy Besa love ube so much that they named their Brooklyn restaurant Purple Yam.
In California, there is Cafe 86, an ube-centric cafe that sells, among others – ube truffles, ube butter bars or ube crack cheesecake, and ube tres leches. Ginger Lim Dimapasok and her husband James started the business in 2014 and through the years, the place became known as the Mecca for all things ube, thanks to the more than 50 ube-related dessert items on its menu. They now operate seven locations across California, with an outpost in Las Vegas.
Dimapasok has also gone beyond the borders of Filipino desserts by innovating and creating her versions of panna cotta, pop tarts, babka, paleta, and concha, all made with ube of course.
In an interview with Good Morning America, Dimapasok expressed her hopes that local farmers will grow purple yams so that it is more accessible for chefs to integrate into their menus.
"The ultimate goal is to bring ube to the main stage and be able to make ube as normal as matcha is today," she said.
In Manila, Shake Shack offers a Filipino exclusive not available anywhere else: ube shake, made with their thick and creamy vanilla frozen custard blended with ube. Destileria Barako introduced in 2021 the world's first Ube Cream Liqueur, an innovative blend of sugar cane vodka from Negros blended with full cream and Filipino ube. Last year, it won Double Gold Award and Innovation Award from The SIP Awards, the largest consumer-judged spirit awards in the world.
It has even reached a point where an "Ube Festival" is staged in various cities across the globe.
Last April, San Francisco had its Filipino Ube Crawl & Festival at the SoMa called Yum Yams: A Celebration Of All Things Ube. Last week, there was another event called Ube Fest & The Palengke Collective.
Germany had its own "Ube Fiesta" last month, sponsored by the Philippine Consulate General in Frankfurt, together with The Filipino Catholic Community in the Archdiocese of Cologne. The festival aims to promote and raise awareness of ube as a sustainable, healthy, organic, versatile, and next-trend product from the Philippines.
New York's version happened over the weekend, attended by hundreds of foodies, home bakers, and ube enthusiasts. Dubbed Ube Festival, the event was staged for three days from August 12 to 14 at the Canal Street Market in Chinatown.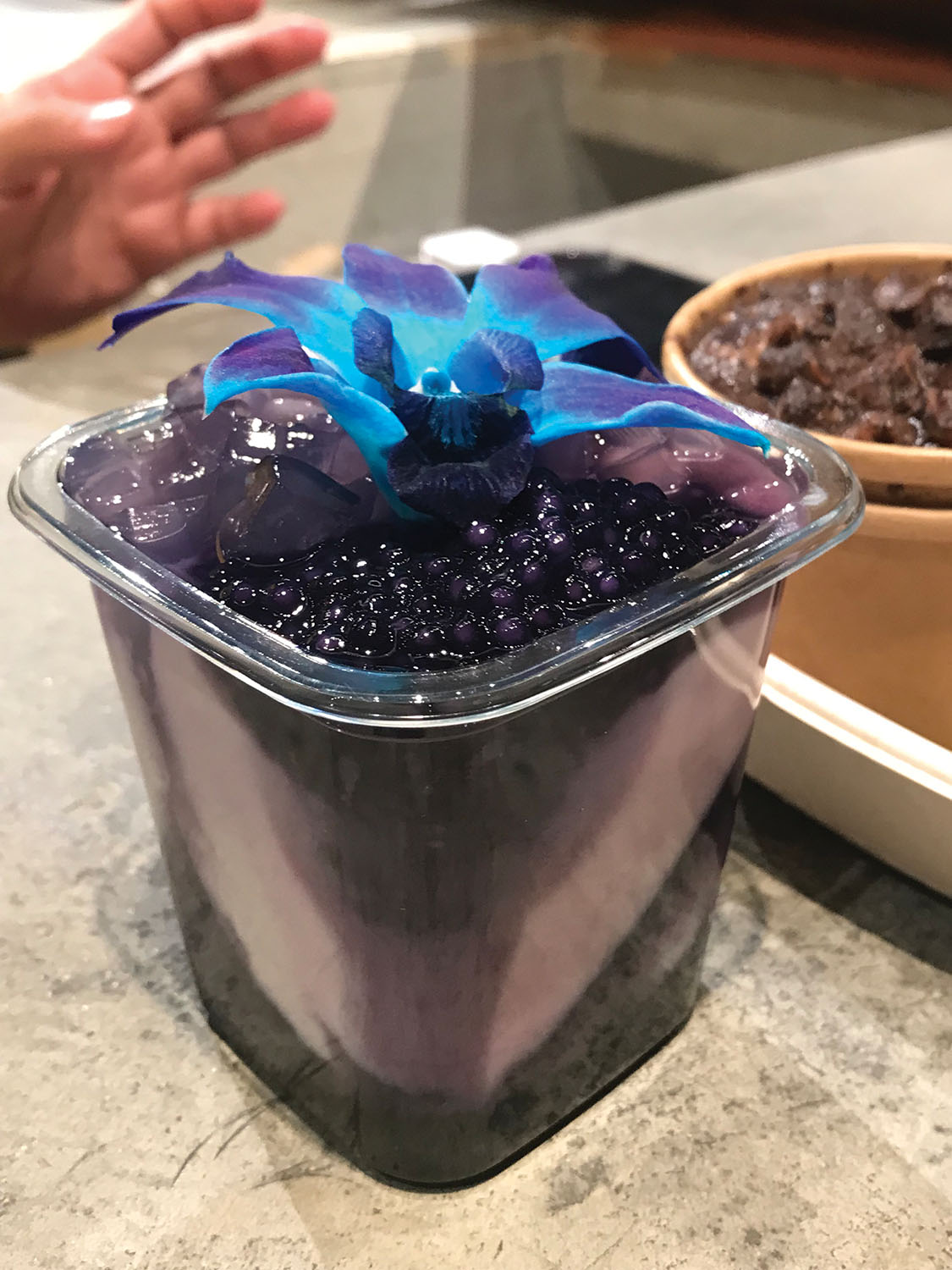 Fil-Am entrepreneurs sold their ube items at the market, some selling out a couple of hours after they opened the doors. There was definitely no shortage of ube here. So Sarap NYC offered its take on ube taho and dinuguan with ube puto; Purple Box had crinkles and ube flan cakes; Whisk had its beautiful pastries including ube ensaymada, and Daniel Corpuz showcased his ube ice cream, pan de sal, and bonbons. There was even ube-scented candles from New Jersey-based PinatNJ while Hatzumomo displayed some of their ube-hued items such as jackets, backpacks, and bucket hats.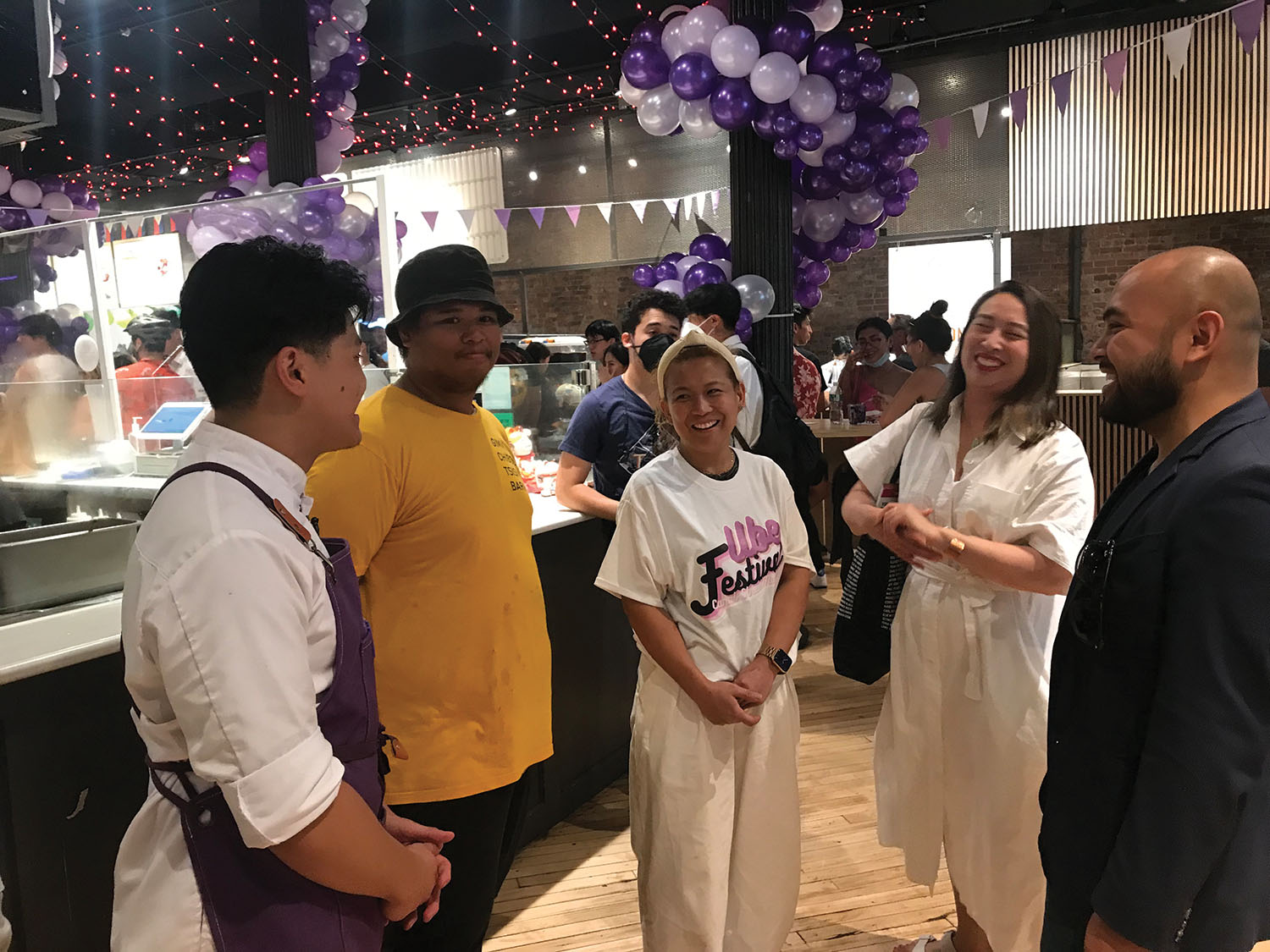 One of the organizers, Augee Francisco of Kabisera is thankful that the community came out to support the festival and with their success, plans are already underway for another one.
Going global
Through the years, Filipinos have been using ube for dessert.
As its reach has become global, ube has gone beyond the classic halaya or ube jam that was a staple dessert in every Filipino celebration, whether it is a birthday, wedding, or town fiesta.
Now, ube is used in a host of desserts and pastries – from pancakes, cheesecakes, and doughnuts to milkshakes, crinkles, and macarons.
Let's not forget the sentimental favorites: pan de sal and ice cream.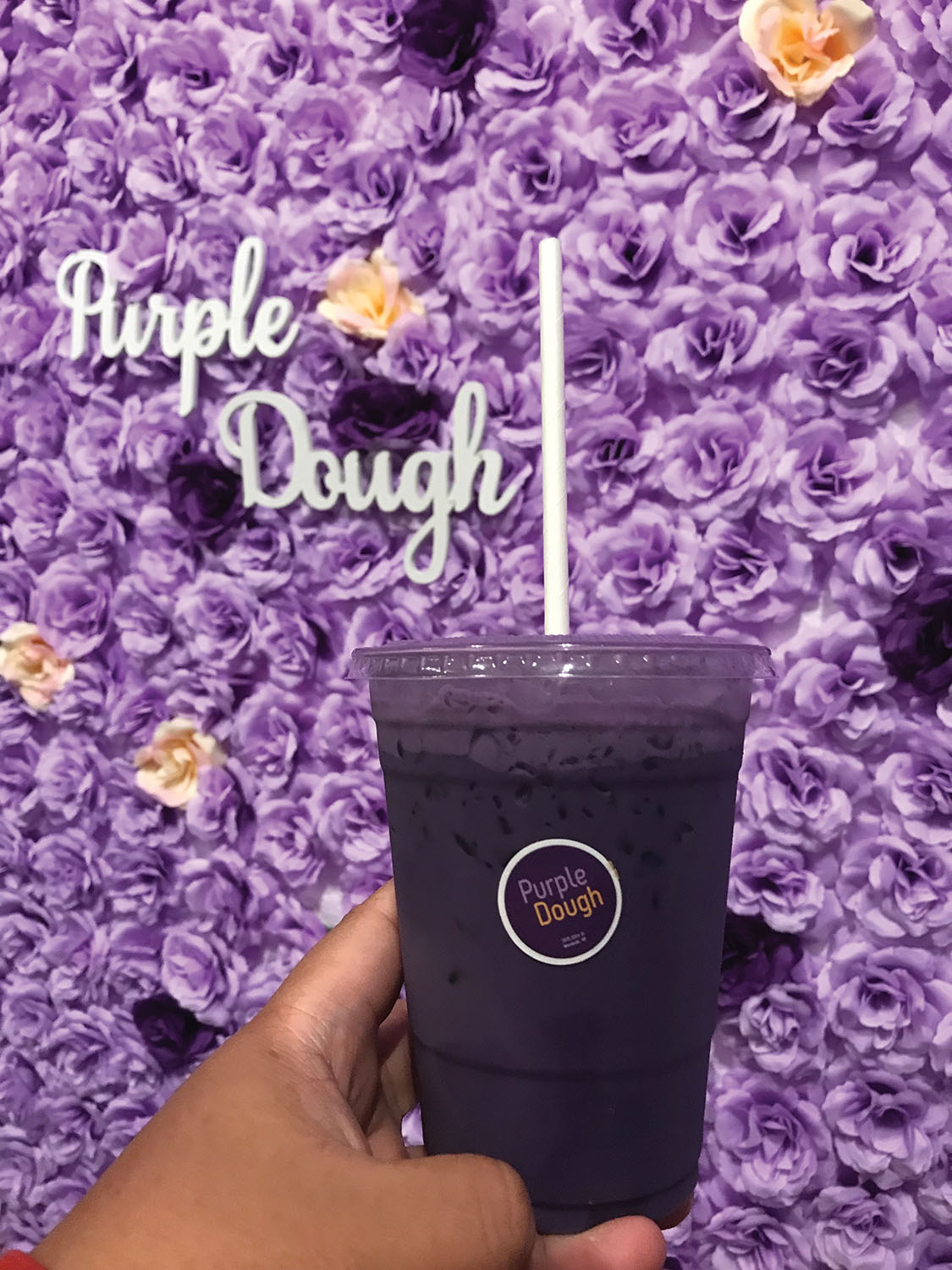 Nora Galleros, the owner of Kape't Torta, a coffee and dessert place in Queens, told the Asian Journal that their ube pan de sal saved their business.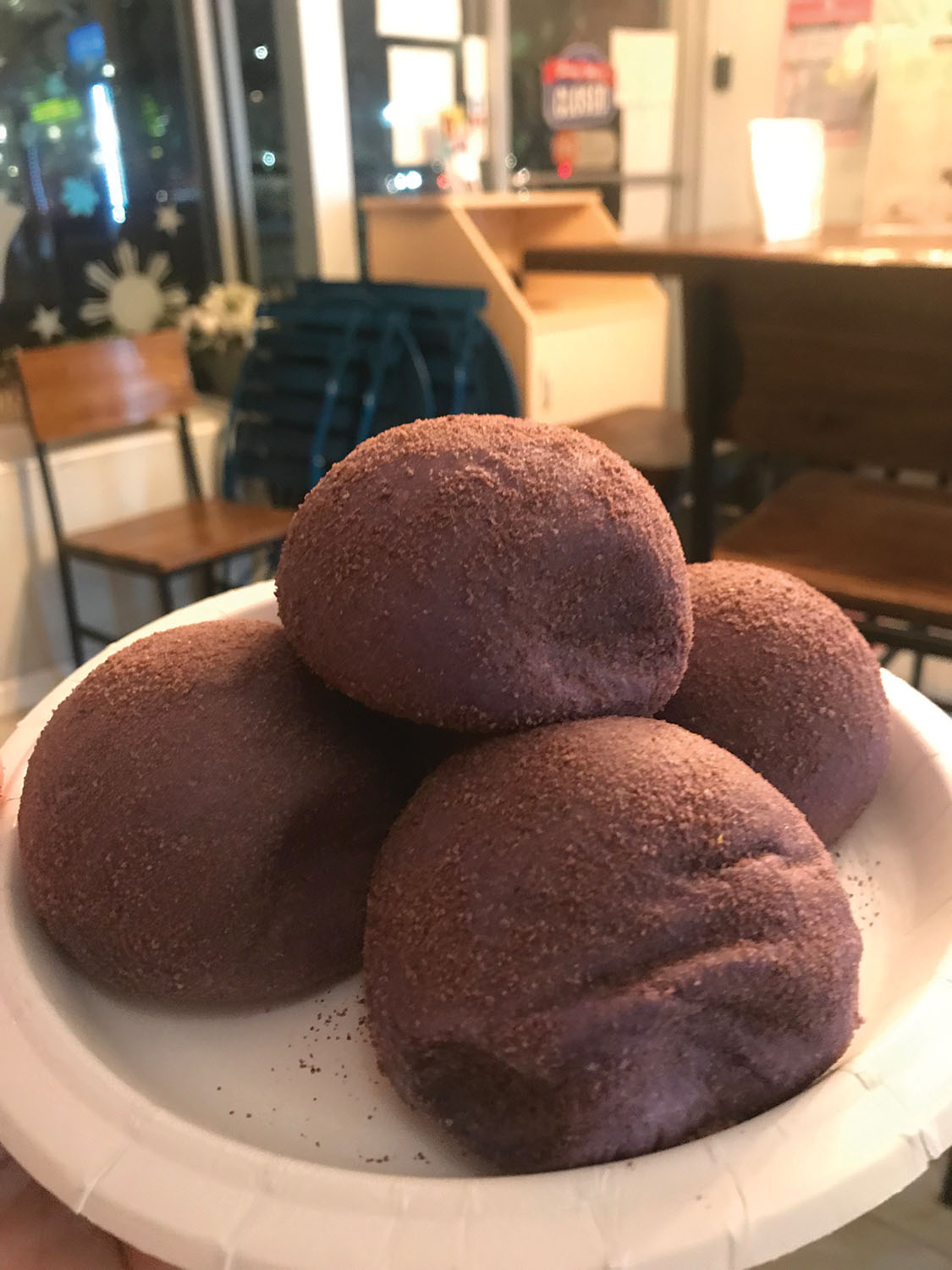 When the lockdown happened, Galleros worried that her business would close. As soon as the city allowed it, they went back and baked bread and pastries for pick up. They have been baking ube pan de sal even before the pandemic so Galleros hoped that the customers would return.
They stuck to what they were doing and churned out ube pan de sal, baking them fresh daily. They would sell them out easily so they started a reservation system to make sure that the demand was met.
Islander's Creamery is a relatively new ice cream business that opened during the pandemic by Rowena Sy-Santos and her childhood friend.
On top of Islander's Creamery's bestseller list is their ube ice cream.
"Ube, definitely. Hindi lang Filipinos ang market namin for the ube, many non-Filipino customers order it as well," Santos shared.
She recalls having new customers get enthralled and intrigued by the flavor.
"I remember we had a kid who said it tasted like Froot Loops and then we had one who told us that the flavor was hard to describe but something was definite, it was good and it's not like something they've had before," she added. "When they ask me, I tell them that ube has this sweet and earthy tone."
There are misconceptions about the ube, with some people mistaking purple sweet potato or taro (gabi in Filipino) as ube. While they may be similar in appearance, the taste and flavor profiles are different.
Ube has darker skin and deep purple flesh. It has a subtle, nutty, vanilla-like creamy flavor that easily adapts to other ingredients.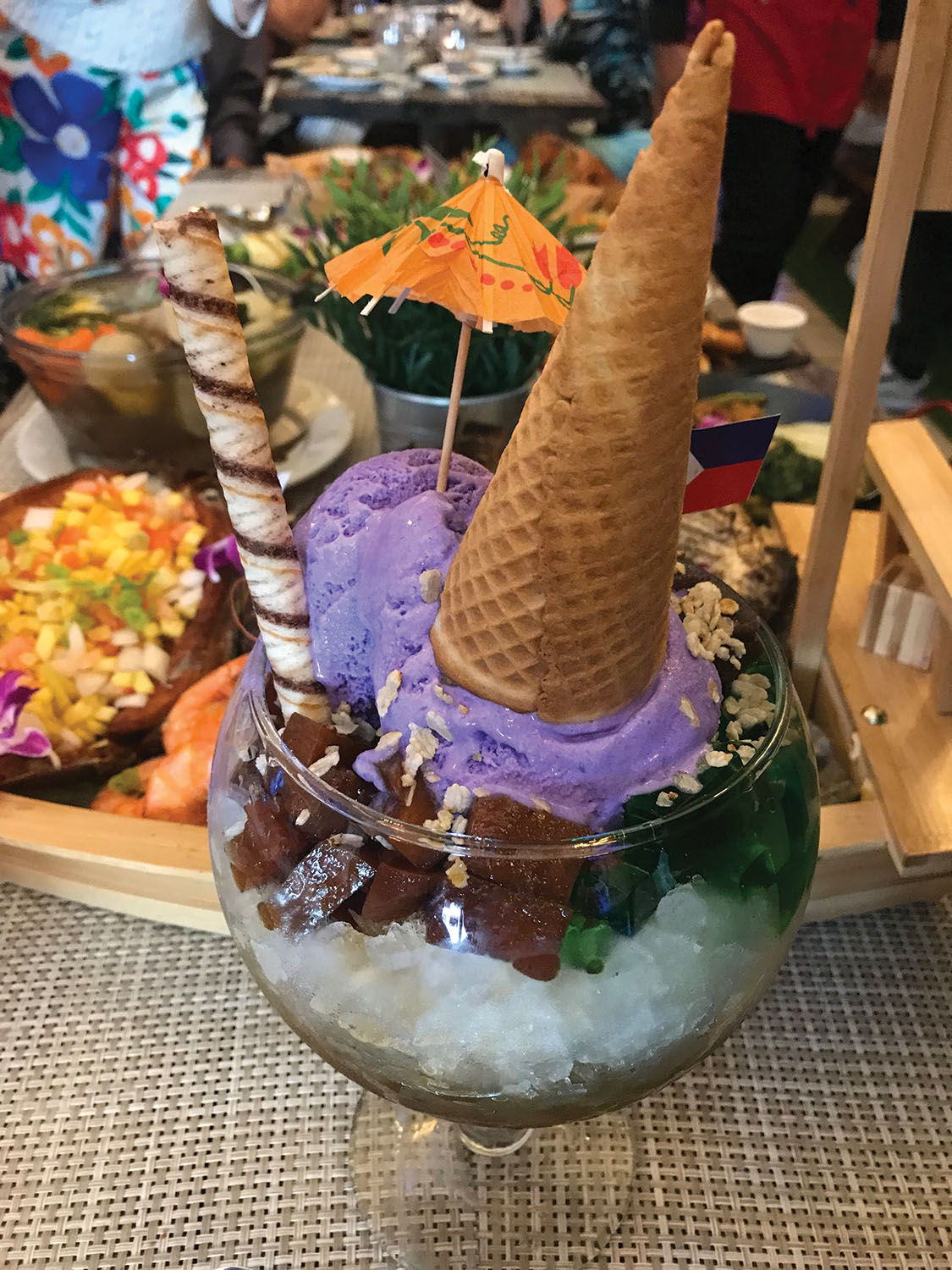 Think about the halaya or ube ice cream adding more depth to halo-halo or ginataan. Or the saltiness of the cheese mixing perfectly with the slightly sweet notes of the ube pan de sal. Because of this sweet flavor and creamy texture, ube is a natural choice for pastries and treats like crinkles, cakes, cheesecakes, and yes, ice cream.
Ube as a rising food star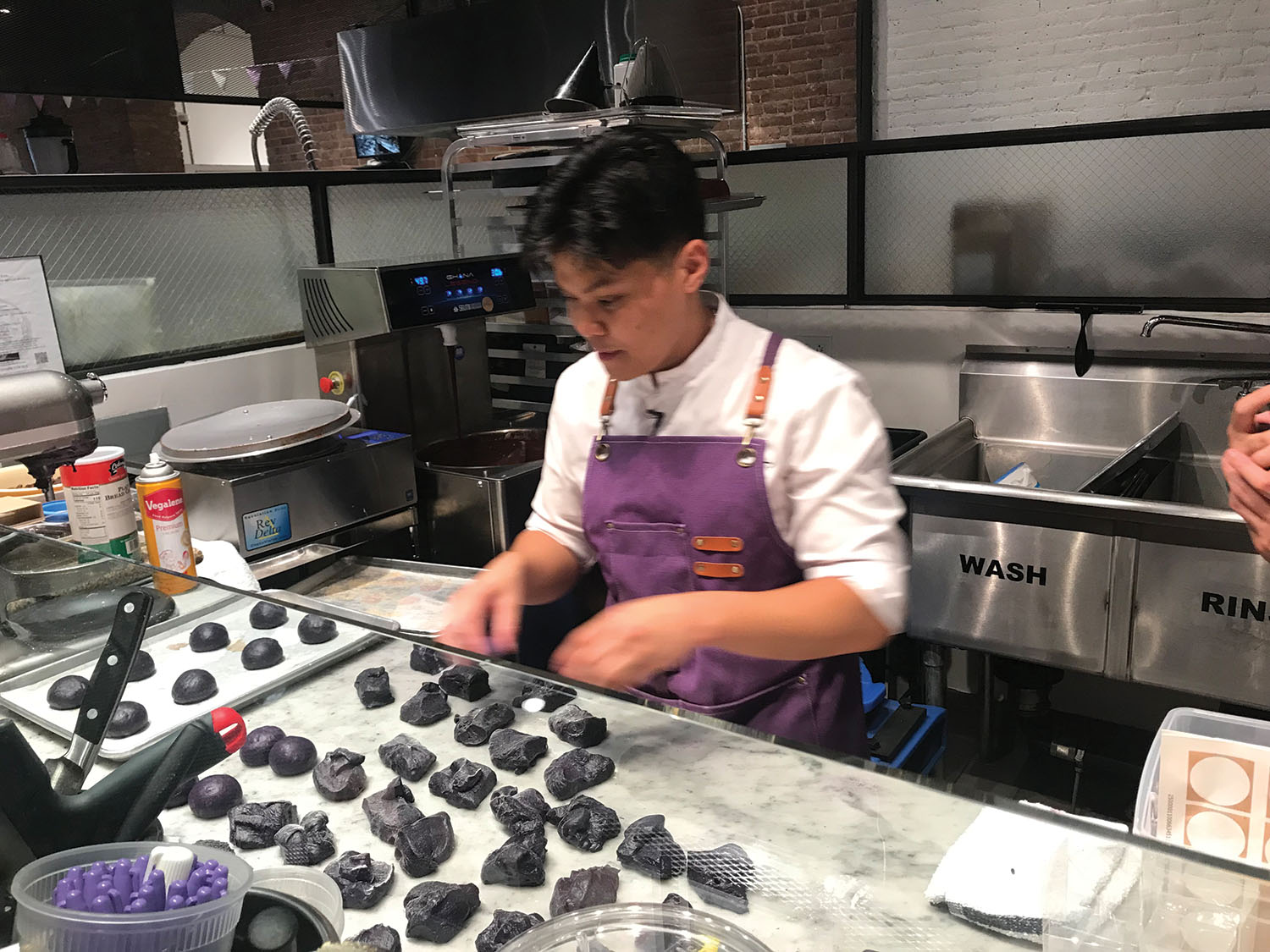 In the Philippines, ube is usually grown in small patches of land, particularly in Central Visayas, Cagayan Valley, CALABARZON (Southern Tagalog), Northern Mindanao, and Eastern Visayas.
Based on Philippine Statistics Authority data, the exportation of ube is still very minimal at 4 to 5% (2019 and 2020 data) of its total production. It is exported mainly in powder or grated form, puree, and jam to the United States, Canada, United Kingdom, Qatar, Israel, and Saudi Arabia.
Ube is among the Filipino food products that are part of the next wave of exportable products or as DTI calls them, the "rising food stars".
These are heirloom rice, calamansi, ube, pili nut, turmeric, moringa or malunggay, muscovado sugar, tamarind, and dalandan – joining the "Premium 7" (banana, cacao, coffee, coconut, mango, pineapple, and tuna) as the country's top food exports, based on supply, according to CITEM's Executive Director Pauline Juan.
However, despite the growing global demand, ube production in the country decreased from 2017 to 2020. The numbers dipped from 14.37 thousand metric tons in 2017 to 13.96 thousand metric tons in 2020. It was 17.85 thousand metric tons in 2011.
The shortage led to Good Shepherd releasing its "white ube" line in 2019. Good Shepherd Convent in Baguio City is famous for its ube jam and a trip to the mountain city is not complete without bringing back a couple of jars.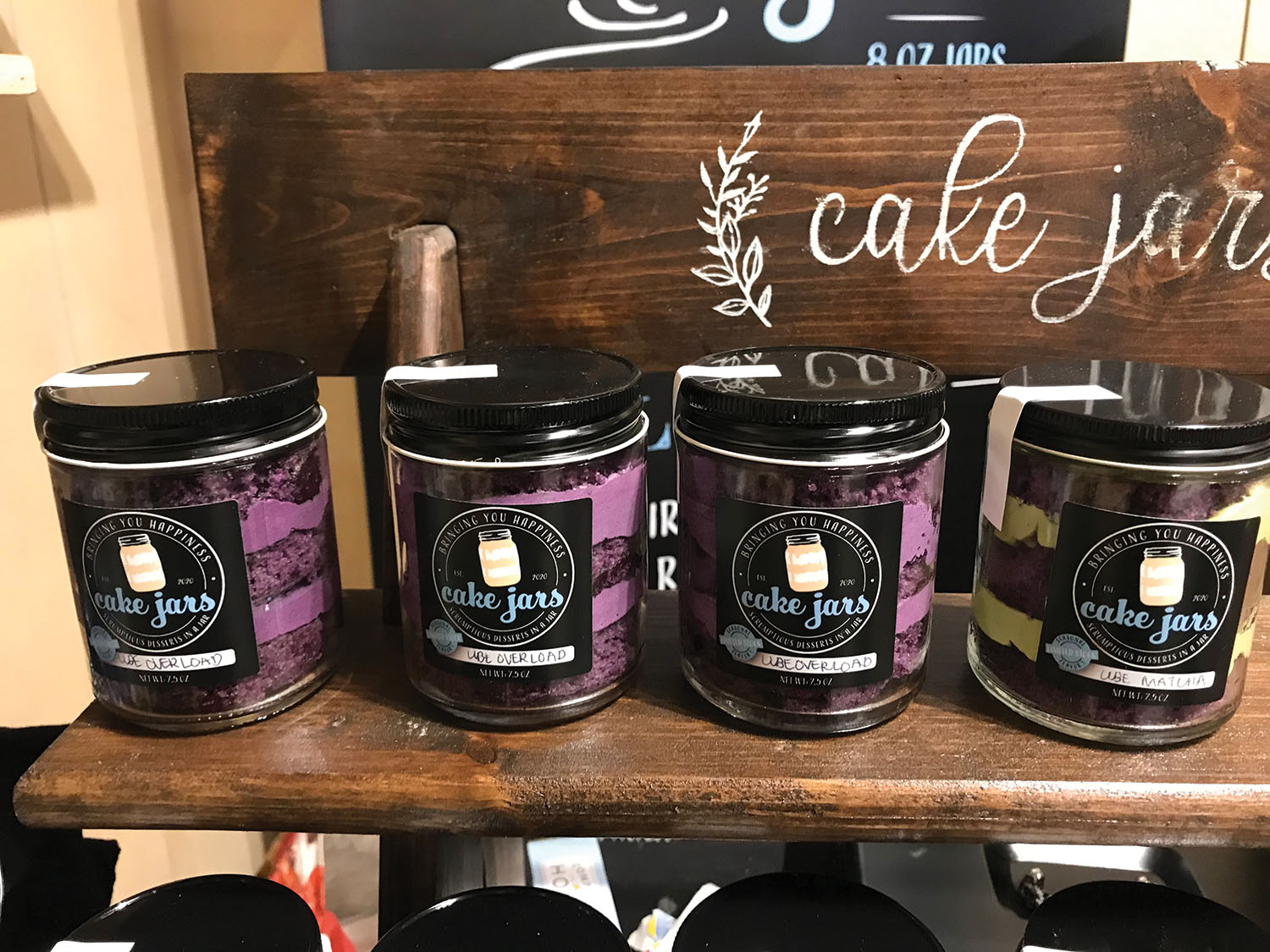 "Due to changing climate, our ube farmers are having difficulty growing ube. It has been our struggle in recent years to find a stable supply. And in the past weeks, there were none," shared Good Shepherd on its Facebook page.
In August 2020, Filipino food manufacturer and exporter Ramar Foods announced their ube supply shortage. The company said that the ube they use is imported straight from the Philippines and is not available anywhere else.
"The challenges in supply come from the high demand in the Asian American market, logistics, and supply issues caused by COVID-19," the company said then.
According to the Value Chain Study conducted by the Department of Agriculture, ube supply is really limited, hence the shortage. The industry also faces recurring problems of seasonal production, overproduction, and the rejection of farmers' harvests that could not be readily absorbed by the existing market.
"The unstable and limited supply of ube remains to be the most challenging aspect in meeting the demand requirement, especially of agro-processors and exporters," said the report shared by the Philippine Trade and Investments Center in New York. "Its production is very limited due to poor seed system, production, and post-production practices."
"Farmers grow yams in small patches of land, supply the processors with mixed white and purple rice varieties, of high percentage mechanically damaged tubers, poor storability and inconsistent supply. The seasonal availability of ube affects production expansion of agro-processors and exporters," the report added.
Partnerships have been made by the government, academe, and the private sector to address some of these issues. In 2017, Don Mariano Marcos Memorial State University with the support of the USAID launched and implemented "Upscaling Business and Engineering Technology (UBE-Tech) for the Purple Yam Industry in the Northern Philippines."
This project aimed to help farmers, entrepreneurs and researchers improve the production of ube by upscaling and establishing viable, locally generated technology for value-added products and extraction of bioactive compounds from anthocyanin-rich Philippine purple yam (Dioscorea alata) varieties.
The Department of Agriculture (DA), in partnership with the University of the Philippines, Los Baños, Laguna (UPLB), and the different DA regional field offices, also implemented a project that provides farmers with enough tissue-culture yam plantlets and trains them in the handling and management of tissue-culture plantlets and overall cultural management for yam production.
Whether ube is just a food trend or it's here to stay, only time can tell.
What we have right now is that more people are learning about it beyond its alluring color – that it is an ingredient that's both healthy and sustainable.
And for many Filipinos outside the Philippines, seeing the ubiquitous ube in various incarnations inadvertently triggers nostalgia – flooding happy childhood memories of devouring ube jam straight from the jar or halaya from the llanera, one teaspoon at a time.