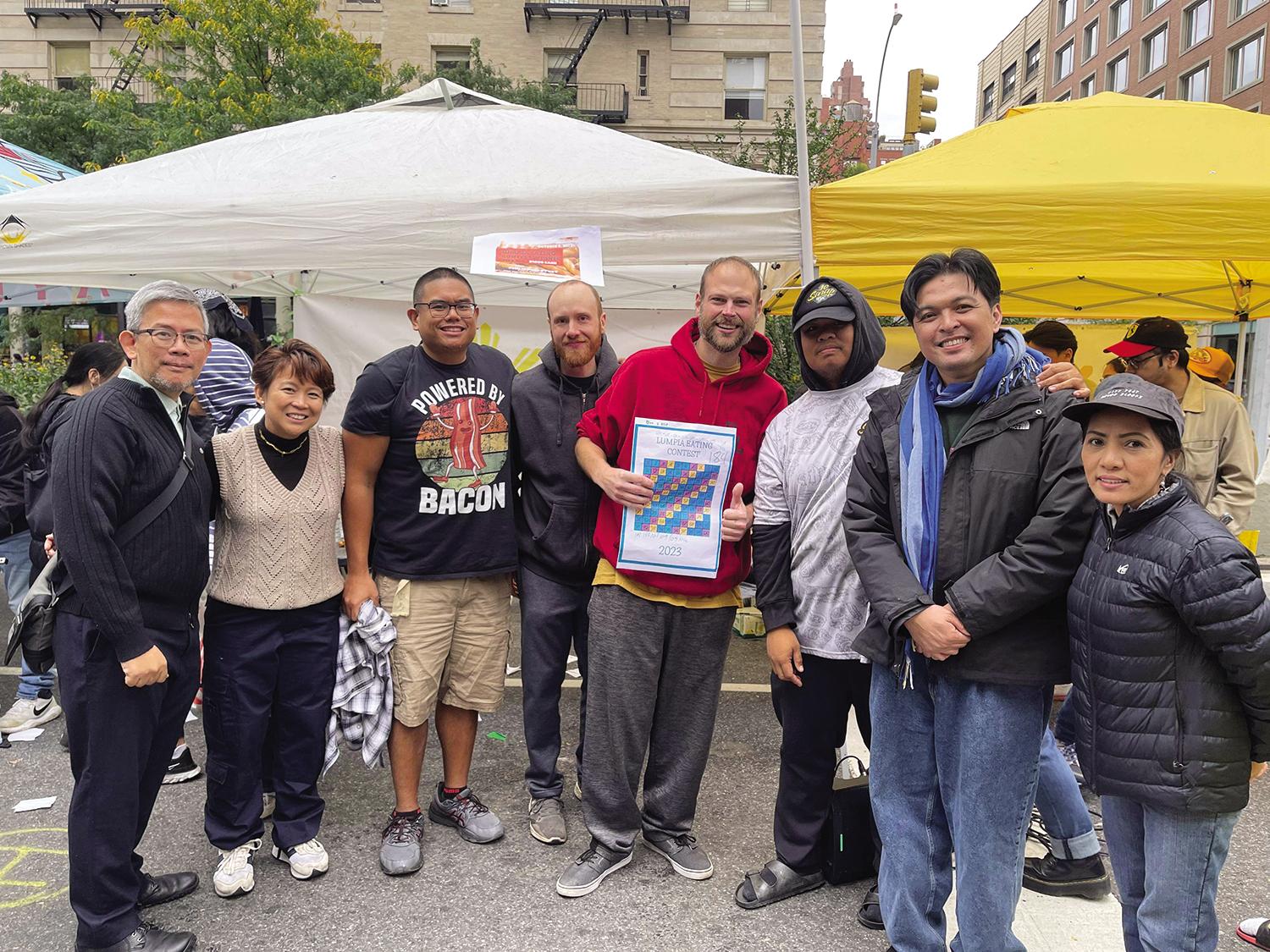 The second annual Lumpia Fest took the Upper West Side by storm on Sunday, October 9, as food enthusiasts and competitive eaters gathered to celebrate this iconic Filipino dish. The highlight of the festival was an intense lumpia-eating contest, where participants vied for the coveted $1,000 prize.
Last year's champion, Wayne Algenio, returned with determination to defend his title against a diverse field of contenders. Among the seven participants who took on the challenge, three were non-Filipinos, and remarkably, two of them had never tasted lumpia before.
To add to the excitement, three audience volunteers — Winwin, Stephen, and Josh — joined the contest when some registered participants failed to appear. With only 10 minutes on the clock, contestants devoured as many lumpias as they could.
As the dust settled, it became evident that some had a keener appetite for lumpia than others. The volunteer trio ate the lowest number, with Stephen consuming 13 lumpia, Josh managing 22, and Winwin leading the pack with 24. Mohammad and Andrew demonstrated their competitive eating prowess, devouring 104 and 147 lumpias respectively.
The defending champion Wayne Algenio, despite a valiant effort, fell short of reclaiming his crown by managing to consume 132 lumpia.
The ultimate victory went to a competitive eater Dan "Killer" Kennedy, who participated in his first-ever lumpia-eating contest. Remarkably, Kennedy devoured a staggering 184 pieces of lumpia, securing the prize and the bragging rights for the Lumpia King title.
Reflecting on his victory, Kennedy shared his strategy, emphasizing the importance of staying hydrated, stretching, and maintaining a relaxed demeanor during the competition. That, and "stay loose and have some fun, entertain the crowd and eat until you can't eat no more." As a seasoned competitive eater, he noted that such wins were rare and cherished, given the stiff competition in the field.
"The first ones that came out were a little cold, they've been sitting there for a while and then they started bringing out fresher ones and it got faster so I think we really picked up the pace near the end of the contest," he told the Asian Journal.
Kennedy's next gastronomic feat? A donut-eating showdown, showcasing his insatiable drive for victory as he journeys to yet another competition. This formidable competitive eater recently garnered attention in a Philadelphia Eagles video where he devoured an Eagles lineman's daily fare. In less than ten minutes, Kennedy tackled two 12-ounce ribeye steaks, five scrambled eggs, one avocado, three sausage links, three Greek yogurts, one sweet potato, one baked potato, two protein shakes, two orange juices, and a "mjonster mash" bowl (featuring rice, ground beef, and seasoning).
Lumpia, a beloved Filipino dish, is characterized by its thin pastry skin, filled with ground pork, minced onions, carrots, and seasonings such as salt and ground black pepper. It is deep-fried and served as a popular snack or appetizer in Filipino cuisine.
The popularity of lumpia-eating contests is on the rise in the United States, particularly in areas with significant Filipino communities. These contests showcase not only the deliciousness of lumpia but also the competitive spirit and camaraderie within the Filipino-American community.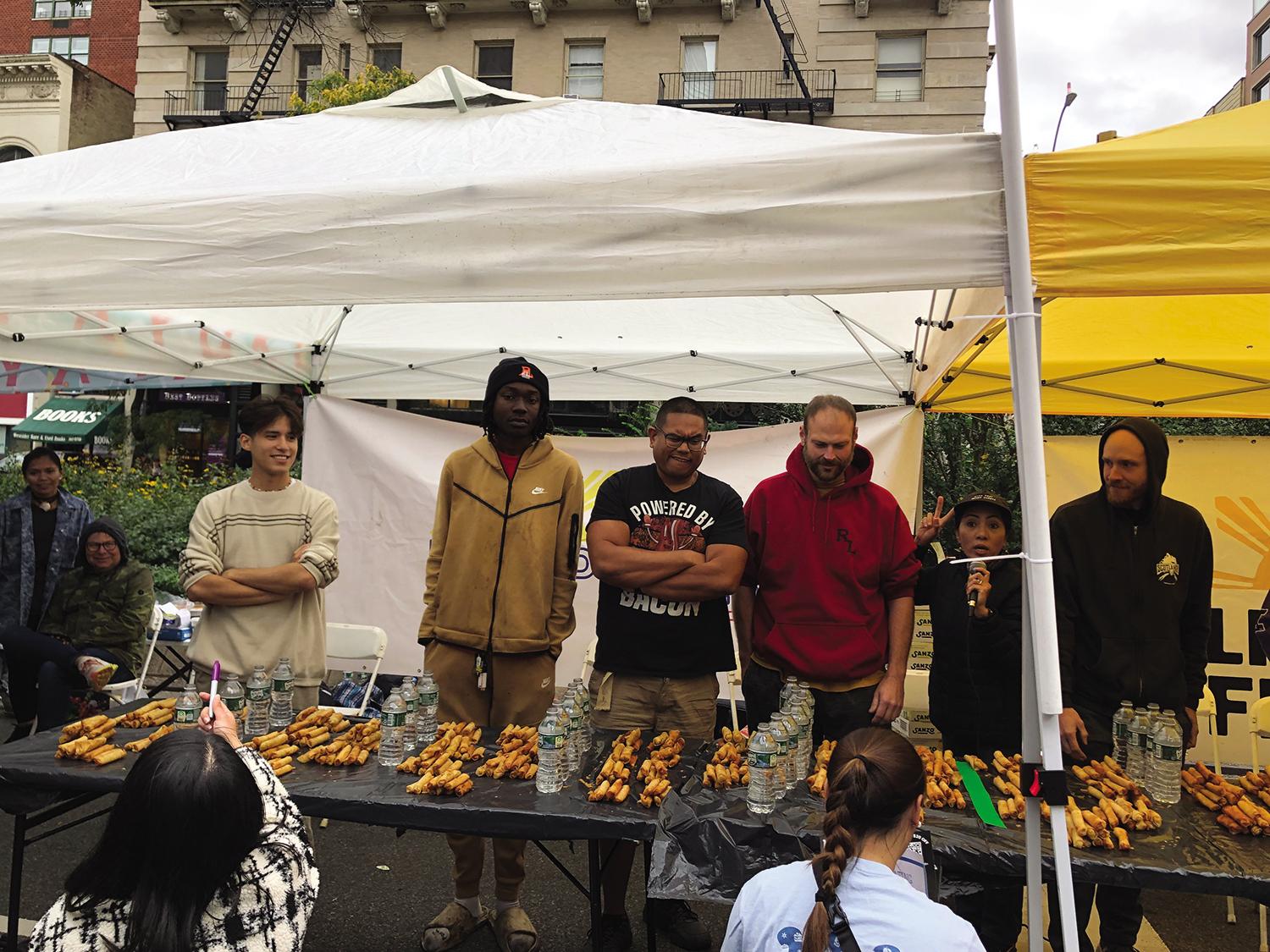 The Lumpia Fest in New York City was just one example of the growing trend, joining a list of other events nationwide celebrating this Filipino culinary delight. From Houston to California, lumpia-eating contests are bringing communities together to enjoy the thrill of competition and the delicious taste of lumpia.
Amid intense competition at Lumpia Fest in NYC, the event served as a fun celebration of Filipino culture and an exhibition of remarkable competitive eating skills, epitomized by Dan "Killer" Kennedy and the rest of the competitors. The organizers of Philippines Fest hope that with lumpia's continued rising popularity in the United States, the future holds exciting culinary and eating challenges. n