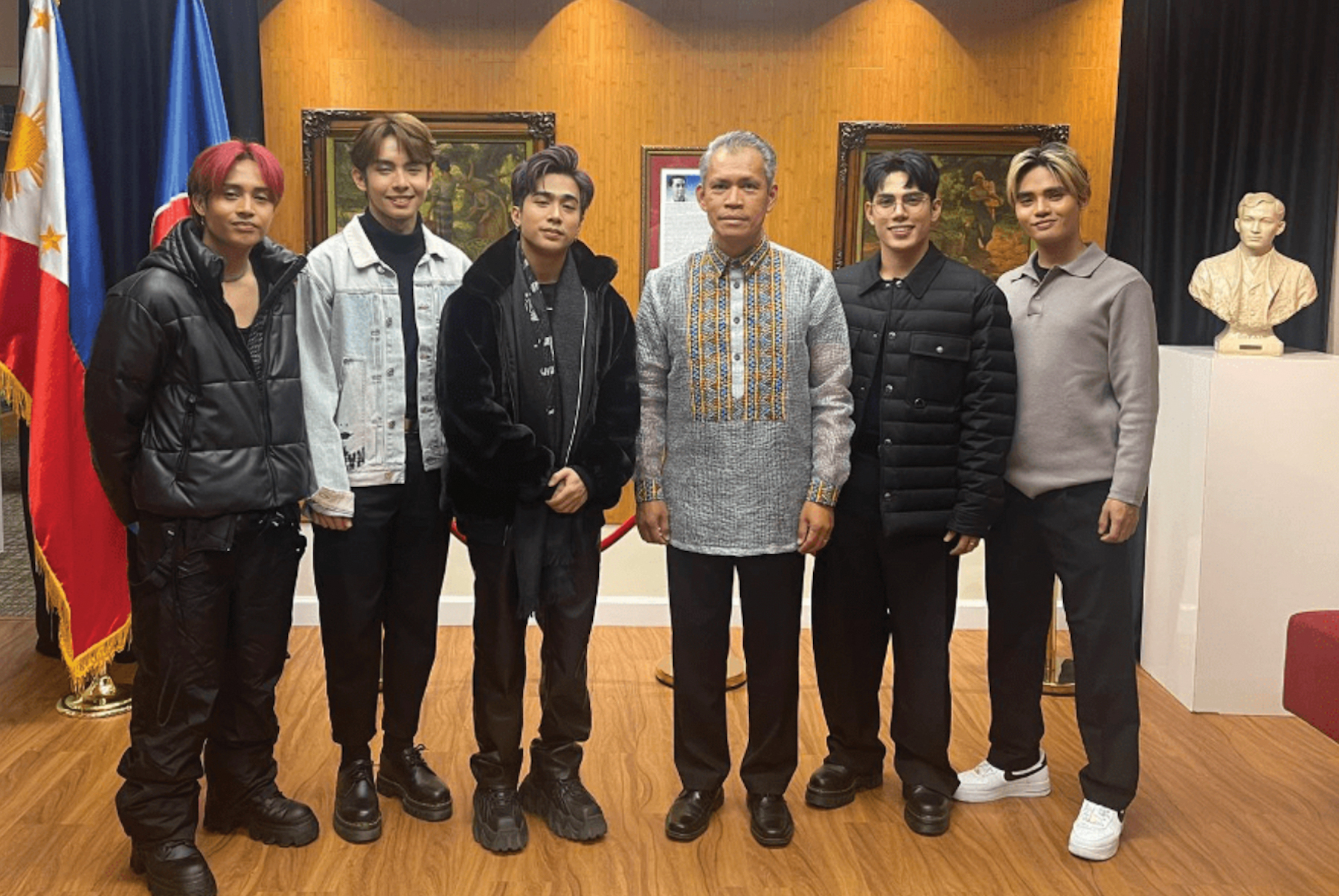 SAN FRANCISCO – The Philippine Consulate General in San Francisco threw a warm reception to global Pinoy Pop (P-Pop) sensation SB19 during their visit on Thursday, November 17, ahead of their concert in Redwood City, California on Friday, November 18.
SB19 members Pablo, Josh, Stell, Ken, and Justin visited the Consulate to pay a courtesy call on Philippine Consul General Neil Ferrer, promote the Consulate's Sentro Rizal San Francisco, and take part in the Sentro Rizal presentation "Sulat Baybayin: A CalligraFilipino Exclusive With SB19."
In his remarks, Consul General Ferrer lauded SB19 for being the first Filipino and Southeast Asian act to be nominated in Billboard Music Awards for the Top Social Artist category, and the first Southeast Asian act to enter the Top 10 of Billboard Social 50 weekly and year-end charts.
"As we speak, SB19 is back on the Billboard's Trending Hot Songs with their song WYAT at number 4, surpassing BTS and Justin Bieber," Consul General Ferrer said.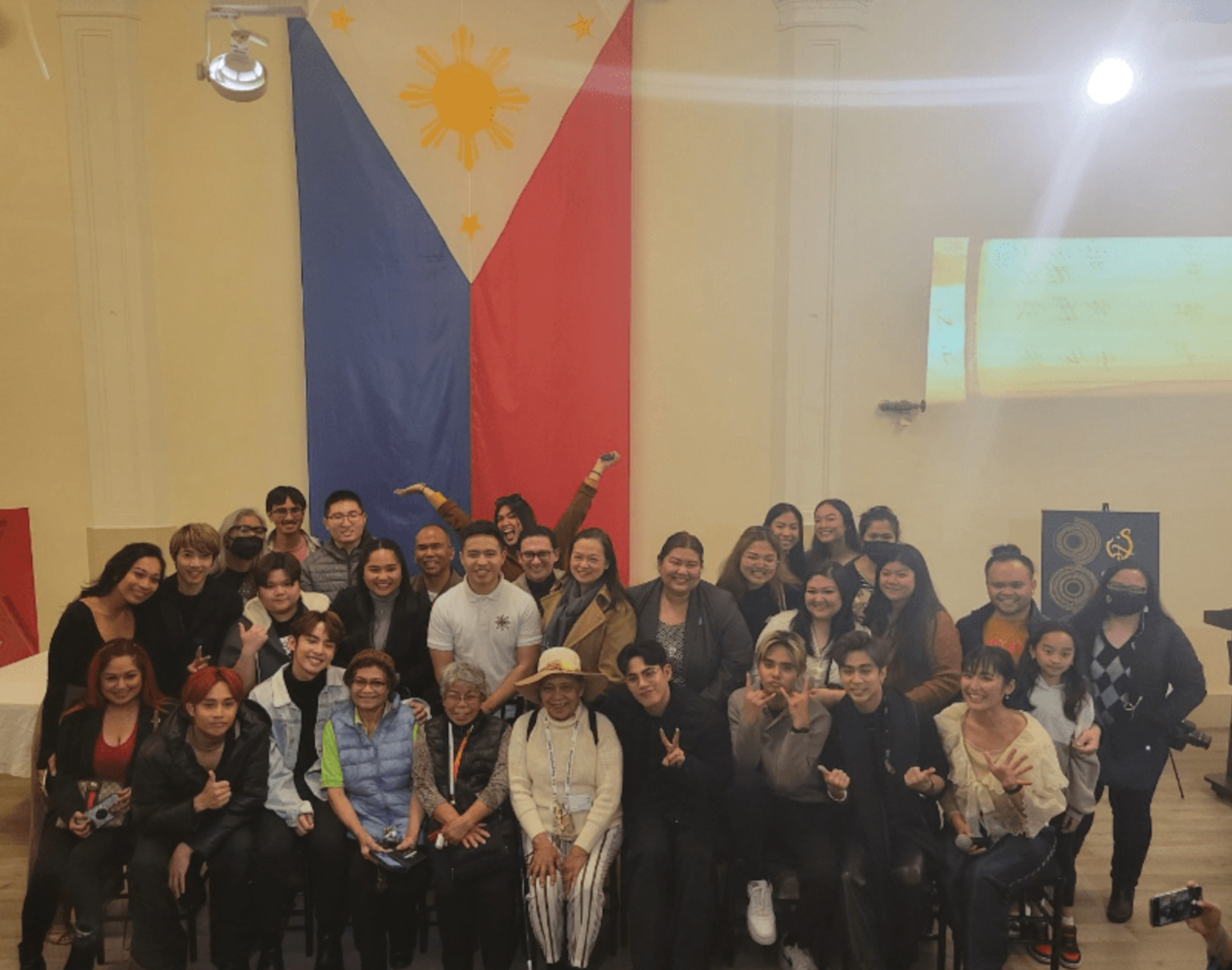 Consul General Ferrer also cited the selection of SB19 as "Youth and Sentro Rizal Ambassadors" by the National Commission for Culture and the Arts (NCCA), "for their support for advocacies that will uplift the Filipino spirit, music and culture to the global scene."
"Indeed, through their sheer creative talent and authentic connection to their legions of followers, SB19 has transformed the Filipino music scene and represented the Filipino youth well to the world," the Philippine Consul General added.
Following the call, SB19 joined the Filipino American Community in the Bay Area for the "Sulat Baybayin" event, facilitated by CalligraFilipino creator and 2022 NCCA Competitive Grants recipient Taipan Lucero.
Each SB19 member completed a CalligraFilipino art challenge with the help of selected Filipino American community members. The output from the art-making activity revolves around the theme of Filipino culture and pride, with the baybayin translations of Filipino words "Pilipino," "bayani, "kapwa," "kaisa," and "puso." The group of SB19 member Stell and West Bay Pilipino Multi-Service Center was judged the winner of the art challenge.
Among the organizations represented include the Filipino American Arts Exposition (FAAE), West Bay Pilipino Multi-Service Center, Filipino Education Center (FEC) Galing Bata Bilingual Program at Bessie Carmichael School, the Philippine Studies Department of the City College of San Francisco (CCSF), and the University of the Philippines Alumni Association of San Francisco (UPAASF).
As a token of appreciation for their visit, Consul General Ferrer awarded a certificate to SB19 and handed out souvenir items from the Filipino Heritage Night of Major League Baseball's San Francisco Giants.
Sentro Rizal San Francisco was opened to the public in 2019 as the hub for Philippine culture and the arts in the Bay Area. Located at a 2,700-square-foot space at the 5th floor of the Consulate, Sentro Rizal comprises the Museo ng Lahing Pilipino (Museum of the Filipino People), the Sentro Rizal Library, and Virtual Sentro Rizal.
The Consulate's Sentro Rizal houses two original paintings of Fernando Amorsolo, the Philippines' first National Artist, Filipiniana fashion, and Philippine history bas-reliefs, as well a collection of around 1,500 Filipino and Filipino American books and publications. (PCGSF Release)