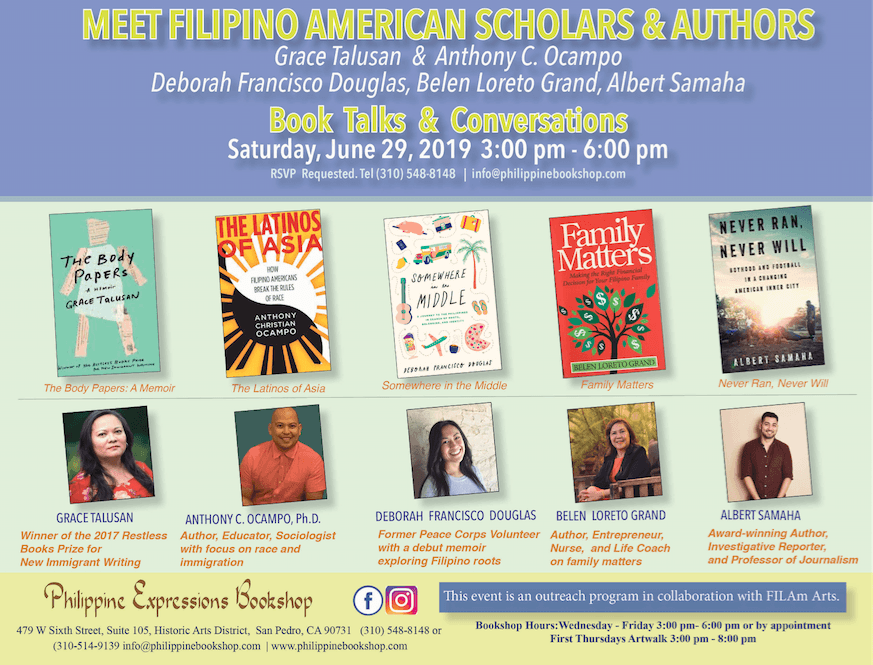 Philippine Expressions Bookshop — one of two bookstores in the United States dedicated to Filipino literature — is presenting another series of Book Talks on Saturday, June 29 with five Fil-Am scholars and authors as participants.
The event will be held at their venue, 479 West Sixth St., Suite 105, at the Historic Arts District, San Pedro from 3:00 p.m. to 6:00 p.m.
According to Linda Nietes-Little, founder and owner of the bookshop, "It will be a great occasion to meet Filipino American scholars and authors who have brought honor to our community. I hope the community will support them with their presence. If we do not do it now, when else can we show our appreciation for their talents? Kung hindi ngayon, kailan pa? And if we, as a community, do not, who else do you think will do it? At kung hindi tayo, sino pa?"
Dr. Anthony Ocampo and Grace Talusan will be in Conversation on Race and Immigration as part of the program. Ocampo is an assistant professor of sociology at Cal Poly Pomona and his area of studies focuses on race, immigration, and LGBTQ issues. A Ford Foundation Fellow, he is the author of "The Latinos of Asia: How Filipino Americans Break the Rules of Race" and has recently been featured on NPR Morning Edition. He is currently working on his second book, "To Be Brown and Gay in LA", which chronicles the lives of gay men of color from immigrant families. A native Los Angelino, he is a graduate of Stanford University where he finished his Bachelor of Arts in 2003 and his Masters of Arts degree in 2004. In 2006, he received another master's degree from UCLA and a doctorate degree in 2011.
Talusan was born in the Philippines and raised in New England. She graduated from Tufts University and the MFA Program in Writing at UC Irvine. She is the recipient of a U.S. Fulbright Fellowship to the Philippines and an Artist Fellowship Award from the Massachusetts Cultural Council. Talusan teaches at Grub Street and Tufts. Her first book, "The Body Papers: A memoir," won the 2017 Restless Books Prize for New Immigrant Writing.
Deborah Francisco Douglas will present her debut memoir, "Somewhere in the Middle: A journey to the Philippines in search of roots, belonging, and identity." Half Filipino but raised in an American household, Douglas had always longed to know more about her Filipino heritage. So in 2011-2014, when she was coincidentally assigned to the Philippines as a Peace Corps Volunteer to work on community development and youth outreach programs, she set out on a journey of self-discovery, travel, and adventure. Filled with warmth and humor, the book captures the simple joys found in ordinary moments and in the people we share our lives with, shedding new light on what it truly means to find the place where you belong. This memoir offers inspiration for all those yearning to discover who they are and their ancestral roots. Now living in San Diego, she is the creator and editor of the Filipino American Lifestyle blog "Halo-Halo, Mix-Mix."
Belen Loreto Grand is a best-selling author and life coach to Filipino families. She is the voice for thousands of nurses from the Philippines and Overseas Filipino Workers (OFWs) bound to family and duty to assist their relatives back home financially. In "Family Matters: Making the Right Financial Decision for Your Filipino Family", she shares a system of living that empowers, opens the flow of money, and reduces drama and trauma. She draws on the Law of Attraction, the Kabbalah, and more, to inspire readers to care for themselves and attract abundance.
Albert Samaha is an investigative reporter at BuzzFeed News, a professor at Columbia University's Graduate School of Journalism, and author of "Never Ran, Never Will: Boyhood and Football in a Changing American Inner City," which was a finalist for the 2019 PEN/ESPN Literary Sports Writing Award and winner of the New York Society Library's 2019 Hornblower Award. His story on a narcotics unit in Mississippi led to a police captain's resignation in 2015, his story on a Bronx murder helped get a wrongfully convicted man freed from prison in 2017, and his 2018 story on a teenager who accused two NYPD detectives of rape led six states to pass bills strengthening their police sexual misconduct laws. His story on why Filipinos turned to an authoritarian president was selected into The Best American Travel Writing 2018. His forthcoming book, "Concepcion," chronicles his family's immigration to the U.S. He lives in New York City, and is a grandnephew of the late Caridad Vallangca. Vallangca of San Francisco was the author of two books on Filipino Americans: "The Second Wave: Pinay & Pinoy/1945-1960" and "The Third Wave: Quo Vadis" which covers the Filipino immigration from 1961 to 1980.
This event is part of the bookshop's ongoing community outreach program. The bookshop was established in 1984 and is dedicated to Filipino Americans in search of their roots. The bookshop accepts orders for signed copies of the authors' books. Call (310) 548-8148, email [email protected] or visit www.philippinebookshop.com.