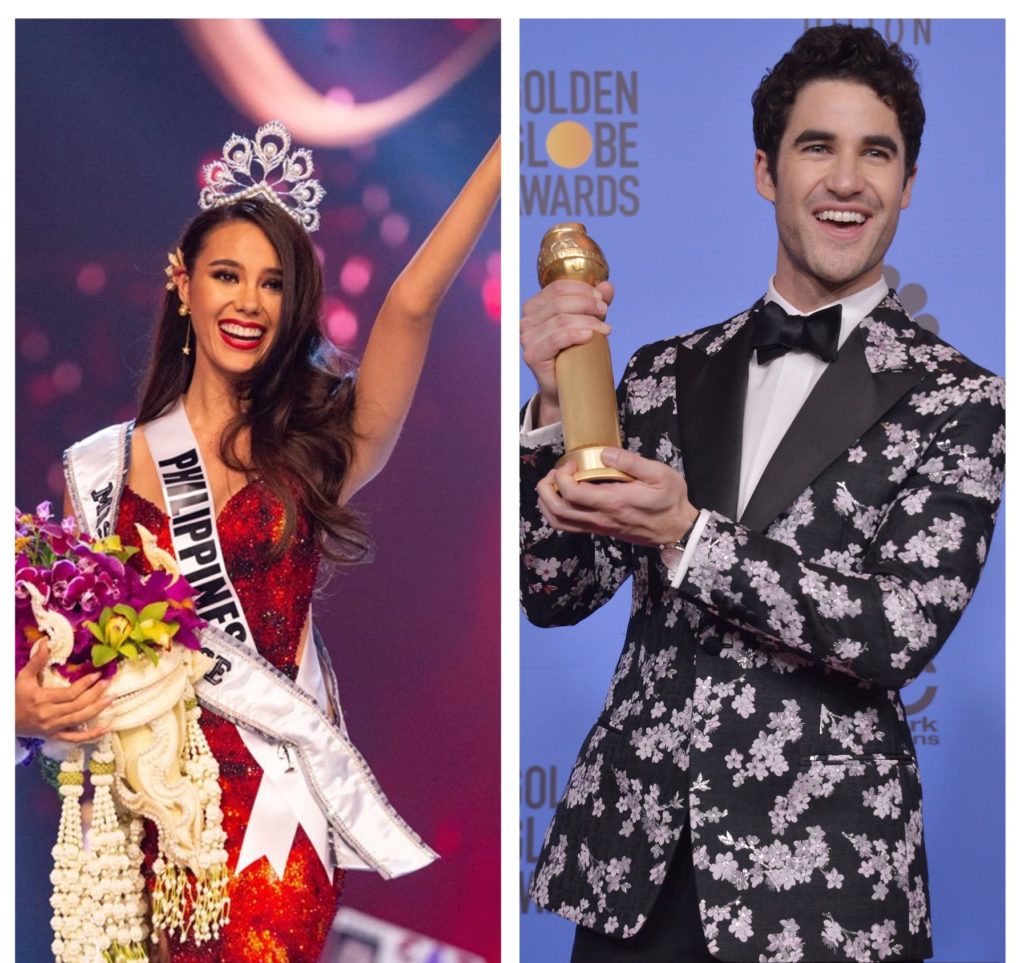 Kudos Filipinos! We have officially started the year with a BANG!
With the recent "global" victories of Filipino-American Hollywood actor, Darren Criss for his Golden Globe Awards and Fil-Australian Catriona Gray as Miss Universe 2018, we are off to a magnificent start. Indeed, these two Filipino hybrids have taken on both the "universe" and the "globe."
Gray was named Miss Universe 2018 in Bangkok last December 17, 2018, besting contestants from 93 other countries. Catriona Elissa Magnayon Gray, who has been in the entertainment industry for years and has walked the runway (and even performed) in the annual Bench Body fashion show, was born in Cairns to an Australian father, Ian Gray, and a Filipino mother Normita Ragas Magnayon, from Oas, Albay.
I have always been a fan of our Kababayans who were as determined as Gray, one who happens to be the only candidate who has represented the Philippines in the Miss World competition and the recently concluded Miss Universe pageant. She won 3rd runner-up as Miss World. And just when you thought you have seen it all, she made history by winning Miss Universe 2018, making her the first Filipino beauty queen to have entered both pageants and gone home with a title. She is the fourth Filipina to be named Miss Universe.
And let's just take a minute to appreciate how much effort was put into making the gowns that Gray wore. All of them ultimately displayed patriotism and cultural heritage. These three dresses have gained praises from all over the world. Starting with the "Mayon," the red, fiery and crystal-embellished gown that went perfectly with her iconic "lava walk" that captivated the universe and made Gray's final walk even more unforgettable. It was designed by Filipino designer Mak Tumang.
Then, of course, there's the "ADARNA: The Blazing Siren" — another gown designed by Mak Tumang for Gray for the Preliminary Competition. Inspired by the legendary Ibong Adarna, Tumang shared on Instagram the story behind his amazing creation, which he called, "ADARNA: The Blazing Siren."
And Lastly, who can forget the national costume, "LuzViMinda," that stunned everyone as Catriona LITERALLY brought the whole Philippines with her. The costume showcased our country's heritage where elements from all three major islands of the Philippines were incorporated through a gigantic parol backpiece from Luzon, a nude bodysuit with Pintados patterns from the Visayas, and handmade brass accessories and a T'boli headdress from Mindanao.
Catriona showed everyone that she is proud of her roots and even used her experience (working in the slums of Tondo, Manila,) to her advantage by including it in her final answer, which for me sealed the deal and won her the Miss Universe crown. Her poise and her "walk" impressed top fashion model Tyra Banks.
I've also found out that Catriona formed and personally chose her own team when she began preparing for the Miss Universe competition. She personally picked her own designers, mentors, trainers, assistants; her entire entourage – all of them Filipinos and have been getting commendations for a job well done.
Gray's down-to-earth persona is reminiscent of Miss Universe 2015 Pia Wurtzbach. These two may not have done a back-to-back victory but reclaiming the (Miss Universe) title after only two years is a feat worth mentioning. Indeed, there is no better time to be a Filipino beauty pageant fanatic than now.
Statistically speaking, the Philippines is now the top beauty pageant country in the world. Renowned website Global Beauties, which annually ranks every country based on their performances in five major international competitions aka "Grand Slam pageants"—Miss Universe, Miss World, Miss International, Miss Supranational, and Miss Grand International—announced in that the Philippines has dethroned Venezuela as the world's beauty powerhouse, bagging "Country of the Year" honors twice in a row.
Not even taking a breather (yet) from a victory as grand as Miss Universe, the Filipino-name once again made waves – this time, in the Hollywood scene – when Filipino-American actor, Darren Criss, won his first Golden Globe for his high-powered performance in "The Assassination of Gianni Versace: American Crime Story," becoming the first Fil-Am to receive the prestigious award.
"Being Filipino is one of my favorite things about myself," Darren Criss told Inquirer.net in a backstage interview. "If there is any young Filipino or half Filipino in the community that looks to my work as a source of inspiration and encouragement, then sign me up. It means the world to me," he added.
Darren's mother is from Cebu City. As a young kid, he has always loved music and performing.
Criss beat top actors Antonio Banderas ("Genius: Picasso"), Daniel Bruhl ("The Alienist"), Benedict Cumberbatch ("Patrick Melrose") and Hugh Grant ("A Very English Scandal") for the award.
"I feel like I've been given a superhero cape that I'm now required to step up the plate for," he told reporters.
I've written about Darren Criss not too long ago when he won his first Emmy for the same role as best actor in a limited series or movie. In his acceptance speech, he thanked his Filipino mom, which he again did so very lovingly when he won the Globes. She called her mother "a firecracker Filipina woman from Cebu."
As he accepted his Golden Globe for Best Performance by an Actor in a Limited Series or Motion Picture Made for Television, he in his speech said:
"So, mom, I know you're watching this. You are hugely responsible for most of the good things in my life. I love you dearly. I dedicate this to you,"
Criss also thanked Inquirer columnist Ruben Nepales, the first Fil-Am to become chair of the Hollywood Foreign Press Association, producer of the Golden Globes, and his wife, multi-awarded journalist Janet Nepales, who serves as HFPA executive secretary.
In an interview, Ruuben Nepales commended Criss' speech, saying "That's a first in the Golden Globes – a winner thanking his Filipina immigrant mom. It's a major statement from Darren. He's shouting his Filipino American heritage to the world."
Janet Nepales said Criss' speech made her so proud of being Filipino and of Criss "breaking barriers for our kababayans."
In "Versace," Criss plays serial killer Andrew Cunanan, the Fil-Am who murdered fashion designer Gianni Versace in 1997.
Catriona Gray and Darren Criss are two very different individuals from different sides of the world. Yet, they both bear the Filipino roots that make them uniquely talented, passionate and resilient. These qualities are guaranteed to take any Pinoy or Pinay – full or half-bred – to the peak of success and achieve his or her highest potential.