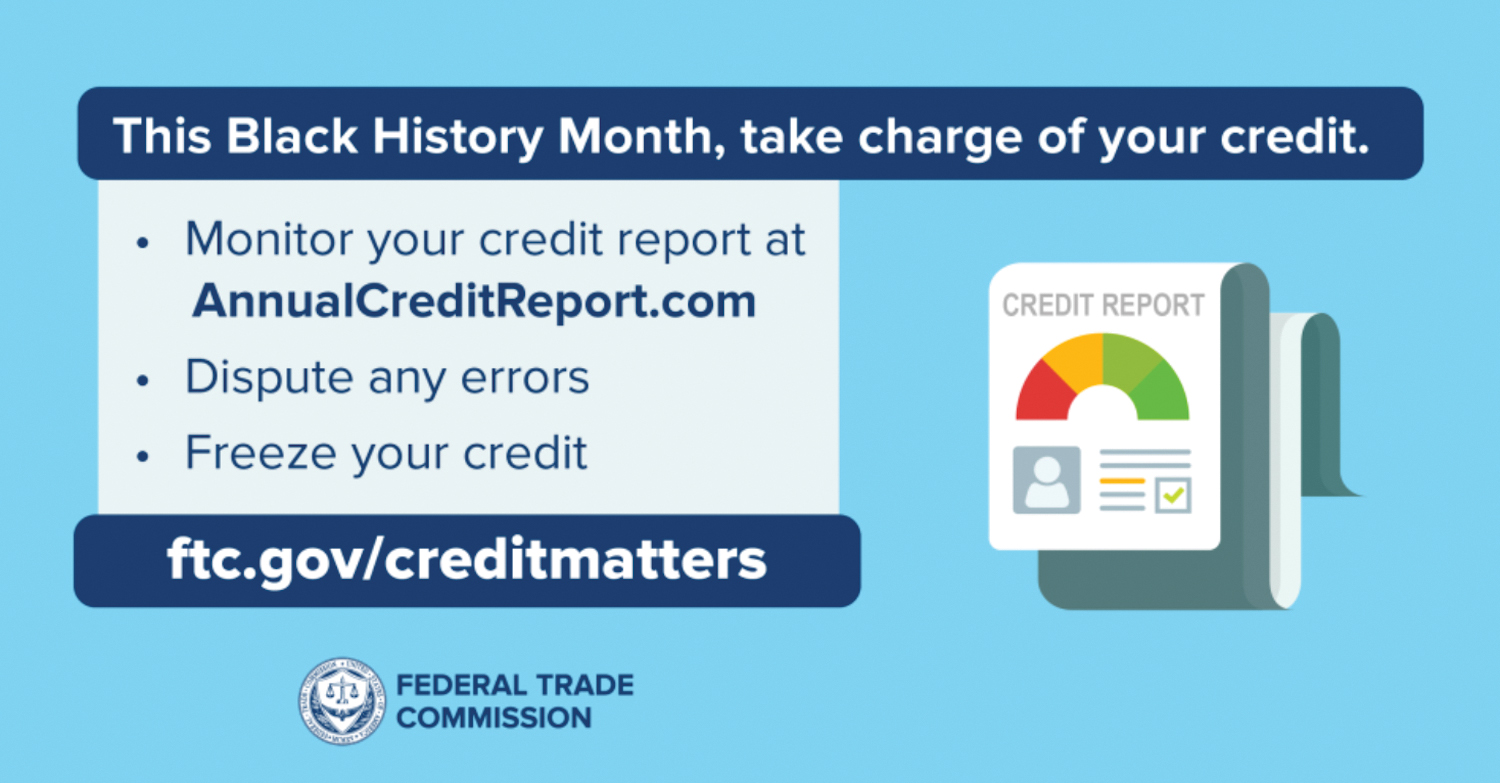 THE FTC honors the contributions and legacy of Black Americans across U.S. history. One of the top consumer issues that the Federal Trade Commission (FTC) has heard from people living in majority Black communities is related to credit bureaus. Your credit history tells businesses and potential employers a story about how you use money. What is your credit history saying about you — and is it accurate?
Businesses might run your credit report to decide if they want to lend you money, give you a credit card, or rent you an apartment. You could pay more for things like a loan or even utility services if the report shows that you pay your bills late or take on more debt than you can afford to pay back. Sometimes that information is accurate — but sometimes it's not. Take charge using these steps to manage and protect your credit:
Monitor your credit regularly. Through December 2023, get a free copy of your credit report from the three credit bureaus — Equifax, Experian, and TransUnion — every week if you want. But even if you just do it yearly, look closely for problems or mistakes, like someone else's information, payment history or account information that's wrong, or accounts that you didn't open yourself.
Dispute errors right away.If you find mistakes, dispute them with each credit bureau that has the mistake and the company that reported the incorrect information. Both parties have to investigate your claim and correct the information if they find that it's inaccurate. If you find accounts you didn't open, it could be identity theft. Go to IdentityTheft.gov to get a free personal recovery plan that walks you through each step, including getting fraudulent information removed (or "blocked") from your credit report.
Place a credit freeze.One way to help protect against identity theft or misuse after a data breach is to freeze your credit report. That limits access to your credit and makes it hard for someone to open new accounts in your name. And you can do this (for free) even if your identity hasn't been stolen.
Share this information with someone in your family, faith community, or social organization and check out ftc.gov/creditmatters to learn more about understanding your credit.
(Terri Miller/Consumer Education Specialist, FTC)