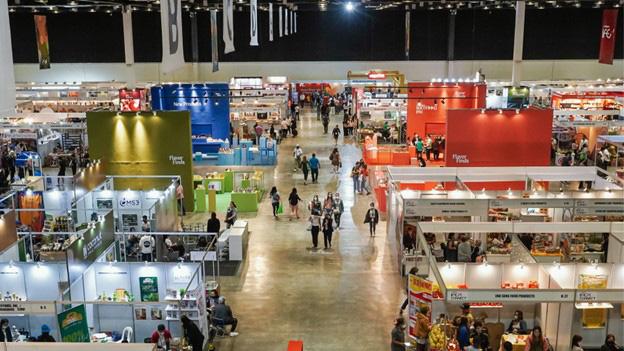 Share the Love for Global Flavors
The Philippines' biggest international food and ingredients trade show is set to take place at the World Trade Center Metro Manila from May 26 to 28, 2023. The 16th IFEX Philippines focuses on the theme "Share the Love for Global Flavors" to highlight the Philippines' top export products and commodities, together with other Asian and international flavors.
Over 10,000 trade local and foreign buyers and visitors are expected to participate in the food trade show. The three-day event will allow buyers and visitors to network face-to-face with exhibitors through business-to-business (B2B) activities, engage in multi-sensory sourcing experiences, participate in dynamic cooking demonstrations, food-tasting/food-sampling activities and product presentations, special events and seminars, among others.
More than 500 Philippine and international exhibitors will showcase world-class quality food products and ingredients from various food segments, namely beverages, fine food and specialties, fruits and vegetables, biscuits and confectioneries, snacks and crispy savory food products, meat and poultry, dairy products, grain products, seafood and marine products, organic and natural products, raw materials and food ingredients, and equipment and services.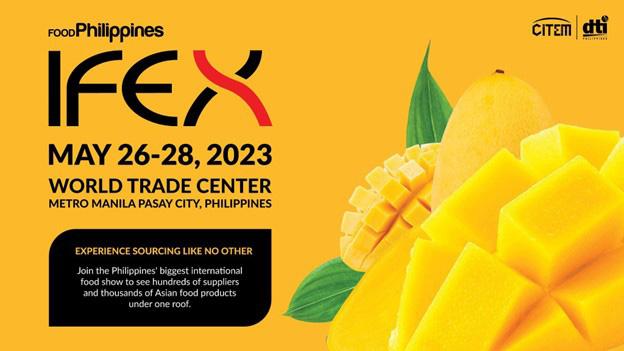 Setting global food trends
This year's edition of IFEX Philippines is designed to delight buyers and visitors with a number of thematic and innovative exhibitions of Philippine and international food brands, namely: Flavor Finds, Open House, and IFEX Kitchen.
Under the Flavor Finds is NXTFOOD PH, CITEM's comprehensive product development and marketing program that aims to bring innovative Philippine food products to the global market. It will also showcase new products from select exhibitors and emerging Philippine food products and ingredients with tremendous export potential.
A new sub-component of  Flavor Finds, the Regional Flex, will also be presented this year. Regional Flex will showcase export food products that are distinct and authentic from the regions of the country, offering a glimpse of the cultural experience and food tourism the Philippines has in store for local and foreign buyers alike. Meanwhile, the New Product Showcase under Flavor Finds shall highlight new discovery treats and innovative products from IFEX exhibitors. Trade buyers and visitors should expect to see also products that are On The Rise, specifically products that are functional, authentic, sustainable and interestingly twist products.
Another show feature is the Open House. It will showcase products from partner programs and related government efforts that champion Filipino food exporters, manufacturers, and micro, small, and medium enterprises (MSMEs). Programs under Open House will include the following:
COCONUTPHILIPPINES – A showcase of coconut products from food SME exporters under CoconutPhilippines, the country branding of the most versatile food produce of the Philippines. CoconutPhilippines is presented through the Coconut Farmers and Industry Development Plan (CFIDP) of the Philippine Coconut Authority under the Department of Agriculture.
One Town, One Product (OTOP) Philippines – OTOP PHILIPPINES is a priority stimulus program for micro, small, and medium-scale enterprises. The program enables localities and communities to develop and promote products or services that are rooted in their local culture, community resources, and competitive advantage.
TASK Program ​(Technology Advice and Solutions from Korea) – A joint program by the Department of Science and Technology and the Korea Institute for Advancement of Technology that assists Philippine food companies in solving manufacturing issues such as product quality, production efficiency, and compliance with standards.​
RAPID Growth Project – The Rural Agro-enterprise Partnership for Inclusive Development and Growth (RAPID Growth) is a multibillion-peso value chain-based and market-driven business development initiative that aims to achieve inclusive and sustainable economic development for Philippine rural farming communities in the country.
Halal-Certified Products – The Philippine government promotes the development of halal-certified food to encourage stronger trade relations with Muslim-dominated countries and to locally motivate the food industry to provide more halal options for tourists. Republic Act 10817 or the Philippine Halal Export Development and Promotion Program Act was signed to establish a comprehensive for the development and promotion of halal products for export.
Department of Agriculture (DA) Pavilion – DA's KADIWA Program is a market-based approach aiming to direct farmers and fisherfolk to consumers, effectively improving the food supply, market cost, and distribution system. In addition, the Young Farmers Challenge (YFC) program gives financial grant assistance to youth ages 18 to 30 years old with proposed agri-fishery business concepts/enterprises that are potentially profitable.
 IFEX Philippines will have a dedicated activity space for live audiences called the IFEX Kitchen for food-tasting activities, cooking demonstrations, and product presentations. Participants can also learn from industry experts by attending IFEX Talks and Seminars on food exporting business,  global food trends, market entry requirements, food licensing and certifications.
Celebrating Philippine food excellence
A special part of IFEX Philippines is the Katha Awards which seeks to strengthen the reputation of the Philippines as a go-to destination for globally competitive Asian food and ingredients by recognizing brands or companies that present new flavor profiles, innovative ideas, unique food fusions, and creative packaging methods in their food products.
This awards program gives special recognition to the TOP new products in eight (8) food categories: Beverages, Fine Food and Specialties; Marine Products; Meat and Poultry Products; Snack Foods and Crisp Savoury Products; Baked Goods; Processed Fruits and Vegetables; and Natural, Healthy, and Organic Products.
IFEX Philippines 2023 will be held with the strong support of the PHILEXPORT (Philippine Exporters Confederation, Inc.), and in partnership with the Department of Trade and Industry-Regional Operations Group (DTI-ROG), DTI-Foreign Trade Service Corps (FTSC), DTI-Export Marketing Bureau (EMB), DTI-Philippine Trade Training Center (PTTC), DTI-Design Center of the Philippines (DCP), Intellectual Property Office of the Philippines (IPOPHL), Coconut Farmers and Industry Development Plan, RAPID Growth Program, One Town, One Product Philippines (OTOP), Department of Agriculture (DA), DOST-Industrial Technology Development Institute (DOST-ITDI), Food and Drug Administration (FDA), Philippine Food Processors and Exporters Organization, Inc. (PHILFOODEX), Integrated Food Manufacturers' Assn. of the Phils. for Productivity (INFOMAPP), North Ridge Foods Company Inc., Brandexports Philippines Inc., Unisol, Technology Advice and Solutions from Korea (TASK) Program, MINTEL Market Research Agency, and Philippine Airlines.
Added to this growing supporting organizations are media partners COOK Magazine, Business Mirror, Philippine Graphics, Manila Bulletin, Philippine Daily Inquirer, The Philippine Star, Asian Journal, Balikbayan Magazine, Mayani, Home Radio, and Win Radio.
To learn more about the event, visit IFEXConnect.com.
About CITEM
The Center for International Trade Expositions and Missions (CITEM) is the export promotions arm of the Philippine Department of Trade and Industry (DTI).
For nearly 40 years, CITEM has established the country's image as a premier destination for quality export products and services. It continues to set the highest standards of creativity, excellence and innovation to achieve competitiveness in the home, fashion, lifestyle, food, creative, and sustainability sectors.
CITEM is committed to developing, nurturing, and promoting micro, small, and medium enterprises (MSMEs), brands, designers, and manufacturers by implementing an integrated approach to export marketing in partnership with other government and private entities.
About IFEX Philippines
IFEX Philippines (formerly International Food Exhibition) is CITEM's long-running trade event and sourcing program for Philippine and global food and ingredients.
Together with IFEXConnect.com, IFEX Philippines serves as a one-stop business-to-business (B2B) platform aiming to optimize the sourcing experience of buyers from anywhere in the world.
IFEX Philippines is organized by the Center for International Trade Expositions & Missions (CITEM).