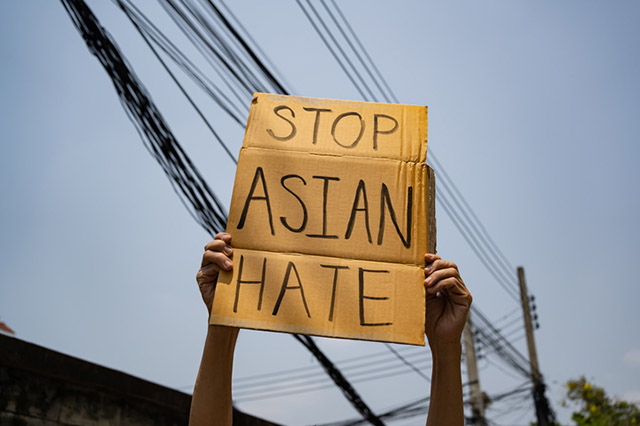 NEARLY two years after the first coronavirus-related anti-Asian hate incident was reported in California, the Asian American and Pacific Islander (AAPI) community continues to be targeted in hate incidents and hate crimes, especially in areas with highly concentrated AAPI communities.
According to a new survey from the Asian Youth Center (AYC) and the legal and civil rights organization Asian Americans Advancing Justice-Los Angeles released on Wednesday, Jan. 12, nearly one-third of those said that they or their family members have been targeted in anti-Asian hate during the COVID-19 pandemic.
According to AYC Executive Director Michelle Freridge, this survey is the first of its kind to focus on the San Gabriel Valley specifically.
As other, more regionally broad surveys found, a majority of the incidents that San Gabriel Valley residents faced were verbal attacks, but the fear of harassment and lack of safety elevated early last year when physical violence against Asians and Asian Americans escalated.
The survey found that almost half (45%) of AAPIs in the San Gabriel Valley feel more "vigilant and defensive" when leaving their homes, and of the parents that were surveyed, half of them are worried about their children becoming victims of anti-Asian bullying.
Moreover, about 60% of respondents said that the way they feel and behave when they leave home has changed since news reports began detailing the rise in anti-Asian hate.
"I pay attention to people around me and what they are saying and how their nonverbal communication [sic]. It is extremely stressful," one respondent said.
Another respondent said, "I've definitely experienced racism growing up Asian American, but not to the point where I'm concerned about physical attacks. Previously it was more about discrimination in daily life/interactions, but not physical attacks."
The San Gabriel Valley in Los Angeles County is home to nearly half a million Asians and Asian Americans, making it one of the highest concentrations of AAPIs in the entire country.
Respondents noticed that since the pandemic began, they've noticed more hate speech graffitied on Asian-owned businesses, more racial slurs being hurled by strangers, and more postings on community awareness platforms like Next Door or Citizen to warn others about any possible dangers to the AAPI community.
​​"San Gabriel Valley is one of the most important Asian communities in California and we are here for individuals who don't know where to turn for confidential, safe support. We can help in their languages. We will continue to fight for public programs and services that serve the diverse and complex needs of AAPIs in this community," said Connie Chung Joe, CEO, Advancing Justice-LA.
It's important to note that the survey is based on the responses from 300 residents of LA County, of which Advancing Justice-LA said 284 respondents "met the eligibility criteria to be included in the final analysis."
Of the respondents, 64% were women, 35% were men, and 1% identify as non-binary. Responses were collected from July to September 2021 through online and phone surveys in English, Chinese, and Vietnamese. A vast majority of respondents were of Chinese descent (67%) with the next largest group being Taiwanese (11.4%).
Chief among the root causes of the rise in anti-Asian attitudes is the rhetoric used to describe the virus and its origins in China. As reported in the Asian Journal, many AAPI community leaders partially blame former President Donald Trump for emphasizing the connection between China and the coronavirus, leading some of his followers to blame Asians and Asian Americans for the pandemic.
Hate incidents and hate crimes against the AAPI community increased across the nation over the past two years. But in the AAPI-rich LA County, anti-Asian hate crimes increased 76% in 2020 according to community surveys.
In San Gabriel Valley, more than half of the AAPIs feel that there is little support for the members of their community that have been victims of racial harassment, discrimination, and violence. Moreover, a majority of respondents felt that increased neighborhood watch, stronger ties with police, and more cross-cultural events could best curb harassment, discrimination and violence.