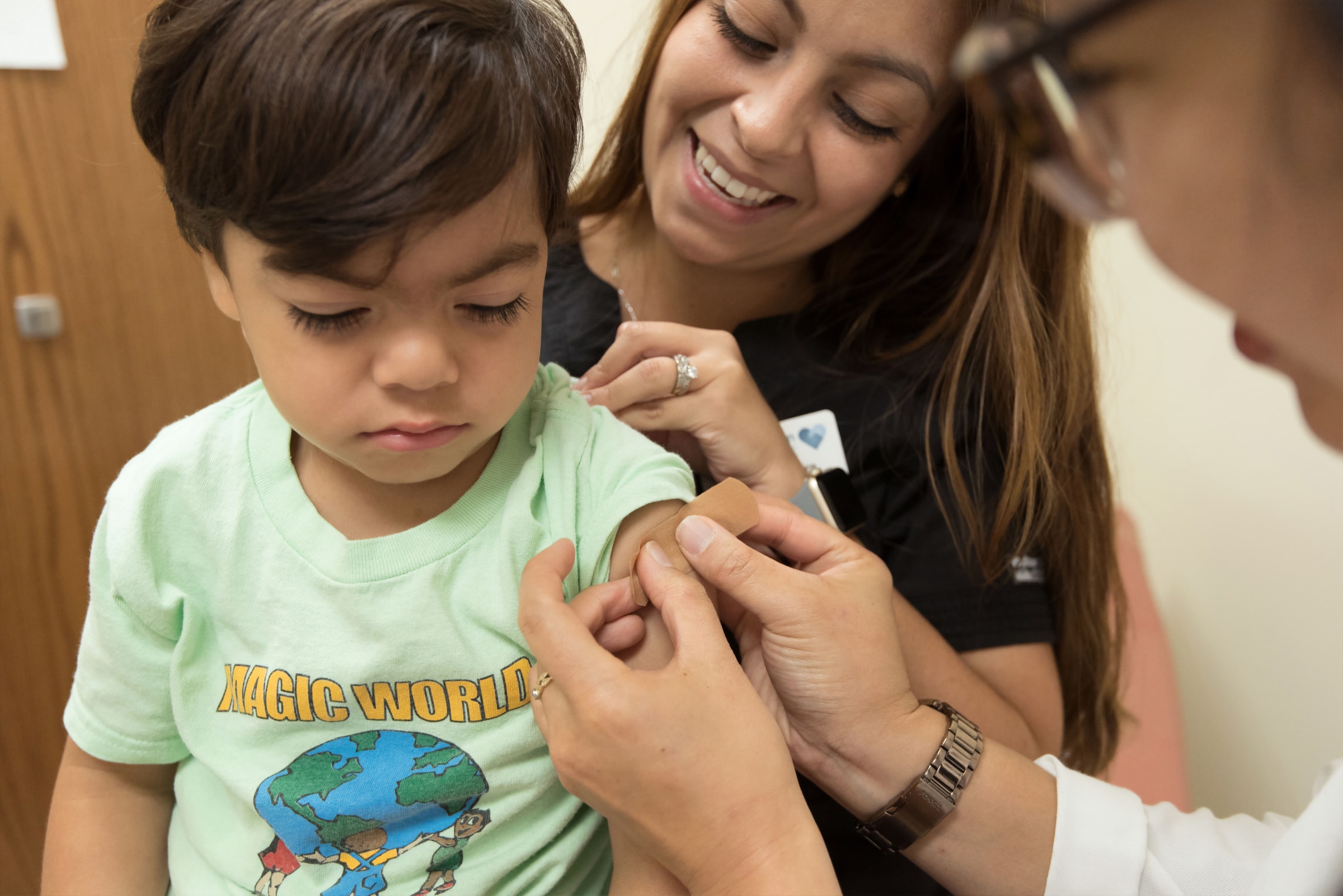 LOS Angeles County officials are reminding parents to get their children vaccinated against COVID-19 as the virus continues to affect individuals under 18.
To date, there have been 91,935 children under the age of 5, 260,389 children ages 5 to 11, and 255,187 children ages 12 to 17 confirmed with COVID-19.
While most children experience mild illness, many children in LA County experienced serious illness and required hospitalization after becoming infected with COVID-19, according to the LA County Department of Public Health. To date, there have been 1,359 children under the age of 5, 678 children ages 5 to 11, and 1,158 children ages 12 to 17 hospitalized with COVID-19.
Although very rare, COVID-19 cases among children can sometimes result a few weeks later in a very serious, post-infection illness known as Multi-Symptom Inflammatory Syndrome in Children (MIS-C), a condition where different body parts become inflamed, including the heart, lungs, kidneys, brain, skin, eyes, or gastrointestinal organs. In total, over the course of the pandemic, Public Health has confirmed 312 cases of MIS-C.
Two children under the age of 5, three children ages 5 to 11, and six children ages 12 to 17 have died from COVID-19 in the county since the start of the pandemic.
With the recent rise in cases and the school year ending, LA County is now seeing outbreaks at camps, youth programs, and day care sites as many open for the summer. During the month of June, there were four new outbreaks at day camps/non-K12 programs or day care sites for school-aged children and two new outbreaks at overnight camps.
Since vaccinations provide the best protection against severe illness and MIS-C, parents are urged to make sure that they and their children are up-to-date on their vaccinations and boosters, when eligible. Since eligibility expanded to children under the age of 5, 7,642 doses have been administered through June 30.
Pfizer and Moderna COVID-19 vaccines are available to children 6 months to 17 years. The Moderna vaccine requires two doses, given four to eight weeks apart for children 6 months to 17 years. Boosters for the Moderna vaccine are not currently recommended. The Pfizer vaccine for children ages 6 months to 4 years requires three doses, with three to eight weeks in between the first and second dose, and at least eight weeks between the second and third doses. Boosters for the Pfizer vaccine are currently not recommended for children ages 6 months to 4 years.
The Pfizer vaccine for children ages 5 to 17 years requires two doses, with three to eight weeks in between the first and second dose. Boosters are recommended for this age group at least five months after the second dose. For more information, visit the COVID-19 Vaccine Schedule.
Across the county, there are thousands of locations for children to get vaccinated, including more than 900 vaccination sites offering the vaccines to children under the age of 5. Because some of the pharmacy sites are only licensed to vaccinate children age 3 and older, parents are encouraged to reach out ahead of time to verify hours and availability.
Parents can also visit the Public Health website at VaccinateLACounty.com to learn about locations, and schedules for clinics offering these and other COVID-19 vaccines.
For those who have any questions about vaccine safety and effectiveness, please reach out to your pediatrician or clinician or speak with a Public Health staff member at the COVID-19 call center, 1-833-540-0473 between the hours of 8 am and 8:30 pm seven days a week.
As a reminder, people, including children, confirmed with COVID-19 must remain home and away from others (isolate) and cannot leave isolation before day 11 unless they have a negative test taken on day five or later, have been fever free for 24 hours, and symptoms are resolved or resolving. Anyone leaving isolation early must continue to wear a mask until day 11 after symptom onset or, if no symptoms developed, after their positive test date.
People who are close contacts to someone infected with COVID-19 must wear a mask when around others for 10 days after their last exposure and if they develop symptoms, stay home and get tested.
"I send my deepest sympathies and wishes of peace and comfort to the many families who have lost a loved one from COVID-19," said Dr. Barbara Ferrer, Director of Public Health. "As families gather for summer barbecues, vacations and camp, the best way to avoid disruptions to summer plans is to be sure that everyone is up-to-date on vaccines, to wear a mask when indoors around others, wash hands frequently, and to stay home and away from others when sick. Although most children experience mild illness from COVID-19, they can still potentially become seriously ill and spread the virus to other family members, making it critically important to vaccinate all eligible household members. This is especially important for our elderly relatives and immunocompromised in our families who are at high risk. Let's all look forward to enjoying the warm summer weeks ahead by taking steps to protect ourselves and each other."
Public Health reported 10 additional deaths and 2,945 new positive cases on Tuesday, July 5. Of the 10 new deaths reported, 10 people were aged 80 years or older. Of the 10 newly reported deaths, seven had underlying health conditions. To date, the total number of deaths in LA County is 32,371.
Public Health has reported a total of 3,143,536 positive cases of COVID-19 across all areas of LA County. The positivity rate is 14.9%.
Hospital numbers are currently unavailable due to a delay in holiday weekend reporting from the state. Testing results are available for more than 12,202,953 individuals, with 23% of people testing positive. (AJPress)