As the administration of President Donald Trump begins to take action, the White House has begun filling out its staff to serve the president for the next four years.
One of the newest members of the White House Office of the Press Secretary includes Ninio Fetalvo, a 23-year-old Filipino American, who will serve as an assistant press secretary.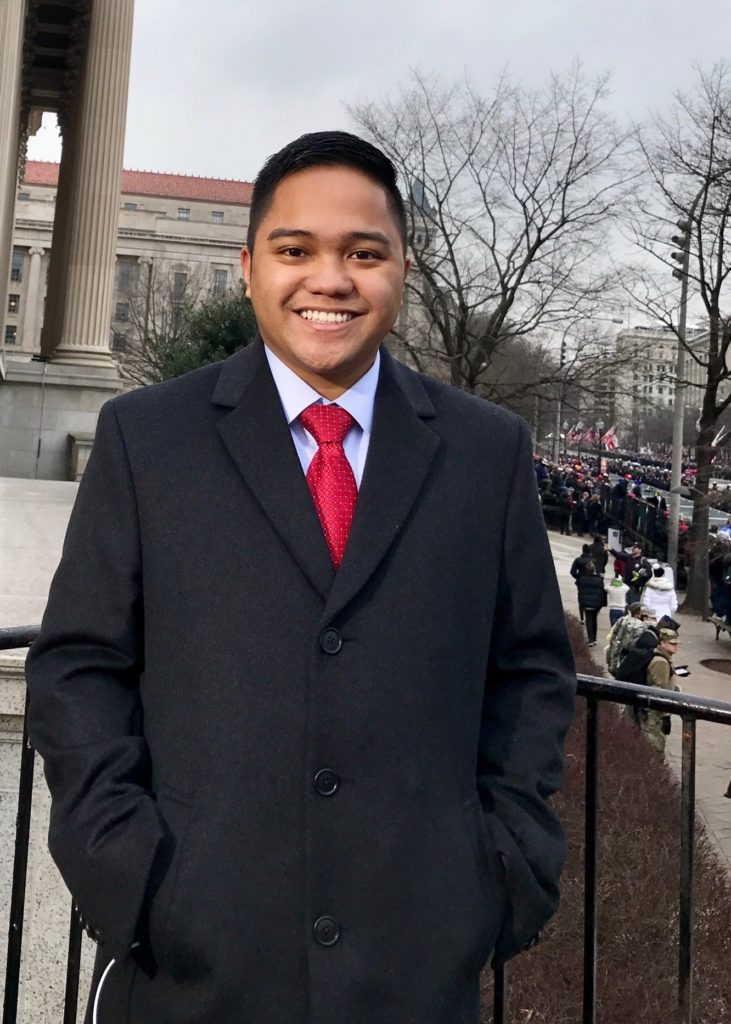 Fetalvo, who previously worked as the Asian Pacific American press secretary for the Republican National Committee (RNC), will work alongside three other assistant press secretaries. These assistants then work under three deputy press secretaries who report to Press Secretary Sean Spicer, Fetalvo's former boss at the RNC.
After Trump's inauguration on Friday, January 20, Spicer asked Fetalvo to come on board as an assistant, and he got to work the following Monday.
"It's truly a very humbling experience. It's a real honor to work on behalf of our country and the American people. I'm really excited to see what President Trump and Vice President [Mike] Pence accomplish to truly make the country great again," Fetalvo told the Asian Journal on Thursday, January 26.
His press portfolio includes a wide range of domestic issues including labor, health care, education, transportation, Veterans affairs, among other issues.
"It's great to work with issues that directly affect the American people," Fetalvo said. "Even if you look at health care, veterans affairs, these are issues that affect the American people, including the Filipino American community."
As a young Filipino American, Fetalvo expressed excitement in being an important link between the White House and the American public.
"Being at this position in the White House really excites me to just be able to help communicate and emphasize the policies that [are] really going to make our community better and more prosperous," Fetalvo remarked.
Fetalvo was born on May 1, 1993, in Fort Myers, Florida to Filipino parents who emigrated from Bicol, Philippines. Though never strongly political, they taught their son the importance of having a voice in the political process.
"My parents were never active [in politics], but something that they always stressed was the importance of voting," Fetalvo recalled. "My parents took that right very seriously."
Fetalvo is a steadfast Republican, and he attributes his Filipino American upbringing as an important factor in his political leaning.
"When I started looking at issues, my values as an American and my values as a Filipino American really aligned with the Republican Party," Fetalvo said.
He cited his parents' coming to the U.S. — where they didn't know anybody — and building a life for themselves as his inspiration for becoming a Republican.
"So when I look at the Republican Party, I really look at the party's values of self-reliance, individual responsibility and [they] really ensure that more people can achieve the American dream," he said. "So for me, it's really personal and I think that being Filipino American has everything to do with why I'm Republican."
After high school, he went on to the George Washington University in Washington, DC where he majored in political communication with plans to eventually become an attorney. It wasn't until his senior year when he got an internship with the RNC that he realized he wanted to pursue a career in politics.
After graduating, he landed a job at the RNC as the APA press secretary, handling media and communications for the Asian American and Pacific Islander (AAPI) community. His job took him all around the country, and in early 2016, he temporarily moved to Cleveland as a part of the media affairs team for the 2016 Republican National Convention.
Following the election, he was also a part of the Presidential Inaugural Committee, handling media operations for the historic inauguration of President Trump.
Although most Filipino Americans identify more with the Democratic Party — roughly 54 percent are registered Democrats compared to 16 percent Republican, according to a 2016 study — Fetalvo firmly believes that the values and principles of the Republican Party coincide with the political priorities of Fil-Ams.
As a young, bright-eyed Republican, Fetalvo has faith that the Trump administration will serve the American people — including the Fil-Am community — well and with distinction.
"I think it's important to note that President Trump wants to help all Americans, and that definitely includes the Filipino American community," Fetalvo said. "I think when you look at the issues that matter to Americans all across the country, including Filipino Americans, the issues of national security and the economy have always been a top concern."
"Under the Obama administration, the last eight years, you see people tired of the way the economy was handled and you see people fed up with how our national security and foreign policy transpired so President Trump really wants to emphasize that we can make the country more prosperous, safer and I think that he's definitely going to be able to that to benefit all of our community," Fetalvo affirmed.