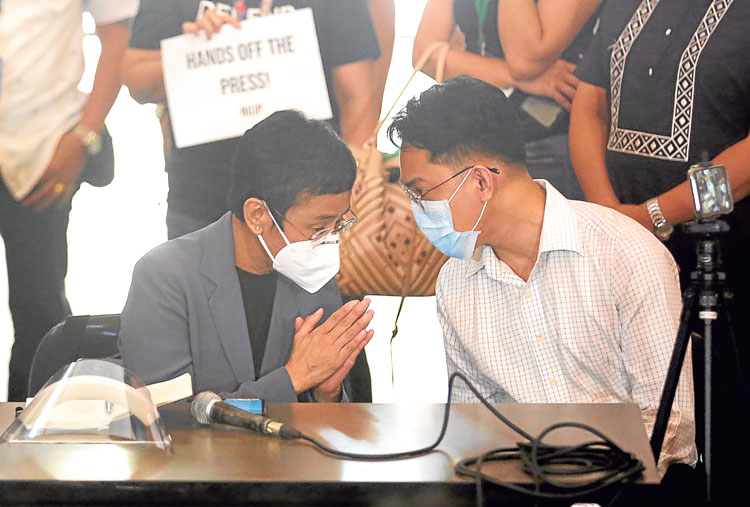 RAPPLER chief executive officer Maria Ressa and former writer-researcher Reynaldo Santos on Monday, June 29, sought reversal of their cyber libel conviction before a Manila court.
In a 132-page motion submitted to Manila Regional Trial Court Branch 46, Ressa and Santos' lawyers from the Free Legal Assistance Group urged Judge Rainelda Estacio-Montesa to reconsider her decision to convict the journalists of cyber libel.
"We have to acknowledge the real uses of criminal libel if we are to be consistent to protect speech made to make public officers and government accountable. Criminal libel has an in terrorem effect that is inconsistent with the contemporary protection of the primordial and necessary right of expression enshrined in our Constitution," the motion read.
It added, "The review should include a consideration of the nature of cyberspace as layered communities used to evolve ideas. Such review should result in a declaration of unconstitutionality of criminal libel in the Revised Penal Code and in the Cybercrime Prevention Act of 2012."
The motion cited at least 13 errors committed by Montesa in her June 15 verdict, such as considering complainant Wilfredo Keng as a private citizen, and the court defining updating a story as republication.
According to the motion for reconsideration, the court "did not even bother to cite any shred of support of its unilateral statement" that the update of the article counts as republication.
"The absence of any such reference cannot be trivialized or shrugged off because of the constitutional command that '(n)o decision shall be rendered by any court without expressing therein clearly and distinctly the facts and the law on which it is based,'" it read.
It also said that the court's use of Ressa's title is "a clever ruse to avoid liability."
"The court's role in the trial is to determine malice, not make malicious statements.
Ascribing an underhanded and even unlawful motive—without assertion or proof—is malicious. It is utterly contemptuous and unbecoming of a judge," the motion added.
The motion also criticized Montesa's process of arriving at her decision, pointing out that "the court has resorted to language that borders on the sarcastic and, at times, crosses over to the partial."
Ressa and Santos on June 15 were convicted of cyber libel by a Manila court.
The two were found guilty of violating Section 4(c)(4) of the Cybercrime Prevention Act of 2012, or cyber libel, and sentenced them to the indeterminate penalty of imprisonment ranging from six months and one day as a minimum to up to six years.
The court allowed bail under the same bond. It also ordered Ressa and Santos to pay Keng P200,000 in moral damages and another P200,000 (a total of $7,900) in exemplary damages.
Keng in 2017 filed cyber libel charges against the two for naming him in an article as the owner of a sports utility vehicle (SUV) used by the late Chief Justice Renato Corona, who was then facing impeachment in 2012.