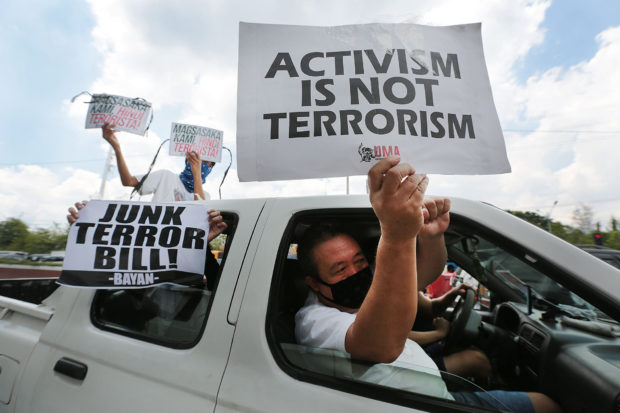 Malacañang on Thursday, June 11, said that critics of the controversial anti-terrorism bill are free to question the measure before the court.
The bill, since President Rodrigo Duterte certified it as urgent, has been receiving a lot of flak for its broad definition of what constitutes as "terrorism."
Netizens comprised of youth, progressive, and human rights groups have trended the hashtag #JunkterrorBill and have also started petitions and appeals to veto the measure.
"The truth is, once it becomes a law, they (critics of the bill) can still file cases because our judiciary is functioning. If there is a provision that violates the Constitution, it would be declared unconstitutional," said Presidential Spokesperson Harry Roque.
He also recalled the time he challenged the constitutionality of the Human Security Act (HSA) of 2007 and lost at the Supreme Court in 2013.
"We actually went to court and attempted to question the constitutionality of HSA and failed. The courts have said it's constitutional, then why would you continue questioning its constitutionality?" Roque said.
The anti-terrorism bill, which seeks to strengthen the Human Security Act of 2007, grants any law enforcer the capacity to arrest and detain without warrant "a person suspected of committing any of the acts" punishable under the measure for 14 calendar days, extendable by 10 days. The suspected "terrorist" can also be placed under surveillance for 60 days, extendable by up to 30 more days, by the police or the military.
Acts punishable under the bill include:
• Engaging in acts intended to cause death or serious bodily injury to any person, or endangers a person's life;
• Engaging in acts intended to cause extensive damage or destruction to a government or public facility, public place, or private property;
• Engaging in acts intended to cause extensive interference with, damage, or destruction to critical infrastructure;
• Developing, manufacturing, possessing, acquiring, transporting, supplying or using weapons; and
• Releasing of dangerous substances, or causing fire, floods or explosions.
Any person who will propose, incite, conspire, participate in the planning, training, preparation, and facilitation of a terrorist act; as well as those who will provide material support to terrorists, and recruit members in a terrorist organization will also be penalized by life imprisonment without the benefit of parole.
Meanwhile, anyone who will threaten to commit terrorism, and those who will propose any terroristic acts or incite others to commit terrorism will suffer imprisonment of 12 years.
This also goes for anyone who will voluntarily and knowingly join any organization, association or group of persons knowing that such is a terrorist organization.
Presidential Adviser on the Peace Process Secretary Carlito Galvez Jr., for his part, slammed the critics of the bill, saying they are "totally misguided."
"They are merely creating their own ghosts and twisting the main intent of the bill," he said Thursday.
According to him, the anti-terror bill is a long-overdue measure that will provide the government the means to effectively eliminate terrorist groups and allow Filipinos to live peacefully and without fear in their communities.
"For the longest time, state forces have been fighting the enemy with its hands virtually tied behind its back. Although there were already opportunities in the past to get our hands on suspected terrorists, we could not simply because our current laws did not allow us to do so," said Galvez.