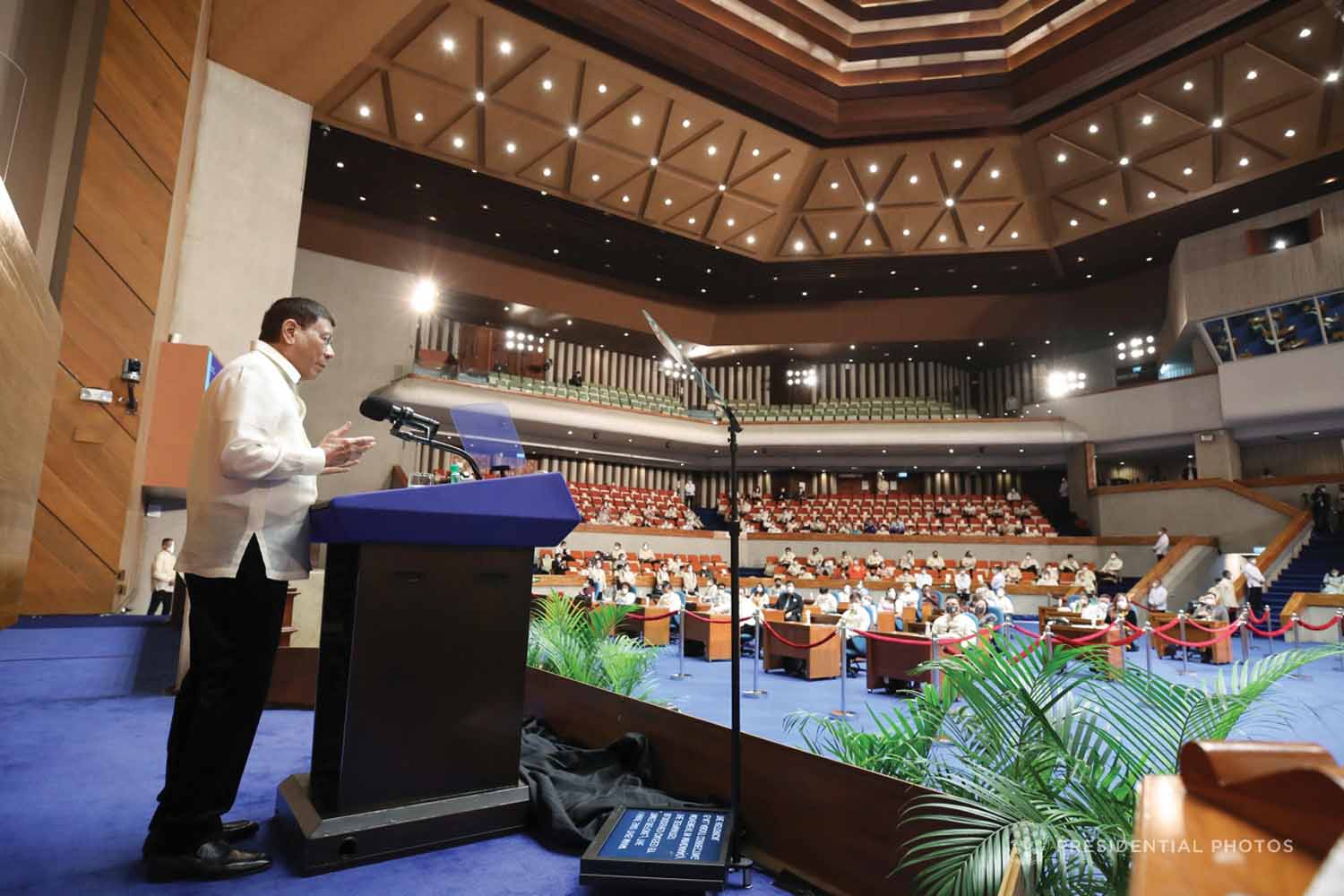 DESPITE delivering his sixth and last State of the Nation Address (SONA), Philippine President Rodrigo Duterte maintained that the nearly three-hour speech was not his "swan song" or final public performance.
"Today's my last SONA. This is by no means my swan song," he said Monday, July 26, before attendees at the Batasang Pambansa Complex in Quezon City.
In his opening remarks, Duterte looked back on the earlier days of his presidency, noting that his mind was focused on "dreams and visions of a better life for all Filipinos."
"I saw them as reachable through the institution of reforms and radical changes in both the structure of government and the mode of governance — changes designed [to yield] responsibility [and] accountability," he added.
The chief executive then took pride in accomplishing the "fundamental promises" that he made.
"To offer free education — it's there already; the Universal Health Care, nandiyan na po (it's there); the fight against illegal drugs, criminality and corruption; and the development of infrastructure, including free irrigation and other big-ticket projects, which I thought I did not have the funds to do it, but perchance, among others, they were done in my term," said Duterte.
However, he acknowledged that there are still things to be done and assured everyone that he will address them before stepping down from his post.
"Today as I approach the end of my term, I have less visions but more remembrances. But mine is not to rue or to second guess what might have been, but to bear and respond with urgency [to the impact] of unforeseen events as they unfold," Duterte said.
Further, he vowed to "implore Congress to pass vital and critical legislation" and push the government to ensure the recovery and revitalization of the country, which has been severely impacted by the COVID-19 pandemic.
Military
During his SONA, Duterte urged Congress to pass a law for a unified system for separation, retirement, and pension of military and uniformed services personnel.
"I am asking Congress to pass a unified system of separation, retirement and pension of military and uniformed personnel to maintain government fiscal flexibility and provide adequate benefits and remuneration to our men and women in uniform," he said.
"This shall apply only to the new entrants of the military and [uniformed] services," he added.
Duterte also urged the Congress to pass a law providing free legal assistance to military, police and other uniformed personnel.
"It is high time for us to pass a law providing free legal assistance to AFP (Armed Forces of the Philippines) and PNP (Philippine National Police) officers, and enlisted personnel to help [defend] them from charges arising from incidents related to the performance of official duty," he said.
"The continuous upgrading of our defense capability shall ensure that we shall uphold our territorial integrity and sovereignty from external and [internal] security threats, among the new additions," he added.
Marawi rehabilitation
Duterte, in his SONA, challenged the task force leading the rehabilitation of war-torn Marawi City to "race against time."
He directed the order after admitting that Marawi's rehabilitation is still "not completed," four years after the Maute group laid siege to the city and caused widespread damage to property and infrastructure.
"Rebuilding a better Marawi remains today, still not completed. To Task Force Bangon Marawi, we need to race against time," said Duterte.
He added, "You have to finish the necessary work to rehabilitate the war-torn city and bring back its [displaced] families back home."
Drug war
According to Duterte, the country still has a long way to go in fighting its illegal drug problem.
"While we have made great strides in ending rebellion and insurgency in various parts of the country, we still have a long way in our fight against the proliferation of drugs. This problem has hounded our country for several decades — destroying families and degrading the moral fiber of our society," he noted.
The president highlighted his efforts in addressing the issue, pointing out that waging war against manufacturers and suppliers, among others, resulted in the rescuing and reforming of drug dependents.
"We have rescued and reformed drug dependents because of their idiotic sense of decency by [launching] interventions and building facilities not only for their rehabilitation, but also to prepare them to reintegrate into society," said Duterte.
"Our unyielding campaign led to the surrender of millions of drug dependents; and neutralization, capture and prosecution of thousands of drug personalities; the dismantling of illegal drugs and syndicates and the drug laboratories; the extensive drug-[clearing] of communities down to the barangay-level, and the cutting of narco politics," he added.
However, Duterte admitted that he didn't know he would be fighting "his own government" in his goal to eradicate drug trafficking in the country.
He went on to say that he discovered some policemen participating in the distribution of drugs, while Customs facilitated the importation.
"We are fighting a drug war that was being participated in the business by nine generals of the PNP. Kaya 'yan ang masakit sa loob ko (That's what guts me). I did not know that I was fighting my own government," said Duterte.
"Customs and everyone else were facilitating the importation of drugs… And that is why I go crazy looking at the situation," he added.
Duterte reiterated his love for the Philippines and stressed that he didn't want drugs to ruin the country.
"I am a Filipino and I love my country. I do not want my country in disarray because of drugs. I do not want families [to] break up and become dysfunctional. Iyon ang masakit sa akin (That's what hurts me)," he said.
He also issued his oft-repeated threat to kill drug peddlers, taunting the International Criminal Court (ICC) in the process.
"I would never deny and the ICC can record it: Those who destroy my country, I will kill you. And those who destroy the young people of our country, I will kill you. Talagang yayariin kita (I really will eliminate you) because I love my country," Duterte said.
Infrastructure development
The President took pride in reporting strides in infrastructure development, acknowledging the comprehensive tax reform program that funded the government's projects.
"Five years ago, the first thing I made sure was to increase our infrastructure spending to an average of five percent of the country's GDP. This is significantly higher than the infrastructure spending of each and [of the] past four administrations," Duterte said.
"Thanks to the comprehensive tax reform program that enabled us to fund critical infrastructure projects. Today, we can see the tangible results all around," he added.
Among these projects was MRT-3, which was "a horror" for daily commuters to endure due to "frequent breakdowns."
"Now, MRT-3 no longer unloads passengers but to their destinations. The waiting time between trains has been significantly reduced. [From] 10 trains running at only 30 kilometers per hour before, now [MRT-3] runs 23 trains at 60 kilometers per hour," Duterte noted.
Another was the LRT-2 East Extension project that added two more stations to the LRT-2 line.
"By extending Line 2 and adding two more stations, we have reduced travel time between Manila and Antipolo from the usual two or three hours to only just 40 minutes," said Duterte.
Other road projects under Duterte were the Skyway Stage 3 Project, the BGC-Ortigas Center Link Project, the Poro Point Freeport Zone Road in La Union, and the Junction Lanao-Pagadian-Zamboanga City Road.
Duterte revealed in his SONA that he has directed several government agencies to be "on full speed" to ensure the completion of some flagship projects before his term ends.
"And to sustain our momentum in infrastructure development, I have directed the DPWH (Department of Public Works and Highways), DOTr (Department of Transportation), NEDA (National Economic and Development Authority), Department of Finance, and DBM (Department of Budget and Management) to be on full speed to ensure that our flagship projects will be completed within my term," he said.
"I thus earnestly call upon our LGU and private sector partners to help us [go on] full speed towards the realization of our flagship [infrastructure projects] and others," he added.
Corruption
To eradicate corruption, the government must be overturned completely, according to Duterte.
"Corruption, it's endemic in government. You cannot stop corruption. Nobody can stop corruption unless you overturn the government completely," he said.
For his part, he vowed to continue ridding the government of corrupt officials before he steps down from his post.
"We have dismissed about 200 government personnel but some I did not allow the publication because…may mga pamilya eh (they have family)," Duterte said. "So ngayon, wala na (there's none left). I have stopped it. But there is no saying that we cannot reimpose it again for all of these idiots."
"I still have about a year to go. I will — I will reach you somehow," he added.
Foreign policy
With regards to the country's foreign policy, Duterte maintained that his government has pursued an independent foreign policy centered on the promotion and protection of core national interests.
"Make no mistake rather, gone are the days when the Philippines decides and acts in the shadows of great powers. We will assert what is rightfully ours and fight for what is rightfully due to the Filipino people," he stressed.
He mentioned sending back container vans of garbage to Canada, retrieving the bells of Balangiga, and asserting the arbitration ruling on the South China Sea.
Reiterating his speech during the United Nations General Assembly, Duterte said: "The Arbitral Award is now part of the international law and beyond compromise and beyond the reach of the passing governments to dilute, to diminish, or abandon."
However, the President stressed that he would not engage in a war with China.
"I do not want to insult these people pushing me for something more than what I can handle. At ano ang gusto nila, makipag-giyera (And what do they want, wage war)? 'Do something.' What do something? Do you want war against China?" he said.
"I'll tell you, even on the coast beach of Palawan, before you can take off, the missile of China would be there in about five or 10 minutes. It would be a massacre if I go and fight a war now. We are not yet a competent and able enemy of the other side," added Duterte.
COVID-19
Duterte tackled the country's COVID-19 situation in the latter part of his SONA. In it, he cited the government's efforts in improving the country's testing capacity.
"At the early stages of the pandemic, our testing capacity was very limited. Recognizing the importance of conducting more tests to ensure early detection and timely isolation of confirmed COVID-19 cases, we ramped up our testing capacity," he said.
"We now have more than 260 accredited laboratories nationwide which is capable of conducting at least 50,000 tests daily. All regions now can conduct their own COVID-19 tests," he added.
Duterte also noted the over 9,000 temporary treatment and monitoring facilities established across the country.
"Together with local governments and the private sector, we quickly established mega quarantine facilities that could accommodate more cases. Modular hospitals and quarantine facilities have also been established nationwide, especially in Metro Manila," he continued.
As for vaccines, Duterte said at least 36 million vaccines will arrive "this month and in August."
"Well, I think the health landscape of the country continues to improve. With the continuous [arrival] of COVID-19 vaccines, we are ready to boost further our daily vaccination rate," he noted.
The President urged the public to get inoculated, stressing that the best solution against the global health crisis is vaccination.
"The best solution is still vaccination… That is why I implore our countrymen who are now in the list of sectors to be inoculated to get vaccinated now. To those who received their first doses, please return for your second shot. I also ask for patience to those who are next in line to receive their vaccine. More and more COVID-19 vaccines are arriving each week and you will soon have your turn," he said.
According to Duterte, the country "can't afford" more lockdowns.
"We have spent enormous amounts of resources to build our capacities to overcome this pandemic. We cannot afford more lockdowns lest our economy bleeds to the point of irreversible damage," he said.
However, he pointed out that the country may revert to stricter measures to prevent the further spread of the more transmissible Delta variant of COVID-19.
"[Delta variant] is far more aggressive and far more dangerous and it can cause death easily than the COVID-19 original. So this is as good as any other time to say it, if…it is really dangerous, you have to go back to lockdown," Duterte said.
"If there are many people in other parts of the world killing as many, then Delta, if ever it will spread — we have it here now — I hope it will not go any further. But if something wrong happens, I'll have to be strict and I have now my word that there will be a… Just like what happened in the early days," he added.
Duterte's speech ran for two hours and 46 minutes, becoming the longest SONA delivered since 1986.