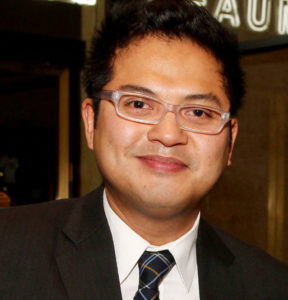 The Fil-Am theater director, educator and arts leader puts his magic in "In Old Age" at the Magic Theatre
FILIPINO American Victor Malana Maog's interest in theater came not from a Broadway show or professional stage play, but from watching religious festivals back when he was still a young kid in the Philippines.
"…My grandmother would take me to epic religious festivals — masks, processions, weeping, wailing, and all.  More — I remember taking the seemingly day long journey from our house in Metro Manila back to her province of Oriental Mindoro, via tricycle, jeepney, bus, boat, etc.," he shared and added, "It was like a dream to go from the city to this mythical place with all the pageantry in the midst of Holy Week. I was fixated and, I believe, my love of live performance was born."
Decades later, Maog is now a respected theater director, educator and arts leader, with over 25 years of experience directing projects, programs, and companies.  His most recent work, "In Old Age" by Mfoniso Udofia is playing onstage until April 21 at the Magic Theatre in San Francisco.
Born in 1972 in Quezon City, Philippines, Maog grew up with his grandmother and aunt after his parents had to move to the United States for work.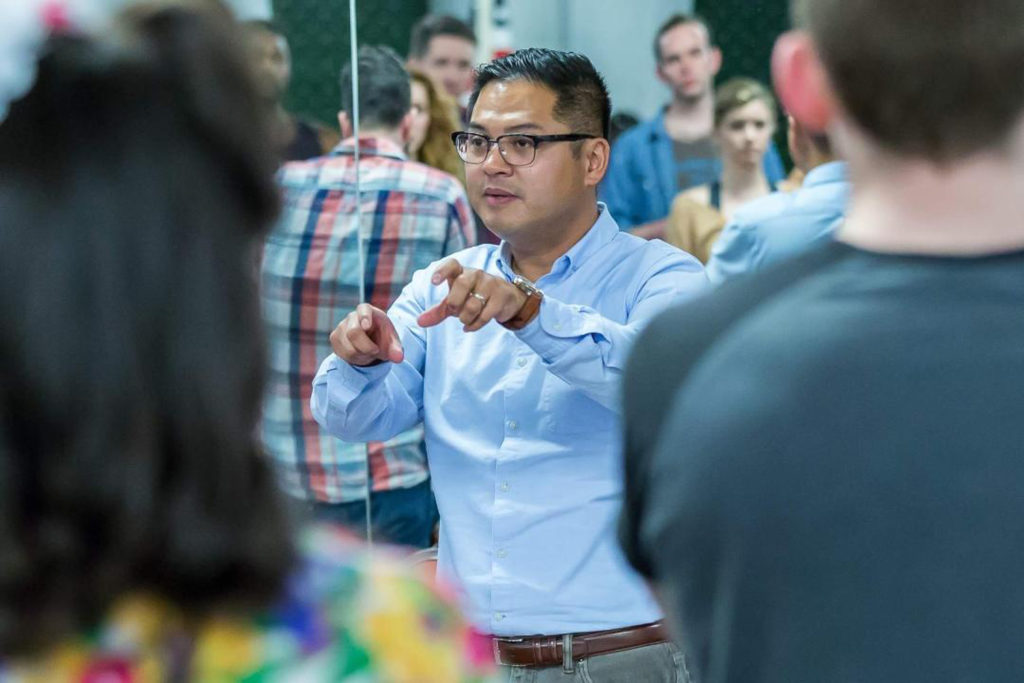 "My father grew up in Oriental Mindoro and, my mother, Batangas. They came to the San Francisco Bay Area when I was one year old, leaving me with my grandmother and auntie.   My mother's paperwork finally cleared for her to work in the USA and they jumped at the chance," he said.   "From what I understand, it was a smallish window of opportunity. They went in 1974, when I was one year old, plus a few days. I stayed back. Then I reconnected with them in 1979 — specifically to Hayward, CA. By then, I had an American-born baby sister, who was six months old at the time. That separation was traumatic."
But his memories of watching passion plays with his lola (grandmother) and yaya (nanny) stuck with him and encouraged him to pursue a career in theater.  Fast forward many years later, Maog would then join the drama club at James Logan High in Union City.  This cultivated his interests and gave him a platform for a life in the arts.    
Maog also shared that theater was initially a way to make friends.  "We all had one giant task, and the thrill and purpose that gave me as a young person is second-to-none. When I graduated from 'fun' to understanding that this was a craft that possesses a profound form of expression, I knew moving from an actor to a director role was a natural progression for me."
In 2015, he was named one of American Theatre Magazine's "People to Watch," with his award-winning work reaching half of the continental U.S.  He has directed and developed works at The Public Theater, Harford Stage, Williamstown Theatre Festival, Signature Theatre Company, Mabou Mines, Working Theatre, York Theatre, Drury Lane, Connecticut Repertory Theatre, New Dramatists and The Lark.
From 2016-2018, he also served as show director for Disney Parks Live Entertainment, creating and directing stage shows, large scale events, and spectaculars for millions of visitors.
Telling stories and bringing communities together
Being Filipino American, Maog said that he has always worked very hard to tell stories with a goal to bring communities together.   Part of it was having to deal with being "compartmentalized."
"For my first professional directing job ever — with the now defunct Filipino theatre company, Teatro ng Tanan (Theatre for Everyone) in San Francisco in 1993 — I was asked by a radio host if I was ever typecast in typically Asian roles or jobs.  I told him 'no' — which I saw as a fact, but now in retrospect, an aspiration.  In the intervening 26 years, I worked hard not to be boxed in by race, class, genre, aesthetic, etc.  People who know me might think it's been easy because I have the privilege to work on a scope and scale that many artists never have the opportunity to have.
"What I can say now is that too many of us — in this industry and many other fields — have to deal with being compartmentalized, limited, flattened whether its about the job opportunities or the way our stories are being told.   Often, I'm the first person of color ever stepping into leadership roles in some of these organizations. Sometimes the first Asian. Or Filipino.  So — it's always about building a bridge to humanizing ourselves and having a spine about my value.  It's a lot of work and, I too, must work on my internalized racism, thinking — probably from centuries of colonization — that I'm second best, or not enough.  This line of work — which is about telling stories and bringing communities together is about developing myself and underscoring my core values.  And I hope that resonates outwardly in my work and it's place in the world," he said.
Maog also believes that directors are  key players in how stories are told, who gets to tell them, and "are able to create a culture of rigor, collaboration, inclusion, and respect."
"That sense of family and responsibility to the greater picture has been part of why I have gravitated towards that role since age 17. It's not easy, but I rely on my team of actors and collaborators to bold build these worlds with me," he said.
About "In Old Age"
"In Old Age" is the fifth installment in playwright Mfoniso Udofia's nine-play Ufot Family cycle, about Nigerians and their American-born children.
"Playwright Mfoniso Udofia and I have a history that goes back to 2013 — before she any workshops and productions. S he didn't even think her plays would get produced. I was lucky enough to be set up on a creative blind date with her as director/playwright for the first play in the cycle, 'Sojourners,'" shared Maog.  "Then, I was fortunate enough to stage her first workshop production ever ('Her Portmanteau' at National Black Theatre).  Fast forward to 2019, and I'm privileged to give that play a first class production at ACT back-to-back with the world premiere of 'In Old Age' at Magic Theatre. What started as a great opportunity to direct a production became a challenge of a lifetime of directing two, independent parts almost simultaneously."
Maog shared that theatre is a "difficult, fulfilling path with all sorts of slings and arrows."  But he believes that all the sacrifices one makes will be worth it. 
"…The glorious upside is that when Filipinos and Filipino Americans are on either side of the footlights, as actor, director, producer, playwright, or designer, our stories and our personhood extends beyond our own circles and take space in the greater collection of stories," he said and then added, "It is quite a special to be able to be 'seen' and participate in a multiplicity of ways that share our gifts and our culture. It's an adventure that is worth the tales we can tell our children and generations to come."
"In Old Age" is currently playing onstage at the Magic Theatre, Fort Mason, 2 Marina Blvd., San Francisco until April 21 with performances on Tuesday at 7 p.m., Wednesday-Saturday at 8 p.m. and Sunday at 2:30 p.m.  Tickets at from $15 to $75 and are available at the venue, online at MagicTheatre.org or by calling (415) 441-8822.