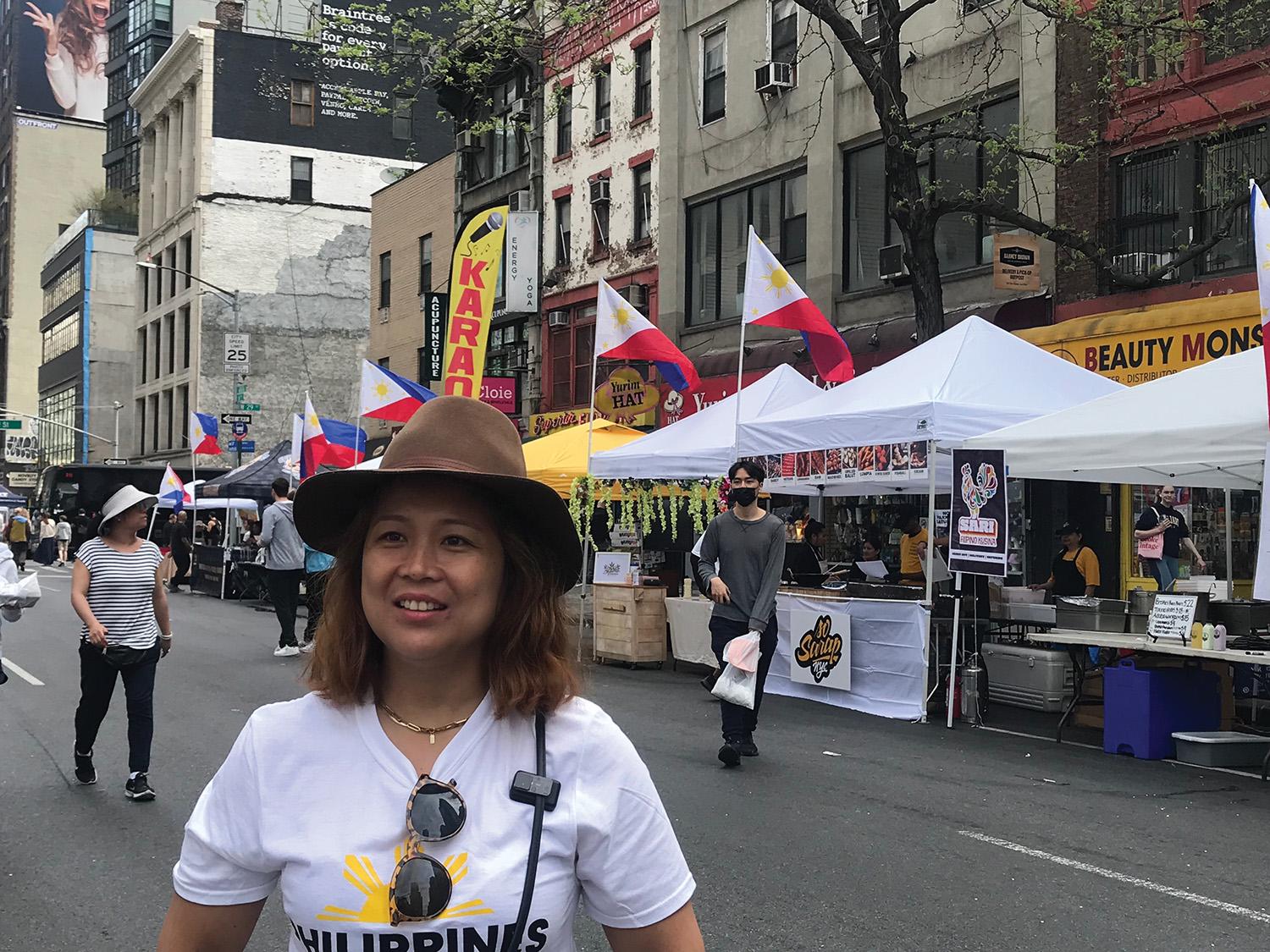 THE history of street fairs in New York City can be traced back to the early 20th century when immigrant communities began organizing outdoor festivals to celebrate their cultural heritage. 
These events, which feature food, music, and other forms of entertainment, were often held in public spaces like parks and plazas and provided an opportunity for new arrivals to connect with their fellow countrymen and share their traditions with the wider community.
Augelyn Francisco and her partner Joey Payumo recognized this and began hosting mini-street fairs outside their Kabisera Café in the Lower East Side. They gathered other small FilAm-owned businesses and staged these pop-up markets.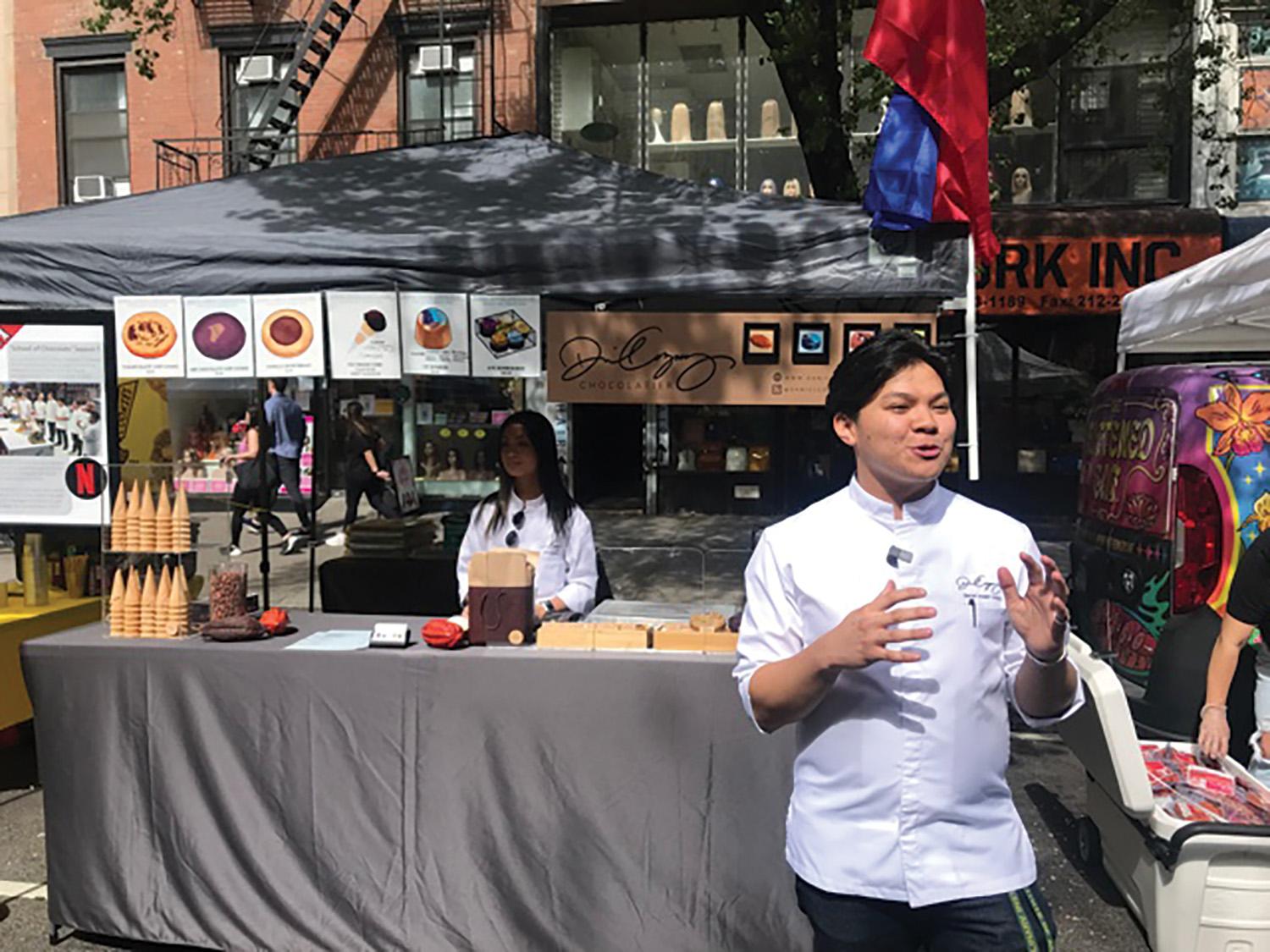 Through the years, their numbers grew. Today, as a group called Philippines Fest, they can occupy an entire city block as a part of the larger street fairs in the city. Among the OG members of the collective are VJ Navarro of So Sarap, Daniel Corpuz, Craig Nisperos,  and Hatzumomo founder Paulo Manaid.
"There is a big world out there and they are waiting to know about Filipino food," Francisco told the Asian Journal. "It is a proud moment to see all the Philippine flags out here on Sixth Avenue representing different kinds of small businesses."
Street fairs have been a fixture of New York City's cultural landscape for over a century, providing a platform for local businesses and artists to showcase their goods and talents to the public.
These events, which typically take place on weekends during the warmer months, have become an integral part of the city's social fabric, drawing crowds from all over the five boroughs and beyond.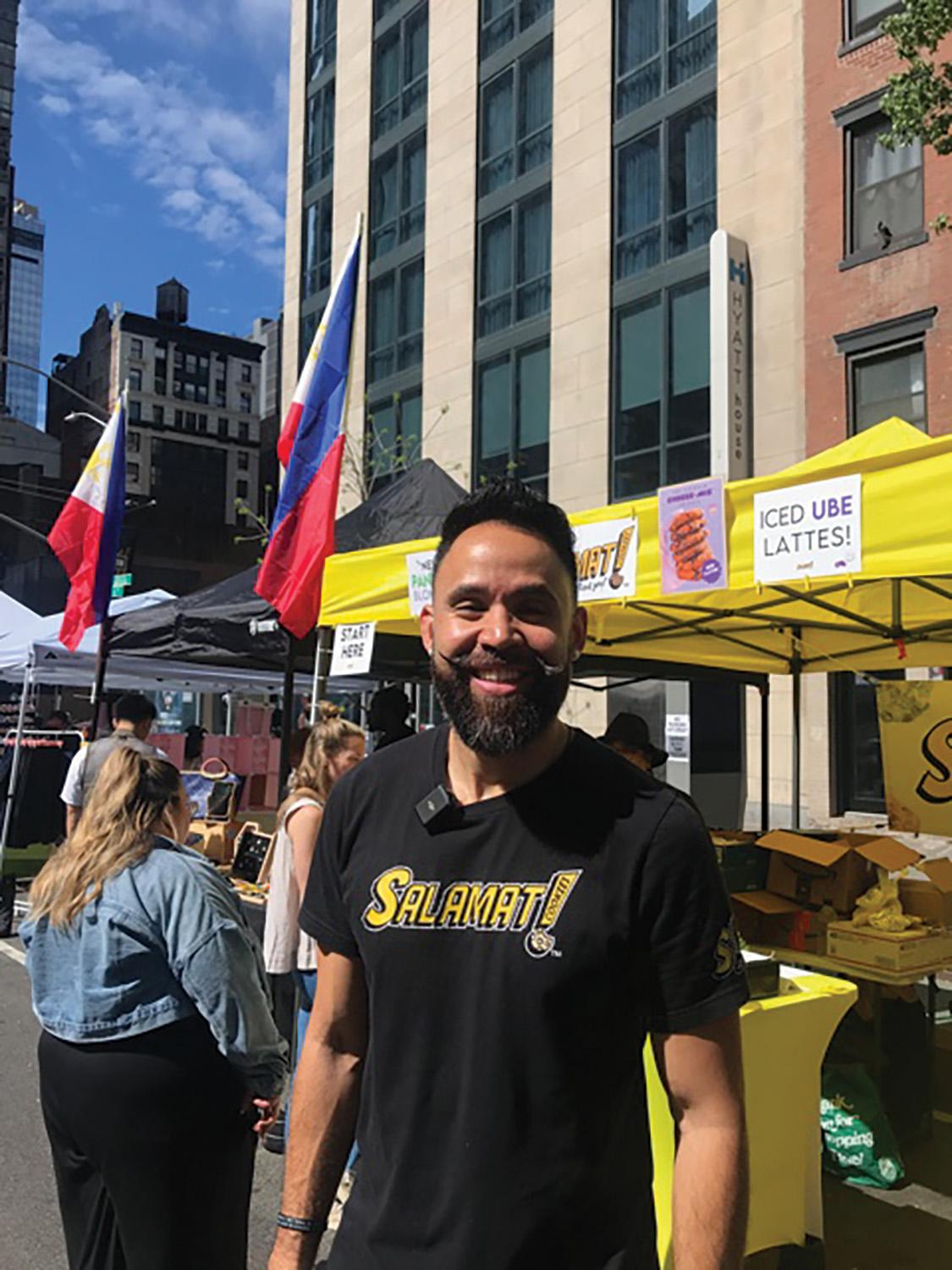 This is what makes it a good platform for these up-and-coming small businesses to be exposed to a wider market and this is why vendors such as Michael Williams of Salamat Cookies do not mind the travel from Indianapolis to NYC.
Salamat Cookies, founded by Michael Williams, a second-generation Filipino American from Indianapolis, Indiana, has become a sensation, shipping to 49 out of the 50 states, five countries, and delivering over 150,000 cookies.
"Filipino Americans have been overlooked for far too long, and it's an honor to be a part of the movement that celebrates and elevates our culture," Williams told us. "We eat with our eyes first, and the vibrant colors of our cookies often catch people's attention and draw them in to try new flavors."
Celebrating Philippine culture through its cookies, the business started during the pandemic when Michael, who lost his job as a photographer, decided to learn how to bake cookies as a father who wanted to bring cookies to his son's soccer practice. The venture started as a way to give cookies away as thank-yous and evolved into a business when someone asked if they could buy them. The name "Salamat" means thank you, reflecting the company's origins.
As a Filipino American, Michael did not know what Filipino flavors tasted like, but his business now introduces Filipino flavors and culture through his cookies. The cookies have distinct flavors and colors, such as the vibrant purple from the ube, a purple yam, or green from the pandan leaves.
Salamat Cookies' best-selling cookies include Space Jam, a cookie that is out of this world, and Salted Brown Butter Ube, a cookie that combines the rich flavor of brown butter with sea salt and the ube.
The success of Salamat Cookies and Patok By Rach reflects the ingenuity and entrepreneurial spirit of people who turned adversity into opportunity. The pandemic has brought out the best in business-minded individuals like Michael, who, with his mother, started a cookie business that celebrates Filipino culture and flavors.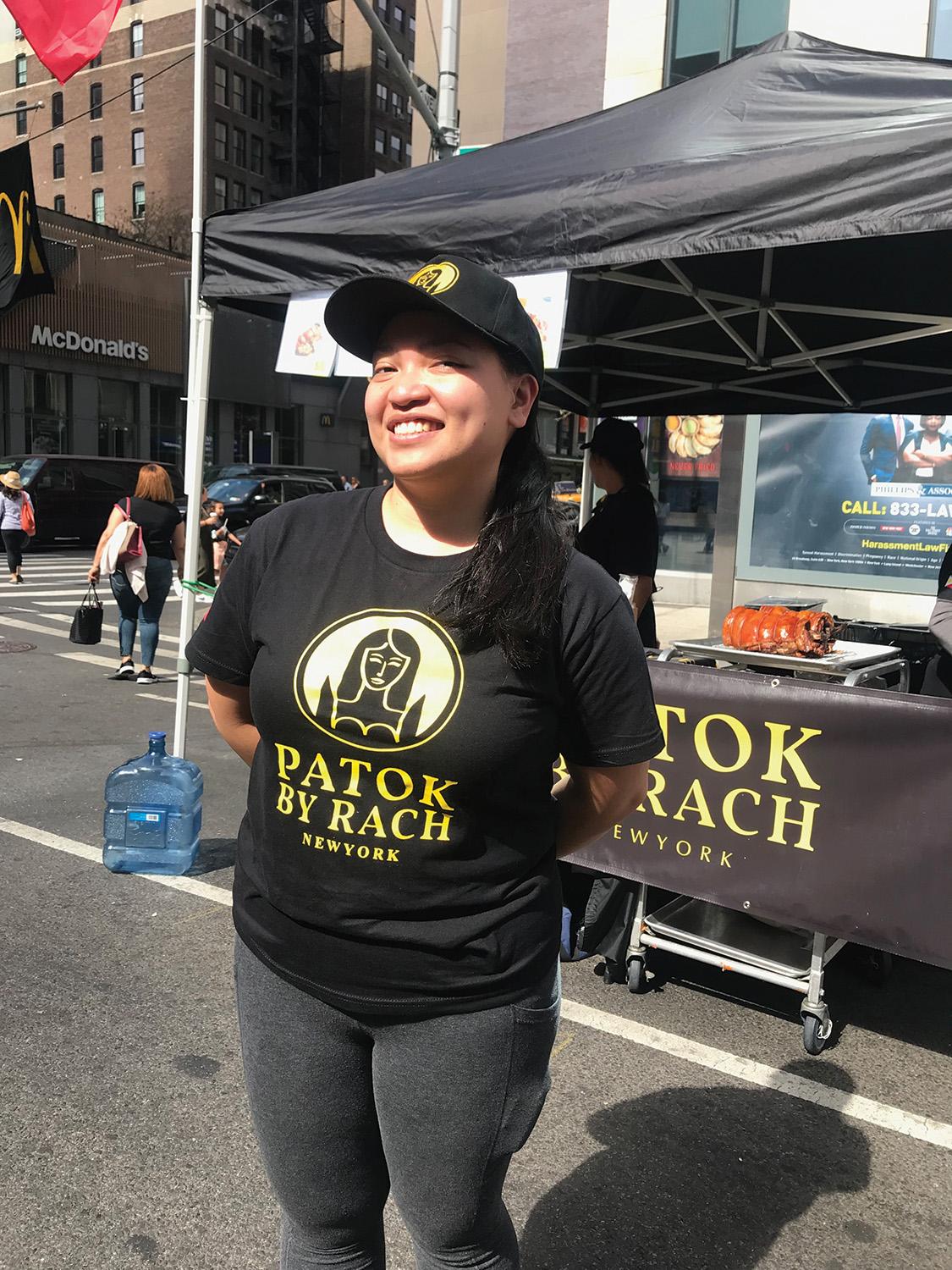 Hanna Abada and Rachel Saberon started Patok By Rach towards the end of 2020. Rachel has just finished culinary school and the pandemic was in full swing so it was tough all around. She developed the menu and began testing recipes which have become their bestsellers such as the rice balls, sisig and lechon belly.
They pivoted and began joining street fairs and pop-ups. Today, they're also at Smorgasburg, Uptown Night Market, and Brooklyn Night Market, among others.
"When we started, we told ourselves that all we want to do is to showcase Filipino food and put Filipino food out there," Abada said. "Other Asian cuisines like Japanese, Chinese, Thai, they're all over New York. But Filipino food. they're isolated in one spot. So it was one of our goals to have Filipino food put on the map for New York City."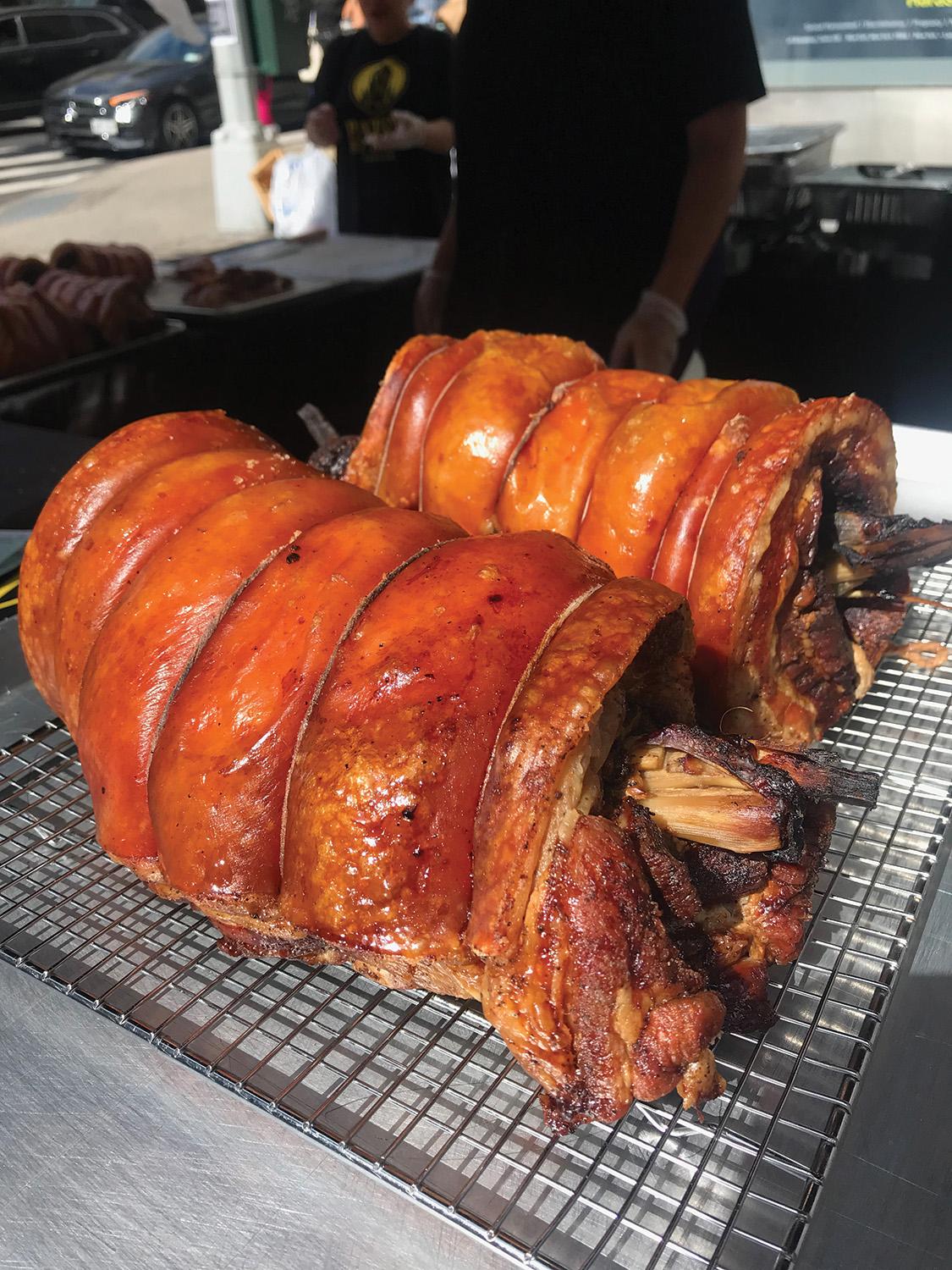 Fattened Caf, a small FilAm-owned business from St. Louis City in Missouri helmed by the husband-and-wife team of Darren and Charlene Lopez-Young sell Filipino barbecue in a brewery in St. Louis and their sausages are now in 80 grocery stores throughout Missouri and Southern Illinois.
Lopez-Young and Isabel Bakunawa were at the Philippines Fest a few weeks ago, joining a host of other small FilAm-owned businesses.
"We make it easy for people to make Filipino barbecue at home so that we normalize Filipino food culture and every household throughout the United States," Lopez said. "Our Filipino barbecue sauce kind of mimics the banana ketchup, but we make it with real bananas. So we make it easy for people to want to base their meats with it, dip their meats in it and not just stick to the nostalgic dishes that we know."
They also wanted their refrigerated delivery van to look like a Filipino jeepney so they had it painted and branded like a jeep and it has 'Cubao Philippines' emblazoned in honor of their families being from Cubao, Quezon City.
"We drove 16 hours from St. Louis to be here. We just really love the Filipino community and want to be around more Filipinos," she shared.
The Young couple started Fattened Caf back in 2018 selling 60 plates in various farmers' markets.
"And then right before the pandemic we were able to sell 300 plates in two hours so we knew there was something that people in St. Louis were looking for and Filipino barbecue was leaving its mark in a town that was all about barbecue, right? Like when you think about St. Louis or the Midwest, you think of barbecue, so people have embraced Filipino barbecue over there and enjoy it and love it." Lopez added.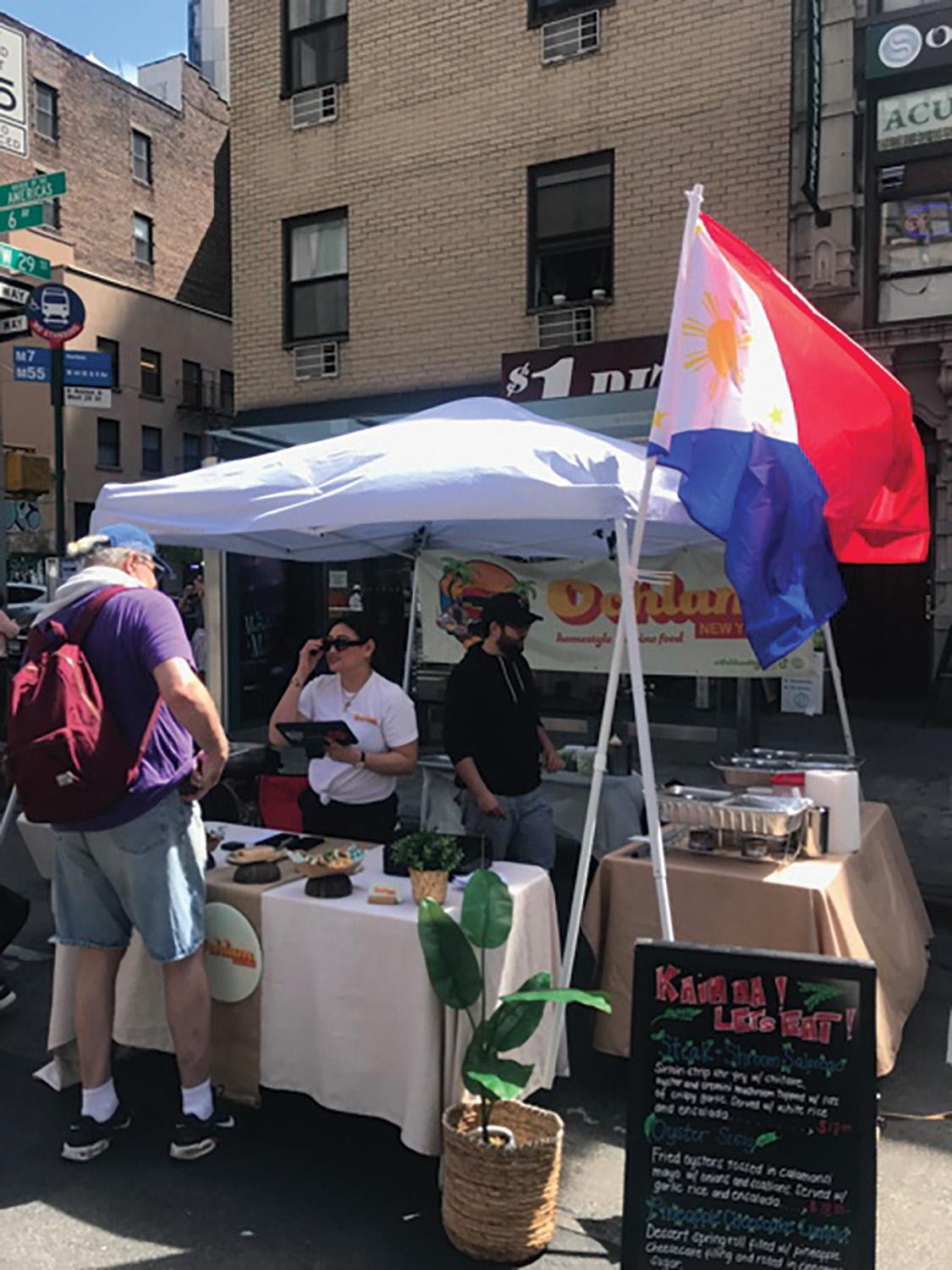 They were able to weather the pandemic by creating and selling their line of Filipino sausages through a small window outside a local brewery. The sausages were fully cooked, making them incredibly convenient for customers who could simply fry them up in a matter of minutes without having to boil them.
Word of their delicious sausages spread and soon enough, a grocery store approached them about carrying their product. They are now stocked in several grocery stores throughout Missouri and Southern Illinois.
"These are good and everyone can identify with longganisa like we all grew up with longganisa," she shared proudly. "It's so good and more people need to know about it so our goal is to be in more mainstream grocery stores."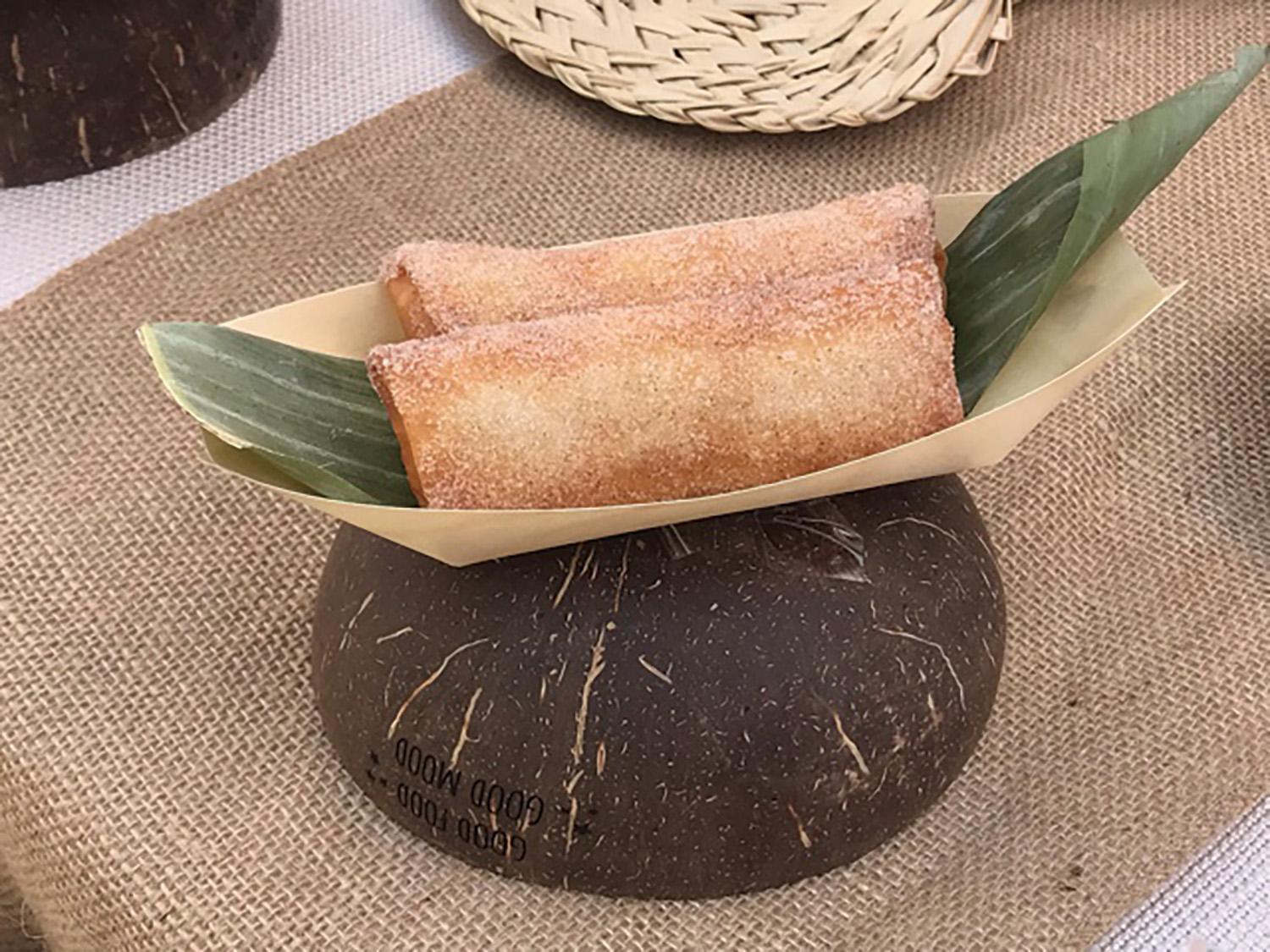 They also released their own "Sawsawan" line of sauces, marinades, and dips, complementing the distinct flavors of the sausages they sell.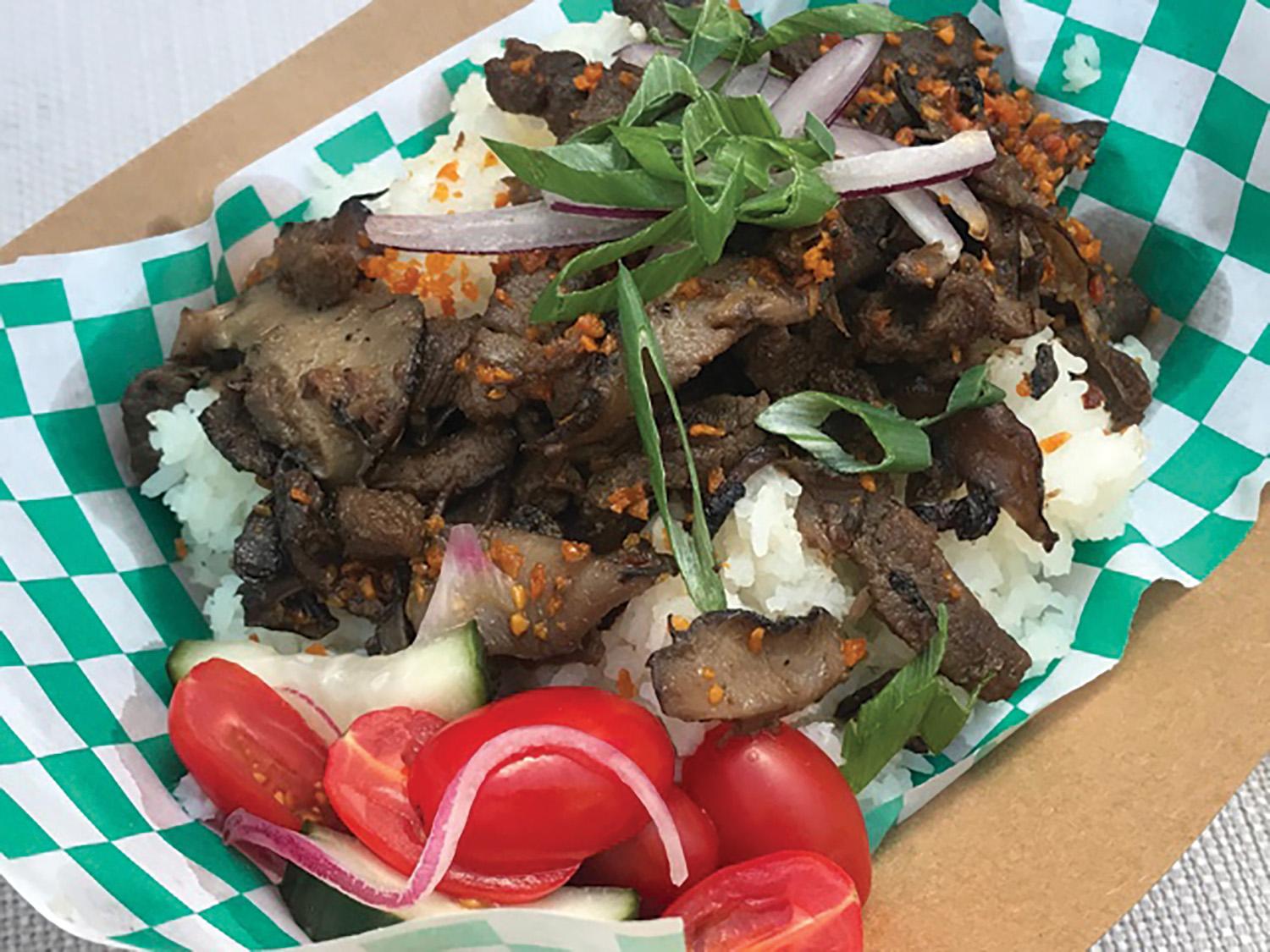 Among the other vendors who participated were Washington DC-based Sari Kusina by chef-partner Paolo Dungca, Ooohlam; Gabi's Goods, Logan and Co.'s Kalamansi Stand; Mansi, Hatzumomo's Natibo ATBP, among others.
NYC's Cultural Calendar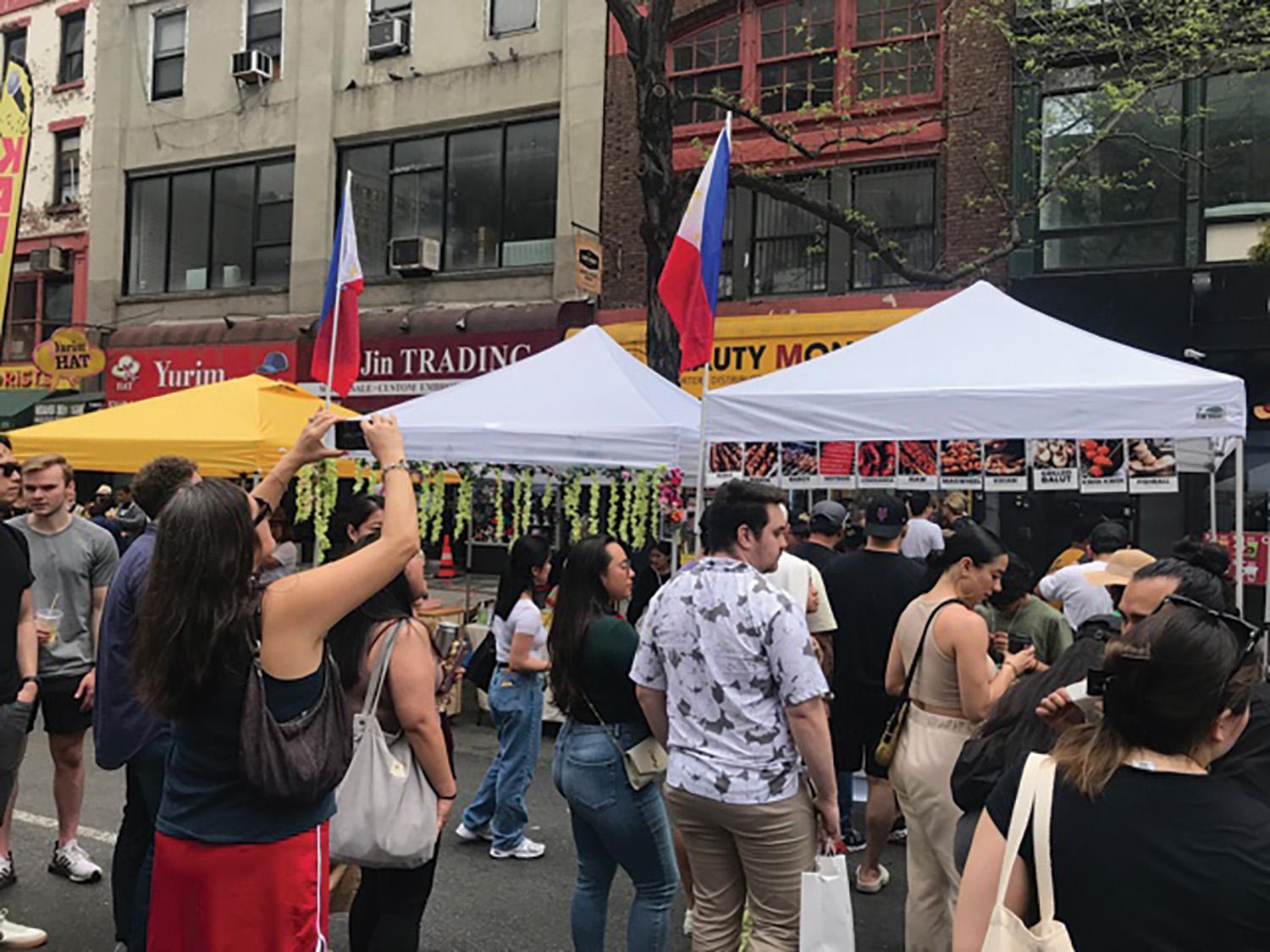 Street fairs are a vital part of the city's cultural calendar, providing a platform for emerging artists and entrepreneurs to showcase their work, and attracting tourists from around the world.
On a regular day, these street fairs generate about 10,000 to 12,000 visitors and tourists. From the Feast of San Gennaro in Little Italy to the Smorgasburg's multiple locations, each neighborhood has its signature event, reflecting the diverse cultural tapestry of New York City.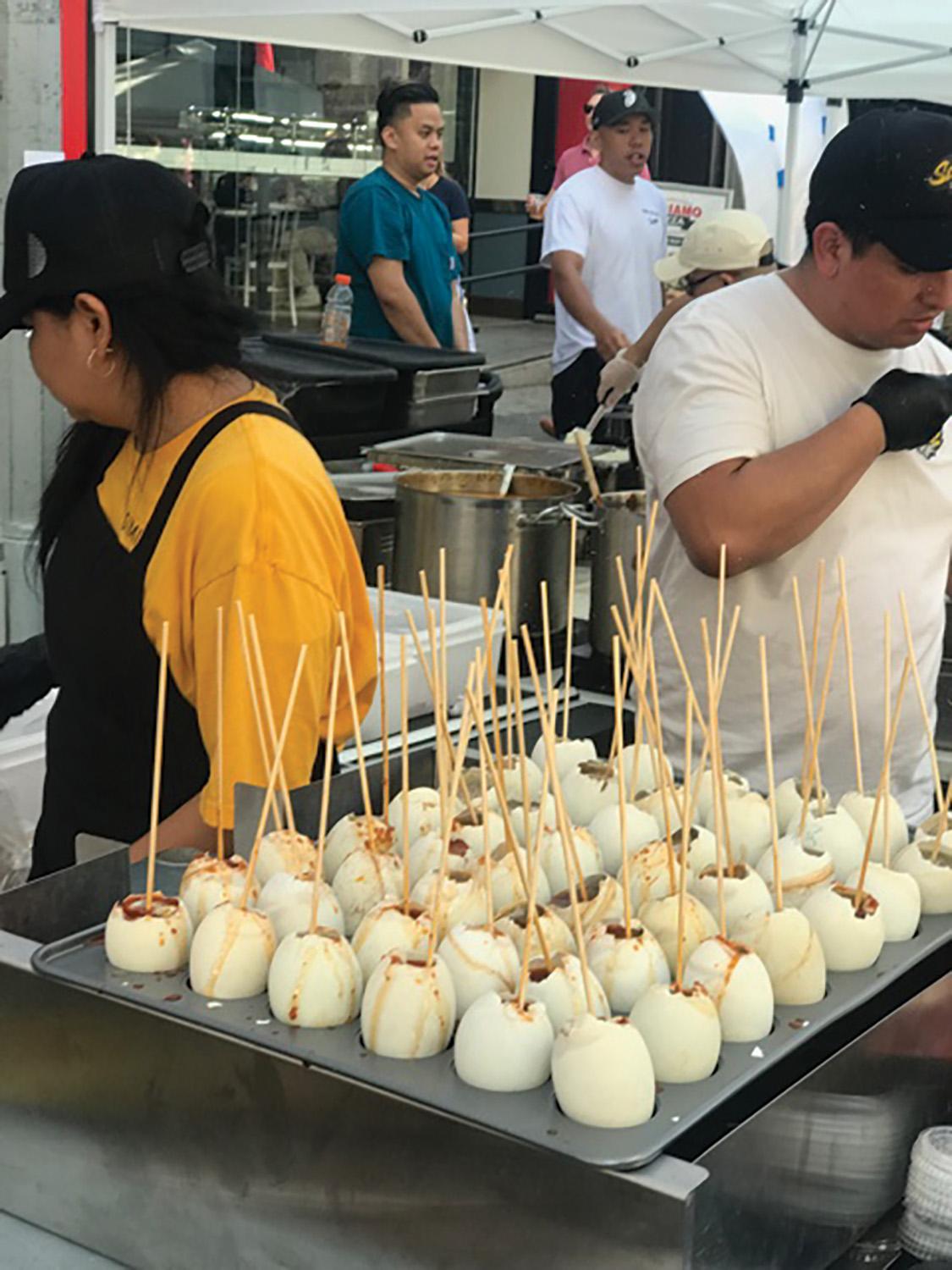 This early, Augee and her team have planned a calendar for the next few months – Park Slope on May 24, Ube Festival at Smorgasburg on June 10, and Times Square/Eighth Avenue on July 9. There are also plans to bring Philippines Fest to Virginia, Atlanta and Los Angeles.
These street fairs remain an important part of New York City's cultural heritage, offering a unique opportunity for residents and visitors alike to experience the rich diversity and creativity that makes the city so special and it is something that Philippines Fest organizers are more than happy to take part of.