I'VE been asked time and again: what's a way to lift and tighten sagging facial skin without going under the knife?
And since I love being the bearer of good news (related to health and beauty), I tell my clients and my readers about this new alternative to a traditional facelift. It's non-surgical, less invasive and has minimal downtime. We call this, the Thread Lift.
As the name implies, a thread lift is exactly what it sounds like. It is the use of absorbable sutures made from biodegradable polymers frequently used in medical devices to lift and re-contour the mid and lower face. And like its surgical counterpart we all call, 'facelift,' it lifts and firms sagging facial tissues to restore a more naturally youthful facial appearance or as most people say "to turn back the clock." 
But unlike a traditional facelift, this procedure is surgery-free, therefore, reducing the significant amount of downtime that inevitably comes with any surgical procedure.
Thread Lift, or more commonly known as a non-surgical facelift, helps lift sagging facial skin and improve the appearance of cheeks, brow, jawline and labial folds through soft tissue manipulation. 
Another good thing about this innovative approach is that it can be performed by many professionals in addition to a plastic surgeon. The procedure involves the insertion of very fine surgical sutures into the soft tissue just beneath the skin. It uses Polydioxanone (commonly known as PDO), which has a long safety record in surgery in South Korea and has been used for decades in orthopedic (to treat frozen shoulders, tennis elbow, golfers elbow and etc.), and in cosmetic for skin tightening, skin rejuvenation and face lifting. Best of all, it's biodegradable. This synthetic polymer is highly versatile and was originally used as a mono or multi-filament thread. Biodegradation of PDO occurs through a process of hydrolysis over a time period of between six to eight months. 
The "threading process" targets the Dermis and Subcutaneous tissue using different threads for treating different areas. It is also a less expensive alternative to facelifts and takes less time to perform. No incisions are necessary; instead, we insert threads in your skin using a needle and then pull them to tighten your skin.
While it seems that the procedure is not very popular, I would like to note that historically, the earliest reports of surgical facial rejuvenation date back as far as 1911. The use of endoscopic malar and midface suspensions were reported in 1998 which paved the way for the future use of thread lifting suture technology as a means of facilitating non-surgical facial augmentation. 
So who is the perfect candidate for this procedure, you ask. Thread Lift is specifically for those people who have not manifested a large amount of aging signs like mild to moderate sagging of facial tissues, who are usually those in their early thirties to late fifties; not to mention those who prefer the non-surgical and non-invasive route.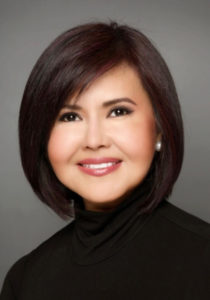 One perfect candidate and has actually visited our spa to try this procedure is Celebrity Star Mentor and renowned director, Ms. Beverly Vergel. She is known for her ageless beauty is an experienced director, producer, writer, actor, certified life coach, brand and marketing strategist, and a philanthropist. She has 29 years of experience in coaching actors, beauty queens and celebrities.  
She has built a successful career in show business. Her parents were popular love team and screen idols in the 1950s Cesar Ramirez and Alicia Vergel. She is also the younger sister of 1970s award-winning and popular action star Ace Vergel.
She was leading lady to the Philippines' top action stars and comedy kings in the 90s. She became a household name as "Almira", the mother of prime stars Judy Ann Santos and Gladys Reyes in "Mara Clara," the longest running and biggest earning TV soap opera on ABS-CBN. Beverly was also a line producer, writer and director for TV at GMA 7. She later continued her production work at ABS-CBN as an executive producer. In eight years, Beverly rose from the ranks to become the managing director of ABS-CBN CCAI workshops.
She now lives in Canada and continues her passion for people development. 
I could go and on about how awesome this person she is and I might fill the whole column. But if you miss seeing her beautiful face, she is actually our celebrity guest on our upcoming Adobo Nation episode on TFC. Stay tuned for that. As I've said earlier, Beverly tried our signature Thread Lift and was indeed happy with the results!
You too can try a surgery-free way to get rid of sagging facial skin. Be sure to stop by our clinic for a free consultation and experience The "facelift" without the surgery! 
Until the next column! Thank you all for reading.
iSkin is located at 8709 Beverly Blvd in West Hollywood, CA. Image Spa MD is located at 9227 Haven Ave. Suite 120, Rancho Cucamonga, CA and 499 N El Camino Real, suite c-200, Encinitas. Or you may call (424) 382-1002 for ISkin or (909) 989-8464 for Image Spa MD in Rancho Cucamonga.
***
Imee is an established aesthetician, a business owner and a managing partner for Image Spa MD and CEO of Image Body SPA. She has a degree in Biology and Doctor of Dental Medicine. Image Spa is now one of the most reputable medical spa facilities in LA and has branches in Rancho Cucamonga and Encinitas for Image SPA MD and Image Body SPA-West Hollywood. Imee has been in the aesthetics industry for over 20 years.