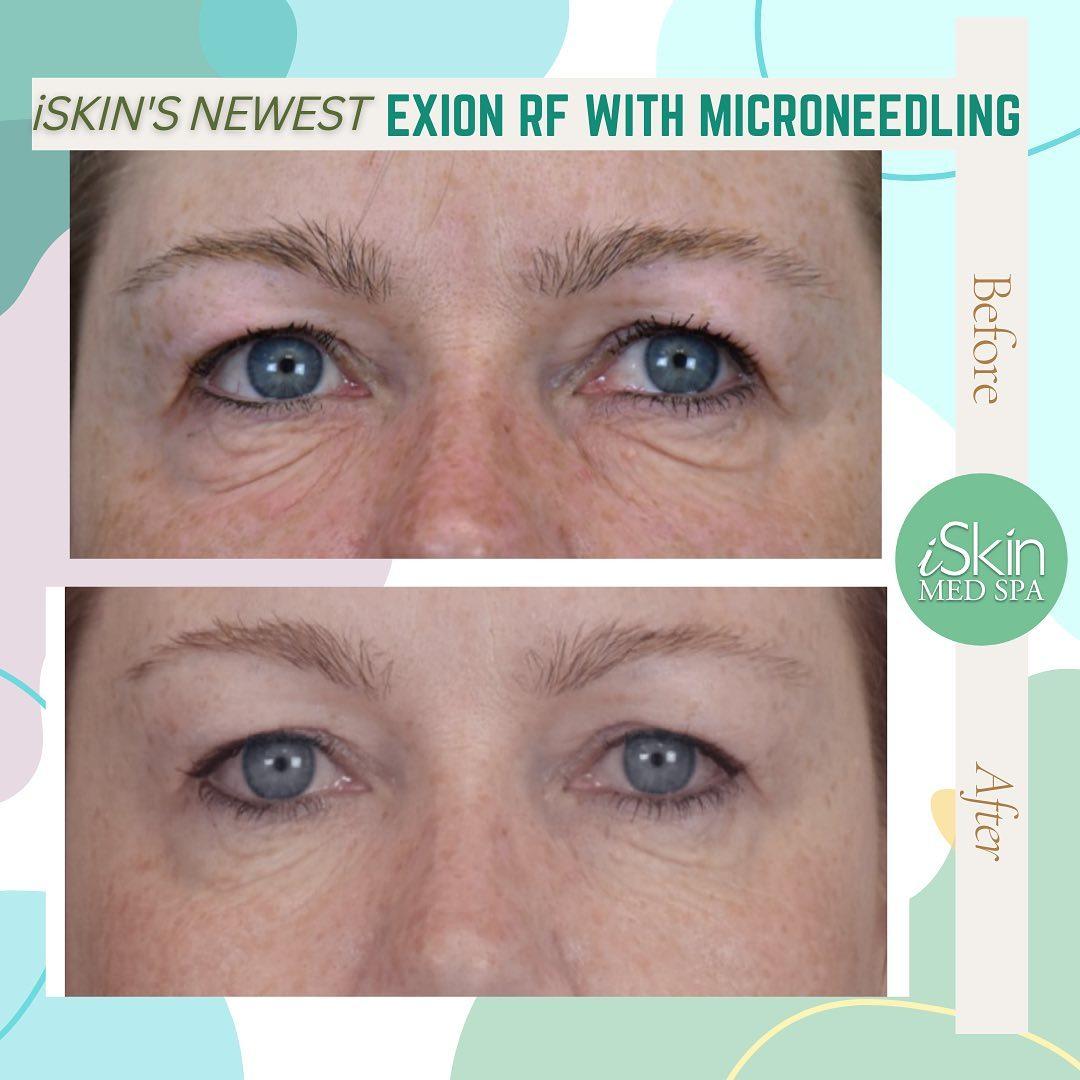 Heads up! THIS is HUGE.
ISkin has a "new swag" and it is making waves (pun-intended) for all the right reasons.
Introducing: The EXION RF Microneedling! BTL Aesthetics coined it as "The Ultimate Skin Solution"  highlighting the use of a single-pass fractional radiofrequency for deep tissue treatments. This newest  treatment combines monopolar radiofrequency (RF) and Artificial Intelligence for heating and  coagulation of deep tissues. I know that seems like a mouthful of tech-powered words, but I'll try my best  to break it down to you in simpler terms.
So, BTL Aesthetics unveiled its latest innovation, Exion, a versatile device known as the Fractional RF  Applicator is capable of treating different areas of skin, from head to toe, and it is available at our Iskin  spa branches. It is used to treat Acne scars, stretch marks, under-eye-skin tightening, as well as face-and  -neck skin tightening.
NEWER is also BETTER…
This innovation is "The Newest in Microneedling RF."
The use of a Fractional RF Applicator: BTL Monopolar RF Microneedling for Face & Body makes it a  better choice than the regular or traditional microneedling because the former uses monopolar (or  fractional) radiofrequency technology to deeply penetrate the tissue, which is proven more effective the  regular microneedling technology and allows for less pain and more gain.
Microneedling and then some…
Microneedling is a cosmetic procedure that is used to encourage collagen production using small,  sterilized needles to prick the skin for the purpose of smoothening, firming, and toning the skin, resulting  to an improvement in the appearance of scars, acne, and wrinkles.
Now imagine that procedure (and all its benefits), but instead of physically inserting "micro-needles," you  use EXION Fractional RF applicator. What you get is: deeper tissue penetration without full needle  insertion and basically, reduced discomfort.
Since EXION RF combines monopolar radiofrequency and Artificial Intelligence, the latter ensures  optimal delivery of thermal energy that ensures impact in a single pass, and allows deeper layers to be  treated without physically puncturing the dermis, which allows a less painful experience and  treatment, compared to other traditional options on the market.
This Treatment calls for four sessions and the length of each treatment varies. Want to know more?  We would love to give you a free consultation.
Give us a call. If you are in the LA area, you are more than welcome to our iSkin location. And if you  happen to be in the Inland Empire and Orange County, we have MiSkin Spa for you self-love and self pampering needs.
For more information you may visit iskinbeverlyhills.com.
Visit iSkin Med Spa and MiSkin MedSpa for a free consultation. iSkin is located at 8665 Wilshire Blvd.  Penthouse Beverly Hills ,90211 or call 424-382-1002
MiSkin MedSpa is located at 9227 Haven Ave. Suite 120 in Rancho Cucamonga, 91370 or call  909-9898464.
You may also follow us on social media: @iskinmedspa and @miskinmedspa.
* * *
Imee Ong-Maghanoy is an established aesthetician, a business owner and CEO of iSkin  Beverly Hills, iSkin MedSpa and MiSkin MedSpa. Imee has been in the aesthetics  industry for more than 20 years. She has a degree in Biology and Doctor of Dental  Medicine. iSkin MedSpa and MiSkin MedSpa are fast emerging as a top Spa  destination in LA. iSkin is located at 8665 Wilshire Blvd penthouse Beverly Hills, CA  90211. MiSkin MedSpa is located at 9227 Haven Ave. Suite 120 in Rancho Cucamonga,  CA, 91370.
                (Advertising Supplement)