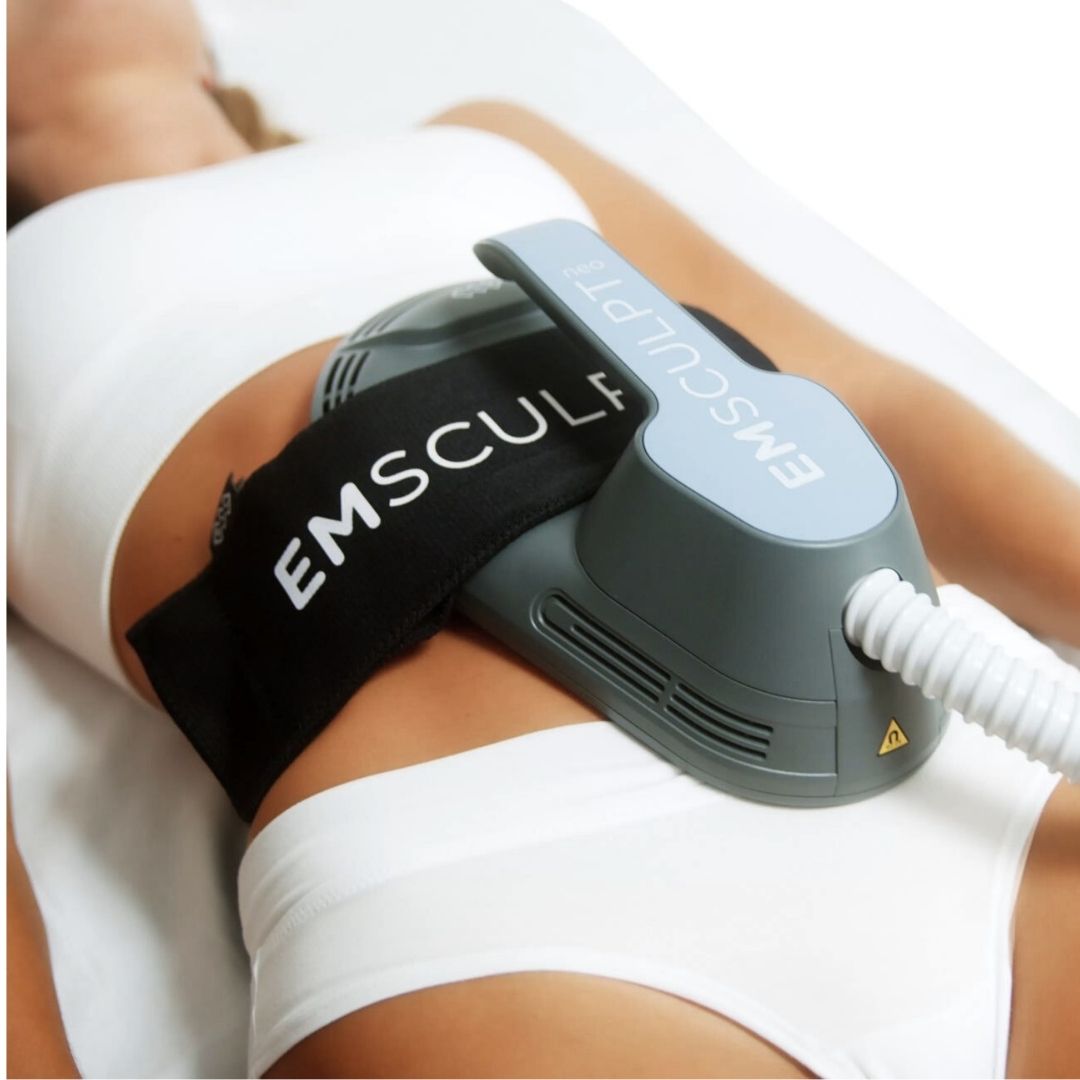 Work-out but without "work" too much? Sounds too good to be true, does it? An average person can do about 50 to 200 crunches a day yet most often, they still don't achieve the results they wanted. Imagine having a machine that would give you the result that is equivalent to 20,000-crunches in as little as 30 minutes. Sounds great? IT is! And it is also TRUE.
In today's column, let's talk about the amazing truth surrounding, "EMSCULPT NEO."
In a nutshell, EMSCULPT NEO is the first non-invasive device designed to eliminate fat cells and build muscle non-invasively by a combining radio-frequency heating & HIFEM in a single 30-minute treatment session. It is available in our MedSpa (both in Beverly Hills and Rancho Cucamonga), as one of the legitimate and FDA-approved (machine) providers in the city.
Clinically proven to reduce fat in the abdominal area, flanks, arms, butt, thighs, this machine, prepares muscles for exposure to stress, similar to what a warm-up activity does before any workout. This is due to the radiofrequency heating, and the muscle temperature quickly rises by several degrees. In less than 4 minutes, the temperature in subcutaneous fat reaches levels that cause apoptosis, i.e. fat cells are permanently damaged and slowly removed from the body.
"Work smarter not harder."
Is it better than doing daily crunches, you'd ask. But, the more apt question should be, "do you have the time, stamina and sheer determination to consistently maintain those daily crunches?"
While there are healthy benefits to working out, the reality is, we would reach an age where we would either be too busy or too tired to work out as much as we want or used to. And when you get to that point, you would have to find ways to "do the work" without having to actually "work."
Another advantage of this machine is that it works faster! It does not only do the work for you, it does it FASTER than you could have done it yourself. It is perfect for those who are to busy go to the gym or too tired to lift weights.
You can just relax and enjoy the treatment and wait for the result.
In a recent conversation I had with one celebrity client, we talked about the challenges in working out certain body parts. She mentioned that the toughest body part to address, are her arms. The same is true for most of my clients. Some say that they try to hide their arms by wearing clothes that conceals them. But "come summer time or when you had to wear a gown, there is just no way to hide it.."
Other parts like the abdominal and love handles are also among those body parts that are a challenge to most of us — Even if we are a size 0 or 1. Truth of the matter is, it is not always the weight that needed "fixing." Some parts of our body require special attention no matter how much we weight. Your core is you mid-body are, and if you carry about 5-10 lbs of excess fat in you abdominal areas, imagine carrying that every time you walk. It would eventually result to back pain or a weaker knee.
With a technology like EMSCULPT NEO, the fat cells die and are naturally eliminated from the body through metabolic processes. It is clinically proven to burn fat and build muscles. As I previously mentioned, we recommend this treatment as part of the treatment plan for those who suffering from excess weight especially on the abdominal area, which is a common problem that comes with being overweight.
But how do we incorporate "diet" in this program?
You see, daily food intake is part of our life and the point of having a healthy diet is having to avoid limiting yourself that you end up feeling miserable – sometimes leading you to overcompensate in other unhealthy indulgences. In my consultations, I always talk about looking good for health reasons. We teach our clients to work with their bodies and make their programs "work for them" and not the other way around. Don't think of diet as a way to "restrict yourself unnecessarily." Instead, be smart with your food intake and find the balance between eating right while still getting to enjoy a little bit of everything.
Everyone needs moderate carbs and a healthy amount of meat, fish, while adding more vegetables and fruits to your daily meal . One way to enjoy your proteins is to learn how to alternate meat and fish.
When it comes to body or face treatment, the key is to be consistent with what's best for you. Getting a professional to help you is very important. And what better way to help yourself than to find one that will "do the work" for you.
Our amazing weight-loss protocol with EMSCULPT NEO is now available at our spas.Visit iSkin Med Spa and MiSkin MedSpa for a free consultation. iSkin is located at 8665 Wilshire Blvd penthouse Beverly Hills, 90211 (424-382-1002).
* * *
Imee Ong-Maghanoy is an established aesthetician, a business owner and CEO of iSkin Beverly Hills, iSkin MedSpa and MiSkin MedSpa. Imee has been in the aesthetics industry for more than 20 years. She has a degree in Biology and Doctor of Dental Medicine. iSkin MedSpa and MiSkin MedSpa are fast emerging as a top Spa destination in LA. iSkin is located at 8665 Wiltshire Blvd penthouse Beverly Hills. MiSkin MedSpa is located at 9227 Haven Ave. Suite 120 in Rancho Cucamonga, CA.
(Advertising Supplement)